FIDO Authentication Industry Snapshot
The FIDO authentication solutions revenue totalled ~US$ 849.6 Mn in 2020, according to Future Market Insights (FMI). The overall market is expected to reach ~US$ 8.0 Bn by 2031, growing at a CAGR of 22.8% for 2021 – 31.
The demand for FIDO authentication solutions will continue accelerating, increasing competition prevalent in the market. FMI has forecast the top 5 providers to account for around 69.4% of total market in 2020.
Key Points Covered in FIDO Authentication Market Survey
Market estimates and forecast 2016-2031
Key drivers and restraints impacting market growth
Segment-wise, Country-wise, and Region-wise Analysis
Competition Mapping and Benchmarking
Market Share Analysis
Key Product Innovations and Regulatory Climate
COVID-19 Impact on FIDO authentication market and how to Navigate
Recommendation on Key Winning Strategies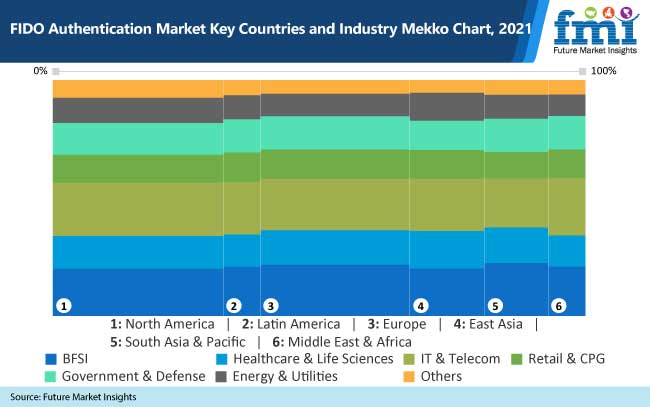 2016-2020 FIDO Authentication Demand Outlook Compared to 2021-2031 Forecast
FIDO Authentication helps businesses in addressing the need for secure application without compromising user convenience. With the use of FIDO authentication solutions and services, organizations can eliminate the weak links in the authentication chain such as traditional passwords and offer enhanced security and customer experience by password less authentication.
Today's resource-strapped IT departments face tremendous pressure to ensure that endpoints and servers comply with operating procedures, regulations, and security policies. Coupled with this, the growing adoption of digital solutions and technologies is driving the growth of FIDO Authentication products.
The sales for FIDO authentication solutions is estimated to rise at 22.8% CAGR between 2021 and 2031 in comparison with 18.8% CAGR registered during 2016-2020.
FIDO (First Identity Online) Alliance, a non-profit association that includes tech giants such as Apple, Microsoft, and Facebook has been pushing the implementation of stronger security practices during the ongoing COVID-19 crisis. As such, the FIDO U2F (Universal 2nd Factor) security key is being publicized as one of the latest security protocols that enables Internet users to securely access any number of online services through a single physical security key. Such trends are anticipated to create incremental opportunities for companies in the FIDO authentication industry.
The global FIDO authentication market is anticipated to witness an increase in revenue from ~US$ 1.0 Bn in 2021 to ~US$ 8.0 Bn by 2031.
How is Adoption of Mobile & Web Based Application Affecting Demand for FIDO Authentication Solutions?
The growing adoption of mobile and web applications and growing need for advanced security solutions that help in reducing endpoint attack exposure are fuelling the demand for FIDO Authentication solution and services.
Organizations are looking to replace traditional static and complex passwords with advanced authentication options, including biometrics, and PIN factors. Moreover, various benefits of FIDO authentication such as standardization, cost reduction, easy to use, and strong authentication are propelling the adoption of FIDO authentication solutions among the businesses.
Also, the continuous rise in remote access, cloud-based resources, and mobility solutions is propelling enterprises to adopt for easy-to-manage solutions for reducing endpoint attack exposure which is one of the key factors driving the growth of FIDO Authentication market.
Besides this, the rising trend of "Bring Your Own Device" (BYOD) and increasing data vulnerability against deployment of new applications are also some of key factors propelling the growth of FIDO authentication market.
What Is the Impact of COVID-19 Crisis on FIDO Authentication Solutions Demand?
COVID-19 pandemic has impacted every sector. Due to social distancing norms implemented to contain the spread of the virus, organizations are transforming towards digitalization to ensure overall safety employees and staffs.
The COVID-19 outbreak has brought about high spending on advanced solutions and technologies such as cloud computing, IoT, AI, and enterprise mobility. With the sudden shift to a remote-first workforce, the demand for next-generation security solutions & services along with the high focus of enterprises on enhancing enterprise security spending are the key factors creating potential growth opportunities for the growth of FIDO Authentication solutions at this time of pandemic.
Moreover, the increasing work-from-home scenario amid global lockdowns due to COVID-19 outbreak is generating the demand for FIDO Authentication solutions to protect business from remote attack and from advanced persistent threats.
Thus, the demand for FIDO authentication is estimated to witness a noteworthy growth from around 18.7% to 20.9% Y-o-Y from 2019 to 2021.
Country-wise Insights
How big is the Opportunity for Adoption of FIDO Authentication in the U.S.?
North America is predicted to remain one of the most attractive markets during the forecast period. According to the study, the U.S. is expected to account for 82% of the North America market share through 2031.
The U.S. is the largest market for FIDO authentication due to the strong presence of FIDO authentication solution and service providers. This is attributed to the increase in demand for FIDO based authentication solutions in various industries such as banking, financial services, and insurance (BFSI), consumer goods and retail, telecommunication, healthcare, and others.
Also, with the rising remote working trend and growing need to outsmart the advanced security and privacy threats, the demand for FIDO authentication solution is expected to increase in coming years. Hence, the demand for FIDO authentication solutions would increase across the country, during the forecast period.
Why is Demand for FIDO Authentication increasing in U.K.?
Demand for FIDO authentication platforms in the U.K. is expected to rise at an impressive CAGR of 23.4% over the forecast period. The U.K. economy is increasingly powered by big data, platform business models, advanced analytics, smartphone technology and peer-to-peer networks. At the same time, innovation in the financial sector is dramatically changing the markets.
The demand for FIDO authentication solutions is growing in the U.K. owing to the continuous increase in adoption of advanced security solutions among the enterprises in the regions to strengthen their IT framework.
The U.K. FIDO authentication market is witnessing significant growth opportunities as leading players continue focusing on the expansion of their presence in various verticals, such as BFSI, telecommunication, retail, government/public sector, and manufacturing. Insurance frauds are the major issues faced by European countries.
Rising cases of money laundering and terrorist financing are considered primary threats in the U.K. because of which the European Banking Authority (EBA) has declared the fraud management to be the topmost priority for the EU in 2020.
How will the Sales Prospects for FIDO Authentication Solutions unfold in India?
The sales in India is estimated to increase at an impressive rate of around 33% CAGR between 2021 and 2031. India is home to a bustling economy driven by a technology sector providing integration services and product development on a global scale.
This economy serves a population that is more connected by the day. In fact, India has passed the United States and is now the second biggest consumer of the Internet after China. This trend in connecting the previously unconnected and is the major area for the Indian government to proactively create relevant technology regulations, initiatives, & policies.
In addition, much of India uses PKI and digital certificates to ensure secure online transactions – this is a bulky and time-consuming process that stands to be vastly improved through FIDO authentication.
How is Japan Contributing towards the FIDO Authentication Sales?
Demand for FIDO Authentication solutions in Japan is estimated to total US$ 638.2 Mn by the end of 2031. The FIDO Japan Working Group (FJWG) has been created to address the growing interest in FIDO authentication from stakeholders across a wide variety of industries in Japan who want to reduce fraud risk while providing better, faster user experiences.
By working at a local level, this working group become an effective team within the FIDO Alliance to promote FIDO solutions, improve FIDO awareness and collect regional requirements so FIDO standards can best address the authentication needs of the Japan market.
The Alliance and the FJWG is clearly making an impact, as deployments of FIDO authentication by major organizations has accelerated in Japan (and throughout Asia) since 2016. Most often these deployments utilize FIDO biometric authentication on mobile devices.
Category-wise Insights
Why is the Demand for FIDO U2F Authentication Devices (Security Keys) Continuously Rising?
Based on solution, FIDO U2F authentication devices (Security Keys) is expected to contribute for nearly 47% of the overall share in 2021. FIDO U2F allows online services to augment the security of their existing password infrastructure by adding a strong second factor to user login.
The user logs in with a username and password as before. The service can also prompt the user to present a second factor device (such as a FIDO security key) at any time it chooses. The strong second factor allows the service to simplify its passwords (e.g. 4–digit PIN) without compromising security.
Moreover, the U2F keys give the IT teams a deeper level of security. The use of public key encryption significantly mitigates risks such as identity theft, unauthorized access, man-in-the-middle, and malicious software.
Why is PKI/Credential Management Application Mostly Preferred?
The PKI/credential management application segment is projected to register growth at a CAGR of 26.7% over the coming years. Secure and simple access to digital resources is a fundamental need for organizations.
However, to achieve that can be difficult via public key infrastructure (PKI) alone. FIDO offers an excellent alternative but for many organizations there is a requirement to have more management of the FIDO credential.
PKI and FIDO both offer crypto-based authentication, the most secure method of multi-factor authentication available. FIDO can provide a suitable alternative means of strong authentication to PKI as it combines highly secure crypto based security with a simple standards based approach. This makes it suitable for modern applications, including SaaS, in addition to not having the policy constraints associated with PKI, making it a viable option for contractors and supply chain.
How will Demand from IT & Telecom Sector Support Growth?
The IT & telecom segment is expected to contribute a revenue share of close to 22% in 2021, and is expected to maintain its dominance in the upcoming years owing to rapid digitization. Telecom companies, which collect and store personal data from millions of customers, are prime targets for hackers.
Telecom companies and service providers continue to evolve service delivery and business processes to online and mobile services, but are constantly trading off fast and easy access with robust authentication security.
Security based on FIDO Specifications turns that around and makes online security a simpler and better user experience while providing stronger security and reducing risks for telecom.
Competitive Landscape
As organizations around the world are challenged in controlling dynamic and hybrid IT environment, the need for secure mobile or online applications without compromising user convenience is increasing continuously.
Owing to this, most of the leading players in the FIDO authentication technology are coming with advanced and innovative solutions that meets the ever-changing demand from organizations for advanced security and privacy concerns.
In January 2021, Aware, Inc. announced the launch of AwareABIS, an automated biometric identification system (ABIS) used for large-scale biometric identification and deduplication. Designed to serve among 1-30 million identities or more, AwareABIS supports fingerprint, face and iris modalities, and features a modular architecture that helps security teams configure and optimize the system for civil or criminal applications.
Scope of Report
Attribute

Details

Forecast Period

2021-2031

Historical Data Available for

2016-2020

Market Analysis

USD Million for Value

Key Regions Covered

North America, Latin America, Europe, East Asia, South Asia & Pacific, and the Middle East & Africa

Key Countries Covered

US, Canada, Germany, U.K., France, Italy, Spain, Russia, China, Japan, South Korea, India, Malaysia, Indonesia, Singapore, Australia & New Zealand, GCC Countries, Turkey, North Africa and South Africa

Key Segments Covered

Solution, Application, Enterprise Size, Industry, and Region

Key Companies Profiled

OneSpan
HYPR Corp
Yubico
Daon
RSA Security LLC
Movenda
Nok Nok Labs, Inc.
Bluink Ltd.
Century Longmai Technology Co., Ltd.
Raonsecure Co., Ltd.
International Systems Research Co. (ISR)
Hypersecu Information Systems, Inc.

Report Coverage

Market Forecast, Company Share Analysis, Competition Intelligence, DROT Analysis, Market Dynamics and Challenges, and Strategic Growth Initiatives

Customization & Pricing

Available upon Request
Key Points Covered in FIDO Authentication Market Survey
Which region is expected to showcase high growth in FIDO authentication solutions demand?

South Asia & Pacific is projected to register strong growth in the market, exhibiting a CAGR of 28.8% during the forecast period. However, North America currently leads the global market, with market share of nearly 32% in 2021.

Which is the most sought-after application of FIDO authentication solutions?

Payment processing is currently the most sought-after application in the market, accounting for over 31% of revenue generated in 2020. However, PKI/credential management is expected to witness robust CAGR of 26.7% throughout the forecast period.

Which are some of the leading companies offering FIDO authentication solutions?

Some of the leading companies in this landscape are Aware, Inc., OneSpan, HYPR Corp, Yubico, Daon, and RSA Security LLC among others. As per Future Market Insight, nearly 70%-72% of the market share is currently covered by the top 15 players.

Who are the leading end users of FIDO authentication solutions?

The BFSI sector is expected to dominate the market over the forecast period, generating revenue of ~US$ 2.4 Bn by 2031. Moreover, the segment is estimated to boost majorly with a CAGR of over 27% over the forecast period.

How much is the global FIDO authentication demand worth?

The FIDO authentication industry was valued at ~US$ 849.6 Mn in 2020, and is estimated to grow at an exceptional pace with a CAGR of 22.8% to reach ~US$ 8.0 Bn in 2031.

What will be the demand outlook/ sales forecast for FIDO authentication?

The sales of FIDO authentication solutions are expected to total ~US$ 1.0 Bn by the end of 2021, and is likely to reach ~US$ 8.0 Bn by 2031.

What was the last 5 year market CAGR?

The market in last 5 years (2016 – 2020) grew by a CAGR of 18.8%.

What are the key trends of FIDO authentication industry?

Key trends in the market includes:

Rapid shift towards passwordless authentication
Surging applications of contactless biometric technology

What is driving demand for FIDO authentication?

Increased awareness about cybercrime and growing IT security concerns has increased the adoption of FIDO authentication solutions and are the key factors driving the market growth.

Which countries are key providers of FIDO authentication solutions?

Countries involved in providing FIDO authentication solutions include the U.S., France, South Korea, Italy and Canada.

What is the Global Market Growth Between 2020 and 2021?

The global market growth between 2020 and 2021 is 20.9%.

What are the top 5 countries driving demand?

Top 5 countries driving demand for FIDO Authentication include the India, China, U.S., and South Africa.

What is the North America market outlook?

North America is predicted to remain one of the most attractive markets during the forecast period, according to Future Market Insights. According to the study, the U.S. is expected to account for 82% of the North America market through 2031.

How the Europe FIDO authentication industry growth will unfold?

The FIDO authentication industry in Europe is estimated to expand at a CAGR of 18.6% over the forecast period.

What is the key market statistics in South Korea and Japan?

The FIDO authentication demand in Japan and South Korea was valued at US$ 41.0 Mn and US$ 23.5 Mn in 2020, respectively and is projected to register CAGR of 28.5% and 26.8% respectively between 2021 and 2031.
FIDO Authentication Outlook by Category
By Solution:
FIDO U2F Authentication Devices (Security Keys)
FIDO Authentication SDKs

FIDO Client SDK
FIDO Server SDK

Services

Technology Consulting
Integration & Deployment
FIDO Certification Services
Support Services
By Application:
Payment Processing
PKI/Credential Management
Document Signing
User Authentication
Others
By Industry:
BFSI
Healthcare & Life Sciences
IT & Telecom
Retail & CPG
Government & Defense
Energy & Utilities
Others
By Region:
North America
Latin America
Europe
East Asia
South Asia & Pacific
Middle East and Africa (MEA)
Need specific information?
Talk Show:
The Rise of Intelligent Packaging
Personalized, Connected and Sustainable
November 18, 2021
11:00-11:45 AM PST (USA & Canada)
This is a LIVE session