This Flat Bottom Bags market study offers a comprehensive analysis of the business models, key strategies, and respective market shares of some of the most prominent players in this landscape. Along with an in-depth commentary on the key influencing factors, market statistics in terms of revenues, segment-wise data, region-wise data, and country-wise data are offered in the full study. This study is one of the most comprehensive documentation that captures all the facets of the evolving Flat Bottom Bags market.
Flat Bottom Bags – Market Outlook
Flat Bottom Bags are also known as block bottom bags. This packaging format is an improved variaton of the standard stand up pouch. Flat bottom bags are popular products in the packaging industry, specially for food products. It has many optional added extras such as matte print finishing, grip seal closure or tear notches. The flat bottom bags have high demand in the market owing to the fact that the bag offers shelf stability due to its sturdy level bottom. The base being flat and secure, is ideal for packaging solutions for many consumer products such as rice, tea, coffee, cereal and many more. Thus, the outlook for the growth of the global flat bottom bags market is expected to remain mostly positive during the forecast period. In addition, flat bottom bags are produced with the help of high quality films to enhance the durability and flexibility of the pouches. Flat bottom bags can also be customized to suit individual product prefrences and brand so that it has high resistance to pressure that decreases th chances of package rupture. One of the driving factors of flat bottom bags market is that these bags can be produced with lamination and metalized lining that helps in keeping excess moisture out, which keeps products fresher for longer time.
Market Growth Analysis
Disclaimer: This data is only a representation. Actual data may vary and will be available in the report.
COVID -19 : Impact Analysis
Request the coronavirus impact analysis across industries and markets
Request Covid -19 Impact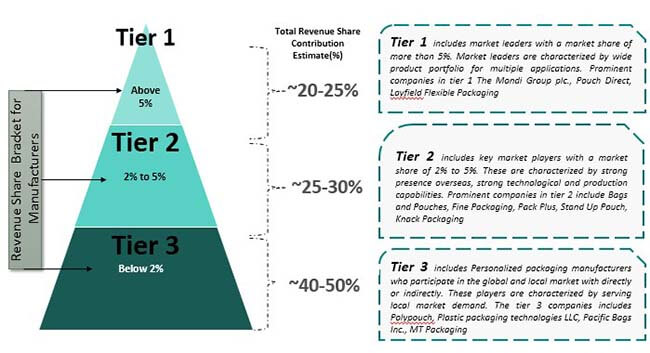 Global Flat Bottom Bags market: Key Players
The global flat bottom bags market is characterized by the existence of many prominent players in the market. The main players of the flat bottom bags market compete with their rivalry on the basis of features such as price, quality and product innovation. Few of the key players operating in the global flat bottom bags market are – Pouch Direct, Pouch Makers, Layfield Flexible Packaging, Bags and Pouches, Fine Packaging, Pack Plus, Knack Packaging, Mondi Group, Polypouch, Tekpak Solutions, Yangrui Packaging Bags Specialist, DXC Packaging, Sav-on Bags, Plastic Packaging LLC, Pacific Bags Inc., MT Packaging, PBFY Flexible Packaging, Aceco Industrial Packaging Co., Four Star Plastics among others.
Product Introduction
In November, 2017, Consolidated Packaging Group (CPG) introduced their new flat-bottom pouches that complement their existing product line. These packages feature a flat bottom for stability and brand awareness. CPG's new flat-bottom bags are manufactured in numerous sizes, printed using advanced HD 175-line screen Flexo in up to 10 colors. The pouches' film structures are designed to satisfy each customer's oxygen and moisture barrier property requirements.
The flat bottom bags market is anticipated to be positively influenced by evolving consumer preferences, and R&D in advanced packaging technologies. Lined board also have immense opportunity for growth in the field of food and beverage.
The research report presents a comprehensive assessment of the market and contains thoughtful insights, facts, historical data, and statistically supported and industry-validated market data. It also contains projections using a suitable set of assumptions and methodologies. The research report provides analysis and information according to market segments such as geographies, application, and industry.
The report covers exhaust analysis on:
Market Segments
Market Dynamics
Market Size
Supply & Demand
Current Trends/Issues/Challenges
Competition & Companies involved
Technology
Value Chain
Regional analysis includes:
North America (U.S., Canada)
Latin America (Mexico. Brazil)
Western Europe (Germany, Italy, France, U.K, Spain)
Eastern Europe (Poland, Russia)
Asia Pacific (China, India, ASEAN, Australia & New Zealand)
Japan
Middle East and Africa (GCC Countries, S. Africa, Northern Africa)
The report is a compilation of first-hand information, qualitative and quantitative assessment by industry analysts, inputs from industry experts and industry participants across the value chain. The report provides in-depth analysis of parent market trends, macro-economic indicators and governing factors along with market attractiveness as per segments. The report also maps the qualitative impact of various market factors on market segments and geographies.
Unique Requirements? Customize this Report
Customize by Region, Country, Application, Product, & other segments
Integrate our Insights with your Existing Data
Determine the scope of the study to suit your requirements
Gain Insights on Key Flat Bottom Bags Market Impacting Forces
Know the Winning Strategies of Market Leaders
Get Deep-Dive Analysis on Each Segment
Identify the Sources that will Drive Top-Line Revenue
Global Flat Bottom Bags market: Segmentation
The global flat bottom bags market has been segmented as follows –
On the basis of Product Type, the global flat bottom bags market has been segmented as –
Flat bottom pouch with zipper
Flat bottom pouch with tear off zipper
Flat bottom pouch with no zipper
On the basis of Capacity, the global flat bottom bags market has been segmented as –
100g
250g
500g
1 kg
Other
On the basis of End Use, the global flat bottom bags market has been segmented as –
Coffee and tea
Nuts and dried fruits
Rice and grains
Snack foods
Baked foods
Pet foods
Others
On the basis of Geography, the global flat bottom bags market has been divided into seven key regions –
North America
Asia Pacific excluding Japan
Western Europe
Eastern Europe
Latin America
Middle East & Africa
Japan
Report Highlights:
Detailed overview of parent market
Changing market dynamics in the industry
In-depth market segmentation
Historical, current, and projected market size in terms of volume and value
Recent industry trends and developments
Competitive landscape
Strategies of key players and products offered
Potential and niche segments, geographical regions exhibiting promising growth
A neutral perspective on market performance
Must-have information for market players to sustain and enhance their market footprint
Frequently Asked Questions
---
Why choose FMI?
With a global presence and a trusted partner to several Fortune 500 firms, FMI covers 1 billion+ data points to build a diversified portfolio for market benchmarking
Market Reports researched and peer reviewed by industry experts from across the globe
We follow a multi-dimensional method of analysis monitoring a three-layer data validation process
In addition to demand-side market assessment, our data triangulation methodology involves supply-side research
Primary research includes mandatory field interviews with stakeholders involved
Customizing reports according to client specification is also our forte
What will you discover from Flat Bottom Bags Market report?
The current and future market size, covering each aspect and nuanced trends across key national and geographic markets
An overview of the market report, providing an imperative visual of the varied market subdivisions and overall forecast statistics in terms of value and volume
Extensive database and key dynamics elevating the market with varied verticals associated
Underlying Flat Bottom Bags Market forces that are compelling consumers or businesses to purchase the product
How novel technologies and consumer-centric innovations will create new value-adding opportunities for companies active in the Flat Bottom Bags Market
What will be environment and regulatory impacts on the market over the next decade
Which framework has been used to develop the Flat Bottom Bags Market report?
Investment Feasibility Matrix - It shows returns on investment, level of competition, success rate of investment, and potential risks associated with the market. The analysis shows that the competition is high in the established market, while the returns for short-term investment are also taken into consideration
Relative Maturity Mapping – The relative maturity is measured according to three growth phases (growth, maturity, decline)
Relative PLC (Product Life Cycle) – Analysis of the emergence of prominent players and competitive test prices which are driving factors behind every market. (expected market behavior, observed market behavior, expected market performance, observed market performance)
Harish Tiwari
Global Head - Business Development
Akshay Godge
Client Partner - Global Business Development