Demand for Prebiotics in Nutraceuticals Drives Demand in Galacto Oligosaccharide (GOS) Market
Galacto oligosaccharide is a chain of galactose compounded with glucose molecules, which are primarily found in lactose present in cow's milk a number of root vegetable species, and bean varieties. Galacto oligosaccharides move in an undigested form to the colon, supporting the growth of healthy bacteria and bowel movement.
The global galacto oligosaccharide market is projected to grow at a healthy CAGR of ~ 7.7%, to reach a value of US$ 621 million. This will account for a sales of 104,812.6 metric tons. This growth can be largely attributed to the applications of galacto oligosaccharides in major nutraceutical products, which aids in lower pH and better stability in higher temperature conditions.
Rising Lactose Intolerance Cases Drive Demand for Plant Based GOS
Galacto oligosaccharides are rapidly gaining in terms of adoption rates for the global infant nutrition sector, which can be attributed to awareness about therapeutic effects on immunity and gut health. The rise in the incidences of lactose intolerance on the other hand is restricting the use of animal based galacto oligosaccharides.
Consequently, the development of plant based galacto oligosaccharides has proven to be effective in meeting the nutritional requirements for the population of lactose intolerant people. This trend is also expected to have a positive influence in commercialization in infant nutrition products. Spurred by this, the demand for both liquid and powder GOS is expected to rise in the coming years.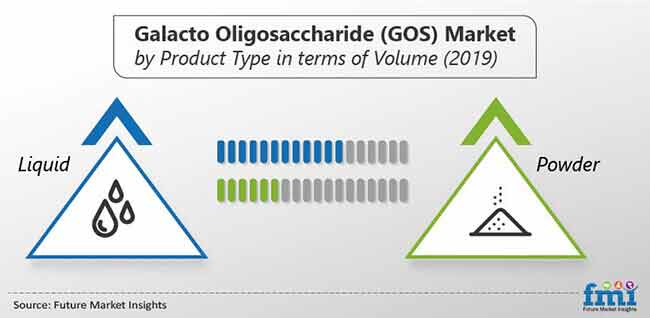 GOS Manufacturers Focus on R&D and Production Expansions
The worldwide galacto oligosaccharide market is largely consolidated with major players holding major market share. Some of the key players in the sector include names such as Quantum High-tech, Friesland Campina, Samyang Corporation, Ingredient Inc., King Prebiotic, Diary Crest, Kerry Inc., and Yakult Pharmaceutical among others.
Major players are seeking to expand their services and products to a number of countries, and also investing in new products of prebiotics, to increase diversification as per consumer needs. Manufacturers are also pushing for new production facilities, strategic collaborations, and research and development activities to strengthen their portfolios in a competitive industry.
Europe Dominates GOS Market While APEJ Plays Catchup
Europe is currently the largest regional market for galacto oligosaccharides accounting for more than 40 % of the overall market share at a strong CAGR of more than 8 %. This growth can be attributed to higher focus on purity and research on GOS to meet the needs of premium applications, which will generate new, lucrative opportunities in the upcoming years.
On the other hand, the Asia Pacific excluding Japan region currently accounts for more than a quarter of the global market share and is growing at higher CAGR surpassing 9.5 %, owing to growing consumer awareness about prebiotics and the development of plant based GOS variants.
In order to offer cost advantage to companies, local players have started offering prebiotic ingredients at comparatively lower prices, primarily in countries such as China and India. In addition, growing demand for functional food products in these countries is expected to increase options for various new entrants in the prebiotic ingredients market in the near future.
Strict legislation on the uses of prebiotics is expected to negatively impact the galacto oligosaccharide market. However, the impact will be offset by growing consumer interest in natural prebiotics and probiotics, and will generate new opportunities with approvals coming from bodies such as the United States Food and Drug Administration, driving opportunities for GOS applications in nutraceuticals and infant nutrition formulations.
FREQUENTLY ASKED QUESTIONS ABOUT GALACTO OLIGOSACCHARIDE (GOS) MARKET
What drives the Galacto Oligosaccharide (GOS) market?
GOS based products facilitate lower pH and increased stability in high temperature conditions. Increasing applications of galacto oligosaccharides in nutraceutical products drive the market.
Who are the major players in the Galacto Oligosaccharide (GOS) Market?
Major players in the Galacto Oligosaccharide (GOS) Market that are leading global sales and innovative growth strategies are:
Quantum High-tech
Friesland Campina
Samyang Corporation
Ingredient Inc.
King Prebiotic
Diary Crest
Kerry Inc.
Yakult Pharmaceutical
The global galacto oligosaccharide market is highly consolidated with major companies proactively approaching product diversification and expansion of global footprint.
Which regions will lead global sales of Galacto Oligosaccharide (GOS)?
Focus on research and innovation of premium applications of GOS in Europe helms this region as the market leader with more than 40% of overall market share. This region will register a dexterous growth of greater than 8%. Growing consumer awareness about prebiotics health benefits will position Asia Pacific region as second most lucrative region for sales. Asia Pacific shows strong signs of continued growth surpassing European CAGR during the forecast period.
Which product type offers most lucrative growth opportunities?
Plant based galacto oligosaccharides offer the most lucrative growth opportunities. This product type can be consumed by lactose intolerant consumers which makes it an ideal venue for research and development of GOS products for untapped lactose intolerant consumers present globally.
What factors put market players at risk?
Increasing cases of lactose intolerance in consumers is dampening growth opportunities for animal based GOS. Further, strict legislations on use of prebiotics is hindering adoption of galacto oligosaccharide products. However, natural prebiotics and probiotics gaining recognition from international bodies such as United States Food and Drug Administration will help circumvent these road blocks and realize sustainable growth.
Market Segmentation
The global galacto oligosaccharides market is segmented in detail to cover every aspect of the market and present complete market intelligence to readers.
Product Type
Primary Function Type
End-User
Food & Beverage

Dietary Supplements
Bakery Products
Dairy Products
Others

Animal feeds
Pharmaceutical and Personal care
Region
North America
Latin America
Europe
Japan
APEJ
MEA
Need specific information?