Gamma Knife Market Snapshot
The gamma knife market is expected to surpass US$ 287.3 Mn in 2021, according to Future Market Insights (FMI) analysis. Exhibiting a CAGR of 5.90% between 2021 and 2031, the market is expected to reach US$ 507.0 Mn by 2031.
Growth predictions remain steady for Europe due to surge in demand from hospitals and clinics in EU5 countries. FMI has forecast Germany to account for 20% of the gamma knife in Europe. The demand for gamma knife will accelerate with the tier-1 players holding 60-65% of gamma knife market in 2021.
Key Points Covered in Gamma Knife Market Research
Market Estimates And Forecast 2021 - 2031
Key drivers and restraints impacting the market growth
Segment wise, Country-wise, and Region-wise Analysis
Competition Mapping and Benchmarking
Brand share and Market share Analysis
Key Product Innovations and Regulatory Climate
COVID-19 Impact on Gamma Knife Market And How to Navigate
Recommendations on Key Winning Strategies
Gamma Knife Market Future Outlook for 2021-2031 in Comparison to Historic Sales
The global gamma knife market is anticipated to register a CAGR of 5.90% over the forecast period. Rising demand for cutting-edge technologies to operate tumors detected in spine, neck and head is anticipated to drive growth of the gamma knife market over the forecast period.
Growing methodical use of integrated imaging software to keep a constant check on amount of dose delivery is expected to fuel demand for gamma knife in the assessment period. The market also will gain from the rapid development in radiation devices and innovations to ensure minimal invasions and reduced postsurgical complications in surgery.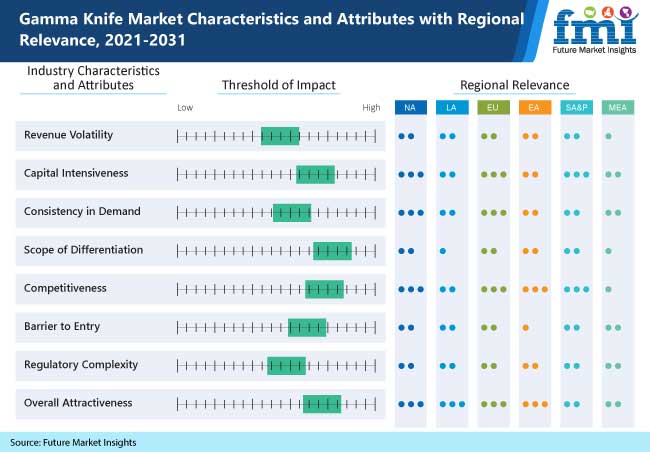 Some of the leading companies are focusing on innovations to offer advanced patient care. For instance, Elekta, a key leader in precision radiation medicine announced the launch of its new Leksell Gamma Knife Lightning, a leading edge innovation for intracranial stereotactic radiosurgery.
This innovation completely aligns with Elekta's developmental strategy focused on contributing in the healthcare sector by enhancing operational efficiency, minimizing drafting time and equipping physicians to concentrate significantly on patient-centric care.
Besides this, focus on acquisitions and collaborations is expected to increase in the coming years. For instance, Brainlab, a digital medical technology company announced the acquisition of Mint Medical GmbH, a medical technology company proficient in manufacturing image reading and reporting software for clinical routine and research. This acquisition will foster growth in the automation of radiology reports through AI anatomical mapping and formulation of holistic data.
Gamma Knife Market Overview
On the back of exhaustive research on its efficacy and high success rate, Gamma Knife continues to gain traction among healthcare centres as a highly effective radiosurgery system.
Linear Accelerator (LINAC) remains the widely used radiation therapy treatment procedure – nearly 50% of patients undergoing radiation therapy were treated using LINAC.
Gamma Knife and Cyber Knife are the two widely used stereotactic radiation therapy procedures. Global Gamma Knife equipment revenues were estimated at US$ 172 million in 2015, and the market is expected to increase at a compound annual growth rate (CAGR) of 9.1% through 2025. The key factors expected to drive adoption of Gamma Knife include,
Increase preference toward non- and minimally-invasive procedures
High success rate of Gamma Knife treatment
Positive perception among healthcare providers (over 2,800 peer reviewed journal articles)
Focus on developed novel treatment procedures for neurological disorders
Comprehensive health insurance cover for radiation therapy
(Detailed analysis of key drivers available in the report)
Although Gamma Knife has proven to be a highly effective treatment option, high cost, low equipment availability, and lack of awareness in developing markets can inhibit adoption.
The cost of a Gamma Knife is in the range of US$ 4 Mn to US$ 5 Mn, with additional setup costs of US$ 1 Mn to US$ 2 Mn. Total investment in procuring a machine can add up to US$ 7 Mn. The high cost of Gamma Knife has remained a longstanding challenge, however, it is expected that technological advancement will lead to cost reduction in the future.
Gamma Knife Market Analysis by Disease Indication
Gamma Knife is currently being used in treating a wide range of disease indications. The key disease indications include,
Brain metastasis – 68.5% revenue share of the global market
Cancer
AVM (arteriovenous malformation)
Trigeminal Neuralgia
Others (pituitary tumour, epilepsy, acoustic neuroma, and Parkinson's)
While brain metastasis will continue to be the leading disease indication for Gamma Knife, the others segment (pituitary tumour, epilepsy, acoustic neuroma, and Parkinson's) is projected to increase at the highest CAGR during the forecast period.
Asia Pacific will Pip North America to Become the Largest Gamma Knife Market
On the back of strong adoption in the U.S. healthcare sector, North America has remained the largest market for Gamma Knife. However, during the forecast period 2015-2025, Asia Pacific will emerge as the most lucrative market, driven by robust adoption of Gamma Knife in China, India, Japan, and South Korea. North America's revenue share will decrease to 25% in 2025, 4% lower than the current revenue share.
The Gamma Knife market in Europe will continue to remain steady, with hospitals and clinics in EU5 countries accounting for the bulk of demand. Gamma Knife market in Middle East & Africa (MEA) and Latin America will grow at high CAGR owing to the small base of market in these regions.
Leading Gamma Knife Equipment Manufacturers
Elekta, Varian Medical Systems, and Huiheng Medical, Inc. are the top three Gamma Knife equipment manufacturers. While Elekta and Varian Medical Systems have a strong presence in North America and Europe, China-based Huiheng Medical, Inc. caters mainly to healthcare centres in Asia Pacific. A detailed analysis on the competitive landscape is included in the report.
Key Questions Answered in the Report
How much is the Gamma Knife Market Worth?

The global gamma knife market will reach a valuation of US$ 287.3 Mn in 2021, growing at CAGR of 5.90% between 2021 and 2031.

At What Rate did the Gamma Knife Market Grow in the Last Five Years?

The gamma knife market exhibited growth at 7.06% CAGR between 2016 and 2020.

What is the Market Share of Top Players in Gamma Knife Market?

The combined market share of tier-1 players stood at 60-65% of the overall market.

What is the North America Gamma Knife Outlook?

The demand for gamma knife is expected to grow at 26% in North America between 2021 and 2031.

At What Percentage will Germany drive sales of Gamma Knife in European region?

In 2021, Germany will account for approximately 20% share of gamma knife in the European region.

Which are top 5 Countries driving Gamma Knife demand?

U.S., China, Germany, Japan, and U.K. are driving demand for gamma knife.

What is driving demand for Gamma Knife Market?

Growth of ageing population, growing demand for less time consuming treatments, increasing incidence of cancer, shift towards painless and non-invasive surgeries and high success rate of gamma knife radiosurgery technique are the key growth drivers.

What are the Key Trends of Gamma Knife Market?

Rising technological advancements, growing dependency on cobalt, expanding geriatric patient treatment service & delivery and regulation of government policies are key trends observed in the market.

What are the Key Statistics for Gamma Knife Market in Japan and South Korea?

Global share cumulatively for Japan and South Korea in the gamma knife market is 4-5%.
Key Segment
By Disease Indication:
Brain Metastasis
Cancer
Arteriovenous Malformation (AVM)
Trigeminal Neuralgia
Others
By Anatomy:
Head
Neck
Other Body Parts
By Geography:
North America
Europe
APAC
Latin America
Middle East and Africa
Need specific information?