Stevia Market - Key Research Findings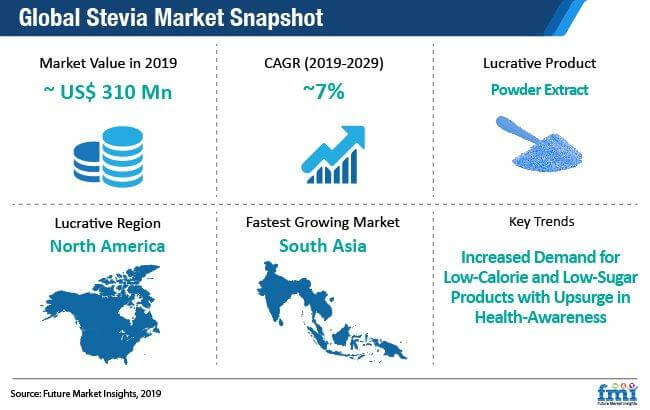 The global stevia market size in 2018 was valued at ~ US$ 291
The stevia market is anticipated to grow at a CAGR of ~ 7% during the forecast period of 2019-2029.
The powder extract of stevia is expected to account for relatively high sales in the stevia market.

The growth of this particular segment can be primarily attributed to economical cost and wide adoption for precision manufacturing and assembly.

Europe is stipulated to account for ~ half of the revenue shares in the stevia market by the end of 2029.

Europe is estimated to continue to be the opportunistic market for stevia manufacturers and distributors, owing to increasing production and demand for natural sweeteners.

While consumption in the beverage sector continue to account for greater sales of stevia, growing application in packaged food products is likely to result in increased market share.

Noteworthy application potential of stevia has been identified in soft drinks, juices, yogurts, confectionery, bakery and many more. Stevia is increasingly used by food manufacturers to develop low-sugar and low-calorie products, thereby creating an upswing in the market growth. Moreover, stevia is found in more than 1,400 food and beverage products.
Key Factors Shaping the Stevia Market
Demand Upheld by Increasing Diabetic and Obese Population
The rising prevalence of diabetes and obesity is anticipated to serve as a major driver for the stevia market. According to the World Health Organization, in 2016, around 1.6 million deaths were caused directly due to diabetes, and it is the seventh leading cause of death across the world. Also, in 2016, more than 1.9 million adults were overweight, while 650 million of these adults were obese.
As the occurrence of diabetes and obesity is increasing, consumers are taking appropriate measures to maintain a healthy lifestyle, and thus, are looking for zero-calorie natural sweeteners to maintain their blood sugar levels. In consequence, the demand for stevia is estimated to increase, as it is aligned with the requirements of the consumers.
Growing Preference for Plant-based Products Estimated to Propel the Stevia Demand
As the consumers are opting for plant-based and natural products, manufacturers, especially in the F&B industry, are trying to incorporate natural ingredients in their products. The increase in awareness about the side-effects of the hormones and antibiotics present in animal products, rising vegan population, and increasing concern for animals are anticipated to be some of the drivers for the increase in the demand for plant-based products.
Thus, the increasing inclination towards the use of plant based products is estimated to have a positive influence on the stevia market. . Stevia is a natural, high-intensity sweetener, which is 200-300 times sweeter than sucrose. It is natural and helps to develop low-calorie products. Stevia contains active compounds such as steviol glycosides, which are heat- and pH-stable.
Various advantages offered by stevia have increased its demand in the end-use industry and are anticipated to boost the growth of the stevia market.
Enhanced Marketing and Promotional Strategies Estimated to Positively Impact the Stevia Market
Potential benefits of stevia are still not known among consumers across some regions of the world. As the knowledge about stevia is less, consumers are anticipated to prefer the use of products that contain known ingredients. The less popularity of stevia in the market is anticipated to affect its sales in end-use industries. Therefore, the success of stevia manufacturers is likely to hinge on their capabilities to increase awareness among the consumers through effective promotional and marketing strategies.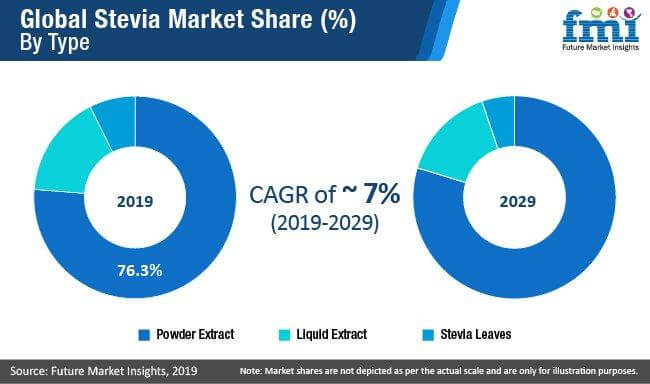 Stevia Market Structure Analysis
The global stevia market is a moderately competitive market, with tier-1 players holding ~35% - 40% share of the market.
Expansion of the business through mergers, acquisitions, collaborations, and alliances is the primary strategy followed by key players in the stevia market. Key market players focus on strategies such as adoption of new technologies to develop innovative products, and enlargement of sales and distribution channels.
Noteworthy investments in the research and development for novel and sturdy products is projected to boost the growth prospects of the stevia market.

Major players in the stevia market are Cargill Incorporated, Ingredion Incorporated, PureCircle Ltd., Koninklijke DSM NV, Tate and Lyle Plc., Sunwin Stevia International, Inc., GLG Life Tech Corp, Evolva Holding SA and others.
Key Segment
By Nature
By Type
Liquid Extract
Powder Extract

Stevia Blends
Glycoside (40%-79%)
Glycoside (80% and above)

Stevia Leaves
By Application
Dairy Food Products
Bakery Products
Beverages
Packaged Food Products
Dietary Supplements
Confectionery Products
Snacks
Table Top Sweeteners
Others (Electrolyte Mixes and Medicinal Formulations)
By Region
North America
Latin America
Europe
East Asia
South Asia
Oceania
Middle East & Africa
Need specific information?