Human Identification Market - Key Research Findings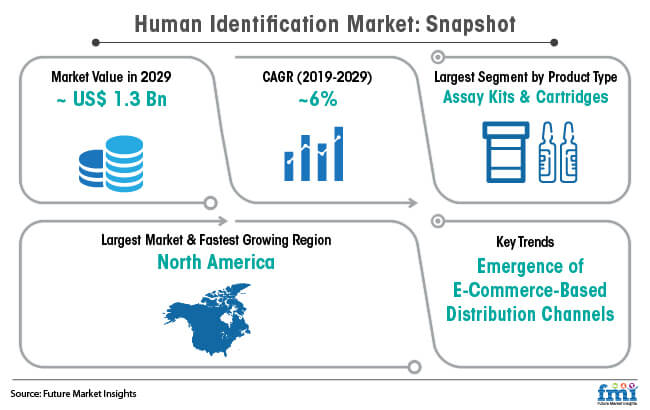 The global human identification market revenues reached US$ 740 Mn in 2018.
It is expected that the market for human identification technology will observe a healthy CAGR of ~6% during the forecast period of 2019-2029.
Life science companies developing cutting edge human identification products aimed at delivering highly accurate results with rapid turnaround times are impelling market growth.
Collectively, North America and Europe are projected to account for major revenue shares in the human identification industry.

The U.S. is expected to be the prominent regional market for human identification technology. This market attractiveness is attributed to strong presence of some of the largest and most comprehensive crime laboratories in the country.

The growing popularity of paternity & kinship studies is further complemented by increasing rate of forensic data collection. These would remain the key application areas of human identification technology.
Key Factors Shaping Human Identification Market
Developments in Forensic Human Identification Technology
Over the past few years, forensic human identification has received increased global attention due to dramatic rise in criminal activities. Several studies have been demonstrated by some of the popular forensic experts. In July 2019, a research study published in the American Academy of Forensic Sciences, which was performed by the Forensic Science Center (United States) and Michigan State University (United States) showed the development of a protein-based human identification capability from a single hair.
Earlier, in May 2018, the German state of Bavaria approved a law to analyse DNA samples and in addition to predict eye, skin colour, and hair for police. These DNA predictions have already been in use in countries such as France, Netherlands, the U.K., Canada, and many other states in the U.S. However, some countries have no precise laws regarding the practice. Such developments in the forensic science field are shaping positively the potential for the human identification market.
Growing Intervention of Technology in Forensic Science
From the past years, identification and discovery of nucleic acids by using point-of-care procedures or complete nucleic acid testing systems are on the rise that is being used in various forensic settings, thus driving the growth for the human identification market. Moreover, increasing investments in product development have led to the commercialization of DNA polymerases with the ability to incorporate modified or labelled nucleotides, which can be used in forensic human identification technology.
Developments in modern technology are creating new prospects to execute vigorous scientific studies and measurements to increase the efficacy and speed up the criminal justice system. Also, increasing demand for on-site and real-time forensic investigations would contribute significantly to the growth of human identification market.
Emergence of Online Distribution Channels
The thriving online shopping trend has influenced this industry as well. End user order some of the products online or through e-Procurement. Some of the other assay kits and cartridges and forensic human identification service requests are being processed through assistance, which is being incorporated by the sales and product teams. This method has eased the purchasing process, thereby improving the availability of products and services at forensic identification settings.
Vendors in market will compete for market shares with distributors depending on the marketing strategies and investment potential. Furthermore, sales of research reagents such as DNA polymerase through E-commerce are projected to capture a majority of overall sales in the near future.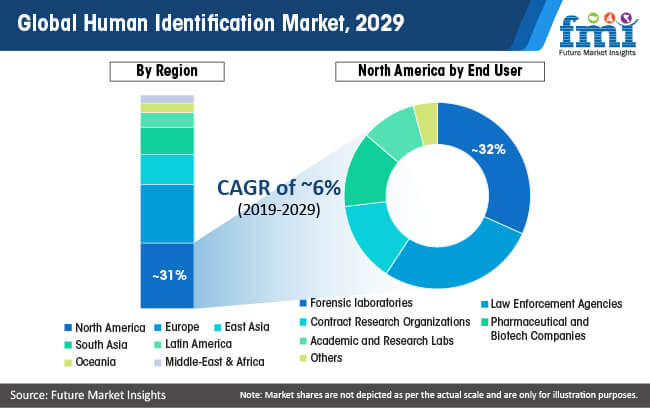 Human Identification Market Structure Analysis
The global human identification market represents significant market growth potential for the future, where key companies maintain their strategic focus on the growth of distribution partnerships and expansion of product portfolio, targeting a stronger global footprint.
Manufacturers of human identification products are currently prioritizing R&D and new product launches to reverberate with the booming of technology in forensic science in North America, Europe, and other regions.
Acquisition and collaboration of technology and services are also recognized as one of the key developmental strategies adopted by manufacturers of human identification products.
A better understanding of the market trends and adoption of technologies for human identification has bolstered the growth of various application for human identification across various regions. These factors are likely to create a potential market for new entrant looking forward to untapped opportunities in the human identification market.
Quest for Utmost Accuracy to Foster Innovation
Though 'high-cost' concerns continue to withhold sales prospects of human identification systems to a certain extent, innovation within the technological range will add value and justify the price tag. On the demand-side, adoption of human identification systems has become imperative for crime investigating agencies, given the increase in the registration of violent cases at an alarming rate.
As per The Federal Bureau of Investigation (FBI) reports, in 2018, ~1.2 Mn cases of violence were recorded in the U.S. of which only the murder rate was tantamount to ~18%. This is alarming for investigating departments calling for urgency in terms of establishing vital links using physical traces obtained from crime scenes.
'Accuracy' will remain a viable feature of human identification system and manufacturers are likely to steer their R&D endeavours towards enhancing the quality of forensic technologies. Given the precision of these systems, applications of these systems are projected to extend from law enforcement agencies sector for paternity testing, cell line identification, and for the study of cytogenetics and population.
Sophisticated DNA Phenotyping Technology to Offset Privacy Concerns
With the advent of human identification systems, there has been a need to store DNA samples of citizens. However, DNA databanking is perceived to have a negative impact on the social integrity, which has raised voices to prevent the violation of public privacy.
As a panacea to this limitation, manufacturers are extending efforts towards the development of DNA phenotyping, which focuses on the collection of genetic profiles of samples obtained from the crime scene. The technology is projected to resonate well with the law enforcement bodies in cases, wherein, no samples of close relatives exist for the identification of a missing person or a disaster victim.
The DNA phenotyping technology holds prodigious growth prospects, since human identification systems are significantly adopted for the investigation of missing people. According to the report, in 2018, ~11% of the total sales closure will be brought in by law enforcement bodies for specific use of these systems in the identification of missing individuals.
However, sales of these systems for molecular forensic analysis will remain crucial to compare traces of criminals from crime scenes. Also crucial to these systems are the use of nucleic acid isolation and purification techniques, which aid in obtaining high quality source samples.
Governments' Financial Cushion to Catapult North American Market
Developed countries of North America, followed by Europe, hold lucrative prospects in the human identification market, given the high concentration of leading players - Thermo Fisher Scientific, Illumina, Inc. and Promega Corporation - in the region. These market majors invest heavily in the research and development activities to introduce cutting-edge technologies that offer better outcomes with the use of human identification systems.
Besides this, government agencies also cushion the hefty financial R&D expenses, intending to support forensic DNA testing in the region. However, limited technological advancement in Asia Pacific coupled with a high corruption rate could inhibit the infiltration of these systems.
M&A Sough-after for Reciprocal Advantage
Since technology is the driving force to reckon with in the human identification market, players tend to rely on the acquisition of their considerably smaller counterparts to gain a reciprocal advantage of technical knowledge and global exposure. The strategy has been illustrated by numerous market players. For instance, Agilent Technologies, Inc., announced the acquisition of BioTek Instruments, which holds a prominent position in the designing, manufacturing, and distribution of innovative life science solutions, including providing DNA sequencing services.
Besides this, the quest for consolidation also instigates market players to partner and collaborate with other companies to diversify their portfolios with distinguished human identification systems. Since the footprints of market players are limited in developing regions, distribution partnerships are deemed as an effective strategy to unlock new sales channels. However, as digitalization sets in, market players also look at the eCommerce platform as an instrument to create cross-border sales opportunities.
How Growth Will Unfold
Currently, sales generated through law enforcement agencies for investigating crimes and disaster victims account for a significant share in the market; however, medical capabilities of human identification systems that include paternity and kinship identification, along with the study of genes to develop new therapeutics, is projected to bring in profitable instances.
While market majors, such as Thermo Fisher Scientific have a sole focus on ensuring the quality of human identification systems for investigation applications, a combination of product portfolio catering to demands ascending from even medical division will help manufacturers strengthen their market position and ensure long-term growth.
Opportunities abound in the Asia Pacific region with investments shifting away from developed countries to developing ones to leverage qualified manpower that works at comparatively low wages, and, in turn, reduce the overhead costs.
World's Most Profilic Intelligence Engine
Get Access To The World's Largest Market Research Database. Ngage with a revolutionary intelligence engine that scale and pricing that flexes as per your needs
Sign Up Now
Key Segment
Product
Instruments

DNA Collection Systems
Electrophoresis Systems
Thermal Cyclers
Rapid DNA Analysis Systems
NGS Platforms
Microarray Scanners
Others

Software & Data Management

Analytical Software
Data Interpretation
Data Storage

Assay Kits & Cartridges

DNA Sample Preparation & Extraction Kits
DNA Amplification Kits
DNA Quantification Kits
Rapid DNA Analysis Cartridges

Other Consumables
Technology
Polymerase chain reaction (PCR)
Short Tandem Repeats (STR)
Microarray Technology
Capillary Electrophoresis
Next Generation Sequencing (NGS)
Nucleic Acid Extraction and Purification
Rapid DNA Analysis
Application
Molecular Forensic Analysis
DNA Database Updating
Paternity & Kinship Testing
Crime and Sexual Assault Investigation
Missing Person Investigation
Disaster Victim Identification
Anthropology Studies
Cell Line Identification
Population-based Studies
Genetic-based Studies
End User
Forensic laboratories
Law Enforcement Agencies
Academic and Research Labs
Pharmaceutical and Biotech Companies
Contract Research Organizations
Others
Region
North America
Latin America
Europe
South Asia
East Asia
Oceania
Middle-East & Africa
Need specific information?