Hydrocephalus Shunt Market By Product Type (Hydrocephalus Valves And Hydrocephalus Catheters), Procedure Type (Ventriculoperitoneal, Ventriculoatrial, Lumboperitoneal And Ventriculopleural) & Region - Forecast 2018–2028
Hydrocephalus Shunt Market - Analysis, Outlook, Growth, Trends, Forecasts
November 2018

REP-GB-7756

184 pages
Increasing Adoption of Programmable and Anti-siphon Shunt Valves to Foster Growth of the Hydrocephalus Shunt Market
The hydrocephalus shunt market is expected to grow at a significant rate due to increasing adoption of advance programmable valves and introduction of new cerebrospinal fluid management technology. Neurosurgeons are rapidly inclining towards implementing latest technology shunts, anti-siphon devices and programmable pressure valves. Anti-siphon devices are used to avoid siphon effect over drainage of cerebrospinal fluid. Programmable pressure valves are gaining high adoption as compared to fix pressure valves.
Programmable valves can adjust CSF pressure externally using special magnetic devices to modify the opening pressure of valves. This eliminates the need for a surgical procedure when the patient requires a valve with different pressure.
Increasing Number of Brain Injury Cases and Accidents Have Surged the Demand for Hydrocephalus Shunt
Growing number of accidents, self-harm and falls has increased the number of cases of brain injury. Brain injury can disrupt the normal function of the brain and cause permanent health issues. Traumatic brain injury is the major cause of disability. According to the CDC, in the U.S. around 80,000 to 90,000 people each year are disabled due to traumatic brain injury. Hydrocephalus can also happen due to acquired brain injury, traumatic injury, and hemorrhagic stroke treatment.
Hydrocephalus can occur if the flow of CSF is blocked or CSF pressure increases due to brain injury. Increasing number of accidents has increased the prevalence of hydrocephalus and increased the demand for hydrocephalus shunts.
Awareness Campaigns for Hydrocephalus
Various private and government organizations are focusing on spread awareness regarding hydrocephalus, which is expected to favor the growth of the hydrocephalus shunt market over the forecast period. Organizations such the 'Hydrocephalus Association' are focusing on conducting hydrocephalus awareness campaigns and support the people affected with hydrocephalus with appropriate programs.
Moreover, these organizations fund hydrocephalus research for improvement of treatment and cure. The Hydrocephalus Association started new national campaign 'Roadmap to a Cure' by which organization invest US$ 20 million by 2020 to accelerate hydrocephalus research and treatment support.
High Number of Revision Surgery Creates Huge Demand for Hydrocephalus Shunt
Hydrocephalus shunt surgery is a complex surgical procedure associated with a high complication rate after primary surgery. Half of the people experience complications such as shunt blockage and drainage program and needing shunt revision. According to UK Shunt Registry, around 3,000 shunt operations are performed in the U.K. every year: 1,660 pediatric (33.5% primary and 66.5% revisions) and 1,400 adult (53% primary and 47% revisions). Growing number of hydrocephalus shunt revision surgeries is expected to create high demand for hydrocephalus shunt
Acquisition and Merger Activities by Manufactures Create Growth Opportunities
Acquisitions and mergers are expected to create enormous opportunities for the players in the hydrocephalus shunt market to expand their product portfolio and global presence. Acquisition, mergers, and partnerships among key market players are expected to boost the growth of the hydrocephalus shunt market. In Oct 2017, the Integra LifeSciences Corporation completed the acquisition of Codman Neurosurgery Business from Johnson & Johnson for approximately US$ 1.045 billion. Acquisition of Codman Neurosurgery Business is the major acquisition in the hydrocephalus shunt market.
Development of Smart Shunt Technology Will Provide Growth Opportunities in the Near Future
Many organizations such as the Institute for 'Dynamic Systems and Control' and the Interface Group of the 'Institute of Physiology at the University of Zurich' are jointly working on "SmartShunt - The Hydrocephalus Project" for the development of a smart cerebrospinal fluid (CSF) shunt for Normal Pressure Hydrocephalus.
For decades, many organizations are focusing on to develop smart shunt, which could provide advanced control, diagnosis, communication based on the implanted sensor, telemetry and feedback control. Research projects and development of smart technology-based sensor will provide strong growth opportunity in hydrocephalus shunt market over the forecast period.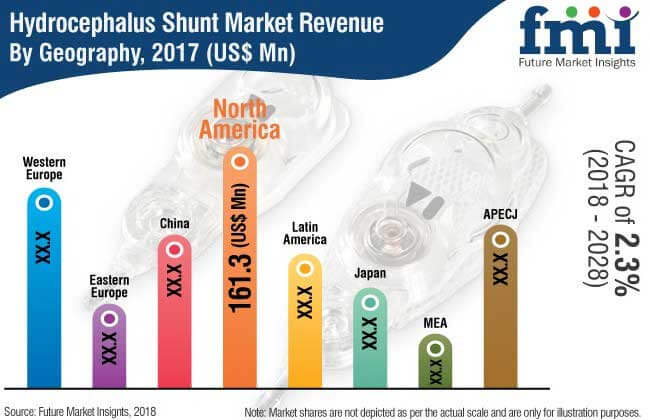 Competitive Landscape
This section of the report features profiles of the key players operating in the hydrocephalus shunt market based on their market shares, differential strategies, product offerings, marketing approach, and company dashboard. Examples of some of the key players featured in this report include Medtronic Plc., B. Braun Melsungen AG, Integra LifeSciences Corporation, Natus Medical Incorporated, Tokibo Co., Ltd. (Sophysa SA), and Christoph Miethke GmbH & Co. KG, among others.
Many companies in the hydrocephalus shunt market are aiming on development of smart shunt technology and to gain FDA approvals. The manufacture are mainly focusing on acquisition and collaboration activities to expand their product portfolio in the hydrocephalus shunt market. Since 1999, Aesculap division of B. Braun Melsungen AG and Christoph Miethke GmbH & Co. KG have been working together to develop and sale hydrocephalus shunts.
Definition
Hydrocephalus is a condition in the brain in which excessive accumulation of cerebrospinal fluid occurs which results in increased intracranial pressure within the skull. Hydrocephalus can be treated through implantation of shunt system. Hydrocephalus shunt provides alternative fluid pathways and diverts cerebrospinal fluid from ventricles of the brain or spinal cord or subarachnoid spaces to another body part, where it will be absorbed.
Hydrocephalus shunt implantation can be done through four pathways ventriculoperitoneal, ventriculoatrial, ventriculopleural and lumboperitoneal. Ventriculoperitoneal is commonly preferred pathway for hydrocephalus shunt placement. Hydrocephalus shunt typically consist of three major components hydrocephalus valve, proximal and distal hydrocephalus catheter.
About the Report
The company conducted a research study on the hydrocephalus shunt market for the forecast period 2018 to 2028. The report offers a comprehensive evaluation of the business opportunities prevailing in the hydrocephalus shunt market along with insights on the market dynamics, market trend and opportunities, regulatory scenario, reimbursement scenario and others. The report elaborates the macroeconomic factors influencing the dynamics of hydrocephalus shunt market and its futuristic potential.
Additional Questions Answered
Some of the additional questions addressed in this report on the hydrocephalus shunt market-
What is the revenue potential of the hydrocephalus shunt market across regions of North America and Europe?
Who are the key competitors and their product portfolio and strategy in hydrocephalus shunt market?
What are major challenges influencing the growth of hydrocephalus shunt market?
How intervention from regulatory authority is shaping the hydrocephalus shunt market growth?
Research Methodology
The hydrocephalus shunt market has been estimated based on epidemiology based model and number of procedures. The market was first calculated based on hydrocephalus epidemiology in different region/countries. The hydrocephalus shunt procedure volume was estimated based on the number of primary shunt implant and surgical revision procedure performed annually in top 20 countries globally.
Other qualitative factors analyzed launch of new hydrocephalus valves and catheters, adoption of different technology based valves and catheters, regulatory policies related to hydrocephalus shunt. This information is further validated with rigorous primary research (including in-person interactions, interviews, surveys and viewpoints of seasoned analysts) and secondary research (including authentic trade journals, verified paid sources and resourceful databases).
The research study on hydrocephalus shunt market also includes top trends and macro as well as microeconomic factors shaping the hydrocephalus shunt market. With this approach, the report on hydrocephalus shunt market anticipates the industry attractiveness of every major segment in hydrocephalus shunt over the forecast period.
World's Most Profilic Intelligence Engine
Get Access To The World's Largest Market Research Database.
Sign Up Now
Segmentation
The report offers a comprehensive taxonomy of the hydrocephalus shunt market based on product type, procedure type, age group and region. By product type, the hydrocephalus shunt market is segmented into hydrocephalus valves and hydrocephalus catheters. Hydrocephalus valve segment is further sub-segmented into fix pressure valves and adjustable pressure valves. Hydrocephalus catheters segment is further sub-segmented into standard catheters and antimicrobial catheters.
By procedure type, the hydrocephalus shunt market is segmented into ventriculoperitoneal, ventriculoatrial, lumboperitoneal and ventriculopleural. By age group, the hydrocephalus shunt market is segmented into pediatric and adult segment. The hydrocephalus shunt market has been analyzed across eight regions including North America, Latin America, Europe, Asia Pacific Excluding China & Japan, China, Japan, and MEA.
Need specific information?
Our Clients