IQF Vegetable Market Snapshot
The individually quick-frozen (IQF) vegetable market is forecast to exhibit steady growth, with its overall valuation reaching US$ 1,560.1 Mn in 2021. As per Future Market Insights (FMI) analysis, IQF vegetable sales are expected to surge at 4.5% CAGR over the course of the assessment period, from 2021 to 2031.
Growth prospects for the market are likely to remain positive, thanks to improvements in the global food supply chain infrastructure. IQF potato products will emerge top-selling, accounting for more than 20% of the global market in 2021.
Key Points Covered in IQF Vegetable Market Study
Market estimates and forecast 2016-2031
Key drivers and restraints impacting market growth
Segment-wise, Country-wise, and Region-wise Analysis
Competition Mapping and Benchmarking
Brand share and Market Share Analysis
Key Product Innovations and Regulatory Climate
COVID-19 Impact on IQF Vegetables and How to Navigate
Recommendation on Key Winning Strategies
2016-2020 IQF Vegetable Market Outlook Compared to 2021-2031 Forecast
The global IQF vegetable market rose at a CAGR 2.8% during 2016-20 and is further expected to grow at a CAGR of 4.5% during the forecast period of 2021-31.
Advances in technology to preserve food have allowed market players to make goods available to consumers around the globe. In addition, the convenience factor, which has become increasingly important in today's society has been aiding sales of IQF vegetables.
Customers are increasingly seeking simple and hygienic vegetable products such as IQF items that can rid them of conventional hassles of cleaning and slicing fresh vegetables, thereby avoiding the all-important time restrictions of traditional cooking.
Their changing preferences have played a crucial role in fuelling the demand in the market.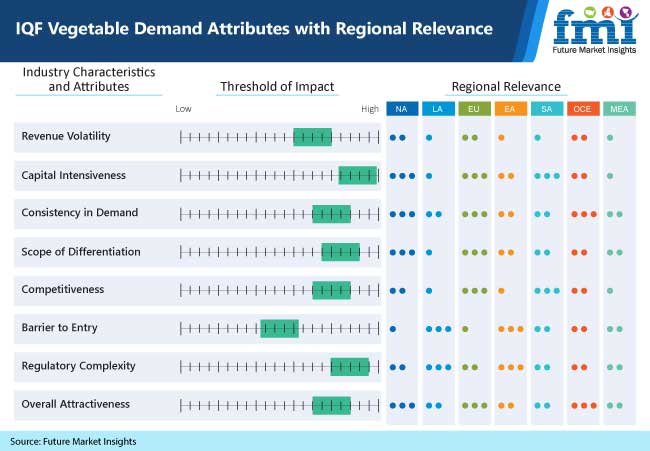 Is Long Shelf Life of IQF Vegetables a Growth Parameter for the Market?
Frozen food is witnessing a rise in demand. Thanks to the technologies being used for their production, handling, and storage, frozen food market is forecast to expand in the coming years.
IQF and BQF (cold storage) technologies have influenced the ability to safely store fruits and vegetables for longer period of time when maintained in specific temperature conditions. Cold storage method control moisture, but IQF technology uses nitrogen to freeze each individual vegetable unit.
The shelf life of IQF vegetables ranges from a few weeks to months depending on the source, allowing storage, without spoilage concerns. In IQF procedures, the long shelf life of vegetables is achieved by fast freezing, which converts all liquid to a frozen form without damaging vegetable cells.
Approval from regulatory agencies has created opportunities for IQF vegetable manufacturers who identified the potential of this business and started the supply of new age products. Companies such as B&G Foods Holdings Corp., Dole Food Co., SunOpta Inc., and ConAgra Brands are producing IQF vegetables.
How Demand for Convenience Foods Affecting IQF Vegetables Market?
Consumers are exhibiting a growing preference for convenience foods that can help them save time in the kitchen. A busy lifestyle and an ageing population are driving the need for convenience food.
They prioritize ease of use, packaging, nutritional value, safety, variety, and product appeal, driven primarily by rising disposable incomes. Some of the most favored vegetables in IQF format are broccoli, potatoes, and tomatoes, which have wide availability and easy-to-cook characteristics.
Most vegetables can be processed with the help of IQF technology, which preserves nutritional contents, while maintaining the texture and taste of the vegetable for a longer period of time.
Manufacturers are focusing on production of IQF vegetables to gain a better market share in this segment due to the high demand. The rapid growth of the food service industry in various developing markets is also expected to fuel the demand for convenience foods, and IQF fruits and vegetables.
How is the Risk of Pathogens in IQF Vegetables Expected to Impact Growth?
Japan and some countries in North America have been facing the issue of bacteria and viruses present in frozen fruits and vegetables. The listeria monocytogenes bacteria caught global attention due to the recall of IQF vegetable products. The U.S. and China, are facing bacteria contamination issues due to high pollution levels.
In 2016, most manufacturers in the U.S. recalled IQF vegetable products due to a listeria monocytogenes outbreak, and this phenomenon occurs every year. Listeria monocytogenes is a species of pathogenic bacteria which causes the infection listeriosis that kills an average of 300 people every year globally.
Most American companies are taking additional precautions, even as buyers are always worried about their health while purchasing vegetables, which will play a key role in market developments for the foreseeable future.
What is the Impact of the COVID-19 Crisis on the IQF Vegetable Market?
The outbreak and re-emergence of COVID-19 especially in low-income countries with limited medical resources will have an impact on the GDP and sales of IQF vegetables.
IQF vegetable market is projected to be affected in the coming year due to the presence of the COVID-19 pandemic. The IQF vegetable market is predicted to expand at a moderate CAGR, based on the existing state of virus-affected countries.
Changes in government policies, the management of the pandemic, and an increase in per capita disposable income in the countries would result in a recovery in IQF vegetable sales through 2031.
Country-wise Insights
Will the U.S. Continue Leading IQF Vegetable Market?
The U.S. market for IQF vegetable totaled US$ 429.5 Mn in 2020. Growing at a CAGR of 2.2%, the market is projected to reach US$ 495.7 Mn by 2031.
IQF vegetable consumption in the U.S. is still the highest in the world. As IQF vegetables are available round the year and are convenient to cook, the demand for IQF vegetables is witnessing a surge. Increase in consumption is influencing growth as IQF vegetables save cooking time, as they are available in ready-to-cook processed form.
Also, in the U.S., IQF vegetables hold a wider market compared to IQF fruits due extensive usage, either as major part of meals or as complimentary food.
Will Germany Emerge as a Lucrative Market for IQF Vegetables?
The Germany IQF vegetable market will account for a value share of 15.2% of Western Europe in 2021, and is expected to grow at an approximate CAGR of 2.8%.
The growth of IQF vegetables market in Germany is attributable to the rising price sensitivity. The consumer demographic trend in Germany is clearly skewed towards an older population and single-person households.
This has led to a decline of traditional family meals and has boosted the need for single-portion products such as IQF vegetables.
What are the Growth Prospects of IQF Vegetables in France?
The France IQF vegetable market is estimated to hold a lion's share in Europe through 2031. The market share of France is projected to reach 14.8% by 2031, at a compounded annual growth rate of 2.9%.
In France, IQF vegetables account for a significant part of the total production of frozen food. Also, France's retail distribution system is diverse and sophisticated, a network very similar to that of the U.S., which will provide growth opportunities to manufacturers for the foreseeable future.
What is Japan's Value Share in the Global IQF Vegetables Market?
According to FMI's analysis, Japan is expected to hold a market value share of 5.5% in the year 2021.
IQF vegetables that are in demand throughout the year in Japan include potatoes and corn. These vegetables are not subject to seasonal price changes owing to easy access for fresh options.
Private label brands - Green Giant, Birds Eye and Pictsweet are leading in the Japanese market. Potato products and corn products enjoy a very good market share among all the IQF vegetables.
What is Driving the Growth of the IQF Vegetable Market in the U.K.?
The U.K. is among the largest Europe markets for IQF vegetable with an approximate volume of around 816 MT in 2021. The market will clock a growth rate of around 2.7% in terms of value for 2021-31 and is expected to contribute over 10% to the total IQF vegetable market in Europe in 2031.
Consumers in the U.K. are becoming interested in eating nutritious foods as part of a lifestyle change. There has been a significant shift, away from high-fat foods and towards high-protein vegetables. In the future, the IQF vegetable market in the U.K. is predicted to have the strongest growth prospects. Thus, with increasing awareness about the benefits of vegetables, this category is bound to show promising growth in the future.
Category-wise Insights
Which is the top-selling IQF Vegetable type?
Among vegetable types, potato is most preferred in the IQF sector and it will hold a dominant share of more than 23.4% in 2021. The segment is expected to grow at a CAGR of 4.2% over the forecast period.
Potatoes are a popular staple, coming in fourth place behind wheat, rice, and maize in terms of global output. On a commercial basis, it is consumed as fresh potatoes or as processed potatoes.
IQF potatoes are one of the most common varieties of processed potatoes. They're quick to prepare and offer a variety of nutrients and vitamins in a naturally maintained form with a long shelf life. The demand for IQF potatoes is rapidly increasing owing to the increase in number of fast food restaurants and increased global food processing capacity.
Which is the Primary Application of IQF Vegetables?
Food products using IQF vegetables are expected to hold a market value share of over 75% in 2031, and is anticipated to grow at a CAGR 4.7% of throughout the forecast years 2021-31.
Demanding work lifestyle and an increase in the working population, coupled with the expansion of the food processing sector has supported consumer demand for ready-to-eat or convenience food products. As a result, the demand for IQF vegetables for baking, confectionary, and snack foods has increased.
Competitive Landscape
Companies are developing technologies for introducing previously unexplored fruits and vegetables that can retain their nutritional value, while decreasing the cost of production. Companies such as Dole Food Co., Capricorn Food Products India Ltd, and J.R. Simplot Co. are investing increasingly in creating new products of IQF vegetable.
In August 2020, Turkey-based Fine Food acquired Buhler's SORTEX® FA series machines, which allows the company to expand production capacity, while improving on exports and distribution requirements.
REMS Frozen Foods was unveiled in March 2021. The company is set to import frozen food ingredients, while specializing in IQF products for operations in China, the U.S., Spain, Egypt, and Eastern Europe.
Cardinal Foods LLC a leader in the IQF sector entered into a Joint Venture with Russet House to set up a processing facility for the production of sweet potato fry products.
Scope of Report
Attribute

Details

Forecast Period

2021-2031

Historical Data Available for

2016-2020

Market Analysis

USD Million for Value

Key Countries Covered

US, Canada, Germany, U.K., France, Italy, Spain, Russia, China, Japan, South Korea, India, Thailand, Malaysia, Indonesia, Australia, New Zealand, GCC Countries, Turkey, Northern Africa, and South Africa

Key Segments Covered

Type, Application, and Region

Key Companies Profiled

B&G Foods Holdings Corp.
Capricorn Food Products India Ltd
ConAgra Foods, Inc
Dole Food Co.
Greenyard NV
J.R. Simplot Co.
Kerry Group Plc.
Pinnacle Foods, Inc.
SunOpta Inc.
Uren Food Group Limited

Report Coverage

Market Forecast, Company Share Analysis, Competition Intelligence, DROT Analysis, Market Dynamics and Challenges, and Strategic Growth Initiatives

Customization & Pricing

Available upon Request
Key Questions Answered in the Report?
What is IQF vegetables market size?

Propelled by improvements in food processing technologies, the global IQF vegetables market will surpass US$ 1.5 Bn in 2021. It is expected to surpass US$ 2.4 Bn in 2031.

At what rate did the IQF vegetables market expand in the last five years?

According to FMI's analysis, IQF vegetables sales have grown at 2.8% CAGR between 2016 and 2020.The market's valuation stood at over US$ 1.01 Bn in 2020.

What are the key trends shaping the IQF vegetables market?

Key trends shaping the market include growing trade through e-commerce, growing use in fast food applications, and production operations in closed environment for new launches.

What are the key factors driving IQF vegetables market demand?

Longer shelf life of IQF vegetables, hectic lifestyles, and a rising preference for convenience foods, packaging innovations, and strong supply chain are driving the IQF vegetables market.

What is the North America IQF vegetables market outlook?

Demand for IQF vegetables in North America will rise, aided by sales across the U.S. and Canada. As per FMI research, North America will hold 29.5% of the global IQF vegetables market in 2021.

Which countries are key producers of IQF vegetables?

The U.K., France, Japan, Netherlands, and China are the key producer markets of IQF vegetables.

What is the cumulative share of top five companies in the IQF vegetables market?

The cumulative market share of the top 5 players, including B&G Foods Holdings Corp., Capricorn Food Products India Ltd., ConAgra Foods, Inc., Dole Food Co., and Greenyard NV, is 25 - 30% of the overall market.

Which countries are key exporters of IQF vegetables?

The U.S., U.K., Germany and China are key exporters of IQF vegetable products.

Which are the top countries driving demand for IQF vegetables?

China, Netherlands, Japan, France, and the U.K. are the top 5 countries which are driving the demand in the IQF vegetables Market.

What are the key statistics for IQF vegetables market in Japan and South Korea?

Japan is expected to hold a 5.5% market share during the forecast period. South Korea holds a revenue share of 2.6% in the global IQF vegetables market.
IQF Vegetable Market by Category
By Type:
Beans
Peas
Corn and Baby Corn
Broccoli and Cauliflower
Potato
Onion
Tomato
Carrot
By Application:
Food

Bakery, Confectionary & Snack Food
Dairy & Dessert
Cooking food
Ready to Eat Food

Beverage

Juice
Other Non-alcoholic Beverages

Concentrate
By Region:
North America
Latin America
Europe
East Asia
South Asia
Oceania
MEA
Need specific information?