Report Scope
Base year considered - 2020
Actual estimates/Historical data - 2015 – 2019
Forecast period - 2020 – 2030
Forecast units - Value (USD) Mn
Segments covered - Product, Application, Food Form and Region
Regions covered - North America, Latin America, Europe, East Asia, South Asia, Oceania and MEA
Key Players - Universal Pure, Thyssenkrupp AG, Symbios Technologies, Stansted Fluid Powder Ltd, Pulsemaster, Nordion, Next HPP, Multivac Sepp Haggenmuller Se & Co. Kg, Kobe Steel Ltd, Hormel Foods, Hiperbaric Espana , Hain Celestial, Elea Technology, Dukane Corporation, Chic Freshertech, Bosch, BaoTou KeFa High-Pressure Technology, Avure Technologies, American Pasteurization, and Advanced Microwave Technologies
Report coverage - Revenue forecast, company share, competitive landscape, growth factors, and trends
KEY RESEARCH FINDINGS
Non-thermal pasteurization is gaining popularity as a preferred technology for food processing for converting raw food items into products that are suitable for human consumption
Non-thermal pasteurization does not expose the food to high temperatures which helps to retain the taste, nutritional value of the food and appearance. The technology also helps to kill pathogens keeping the food safe
The increasing use of HPP in shellfish, sliced meat, vegetables, fruit, poultry, fish, juices & smoothies, ready-to-eat meals, sauces & salsas, and others is expected to drive the market
The non-thermal pasteurization food segment is expected to account for the largest share due to the growing use of HPP in meat products, fruits, cheese and ready-to-eat meals
High growth is expected in the North America non-thermal pasteurization market
KEY FACTORS SHAPING GROWTH
Non-thermal Pasteurization Techniques to Witness Higher Adoption in Coming Years
Non-thermal pasteurization techniques such as high pressure processing, pulse electric field, ultrasonic and others have helped companies to meet the growing demand of consumers by increasing the production capacity and reducing the time required to process food. The adoption of non-thermal processes is increasing as they ensure inactivation of microorganisms, food preservation, freshness, and longer shelf life.
HPP Technique Emerges as Favourite Among Food Processing Companies
Consumer preference for tastier and additive-free food items with extended shelf life, natural colour & texture will increase the sales of luxury & cold pressed juices and thus increase the market for the technique. Among techniques available in the market, the adoption of HPP technique is anticipated to rise significantly over the forecast period. HPP technique helps in preserving the freshness of the food, prevents development of microorganisms and also extends the shelf life of the product
STRUCTURE ANALYSIS
Some of the key players in global non-thermal pasteurization market include Universal Pure, Thyssenkrupp AG, Symbios Technologies, Stansted Fluid Powder Ltd, Pulsemaster, Nordion, Next HPP, Multivac Sepp Haggenmuller Se & Co. Kg, Kobe Steel Ltd, Hormel Foods, Hiperbaric Espana , Hain Celestial, Elea Technology, Dukane Corporation, Chic Freshertech, Bosch, BaoTou KeFa High-Pressure Technology, Avure Technologies, American Pasteurization, and Advanced Microwave Technologies.
Growth in R&D activities for technology development in non-thermal pasteurization is the growing trend of the adoption of novel food processing technologies for the retention of food nutrients and sensory attributes.
Beverages and Liquid Segments to Emerge Dominant In terms of Application and Form, Respectively
Non-thermal processes such as PEF and HPP are increasingly preferred in the beverage industry, as they effectively increase the shelf life of beverages and prevent microbial development. Moreover, with the help of this technology, colours, tastes and nutrients can be effectively stored. This technology helps to retain nutrient, colour and flavour in products and also allows a gentle preservation at ambient temperature of beverages. Such factors are also expected to fuel demand growth.
The beverages segment is likely to be in great demand due to the expansion in the range of market techniques for processed fruit and vegetable juices, wine, sugar syrups, beer, milk and processed coconut water as they effectively increase the shelf life of beverages and prevent microbial development.
Based on form the market can be segmented into liquid and solid. Of these, the liquid segment currently holds dominance and is likely to continue leading the market through the course of the forecast period.
North America to Exhibit Attractive Growth Opportunities
In North America an increasing number of food product manufacturers are realizing the value of non-thermal pasteurisation. The region also exhibits considerably high meat consumption, which in turn boosts growth opportunities for the non-thermal pasteurization market. While developed countries will remain lucrative, manufacturers are likely to shift their focus towards emerging nations as well. Changing lifestyle and food habits of consumers in India and China besides other developing countries will create ample opportunities for the growth of the non-thermal pasteurization market.
Rising Consumption of Convenience Foods is Driving Growth
Increasing consumption of convenience foods such as ready to eat meals, frozen products, and processed foods has fuelled the demand for non-thermal pasteurization. Factors such as the demand for longer shelf-life in food are driving the non-thermal pasteurization market. The need for high capital spending, however, is the limiting factor in the non-thermal pasteurisation market. Nonetheless rising government investment in food production, advancements in equipment, and the development of high-pressure processing techniques will create opportunities for growth in the forecast period.
How Growth will Unfold
The primary factor driving the non-thermal pasteurization market is the increasing demand for preservation of vegetables, meat, seafood, fruits and other types of packaged food. Changing life style and busy schedule of people is compelling them to look for packaged, ready to eat and frozen foods. Despite this, there is significantly high demand for better quality and healthier items, which has made non-thermal pasteurization highly important in the food industry.
Increasing consumers need for tastier, safe and additive free food is additionally surging the global market of non-thermal pasteurization. Increased usage of high-pressure processors (HPP) and rising government investments in food processing equipment and machinery are creating opportunities for the market growth.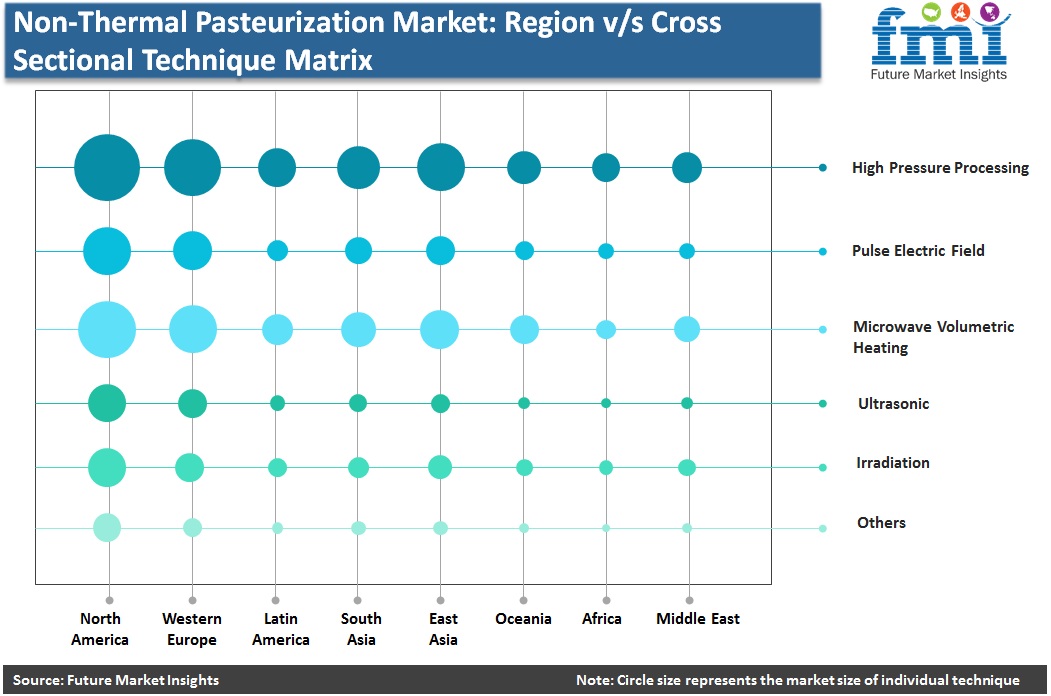 NON-THERMAL PASTEURIZATION MARKET TAXONOMY
The global Non-Thermal Pasteurization Systems market is segmented in detail to cover every aspect of the market and present complete market intelligence to readers.
Technique
High Pressure Processing (HPP)
Pulse Electric Field (PEF)
Microwave Volumetric Heating (MVH)
Ultrasonic
Irradiation
Form
Application
Food and Beverages

Dairy Products
Ready Meals

Pharmaceuticals
Cosmetics
Region
North America
Latin America
Europe
South Asia
East Asia
Oceania
MEA
Need specific information?