Passenger Boarding Bridge Market - Sky is the Limit
The aviation sector is at full throttle, propelled by the thriving tourism industries, affordable air fares and a push for greater connectivity in an increasingly globalized economy. Gains remain abound in the aviation industry owing to the expanding middle-class that continues to spur growth in air travel, as an increased number of people are able to afford flights for holidays as well as business-related travel. Increasing concerns over airport security, implementaion of e-passports and need for enhanced aircraft ground support infrastructure along with fast-expanding air travel industry has propelled investment efforts, while paving the way for development of better-quality infrastructure. This has further pushed the growth prospects of airport passenger boarding bridge (PBB) market, with companies vying to underpin gains by delivering variants that promise optimal convenience to users as well as operators, alike.
With both public and private organizations emphasizing importance of making investments in novel and better-quality airport infrastructure to accommodate growth in traffic demand and maintain levels of service expected by passengers, gains remain concentrated in the market. This falls in line with an increased recognition of the fact that improved infrastructure, and making the most of existing infrastructure, forms the bedrock on which smooth airport operations and improved passenger experience can be built.
Passenger Boarding Bridge Market - Key Research Findings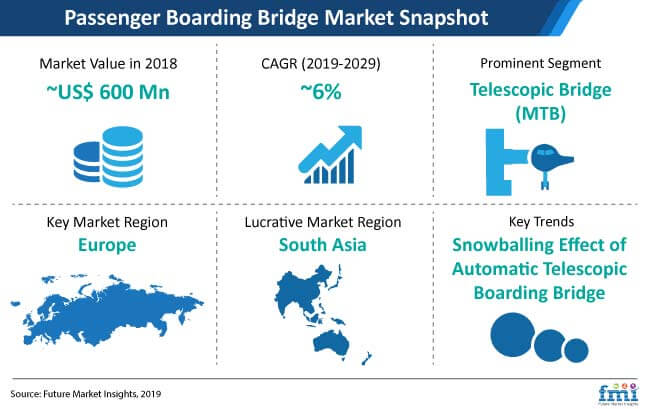 The global passenger boarding bridge market size in 2018 was valued at ~US 600 Mn.
The passenger boarding bridge market is anticipated to grow at a CAGR of ~6% during the forecast period of 2019-2029.
The mobile telescopic bridges segment is expected to remain as the most preferred product type segment in the passenger boarding bridge market.

The growth of this particular segment can be primarily attributed to the global growth of the passenger boarding bridge market.

Collectively, Europe and North America are likely to account for more than half of the revenue shares in the passenger boarding bridge industry by the end of 2029.

The East Asia market will continue to be a significant market for passenger boarding bridge manufacturers and distributors, owing to the increasing production and demand for boarding bridges in aeroplane.

The hydraulic system segment is likely to continue as the prominent drive system, which creates significant growth opportunities for passenger boarding bridge market players.

The aerospace industry has witnessed significant growth over the recent past. The increasing disposable income of the higher and middle class population increases the demand for better services in the aerospace industry, which in turn, is expected to propel the demand for passenger boarding bridge.
Noteworthy application potential of passenger boarding bridges has been identified to enhance the safety of passengers.
Key Factors Shaping the Passenger Boarding Bridge Market
Rise in Passenger Travel Provide Growth Opportunities to Passenger Boarding Bridge Manufacturers

Air travel passengers are increasing day-by-day across emerging economies such as India and China as well as other developed economies. Such an increase creates new challenges for the government to provide appropriate infrastructure, technology, and equipment that can accommodate the growth and assure that regulations and taxes will not be the restraining factors of the growth. Continuous growth in the passenger traffic is expected to boost the demand for passenger boarding bridges in the near future.

Increasing Adoption of Glass-Walled Passenger Boarding Bridges

According to key manufacturers of passenger boarding bridges, glass-sided PBBs are now more popular than steel, and the penetration of glass-walled passenger boarding bridges is also growing, which is expected to boost the passenger boarding bridge market.

Introduction of New Airports to Boost the Market Growth

Investments in the airport development across developing countries such as India, China, Singapore, and Malaysia is expected to create significant growth opportunities for passenger boarding bridge manufacturers across Asia-Pacific and other regions. Passenger boarding bridges are the most useful equipment because without them, flying would be much more uncomfortable. Passenger boarding bridges allow flat level entry of aircrafts to several airports worldwide.

Rising Effect of Barrier-free Passenger Boarding Bridges

For enhancing the passenger mobility experience as well as safety, airline providers and airport authorities prefer barrier-free passenger boarding bridges. Moreover, in a conventional passenger boarding bridge, side grooves for rainwater on both sides of the outer tunnel are always a hindrance for passenger, which are completely removed in barrier-free passenger boarding bridges.

East Asia Remains Lucrative for Investors

East Asia is estimated to be a prominent region in the passenger boarding bridge market and contributed a high revenue share in the global passenger boarding bridge market in 2018. However, a strong growth in the passenger boarding bridge market is expected in developing countries, especially in India and China, due to the increasing urbanization in these countries.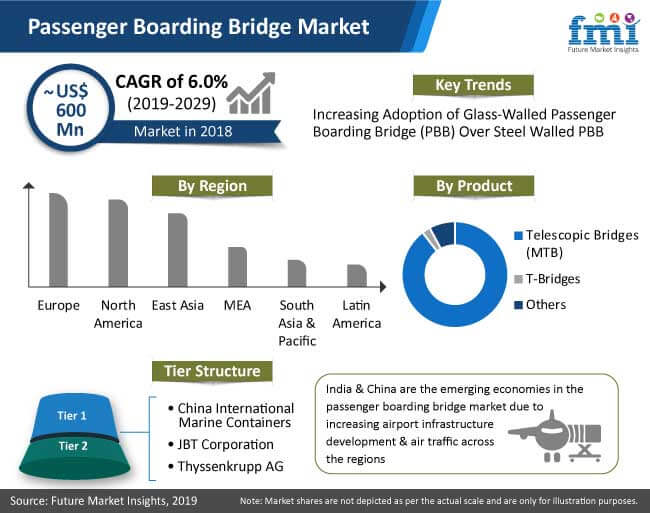 Passenger Boarding Bridge Market Structure Analysis
The global passenger boarding bridge market is a moderately competitive market. Tier-1 players hold approximately ~80% share in the market.
Most of the key players sustain strategic focus on the adoption of new technologies, development of new products, and expansion of business through acquisition and merger activities in new regions and setup of the distribution network.
Significant investments in research and development of new and durable products by companies are expected to exploit the passenger boarding bridge market growth prospects.

Key players in the passenger boarding bridge market such as ShinMaywa Industries, Ltd., China International Marine Containers (Group) Company Ltd, JBT Corporation, Thyssenkrupp AG, PT Bukaka Teknik Utama Tbk, and FMT Sweden AB, are developing new products and are focusing on product innovations to sustain their positions in the market.

International and regional market players have a prominent marketing network of distributors. Regional and global offices across tier 1 and tier 2 cities are providing support to its customers.
Passenger Boarding Bridge Market - Mapping the Journey So Far
Passenger boarding bridges have been a standard feature at airports around the world for over decades, with roots deep and far back in 1931, the year that marked the advent of movable passenger walkaways at London's Craydon Airport. The concept of the passenger boarding bridge was conceived in the very early days of commercial aviation. Since then there has been no looking back for passenger boarding bridge market, owing the significant growth in air passenger traffic, which further propelled several countries to build new airports to widen their passenger handling capacities.
The journey so far hasn't been a hurdle-free slope for passenger boarding bridge market, which suffered a certain impact of the slowdown in world economic growth for some time period. However, the market still maintained a comparatively optimistic growth, in the recent years, and accounted for revenues worth ~US$ 600 Mn in 2018, and is highly likely to pick pace in the forthcoming years.
A Plethora of Opportunities Lay in Asia Pacific; China Set to Outshine
The passenger boarding bridge industry that witnessed the reign of developed regions, such as North America and Europe, over the years, is highly likely to undergo substantial change in the near future. As per the International Air Transport Association (IATA), China is projected to replace the U.S. as world's largest aviation market in the forthcoming years, while Japan and Indonesia will also take prominent spots. Growing investments in the airport development across developing countries, such as China, India, Singapore, and Malaysia are creating a stream of opportunities for passenger boarding bridge manufacturers across the Asia-Pacific.
AI-equipped PBB - Piloting Stakeholders into the Future
Technology is setting new hopes for the manufacturers of passenger boarding bridge market, with innovation and automation underway in the growing aviation industry. In fact, AI-based boarding bridges have reached inches closer to full automation, with several companies delving deeper in the far-reaching automation trend to weave higher revenues. Japan's ShinMaywa Industries has developed AI-based technology to automatically position passenger boarding bridges as close as 10cm to aircraft doors, much closer than the existing variants.
Innovation and automation are rapidly taking a center stage in the aviation industry, as they can help airports address shortage of ground staff, for the fact that the technologically-advanced bridges won't require highly skilled operators. As airports continue to face shortfall of staff and high turnover rates for employees in general, the focus has shifted to testing and putting into practical operation an AI-equipped passenger boarding bridge automated docking system. Such growing efforts in the direction of advanced passenger boarding bridges mean the days of any-sort of crunch at airports are numbered. Stakeholders are tapping into such pain points of the aviation industry to build higher revenues by offering synced and desired variants
Telescopic bridges sought after
Demand for T-bridges passive
Glass walled to remain structure of choice
Steel walled variants follow
Electro-mechanical system takes the lead
Hydraulic system building its place
Movable PBB sustains high demand
Demand for fixed PPB losing pace
How Growth will Unfold
Future growth and opportunities in the passenger boarding bridge market are likely to remain bullish, as the rapidly increasing air passenger traffic continues to propel substantial demand for new aircrafts and airports, thereby driving the quest for proper infrastructure. Moreover, transformation is in full swing in the highly-competitive passenger boarding bridge market, wherein leading manufacturers, expect in North America, have placed their focus on improving barrier free glass walled PBB to enhance the passenger experience and solidify position in the market. Good technical marketing and development of cost effective products are also garnering limelight as the key market growth strategies in the passenger boarding bridge market.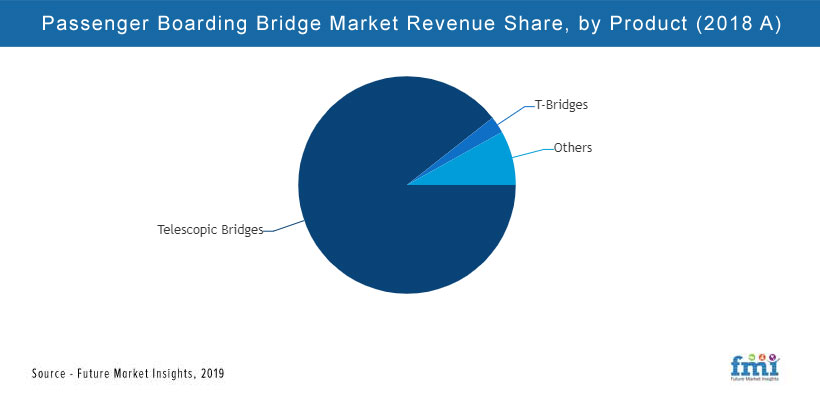 * This data is only a representation. Actual data may vary and will be available in report.
Click Here To Know How The Growth Will Unfold
Custom Market Research Services
FMI offers custom market research services that help clients to get information on their business scenario required where syndicated solutions are not enough.
Overview
Passenger Boarding Bridge Market: Tracking the 'Transformation' to Extraordinary
A recent market study published by FMI on the Passenger boarding bridge Market: Global Industry Analysis 2014-2018 & Forecast 2019-2029 offers a comprehensive assessment of the most important market dynamics. After conducting a thorough research on the historic as well as current growth parameters of the passenger boarding bridge market, growth prospects of the market are obtained with maximum precision.
Passenger Boarding Bridge Market Taxonomy
The global passenger boarding bridge market is segmented in detail to cover every aspect of the market and present a complete market intelligence approach in front of the reader.
By Product Type
Telescopic Bridges
T-Bridges
By Structure
Steel-walled
Glass-Walled
By Drive System
Hydraulic System
Electro-mechanical system
By Region
North America
Latin America
Europe
South Asia &Pacific
East Asia
Middle East & Africa
How the research was conducted?
Primary Research
Primary research interview with Key Opinion Leaders and other participants were conducted for data collection and validation of the below information:
Average Selling Price (US$) and Market Growth
Key Developments
Key Trends and Opportunities
Region wise Dynamics
Market Share analysis
Competition & Key Winning Strategies
Secondary Research
Passenger boarding bridge Manufacturers
Key participants across the value chain
Annual Reports/SEC filings/Investor Presentations/Earning Call Transcript
Industry Journals
Primary Interview Splits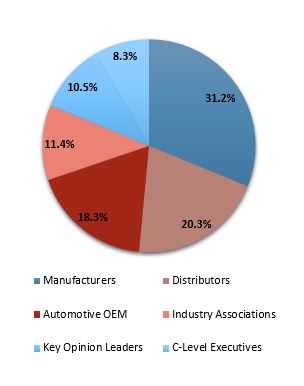 To Learn More About our Comprehensive Perspective on Passenger Boarding Bridge Market,
Get in touch
COVID -19 : Impact Analysis
Request the coronavirus impact analysis across industries and markets
Request Covid -19 Impact
CASE STUDIES
See how our work makes an impact.
At FMI, we design strategies that are adaptive, impactful, and implementable.