Bridge Bearings Market Outlook (2022-2028)
[239 Pages Report] The global bridge bearings market was valued at US$ 674.33 Mn in 2021, and is likely to reach US$ 705.8 Mn in 2022. The market is projected to reach US$ 935 Mn by 2028, registering a CAGR of 4.8% during the forthcoming forecast period.
| | |
| --- | --- |
| Report Attributes | Details |
| Bridge Bearings Market Size (2022) | US$ 705.8 Million |
| Projected Market Value (2028) | US$ 935 Million |
| Global Market Growth Rate (2022-2028) | 4.8% CAGR |
| Most Preferred Design Type | Elastomeric Bearings (32%) |
Growth is riding on the back of a flourishing global transport infrastructure industry, with countries such as China, India and the U.S implementing major road and rail network projects in forthcoming years. Overall, bridge bearings account for 0.7% share of the bearings market.
Don't pay for what you don't need
Customize your report by selecting specific countries or regions and save 30%!
How The Market Progressed Till June 2022?
| | |
| --- | --- |
| Market Statistics | Details |
| H1,2021 (A) | 4.9% |
| H1,2022 Projected (P) | 4.9% |
| H1,2022 Outlook (O) | 4.6% |
| BPS Change : H1,2022 (O) - H1,2022 (P) | (-) 33 ↓ |
| BPS Change : H1,2022 (O) - H1,2021 (A) | (-) 29 ↓ |
FMI presents a half-yearly comparison and insightful analysis of bridge bearings market growth outlook also the factors influencing the growth. The market has been primarily influenced by the infrastructure sector growth outlook, innovations in the process, technological development.
Recent developments taken place in the market includes developments of bearings with high vertical and horizontal load bearing capacity as well as capacity expansions in the emerging markets.
According to FMI analysis, the variation in BPS values observed in the bridge bearings market in H1, 2022 - Outlook as compare to the earlier projections for the same period is decreased by 33 bps points. However, when compared to H1-2021, the market is expected to fall by 33 basis points as per the current estimation.
The slow uptake of the market during the first half of the forecast period due to the pandemic temporary cessation of infrastructure development projects in certain countries including China, substantially changed the demand-supply dynamics, propelling in a recessionary trend, is one of the key reasons for this change in growth rate.
Furthermore, rising FDI in the industrial and construction sectors, rising disposable income, and rapid urbanization are creating huge opportunities for railways and public transportation developments, which is indirectly increasing bridge bearing sales.
Furthermore, the bridge bearings market is expected to grow at a faster and lateral rate due to ongoing large public infrastructure projects, which are expected to create PPP opportunities over the forecast period.
Consumption Analysis of Bridge Bearings (2013 to 2021) Vs Market Estimates (2022 to 2028)
According to Future Market Insights, the market for bridge bearings surged at a CAGR of 4.1% from 2013 to 2021. Accessible and dependable transportation infrastructure is the bedrock of every economy's success since it boosts productivity, saves time, and links society. As a result, the demand to improve existing road infrastructure in order to provide improved accessibility is growing, offering possibilities for bridge bearings.
Significant contractions were experienced in the past two years in bridge bearing sales due to the COVID-19 pandemic. Temporary cessation of mega infrastructure projects across various countries significantly altered the demand-supply dynamics, ushering in a recessionary trend. Since mid-2021, as relaxations are being enforced, projects have resumed, restoring demand prospects.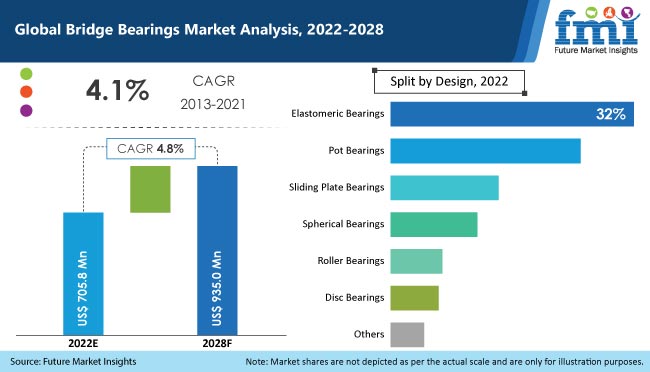 The bridge bearings market is expected to expand at a faster and more lateral pace because to ongoing significant public infrastructure projects, which are expected to provide public-private partnership (PPP) possibilities throughout the projected period. Over the projection period, demand for bridge bearing is expected to grow at a CAGR of 4.8%.
How is Growth of the Global Construction Industry Spawning Opportunities for Bridge Bearings?
The construction industry has witnessed significant investments in recent times. For instance, in FY2017, it is estimated that the spending on infrastructural construction was around US$ 3 trillion. Hence, expanding construction investments by PPP and regional governments are stipulated to register healthy growth in case of transport infrastructure and thus, subsequently augment the trade of bridge bearings.
Moreover, the transport infrastructure industry has witnessed sustained incremental growth over the years, which can be attributed to favorable economic conditions in numerous developing and developed countries. The bridge bearings market is anticipated to witness accelerated and lateral growth due to the ongoing large public infrastructural projects, which, in turn, are anticipated to create PPP opportunities over the forecast period.
Bridge Bearings Market - Country-wise Analysis
Why Should Bridge Bearings Manufacturers Concentrate on India?
India is anticipated to generate lucrative expansion opportunities for bridge bearings manufacturers, given the presence of a flourishing road infrastructure sector. The India Brand Equity Foundation (IBEF) forecasts that the government intends to construct 65,000 km of national highways at a cost of US$ 741.51 billion by 2022-end.
As per the report, India's roads transport more than 60% of all freight in the country, while handling 90% of total passenger traffic. Consequently, there is an increasing need to construct robust bridges across multiple terrain, including rivers, valleys and gorges, which is leading to more deployment of sturdy bridge bearings.
A series of bridge construction projects are scheduled to be completed or initiated by 2022. These include the Vertical Lift Railway Sea Bridge between Pamban and Rameswaram in Tamil Nadu and the Zuari Bridge in Panjim, Goa. These aforementioned projects have generated ample demand for bridge bearings.
How Opportunistic are Growth Prospects for Bridge Bearings across China?
China is among the dominant countries in terms of extensive passenger and freight transportation infrastructure. As of 2020, total length of highways across the East Asian behemoth comprised of 161,000 km (100,000 miles), while no less than 37,900 km (23,500 miles) of railway lines crisscross the nation. Consequently, a number of bridges have been constructed in recent years, augmenting demand for bridge bearings.
Moreover, future prospects for bridge bearings sales appears highly optimistic, with several mega infrastructure projects, including the highly lucrative Belt and Road Initiative (BRI), scheduled to be implemented on a massive scale. Projects such as the New Eurasian Land Bridge, China-Indochina Peninsula economic corridor and China-Central Asia Western Corridor, are also expected to involve extensive construction of road and rail networks across key countries.
Bridge Bearings Market - Category-wise Analysis
Which Material is the Most Preferred?
According to FMI, demand for steel bridge bearings will continue to hold major sway across the forecast period. Amongst all grades, preference for stainless steel will remain elevated, attributed to their increased corrosion resistance and excellent load and speed ratings. Moreover, the need for more durable bridges renders steel the primary choice.
However, in recent years, advancements in the construction industry have prompted companies to adopt more lightweight and flexible construction material, paving way for enhanced usage of rubber and combined bridge bearings. Materials such as elastic polymers are also being incorporated, as governments look to curtain maintenance costs associated with steel and other metal related bearings.
Which Bridge Bearing Design Type is Highly Sought After?
The bridge bearings market has been further divided based on design into elastomeric, pot, sliding plate, roller, spherical, disc, and other types of bridge bearings. The elastomeric bridge bearing segment is expected to develop rapidly in the global bridge bearings market.
The category is predicted to maintain its value share dominance and to account for 32.0% of the overall global incremental $ potential. The primary reasons for the expansion of the elastomeric bridge bearing sector are the low cost associated with the installation of elastomeric bridge bearings and greater performance against seismic stresses.
Get the data you need at a Fraction of the cost
Personalize your report by choosing insights you need
and save 40%!
Bridge Bearings Market - Competitive Landscape
Prominent players in the bridge bearings market are progressively focusing on R&D initiatives in order to create application-specific bearings and boost their efficiency. Companies are also pursuing other methods, such as partnerships, mergers, collaborations, and capacity expansions, among others, in order to enhance their market share and client base.
In April 2021, Canam Group Inc. (Canam Bridges) acquired Supermetal, a supplier, manufacturers and installer of structural steel for commercial, industrial and civil construction projects throughout the U.S and Canada, to enhance its production capacity and widen product offerings
In 2020, Freyssinet Limited (FPC Italia) supplied a range of fixed, sliding guided and free sliding spherical bearings with significant vertical loads from approx. 30,000 kN and horizontal loads up to 2,000 kN for the new road link in the Rotterdam region on A16 Highway. The movement is up to 400 mm, and equipped with tapered plates to compensate the slopes of the structure
Bridge Bearings Market Report Scope
Attribute
Details
Forecast Period
2022-2028
Historical Data Available for
2013-2021
Market Analysis
US$ Mn for Value
Key Regions Covered

North America
Latin America
Europe
South Asia and Pacific
East Asia
Middle East and Africa

Key Countries Covered

United States
Canada
Brazil
Mexico
Germany
U.K.
France
Spain
Italy
Nordics
Russia
Poland
China
Japan
South Korea
India
ASEAN
Australia
New Zealand
South Africa
GCC Countries

Key Market Segments Covered
Key Companies Profiled

Canam Group Inc.
Trelleborg AB
Ekspan Limited
Epic Polymer Systems Corp.
Freyssinet Limited
Granor Rubber & Engineering Pty. Limited
Gumba GmbH & Co. KG
KantaFlex (India) Private Limited
Mageba SA
Metal Engineering & Treatment Co. Pvt. Ltd.
RJ Watson, Inc.
Structural Rubber Products
Cosmec Inc.
Voss Engineering, Inc.
Zaoqiang Dacheng Rubber Co., Ltd.

Pricing
Available upon Request
Key Segments Covered in the Bridge Bearings Industry Study
Bridge Bearings by Material Type:
Steel Bridge Bearings
Rubber and Combined Bridge Bearings
Bridge Bearings by Design Type:
Elastomeric Bridge Bearings
Pot Bridge Bearings
Sliding Plate Bridge Bearings
Roller Bridge Bearings
Spherical Bridge Bearings
Disc Bridge Bearings
Other Bridge Bearings
Bridge Bearings by Region:
North America Bridge Bearings Market
Latin America Bridge Bearings Market
Europe Bridge Bearings Market
South Asia and Pacific Bridge Bearings Market
East Asia Bridge Bearings Market
Middle East and Africa Bridge Bearings Market
Frequently Asked Questions
The market is projected to reach US$ 935 million in 2028.
The market is expected to thrive at a CAGR of 4.8% through 2028.
Elastomeric bearings are the preferred design type, accounting for 32% of the market.
Bridge bearings account for a 0.7% share of the market.
Steel bridge bearing demand may continue to be strong.