Vulcanization Accelerators Market By Product (Thiozoles, Sulfanamides, Dithiocarbamates, Thiuram), Application (Automotive, Industrial, Medical, Consumer Goods) & Region Forecast to 2019 - 2029
Vulcanization Accelerators Market - Analysis, Outlook, Growth, Trends, Forecasts
October 2019

REP-GB-9956

283 pages
Vulcanization Accelerators Market - Key Research Findings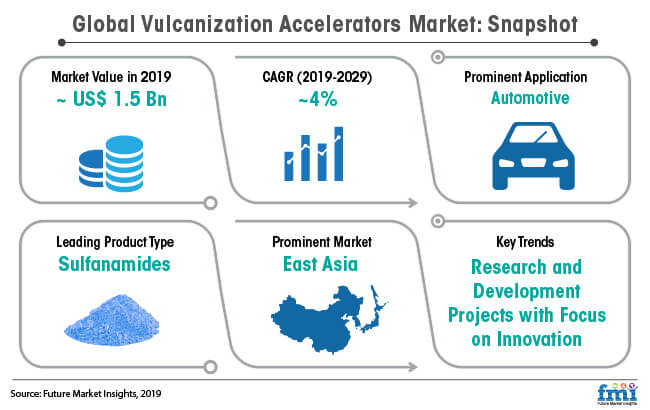 The global vulcanization accelerators market was valued at ~US$ 1.4 Bn in 2018.
The vulcanization accelerators market is anticipated to grow at a CAGR of ~ 4% during the forecast period of 2019-2029.
The thiazoles and sulfanamides are expected to remain the most preferred product, which can be primarily attributed to their wide use as primary accelerators.
East Asia is estimated to account for more than one third of the revenue share in the vulcanization accelerators market by the end of 2029.

East Asia is anticipated to continue to be an opportunistic market for vulcanization accelerator manufacturers and distributors, owing to the predominance of tire production and industrial activities in the region.

The automotive industry is projected to remain a prominent application area, creating significant growth opportunities for the vulcanization accelerators market players.

Vulcanization accelerators have a crucial role in the automotive industry, as these are widely used in tire, wiper blade, engine mount, seal, hose, and belt manufacturing.
Key Factors Molding Growth of the Vulcanization Accelerators Market
Demand Picking Pace with Increasing Tire Consumption

Manufacturing of tires is rapidly increasing with increasing automotive sales and aftermarket activities. Vulcanization accelerators are widely used in tire manufacturing for speeding up processes and to enhance tire properties. Also, vulcanization accelerators positively affect the operating rate, by increasing the rate of reaction. Thus, growing tire consumption is boosting the growth of the vulcanization accelerators market.

In any vehicle, tires experience maximum wear and tear, and thus, tires need to be replaced every two to three years. Further, it is assessed that in 2017, the global vehicle PARC was about 1.3 billion. Therefore, it can be simply concluded that rising vehicle PARC and production will boost the market for automotive tires, which in turn, will positively influence the demand for vulcanization accelerators.

Growing Demand for High Quality Medical Products Manufacturing

Increasing applications of vulcanization accelerators in the manufacturing of medical rubber products are expected to drive the market growth over the forecast period. To balance the conditions of healthcare systems, governments worldwide have been planning to invest a significant amount towards the improvement of healthcare services, also allowing 100% FDI in the medical device sector.

Also, increased cardiac disorders, pediatrics, and requirement in critical lifesaving procedures is propelling the demand for medical grade rubber products. Due to this, the healthcare industry is going through crucial changes. Thus, rising healthcare expenditure is estimated to drive the growth of the vulcanization accelerators market.

Research and Development Focus on Improving Tire Performance and Life

The U.S. Department of Transportation's National Highway Traffic Safety Administration (NHTSA) and Environmental Protection Agency (EPA) have recently developed fuel economy and new emission standards for medium-duty and heavy-duty vehicles. These rules require manufacturers to reduce fuel consumption for both trailers and tractors.

To improve fuel efficiency, key players are focusing on developing innovative materials and high-grade products. The use of these vulcanization accelerators enhances dynamic properties. For instance, these materials are known to provide improved rolling resistance and wet - dry traction. The high tire replacement rate in North America for commercial vehicles is expected to result in increase in demand for tires, which in turn, will boost the vulcanization accelerators market growth.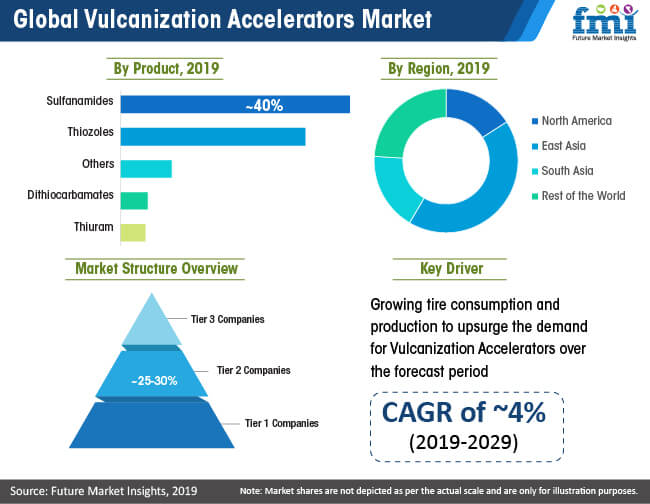 Vulcanization Accelerators Market Structure Analysis
The vulcanization accelerators market is moderately consolidated and has moderate competition across the globe.
Strategies followed by key players in the vulcanization accelerators market are expansion of production capabilities and extending global footprint, collaborations, and technological advancements. Key market players are observed to be involved in long-term contracts for the development of effective partnerships to secure future demand and to maintain dominance in the market.
Increasing demand for green tires is driving the demand for high performance materials.

Major players in the vulcanization accelerators market are Lanxess AG, Eastman Chemical Company, Arkema, Sumitomo Chemical Co., Ltd., Kumho Petrochemical, Emerald Performance Materials, Duslo, a.s, Jing Xian Yuelong Metal Rubber Products Co., Ltd., and King Industries, Inc., among others.
Propelling Vulcanization of Rubber with Reduced Sulfur Content
Vulcanization of rubber by sulfur alone is a time-consuming process, resulting in poor mechanical properties due to oxidative degradation of rubber. As a result, vulcanization accelerators are increasingly being adopted in the rubber industry to boost the process with minimal rubber degradation.
Vulcanization accelerators, such as thiazoles, create sulfur bridges between individual polymer molecules while being heated with rubber. In addition, vulcanization accelerators behave as sulfur donors, allowing vulcanization to progress at lesser sulfur content.
Thiozoles hasten the cross-bonding reaction between sulfur and rubber occurring at the carbon-carbon double bonds (C=C) in excessive amounts of sulfur. As such, thiozoles reduce the amount of sulfur required to cross-link polymers, improving the durability of the vulcanized rubber.
Thiozoles, combined with trace quantities of basic accelerators - diphenyl guanidine (DPG), and diorthotolyl guanidine (DOTG), enhances cure speed, scorch delay, and crosslink density. As such, the tensile and resilience properties of the cured rubber are improved.
Addition of activators, including zinc oxide, or stearic acid, adorns the efficacy of sulfur-based cure systems, and produce flat cure with better reversion resistance. Furthermore, vulcanization accelerators, such as sulfonamides, are fast curatives and result in a delay in the onset of vulcanization – ideal for rubber processing following increased scorch time.
Sulfenamide and Dithiocarbamate Vulcanization Accelerators - Complementing the Mechanical Properties of Vulcanized Rubber
Sulfenamide class accelerators are commonplace in the tire industry in light of delayed action, as well as faster cure rate during vulcanization of rubber compounds containing furnace blacks. Subsequent increase in amount of sulfenamide accelerators improves in scorch delay, cure rate, and state of cure. Further inclusion of basic accelerators, including DPG, DOTG, TMTM, TMTD, increases the cure rate, yet the scorch safety is slightly compromised.
Sulfenamide vulcanization accelerators showcase greater stress-strain aspects in tandem with better resilience and flex-fatigue resistance against thiozoles. Sulfenamide accelerators disintegrate swiftly in the presence of steam, making them suitable for manufacturing open steam cured rubber products which require faster onset of cure for enhanced shape retention.
Blooming of rubber compounds leads to poor linking to the following process, decreasing the appearance quality of the final offering. Large alkyl vulcanization accelerators – ZDEC, and ZDBC – exhibit high compatibility with rubber, thereby reducing the blooming phenomenon. Vulcanization accelerators, including ZMBT, TMTD, and MBT, are highly suitable for the production of latex products owing to good water solubility aspect.
Surging Automobile Production in East Asia Grabs Market Players Attention
Upswing in passenger vehicle production in East Asia remains the goldmine of growth for the market of vulcanization accelerators, with China, Japan, and South Korea representing the progress. With environmental amendments standing akimbo, countries, including Japan, and China are mandating labeling of tires in a bid to curb environmental degradation. In addition, regulatory bodies are offering incentives to manufacturers and customers turning to high performance silica reinforced tires.
The industrial sector in China is witnessing an uplift to satiate the demand for equipment parts - rubber conveyor belts, rubber hoses, rubber-lined strainers, rubber-lined dish ends, and rubber-lined bends. As such, market players are eyeing East Asia for expanding production footprint.
Stakeholders Innovate Existing Products to Gain Competitive Advantage
Binary accelerator - MBTS/TMTD - offers myriad of benefits - low scorch time, high cure rate, low reduction of mechanical properties, optimum aging resistance, and compatibility blend, motivating manufacturers to focus on the development of binary vulcanization accelerators.
Secondary vulcanization accelerators pose the risk of releasing carcinogens due to the decomposition of the amine compound. Manufacturers are increasing the production of primary vulcanization accelerators. Furthermore, rising cardiac disorders, pediatrics, as well as critical life-saving methods is propelling the demand for medical grade rubber equipment. As such, market players are tapping white spaces in the medical sector.
How Growth Will Unfold
Realizing environmental concerns, governments in the US and the European Union are imposing regulations that mandate tire labeling from A to E based on three parameters - wet grip, noise, and rolling resistance. Increasing demand for high performance tires following higher fuel efficacy, and minimal increase in production costs is set to drive the market for vulcanization accelerators. In addition, vulcanization Accelerators offer enhanced rolling resistance, as well as improved wet and dry traction.
Automobile manufacturers are inflating vehicle fleet size citing the amplifying trend of 'private vehicle ownership', resulting in increased demand for aftermarket car maintenance and services. As such, the adoption of vulcanization accelerators will mushroom in the automotive space where a single automobile unit is installed with rubber-based ancillary parts and tires.
On the flip side, countries, including India, and the European region are imposing anti-dumping duties on imported tires due to ecological depletion. The US-China trade conflict is further complementing the challenging situation – a restraining factor for the growth of the vulcanization accelerators market.
World's Most Profilic Intelligence Engine
Get Access To The World's Largest Market Research Database.
Sign Up Now
Key Segment
Product
Thiozoles
Sulfanamides
Dithiocarbamates
Thiuram
Others
Application
Automotive
Industrial
Medical
Consumer Goods
Region
North America
Latin America
Europe
South Asia
East Asia
Oceania
Middle East and Africa
Emerging Countries
Need specific information?
Our Clients