Smart Breast Pumps Need of the Hour
Globally, women are spending big on breast pumps.
According to recently released data from Future Market Insights, the global market for breast pumps was valued at $1.31 billion in 2016. The U.S. and EU5 countries are the largest markets for breast pumps globally. Breast pump sales are quickly growing in Asia Pacific, as more women enter the workforce in urban centers.
Asia Pacific excluding Japan (APEJ) is the fastest growing market for breast pumps globally. According to Future Market Insights, the APEJ breast pumps market will grow at a CAGR of 7.1% in the next decade.
Every second breast pump sold in the market is a double-electric. Although more expensive than single electric breast pumps and manual breast pumps, working women in urban centers prefer them because they speed up the process of expressing milk. Advanced double-electric breast pumps have a memory function which allows for remembering the rhythm of the milk expression. On account of these factors, nearly 3.8 million units of double electric breast pumps were sold in 2015.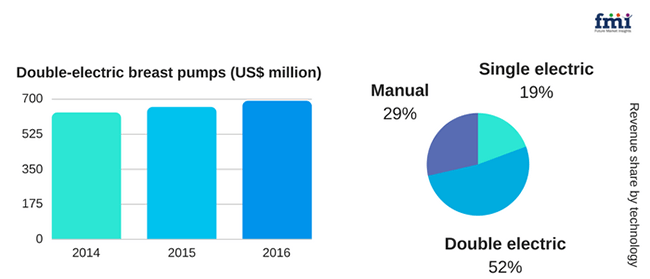 Despite steady sales forecasts, Future Market Insights noted that there was an acute urgency of developing easy to use, 'smart' breast pumps. A new breast pump by Willow has emerged as a strong contender for the smart breast pump, as it can be worn discreetly and taken anywhere. There are no chaotic cords, and the device can be connected to an app which monitors and tracks milk supply.
Another breast pump that has gained limelight is Babyation, St. Louis-based startup. The highlight of Babyation is its comfortable breast shield. The device also claims to make less noise than other pumps available in the market. Also, the pump doesn't hang from women's breasts, giving them the privacy while expressing milk.
Healthcare providers stress upon the need to prevent viruses and bacteria from entering the expressed milk. Due to this, many women prefer to opt for a closed system pump. However, high cost remains a key impediment to widespread adoption of closed breast pumps. Owing to this, demand for closed breast pumps is currently lower than open breast pumps; however, Future Market Insights projects the former to grow at a higher CAGR than the latter in the next decade.