Sports Nutrition Market, 2023 and Beyond: FMI's Presentation at Vitafoods Europe
Dec 09, 2022 | Food and Beverage |
Sports Nutrition Market, 2023 and Beyond: FMI's Presentation at Vitafoods Europe
Future Market Insights (FMI) was event partner at Vitafoods Exchange Europe and we participated as aa speaker as well. The main focus for our speaking engagement was on the emerging trends that will define the sports nutrition market 2023 and beyond, and how changing consumer demands are propelling various sports nutrition manufacturers enhance their product lines accordingly.
Download analyst presentation here
According to a recent report by Future Market Insights (FMI), the global market size for sports nutrition is expected to rise at a robust CAGR of 9.3% during the forecast period, 2022-2032. The Global sports nutrition industry is on the verge of major transformation owing to advancing consumer preferences, demand for performance-oriented clean ingredients with enhanced flavor/taste profiles, and the quest for newer functionalities.
It has undergone a major overhaul to meet the demands of consumers who are becoming more health-conscious. Today, sports nutrition products are consumed not just by athletes, but across age groups in a bid to maintain a healthy lifestyle. In this blog, we discuss some of the top trends defining the industry over the next half decade, and the potential business impacts of these trends.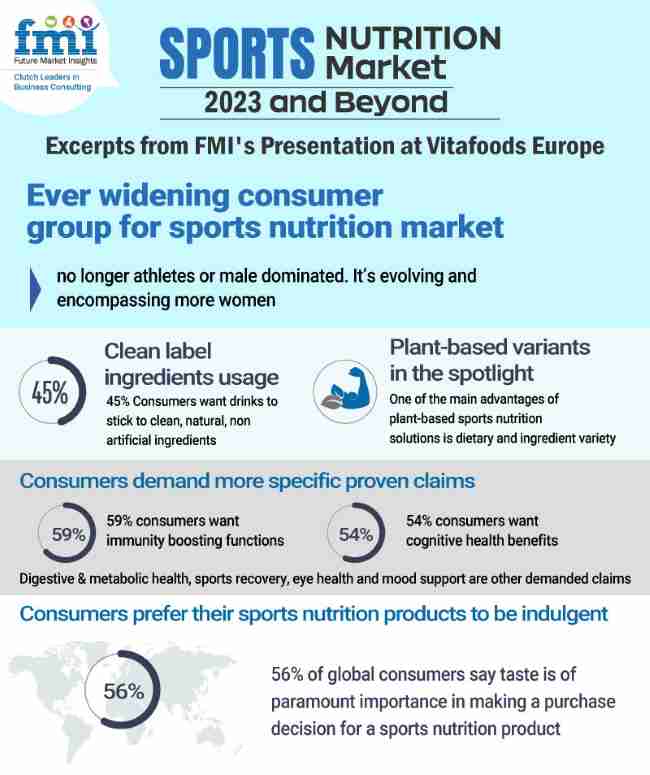 Ever widening consumer group for sports nutrition market
Sports nutrition will continue to expand and broaden its consumer base, bringing an increasing number of women into a space that has historically been dominated by men. This will unavoidably have an influence on product development as a whole, including formulations (option of "female-friendly" flavors and ingredients), marketing positioning as well as packaging. This is resulting in the development of an entirely new portfolio of ingredients and products geared toward the health of women.
After the pandemic, not only male and female athletes, but a wide class of consumers have become more health conscious and as a result, have moved towards sports food and beverages. Furthermore, it has been noted that mainstream consumers prioritize maintaining a healthy diet and lifestyle when choosing protein products, with the objectives of managing their weight and promoting muscle health. For instance, producers of sports drinks are concentrating on including collagen in their beverages. For active ladies who place a greater emphasis on weight management as well as holistic health, rather than on muscular building, collagen presents a fantastic opportunity. The "beauty from within" industry is well recognized for its use of collagen, which also improves joint and bone health and aids in weight control due to its greater satiety impact compared to certain other proteins.
Clean label ingredients usage in sports nutrition products
Keeping in line with the clean label movement, demand for clean label ingredients is increasing in the sports nutrition market as well. Majority of sports nutrition consumers believe the products include too many artificial substances. Consumers insist on using pure and natural components.
For example, as per a FMI survey, 45% Consumers want drinks to stick to the basics; the absence of artificial ingredients is more important than the addition of them. They want "Less processed" ingredients to make sports drinks look and taste like "normal drinks"
Customers are searching for goods without artificial sweeteners, GMOs, artificial preservations and other components that have undergone less processing. Some consumers even want to avoid soy, owing to its allergic properties, which is a key ingredient for sports nutrition products.
Manufacturers are therefore focused on creating transparency throughout their value chain, where they can have verifiable control over their supply and sourcing strategies. To increase the transparency in their product line, manufacturers are integrating technology such as blockchain on their lids. This allows consumers to see the entire sourcing process of the ingredients involved in those products.
In the next few years, sports food manufacturers will be tightening their clean ingredient sourcing further, and will ramp up third-party quality assurance too.
Plant-based variants for sports nutrition to be in the spotlight
With numerous manufacturers releasing plant-based variants of their sports protein bars, powders, and RTD drinks, claims of veganism, no animal components, and plant-based nourishment have been on the rise in the field of sports nutrition. To avoid allergy and GMO problems connected with soy, pea protein as well as other plant protein blends have replaced soy.
In addition to their standard protein powder offerings, several firms, including Organic Sports Nutrition and Vega also provide highly developed plant-based sports nutrition lines that include both pre- and post-workout items. There is now a greater selection of plant-based proteins and tastes in high-protein bars.
One of the main advantages of plant-based sports nutrition solutions is dietary variety. Manufacturers' use of mixtures of complementary plant proteins to provide the essential amino acid profile required by athletes. For instance, Vega Sport Protein contains pumpkin seed, pea, alfalfa proteins, and sunflower seed whereas Organic Sport Protein includes pea, chia proteins, and brown rice. In vegan sports nutrition products, algal proteins and sacha inchi are also becoming more prevalent.
The industry will keep searching for new and creative plant protein sources that are cost-effective for manufacturers, offer top-notch protein content, and are readily available. This may also help to meet the need for ingredients with clean labels that are natural and organic.
Consumers demand more specific proven claims
Brands that merely package their products as "healthy" to an audience, are unlikely to gain any traction! Consumers for core health oriented products such as sports nutrition, demand more specific and proven claims of health benefits. To that end, manufacturers have been very innovative and have expanded their products from just providing muscle strength and improving stamina, to improving organ health such as eye, and are marketing products specifically meant for e-gamers. Such products are fortified with omega-3s, such as nuts, fatty fish, and seeds. Potassium and magnesium are also used for better reflexes, coordination, and eye muscle contraction.
Traditionally sports nutrition was meant for physical well being. However, now manufacturers are innovating on products that can impact cognitive abilities also. Interestingly 54% of consumers surveyed for a FMI report, want their sports nutrition products to provide cognitive health benefits. Immune function support being #1 priority with 59% consumers demanding this claim. Digestive & metabolic health, sports recovery, eye health and mood support were the other claims consumers want to see in their sports food and beverage products.
Consumers prefer their sports nutrition products to be indulgent – with better flavors and taste
According to Future Market Insights, 56% of global consumers say taste is of paramount importance in making a purchase decision for a sports nutrition product. Due to this, a fascinating trend of treating sports nutrition like a treat cuisine is emerging. While maintaining the high protein as well as low carb profile, manufacturers are exploring exotic flavors and rich tastes.
Whether the product is a powder, ready-to-drink beverage, or a sports nutrition bar, the flavor selection largely depends on the format of the product. According to a FMI survey for example, 54% consumers want their sports drinks to be fortified with different flavors of real fruit. Brands will discover a market that is more open to experimenting with both traditional and cutting-edge taste profiles as consumer palates become more sophisticated. There are three main types of wellness flavors:
"mood-influencing" flavors, like the mango turmeric and passion fruit chamomile, for products that have adaptogens as well as other botanicals that encourage emotional health,
"body-boosting" flavors, like apricot mango and blueberry matcha, for products that have focused nutritional qualities, and
"beautifying" flavors, such as goji Aronia berry and watermelon cucumber, that cater to the beauty-from-within market.
Conclusion
Sports nutrition products have progressed from the domain of top athletes to commonplace supermarket items for consumers worldwide, and the sector is being molded by macro-trends such as plant-based, clean label, and the emergence of e-gamers. Apart from the above-mentioned trends, some blooming advancements can make a huge change, for example introducing personalized sports nutrition. This is a common trend across the functional food & beverage domain wherein producers are striving to customize products as per the nutritional requirements of the consumer, and the same can be done to advance the sports nutrition industry as well. The ultimate objective is to better comprehend human needs and provide products that assist in addressing unique, individualized dietary requirements. The basic idea that follows applies to everyone: cells need fuel to create energy, hence energy management is crucial in tailored sports nutrition. Now that wearables are an intrinsic part of all our daily lives, irrespective of age groups, by mapping glucose levels and calories lost, a company can easily personalize a meal replacement drink for an athlete or a regular consumer. Such developments are expected to open up even new avenues for the global sports nutrition market in the coming years.