Published On : 2017-11-29
The use and abuse of prescription painkillers in the U.S. go way back since laudanum, a potent mixture of opium in alcohol was used to relieve symptoms of insomnia, diarrhea, pain and other indications during the 1800s. Since then, various controlled substances such as morphine (mostly during wartimes to treat battle injuries), heroin, amphetamines, cocaine etc., have been used in medicine. Widespread abuse of these drugs prompted the introduction of synthetic and semi-synthetic opioids namely fentanyl, oxycodone, hydrocodone, and codeine, which chemically interact with receptors on nerve cells to provide analgesic effects, and at times, also produce euphoria, leading to misuse and dependence.
According to data from the National Survey on Drug Use and Health (NSDUH) in 2015, an estimated 47.7 million persons aged 12 years or older used illicit drugs or misused prescription drugs in the United States. It reflected a rate of 17.8 incidences per 100 persons, of which the rate of prescription pain reliever misuse was 4.7 per 100 persons. Although the misuse of prescription opioid painkillers was the primary cause for the crisis, there has been an increasing incidence of the use of heroin, illicitly-manufactured fentanyl (IMF), cocaine, amphetamines etc. in the recent times. One of the most significant steps in combating this crisis came by way of President Trump declaring it a "public health emergency" in late October. In addition, the president used advertising as a means of bringing focus to the issue at hand and drawing up policy recommendations. However, the president stopped short of declaring it a "national emergency", depriving it of much needed federal funding and doing nothing to eliminate red tape associated with clinical programs that fast-track development of innovative drugs and treatments.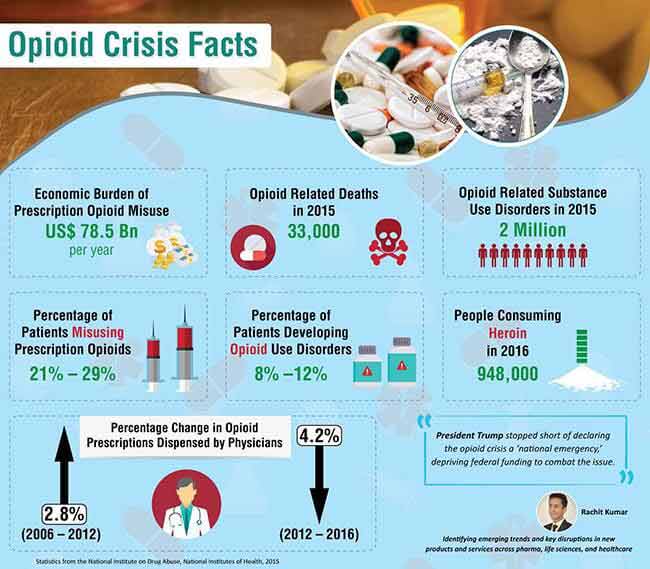 It is important to note that there are two, vividly different parts to this crisis: the prescription of opioid painkillers for legitimate use, and the abuse and illicit use of these drugs. More often than not, the overdose crisis has resulted from the latter but has also impacted the use of these drugs in genuine cases. The focus in tackling the problem needs to involve steps specifically in addressing the diversion of drugs for illicit use, as well as the abuse of illegal drugs such as heroin and stronger compounds such as fentanyl. It is less than reasonable to expect prescribing physicians to cut down on the meaningful use of opioid painkillers when the problem at large is entirely something else. Considering that the onset of addiction to prescription pain medicine is about 1 in every 100 for those with no history of substance abuse, lawmakers, and advocacy groups need to channel resources in developing targeted programs that tackle the core of this issue.
Several pharmaceutical companies have already come forward in developing compounds that have abuse-deterrent properties as well as non-opioid painkillers, such as Trevena's OLINVO™, which was granted the FDA's Breakthrough Therapy designation for the management of moderate-to-severe acute pain. Drugs such as buprenorphine are already being used in the treatment of opioid addiction, albeit to a limited extent. There have also been programs instituted by federal and other agencies such as the CDC and DEA for the monitoring and surveillance of opioids at the federal and state levels. Doctors around the country have also consciously cut down on prescribing opioid medications, replacing them with alternatives such as NSAIDs and gabapentin. Recently, several insurance companies, including the top 6 payers in the country have committed to following scientific evidence-based guidelines established by the Substance Use Disorder Treatment Task Force. However, given the recent spike in discussions as well as the president's directive, are enough efforts being directed through the appropriate channels to tackle this issue? It seems apparent that a multi-disciplinary approach involving, but not limited to, doctors, scientists, policy-makers, payers, pharmaceutical companies and other key stakeholders is necessary to tackle this issue, something that has just started to resurface.
To get more insights or details, reach out to Rachit directly at press@futuremarketinsights.com.
Opinions expressed are the author's own and do not reflect the view of Future Market Insights