Competition in the market research arena is becoming intense with research analysts digging deeper to mine insightful data. As leading companies are striving to lead the global market, they are constantly identifying and implementing novel research techniques to stand out of the crowd. In addition, market research companies are focusing on leveraging innovative technological solutions to improve their research and expand its scope. Major market research firms are concentrating on intensifying their research to broaden their access to statistics for accurate analysis.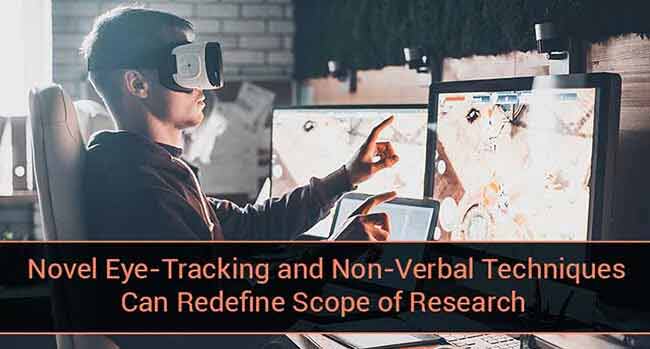 In order to sustain their lead in the competitive market, market research firms are focusing on implementing eye-tracking and non-verbal research techniques. . Eye tracking is used in multiple research cases, for instance marketing research, usability testing studies, etc. This technique helps researchers comprehend what aspects of an advertisement or a webpage arouse people's attention. Equipped with this information, companies can create more functional websites and develop more efficient advertising. With the implementation of biometric techniques such as eye-tracking and non-verbal research tools, major market research firms are focusing on narrowing the probability of inaccuracy while conducting insightful research. Leading companies are utilizing innovative techniques that can monitor your eye movement and analyze the gaze positions to measure the attention, arousal, and interest of the individuals.
Research based on eye-tracking techniques is being applied in broad range of applications across multiple verticals. Market research firms are deploying non-verbal and eye-tracking techniques in domains such as education, health, e-commerce, gaming, and other domains, to find out key areas of interest.
Research conducted with eye tracking delivers an instant insight into user behaviour, and the extents of visual attention. It further arms the market research firms with knowledge pertaining to what people notice and engage with, whether on screen or beyond, in the world.
This is usually a great advantage in driving enhancements in behaviour analysis, device interactions, gameplay design, and medical support, collectively known as human-centred design.
Emerging trend of merging eye tracking software with multiple other modalities like EEG, GSR, and Facial Expression Analysis into the aforesaid fields to optimally utilize designs is positively impacting the marketspace. These new solutions are combined within already established spheres of research and usage.
The expansion of extant research fields like the Internet of Things (IoT), autonomous vehicles, automotive safety, and clinical devices, and product- and web-based UX with new and inventive methods to research and methodologies offers an idea as to what eye tracking research is projected to move towards in this year and beyond.
It is worth noting that a vast majority of both eye tracking software and hardware is developed merely for research purposes and to test human-centred design. This points out that, with global investments presently being made in the field, the upcoming trends we currently find are poised to expand exponentially in the upcoming years.
Here are a few innovative techniques that can redefine the scope your research.
To intensify research through conducting consumer behavior studies, leading market research firms are utilizing screen based eye-trackers to understand the analyze the interests and dislikes of the individuals through optical tracking of corneal reflection. Market research firms are implementing the techniques to the eye positions and gaze positions to gauge the attention of the individuals. With the implementation of biometric techniques such as screen-based eye tracking, market research firms can ascertain the brand health and sales potential of the new launches.
As the technology is progressing beyond eye-tracking solutions, the major market research firms are adopting various biometric tools such as galvanic skin response (GSR), facial coding, electroencephalogram (EEG), and electrocardiology (ECG). With the implementation of these biometric techniques, the research firms can conveniently track the consumer behavior while browsing and checking the online portals to formulate accurate predictions. Market research firms are incorporating these tools to track the inner experience of the advertisements floated and gain more perspectives on certain websites, stores, products, and media.
While virtual reality has been on the horizon for a long time, industries are capitalizing on its benefits to progress in their domains. Major market research firms are utilizing virtual reality solutions to understand the reactions of the customers in a virtual computer-generated store environment. With the implementation of these next-generation approaches and techniques, the leading market research firms can understand and make accurate analysis by measuring the attention to various marketing elements within the virtual environment. In addition, implementing virtual reality solutions helps the in testing the effectiveness of new planograms, signages, packages before installing them physically. These features can broaden the scope of research and enable the analysts to incorporate untapped aspects in their analysis.
While innovative research techniques are renovating the traditional patterns and approach followed over the years, market research companies are quickly adapting to advanced technology to leverage their benefits. In order to sustain their lead in the competitive arena, leading market research firms are implementing innovative biometric techniques, virtual reality, and eye-tracking solutions to intensify their research. Increasing adoption of eye-tracking and non-verbal tools can unleash novel solutions and redefine the scope of research for the leading firms.