Future Market Insights (FMI), in its latest research study, investigates the aerial work platform market and presents actionable insights on its progress footsteps for the evaluation timespan of 2019-2029. As per the research study, the global aerial work platform market revenues reached ~US$ 8.3 Bn in 2018, and are projected to grow steadily at a CAGR of ~4 % during the forecast period.
Consistent surge in maintenance practices of infrastructural assets, including airports, window washing and repairing, and an increasing number of construction projects in metropolitan economies in developing regions are setting huge demand for AWPs in the landscape, suggests the report. In addition, stringent safety and environmental regulations will continue to avoid upcoming worker casualties and check diesel emissions, which is likely to encourage innovation that can negotiate credit squeeze and reverse the environmental impact of 21st century aerial work platforms.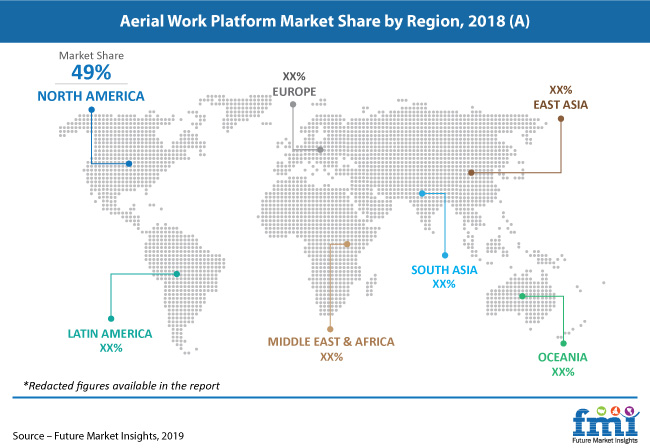 Conventional methods of lifting equipment and maintaining industrial assets have been an affair of concern among the construction verticals of many countries. Realizing personnel welfare and resource preservation has motivated infrastructure and mining operators to turn to aerial work platforms. Key players are embracing self-propelled and energy-efficient technology to cater to the needs of end users.
Construction Workforce Shifting to Boom Lifts for Repair Works
For More Detailed Insights on Aerial Work Platforms Market
FMI's report finds that boom lifts hold shares worth more than half of the global aerial work platform market value. Battery-driven boom lifts offer high flexibility, enabling movement around obstacles and access to compact areas, and the tiers of the boom lifts do not leave any mark. Electric boom lifts provide vertical elevation of more than 100 feet, and facilitate vertical and horizontal movements without disturbing the base and offer a 180-degree operation to reach areas behind the equipment. Furthermore, they are best fit for jobs that require excessive movement and can be coupled with other transporting vehicles, finding favor with the end users.
On the flip side, scissor lifts facilitate only unidirectional movement, i.e. upwards and the base requires constant adjustment accordingly. Some variants of scissor lifts, for instance, rough terrain scissor lifts, do not have non-marking tiers and offer a maximum of 60 feet elevation. Furthermore, scissor lifts are cost-intensive as they demand regular maintenance.
AWP Rental Service Providers Fetching More Customers Despite Steady Growth Trail
Both, the industrial end users and AWPs rental service providers are witnessing sluggish progress, with the latter slightly declining over the forecast timeframe, says FMI. Construction and commercial sectors hold substantial shares on account of rising building activities in developing and under-developed countries as well as manufacturing amusement sites for entertainment purposes. Furthermore, the assets in construction and commercial verticals demand continuous and long-term maintenance, adding further to the expenses.
Customers from low and middle income countries (LMIC) are stumbling upon AWPs rental service provider companies for temporary purposes, owing to high initial investments and progressive maintenance costs of aerial work platforms, for instance, scissor lifts. These rental service providers facilitate users with tailored aerial work platforms sticking to the requirements of the job sites, such as articulated boom lifts, and rough terrain scissor lifts, among others.
This study tracks the growth of global aerial work platforms market over the course of 2019-2029. For more insights, write to the analyst at press@futuremarketinsights.com
About Industrial Automation & Equipment division of FMI
The Industrial Automation & Equipment division at FMI adopts a novel approach and innovative perspective in analyzing the global machinery and industrial automation market. A range of FMI's market research reports offer comprehensive coverage of capital, portable, process, construction, industrial, and special purpose machinery used across manufacturing sector. The team also conducts distinctive analysis about installed base, consumables, replacement, and USP-feature application matrix, making us a prominent voice of authority in the industry. We are associates of choice for established as well as budding industry stakeholders and channel partners when it comes to sustain, grow, and identify new revenue prospects.
About Future Market Insights (FMI)
Future Market Insights (FMI) is a leading provider of market intelligence and consulting services, serving clients in over 150 countries. FMI is headquartered in London, the global financial capital, and has delivery centres in the U.S. and India. FMI's latest market research reports and industry analysis help businesses navigate challenges and take critical decisions with confidence and clarity amidst breakneck competition. Our customized and syndicated market research reports deliver actionable insights that drive sustainable growth. A team of expert-led analysts at FMI continuously track emerging trends and events in a broad range of industries to ensure that our clients prepare for the evolving needs of their consumers.