Sales of Concrete Testers to Remain Moderate Through 2029, Compact Size and On-site Application Sought-after: FMI Report
Dec 19,2019 | Testing Equipment
Witnessing a steady CAGR throughout the course of the following decade, the global concrete testers market is set to exceed US$ 500 Mn by the end of 2029. A new Future Market Insights (FMI) report projects that the overall demand growth will remain moderate all over the forecast period (2019 – 2029) and would receive a prominent push from the growing stringency of regulatory framework regarding quality of building and construction materials. Developing economies in Asia would remain key markets for investors in concrete testers, as the region has been witnessing remarkable growth of the construction and infrastructure industry.
Key Takeaways - Concrete Testers Market Study
Flexure concrete testers and fresh concrete testing machines are getting traction due to their compact size and on-site applications. However, highly accurate analysis is still majorly conducted by universal testing machine and NDT machine, as they have a wider measuring range.
Prices of fresh concrete testers and flexure testing machines are comparatively low in East Asia than in other regions, attributable to the high presence of local manufacturers.
Currently, sales of universal testing machines are relatively high in North America owing to growing adoption of laboratory analysis services by various industries.
Stringent regulations have been set by regulating bodies such as ASTM and AASHTO regarding safety in construction. Moreover, increasing investment in upcoming infrastructure projects in the Middle East region are also propelling demand for concrete testers.
Manufacturers in the concrete testers market are increasingly relying on online sales.
Increasing demand for concrete testers is being witnessed since the recent past, and universal testing machines are used where a wider range of measurement is required. End users prefer universal testing machines as they are highly reliable and precise in measurement.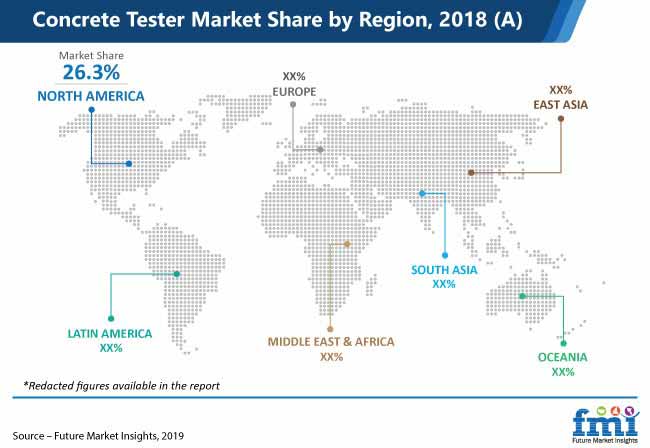 Concrete Testers Market: Competitive Landscape
The global concrete testers market is highly fragmented due to presence of a large number of local players that offer products for diverse applications. Key manufacturers such as MTS Systems Corporation, Cooper Technologies Inc, Humboldt Mfg. Co., Canopus Instruments, and Global Gilson, Inc, account for about 15% of the overall market share. North America and Europe are anticipated to account for a significant share of the global concrete testers market, owing to implementation of stringent regulations to maintain safety of infrastructure.
For More Detailed Insights on Concrete Testers Market
More About Concrete testers market Report
The research report analyzes total sales of concrete testers on the basis of volume (units) and value (US$ Mn). The report includes a competition analysis section that includes market structure analysis, tier structure analysis, competition development, and other crucial information about global and regional players in the market. Opportunities in the market are projected on the basis of factors such as construction industry growth, mining industry outlook, end-use industry overview, investment in upcoming infrastructure projects, and expansion in railway networks in various countries worldwide.
For additional information, write to the analyst at [email protected]
About Testing Equipment division of FMI
The Testing Equipment division of FMI is a specialized department catering to unique requirements in the industry. Exclusive coverage of the testing equipment market includes valuable information on regular, compliance, destructive, and non-destructive testing services and associated equipment. The team also executes several complex projects pertaining to the area of manufacturing and process industries, research and academia, testing and certification institutions, government agencies dealing into scientific and environmental research, and defense organizations. Our research studies are trusted and widely referred by stakeholders for gaining insights and developing cutting edge strategies.
About Future Market Insights (FMI)
Future Market Insights (FMI) is a leading provider of market intelligence and consulting services, serving clients in over 150 countries. FMI is headquartered in London, the global financial capital, and has delivery centres in the U.S. and India. FMI's latest market research reports and industry analysis help businesses navigate challenges and take critical decisions with confidence and clarity amidst breakneck competition. Our customized and syndicated market research reports deliver actionable insights that drive sustainable growth. A team of expert-led analysts at FMI continuously track emerging trends and events in a broad range of industries to ensure that our clients prepare for the evolving needs of their consumers.