As per the findings of new market research report by Future Market Insights (FMI), worldwide adoption of the desktop-as-a-service (DaaS) reached ~US$ 3 Bn in 2018 and the market is anticipated to grow at a CAGR of ~18% during the forecast period.
The rising adoption of cloud-based solutions and services, climbing ICT investments, increasing penetration of smart devices, and increasing digitalization at workspace are the key factors shaping the growth of desktop-as-a-service market.
Key Takeaways from Desktop-as-a-Service Market Study
Most of the desktop-as-a-service solution providers are eyeing to expand their operations in Asia Pacific region as the region is witnessing rapid growth in cloud computing industry and continuous evolution in IT infrastructure models.
Desktop-as-a-service is proving to be successful for small and medium enterprises due to low IT budget concerns. Moreover, the adoption of desktop-as-a-service is increasing among large enterprises for agile and temporary use cases.
Data privacy and security remain a key challenge for the growth of desktop-as-a-service market. However, with high innovation in cloud security area, this limitation is likely to be addressed in the near future.
Most of the desktop-as-a-service solution providers are focusing on partnering with the hyper scale vendors to leverage platform agility and offer customer choice a choice for desktop-as-a-service solutions with enhanced security options.
Demand for desktop-as-a-service in BFSI industry is likely to increase at whopping CAGR of ~22% during the forecast period.
"With advent of technology, management of IT will become increasingly complex and challenging. Desktop-as-a-service has the potential to be a disruptor and can help businesses change the game in alignment with changing technology needs, and evolving offerings and markets. A number of organizations are shifting their focus to designing and marketing activities. Business are sourcing other processes to curtail IT costs which is creating potential growth opportunities for desktop-as-a-service market."

For More Detailed Insights on Desktop as a Service (DaaS) Market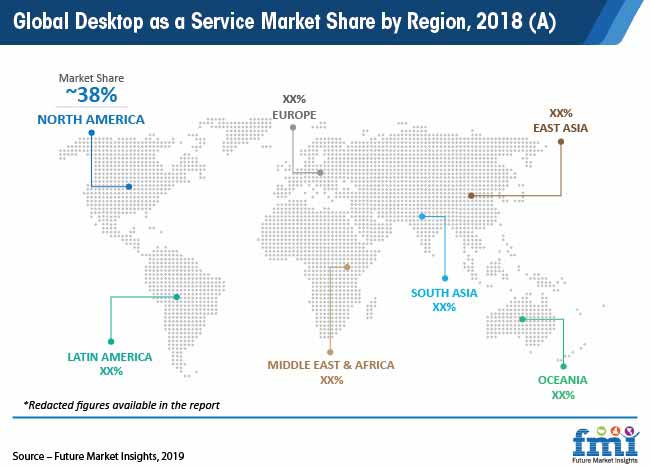 Growth of Cloud Computing to Augur Well for DaaS Market
Cloud computing has been developed for approximately two decades, and it offers businesses with many benefits, which include business efficiencies and cost benefits. With the growing number of web-enabled devices used in today's business environment, such as smartphone and tablets, access to data is becoming easier and it is encouraging businesses to adopt desktop-as-a-service solutions. In addition to this, the increasing adoption of advanced technologies such as advanced analytics, robotics, and artificial intelligence solutions are expected to have a positive impact on the growth of desktop-as-a-service market.
The global desktop-as-a-service market continues to witness a fair degree of consolidation in competition landscape, with tier-1 vendor accounting for 50% revenue share. Some of the key players in the desktop-as-a-service market are Amazon Web Services, VMware, IBM, Microsoft, NetApp, Cloudalize, and Fujitsu, and Citrix Systems. Leading companies are focusing on partnerships and collaborations with cloud IT service providers to help businesses simplify the process to move workloads and data to the cloud.
About the Report
This FMI report offers an extensive analysis of the global desktop as a service market over the forecast period of 2019-2029. The report covers exhaustive actionable insights on the key market growth influencers, with emphasis on opportunities and trends that are expected to be shaping the market in the near future. The report also sheds light on competitive scenario of the global Daas market to help potential market entrants.
About Electronics, Semiconductors, and ICT division of FMI
The electronic, semiconductors, and ICT division at Future Market Insights focuses on tracking and analyzing ever-changing dynamics of the IT and telecommunication industry. The ICT team has also executed several complex projects pertaining to the convergence of healthcare and ICT, rapid adoption of 'as-a-service' business model, growth prospects of consumer electronics market, and evolution in design and fabrication of semiconductors. To help clients from all over the globe meet their unique needs, the team offers a variety of customized market research reports and consulting services: reach out to explore how we can help.
About Future Market Insights (FMI)
Future Market Insights (FMI) is a leading provider of market intelligence and consulting services, serving clients in over 150 countries. FMI is headquartered in London, the global financial capital, and has delivery centres in the U.S. and India. FMI's latest market research reports and industry analysis help businesses navigate challenges and take critical decisions with confidence and clarity amidst breakneck competition. Our customized and syndicated market research reports deliver actionable insights that drive sustainable growth. A team of expert-led analysts at FMI continuously track emerging trends and events in a broad range of industries to ensure that our clients prepare for the evolving needs of their consumers.