Rapid Adoption of On-the-Go Meals Accounting for Greater Gains in Disposable Lids Market, FMI
Sep 06,2019 | Packaging
The latest market research report by Future Market Insights on the disposable lids market includes global industry analysis 2014–2018 and opportunity assessment 2019–2029. The report studies the disposable lids market and provides critical insights for the forecast period 2019–2029. As per the research findings of the report, the global disposable lids market is projected to experience noteworthy growth over the forecast period, due to various driving factors such as growing food & beverages industry and increasing demand for disposable and recyclable lids.
The global disposable lids market was valued at US$ 2.6 Bn in 2018, and is expected to increase at a CAGR of ~4% during the forecast period, 2019–2029. Increasing focus to maintain the environmental sustainability is one of the vital factors that accelerates the market growth of the disposable lids.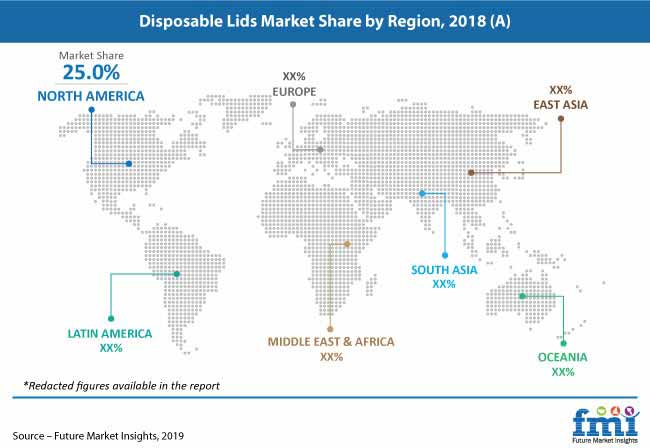 Growing Online Food Ordering to Create Noteworthy Opportunities
The online food ordering market is one of the rapidly growing markets across the globe. Frequent requirement of disposable lids in the online food ordering market is contributing to the growth of the market considerably. Increasing demand for disposable lids in the online food ordering market for covering various packaging products such as cups, containers, trays, and bowls is ultimately creating opportunities for disposable lid manufacturers to capture a significant market share. Countries such as China and India are expected to witness new heights in online food ordering market, which ultimately fuels the demand for disposable lids.
Organized Food Retail Outlets to Create Demand in Emerging Clusters
For More Detailed Insights on Disposable Lids Market
Rapidly growing food & beverages industry, especially fast food industry in countries such as China and India creates massive demand for the disposable lids. Increasing penetration of prominent foodservice providers in these countries and frequent requirements of disposable lids in foodservice outlets is ultimately boosting the market growth. On the basis of geography, North America and Europe are anticipated to capture a substantial market share in terms of value in the disposable lids market due to adequate presence of key disposable lids manufacturers in these regions. Furthermore, factors such as growing global population, increasing demand for food products, especially for packaged food products is propelling the demand for disposable lids in the market.
Brand Owners Spending on Promotional Activities of Food Products is Gaining Momentum.
Leading market players in the food and beverage industries are adopting the promotional strategy to maximize the overall sales of the food products. These prominent players are using promotional strategies such as advertising, branding and publicity to generate the maximum revenue. Rising sales of food products across the globe, especially for packaged food and beverages products is ultimately fuelling the demand for disposable lids.
Disposable Lids Market: Vendor Insights
The report highlights some of the prominent market players, who have established themselves as leaders in the global disposable lids market. Some of the examples of key players in the global disposable lids market are Berry Global, Huhtamaki Group, Greiner Packaging International GmbH, Dart Container Corporation, Genpak, LLC, Cambro, Carlisle FoodService Products, Airlite Plastics, Cosmoplast (Harwal Group), Be Green Packaging LLC, Michael Procos S.A., Medac S.r.l., "Amhil Europa" LLC, ConverPack Inc., Plus Paper Foodpac Ltd., Pactiv LLC, Manoher International, G.E.T. Enterprises, LLC, and Pt Pola Paperindo Jayatama.
For additional insights on the sachet packaging market landscape, write to the analyst at [email protected]
About Packaging division of FMI
The Packaging division at FMI provides an in-depth historical analysis and granular projections of the global packaging market. Ranging from packaging materials to designs & formats, FMI has an exhaustive market research database, serving clients with unique offerings and strategic recommendations. With a repository of 750+ reports, the team analyzed the packaging industry comprehensively in 70+ countries. The team evaluates every node of the value chain and provides end-to-end research and consulting services; reach out to explore how we can help.
About Future Market Insights (FMI)
Future Market Insights (FMI) is a leading provider of market intelligence and consulting services, serving clients in over 150 countries. FMI is headquartered in London, the global financial capital, and has delivery centres in the U.S. and India. FMI's latest market research reports and industry analysis help businesses navigate challenges and take critical decisions with confidence and clarity amidst breakneck competition. Our customized and syndicated market research reports deliver actionable insights that drive sustainable growth. A team of expert-led analysts at FMI continuously track emerging trends and events in a broad range of industries to ensure that our clients prepare for the evolving needs of their consumers.