Expansion Valves Market to Register 1.5X Growth by 2030; Manufacturing Standstill Amidst COVID-19 Pandemic to Impede Revenue Growth
Apr 20,2020 | Industrial Automation & Equipment
The primary role of expansion valves is to transfer optimum amount of refrigerant to an evaporator or a compressor. Tightening regulatory norms and need for replacement of installed expansion valves that comply with newly established regulatory standards are aiding market growth. The European Commission - the European Union's executive body - has laid down the minimum energy performance (MEP) criteria for refrigeration system and equipment manufacturers.
Over the forecast period (2020-2030), the global expansion valves market is projected to register a CAGR of 4%.
Key Takeaways of Expansion Valves Market Study
Expanding infrastructural projects of commercial spaces and residential buildings, owing to economic growth necessities and increasing vehicle sales, would remain critical in shaping expansion valves market revenue.
The automotive industry continues to be a key end user in the global expansion valves market. The global electric car fleet exceeded 5.1 million in 2018, up by 2 million since 2017, almost doubling in an unprecedented amount of new registrations in 2017. Increasing fleet of electric cars is expected to create lucrative opportunities and accelerate the growth of the expansion valves market.
With expanding food chains across the globe, the demand and upcoming sales of refrigerators and chillers are expected to rise, thereby, driving volume sales of parts and components such as expansion valves.
Among the expansion valves types, electronic expansion valves are gaining higher acceptance, owing to their better productivity and low global warming potential.
The global COVID-19 pandemic has put a majority of manufacturing and related activities on standstill. As the number of cases is increasing, all industrial trade activities are expected to plunge significantly on a global scale. The manufacturing industry is expected to bear the brunt of it due to suspension of all ongoing projects and contracts. However, post the crisis and lifting of lockdowns, the global population would continue to incorporate social distancing protocols. This could result in increased preference for personal vehicles over public transportation, thus, increasing the procurement of expansion valves in the automotive industry.
"Social distancing and delay/suspension of projects are headwinds in the expansion valves market. On the flip side, after the containment of the crisis, global industries might witness a shift of manufacturing facilities from China to other countries such as India."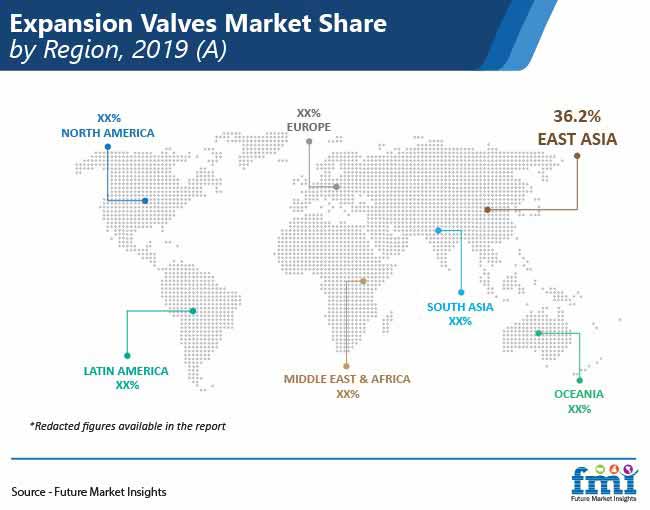 Expansion Valves Market: Competition Scenario
For More Detailed Insights on Expansion Valves Market
The expansion valves market is assessed to be a fairly fragmented market space. The Danfoss Group, Sanhua, Fujikoki Corporation, Parker-Hannifin Corporation, and Emerson Electric Co. are stipulated to maintain their supremacy in the global expansion valves market over the projected period.
Brief Synopsis
The global expansion valves market is expected to be dominated by regional players, owing to the vast scope of end users. Expanding commercial spaces, swelling vehicle sales, and rising trend of cold storage capacities in retail stores & warehouses are projected to create fertile ground for the expansion valves market throughout the forecast period.
What's in it for you?
The global expansion valves market report published by Future Market Insights details an extensive market analysis for the projected period of 2020-2030, on the basis of product type, application, installation, end use, material, refrigerant, working pressure, and region. The expansion valves market report offers an exhaustive analysis of patents across all regions and end-use industries. The report also offers market dynamics, COVID-19 impact analysis, and volume forecasts. Additionally, the expansion valves study also provides emerging countries market scenario over the forecast period and competition benchmarking.
For additional information, write to the analyst at [email protected]
About Industrial Automation & Equipment division of FMI
The Industrial Automation & Equipment division at FMI adopts a novel approach and innovative perspective in analyzing the global machinery and industrial automation market. A range of FMI's market research reports offer comprehensive coverage of capital, portable, process, construction, industrial, and special purpose machinery used across manufacturing sector. The team also conducts distinctive analysis about installed base, consumables, replacement, and USP-feature application matrix, making us a prominent voice of authority in the industry. We are associates of choice for established as well as budding industry stakeholders and channel partners when it comes to sustain, grow, and identify new revenue prospects.
About Future Market Insights (FMI)
Future Market Insights (FMI) is a leading provider of market intelligence and consulting services, serving clients in over 150 countries. FMI is headquartered in London, the global financial capital, and has delivery centres in the U.S. and India. FMI's latest market research reports and industry analysis help businesses navigate challenges and take critical decisions with confidence and clarity amidst breakneck competition. Our customized and syndicated market research reports deliver actionable insights that drive sustainable growth. A team of expert-led analysts at FMI continuously track emerging trends and events in a broad range of industries to ensure that our clients prepare for the evolving needs of their consumers.