Human identification technology has provided satisfied results in most of the cases where no close relatives or criminal samples exist for comparison. Human identification is playing a key role in the study of human sample data required for various applications such as molecular forensic analysis, paternity & kinship study, sexual assault investigation, and several other cases of crime.
The global human identification market value is expected to be US$ 785 Mn by 2019 end, as indicated by a new report of Future Market Insights (FMI). The market is further projected for a strong 6% CAGR during the forecast period, 2019 - 2029. A consistent rise in the number of natural disasters and fatal road accidents strongly necessitate the demand for more effective forensic DNA technologies for human identification. This would remain an important factor responsible for incremental growth of human identification market.
Key Takeaways - Human Identification Market Study
Legal issues such as exploitation of privacy rights surrounding the collection of sample for comparison from suspects have always been a sensitive process.

Nonetheless, with the introduction of DNA phenotyping approach, sample collection has become easy without harming or exploiting dignity or integrity rights.
The main advantage of DNA phenotyping is that it is more focused on obtaining genetic profiles from crime scene samples. Moreover, externally visible characteristics (EVCs) are publicly available features and therefore would not involve privacy issues.
EVCs prediction can also be very useful in the identification of missing persons and disaster victim when no ante-mortem or close relative samples exist for comparison.

Increased global attention for forensic identification technology has boosted the research studies, which can emerge as a promising factor for human identification.

In July 2019, a research study published in the American Academy of Forensic Sciences, which was performed by the Forensic Science Center (Unites States) and Michigan State University (Unites States) showed the development of a protein-based human identification capability from a single hair.
Over the time, human identification has proven to be the most precise and reliable yet a faster technology to identify crime suspects and unknown deceased individuals where minimal or no data is available for comparison. The progress of human identification technology will continue to positively influence the forensic sciences landscape, and human trafficking will be the next leg of growth.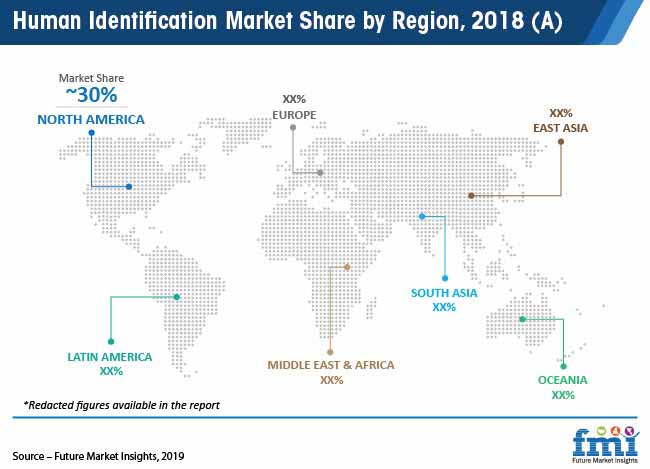 Exploring Disruptive Potential of Human Identification Market
A comprehensive view of the human identification market has led our analysts to conclude that, the market is expected to grow with a notable rate, with the continuous focus on product innovation and development coupled with advancing health systems and bringing technologies to support forensic DNA testing for identification and sample data collection used in the human identification procedures. Besides this, report findings indicate that North America and Europe capture a large share in the overall revenues of human identification market. This has been attributed to the presence of accredited forensic laboratories such as the University of North Texas Center for Human Identification (UNTCHI) which is recognized as a world leader in forensic identification, and the U.S. Federal Bureau of Investigation (FBI). The latter provides support services for free of charge forensic analysis to the FBI, and local and state law enforcement organizations.
For More Detailed Insights on Human Identification Market
Want More Insights?
The human identification market, the latest from the new publications of Future Market Insights, opines on the evolution of the human identification market from 2014 - 2018 and presents demand projections from 2019 - 2029 on basis of product type (instruments, software & data management, assay kits & cartridges, and other consumables), technology (polymerase chain reaction, short tandem repeats, microarray technology, capillary electrophoresis, next generation sequencing, nucleic acid extraction and purification, and rapid DNA analysis), applications (molecular forensic analysis, DNA database updating, paternity & kinship testing, crime and sexual assault investigation, missing person investigation, disaster victim identification, anthropology studies, cell line identification, population based studies, and genetic based studies), and end-users (forensic laboratories, law enforcement agencies, academic and research labs, pharmaceutical and biotech companies, contract research organizations, and others) in seven prominent regions.
For an exhaustive research report on the current and future scenario of global human identification marketplace studied for a decade-old period, write to press@futuremarketinsights.com
About the Healthcare Research Practices at Future Market Insights
At the Healthcare Pharmaceutical & Medical Devices division, FMI facilitates corporates, government, investors, and associated audiences in the healthcare sector to identify and accentuate vital aspects applicable to product strategy, regulatory landscape, technology evolution, and other crucial issues to achieve sustainable success. Our unique approach to gathering market intelligence equips you in devising innovation-driven trajectories for your business. Know more about our sector coverage.
About FMI
Future Market Insights (FMI) is the premier provider of market intelligence and consulting services, serving clients in over 150 countries. FMI is headquartered in London, the global financial capital, and has delivery centres in the U.S. and India. FMI's research and consulting services help businesses around the globe navigate the challenges in a rapidly evolving marketplace, with confidence and clarity. Our customized and syndicated market research reports deliver actionable insights that drive sustainable growth. We continuously track emerging trends and events in a broad range of end industries to ensure that our clients prepare for the evolving needs of their consumers.