Global demand for hyaluronic acid products will account for revenues of over US$ 5 Bn towards the end of 2029, as projected by a new Future Market Insights (FMI) study. Besides their usage in minimally invasive treatment alternatives in the field of orthopaedics, hyaluronic acid products would witness momentous traction within the skincare sphere.
Hyaluronic acid has been in use for the production of skin rejuvenating products owing to its impressive immediate results such as adding voluminous effect to face and lips. Opportunities continue to flood the skincare sector, thereby shaping the future of hyaluronic acid products market.
The demand for hyaluronic acid products will grow at a significant rate; however, the key factor that would decelerate the pace of market is the side-effects of hyaluronic acid products such as skin reddening and inflammation. Market players should channel their capital expenditure to overcome such hurdles by enhancing the focus on safer products.
Key Takeaways
For More Detailed Insights on Hyaluronic Acid Products Market
Dermal fillers currently hold a market share same as that of osteoarthritis. However, there are strong indications that the former will take over latter over the latter part of forecast period, thereby accounting for a greater share in market revenues.
Rapid adoption of hyaluronic acid products by skincare sector participants would push the share of dermal fillers beyond 1/3rd of total market value, by 2029 end.
Increasing demand for minimally invasive treatment procedures will significantly benefit the hyaluronic acid products market. Dermal filler and in vesicoureteral reflux (VUX) would gain prominence in the long run.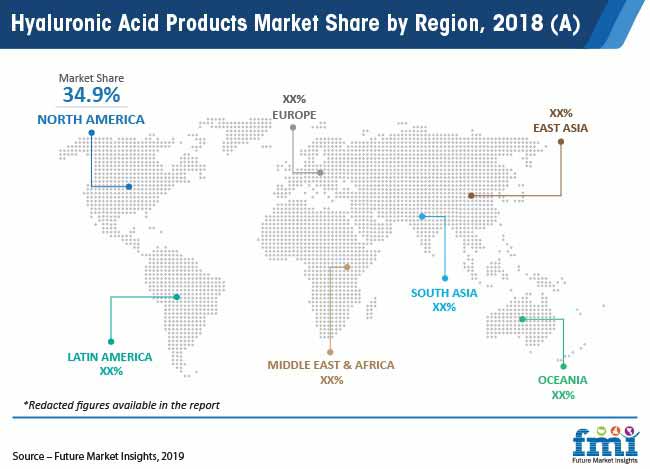 Two Companies Setting Pace for Product Innovations
Developments in hyaluronic acid products market have cast a limelight on few companies that are at the forefront of cutting edge innovations.
Allergan Plc and Sanofi are the two leading market players in the hyaluronic acid products market, accounting for a prominent market share.
These companies are reshaping their current product portfolio by channeling their resources towards R&D and by strategic moves such as company acquisitions.
Know More About Report inclusions
Hyaluronic acid products market, a new study from Future Market Insights, opines on the evolution of the hyaluronic acid products market from 2014 – 2018 and presents demand projections from 2019 – 2029 on the basis of; product (single cycle injection products, three cycle injection products and five cycle injection products), application (osteoarthritis, ophthalmic, dermal fillers and vesicoureteral reflux) and distribution channel (hospital pharmacies, retail pharmacies, drug stores and specialty clinics) across seven prominent regions.
For additional information, write to the analyst at [email protected]
About Healthcare division of FMI
The Healthcare team at Future Market Insights has consistently tracked and analyzed rapidly evolving trends and developments in the global healthcare industry, encompassing pharmaceuticals and medical devices markets. The team facilitates corporates, government, investors, and associated audiences in the healthcare sector to identify and accentuate vital aspects applicable to product strategy, regulatory landscape, technology evolution, and other crucial issues to achieve sustainable success. Our unique approach to gathering market intelligence equips you in devising innovation-driven trajectories for your business. Know more about our sector coverage.
About Future Market Insights (FMI)
Future Market Insights (FMI) is a leading provider of market intelligence and consulting services, serving clients in over 150 countries. FMI is headquartered in London, the global financial capital, and has delivery centres in the U.S. and India. FMI's latest market research reports and industry analysis help businesses navigate challenges and take critical decisions with confidence and clarity amidst breakneck competition. Our customized and syndicated market research reports deliver actionable insights that drive sustainable growth. A team of expert-led analysts at FMI continuously track emerging trends and events in a broad range of industries to ensure that our clients prepare for the evolving needs of their consumers.