Future Market Insights (FMI), in its recent research study, unveils that the industrial robot controller market valued at ~US$ 632.6 Mn in 2018 and is projected to increase at a CAGR of ~ 9.1% between the projected period of 2019 and 2029.
As per the findings of the report, the global industrial robot controller market is anticipated to see substantial growth over the forecast period, set in motion by increase in the adoption of Human Machine Interaction (HMI), data & cloud capabilities boosting hardware control, and optimization of industrial robot cost. Market gains have further been underpinned by high growth in automotive and electronic & semiconductor industry- the two big demand generating sectors in in the industrial robotics landscape.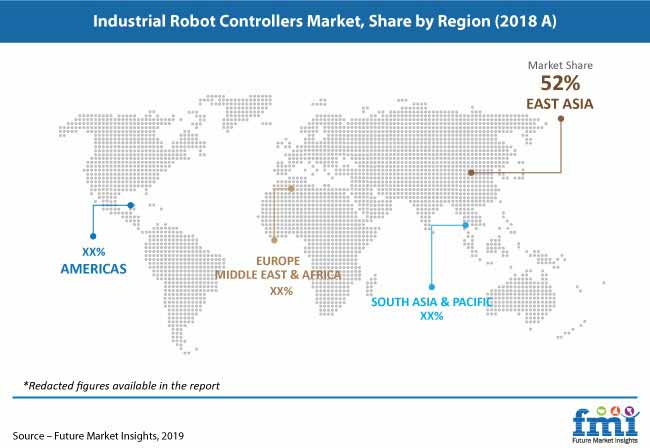 East Asia's Industrial Robot Controller Market Set for Incremental Growth
According to the recent studies, while South Korea remains a prominent country in the robot per 10,000-employees' ratio, China is projected to witness a see monumental growth. India being a fast-growing economy is expected to contribute a fair share in the industrial robot controller market during the assessment period, for the fact that industrial ecosystems of India are on the brink of a massive makeover.
Japan also commands a significant share in the industrial robot controller market, owing to the high penetration rate of automation in the country. Rapid transition of these countries towards robotic automation is further creating new opportunities for adoption of robotic controllers, thereby making East Asia a lucrative region for the industrial robot controller market players.
For More Detailed Insights on Industrial Robot Controllers Market
Software Based Technology Advancements and Cost Optimization Merging
Key players active in the industrial robot controllers market will benefit from the growing preparedness of industrial ecosystems for the impending 'fourth industrial evolution' and its after effects. Smart components and software's such as sensors and controllers are the future of automation; industrial robot controller is one of the competence for robot manufacturers as all the electromechanical systems needed to be controlled.
Over the forecast years, human machine interaction is expected to be a growing trend that aims to bring robot and human anatomy closer. simultaneously, bridging the gap between a robot and control system.
The report highlights some of the prominent market players, who have established themselves as leaders in the global industrial robot controller market. The global industrial robot controller market is significantly dominated by some players holding prominent shares of the market. Tier-1 players are joining forces with IoT platform based companies in order to achieve the ongoing trend of intelligent automation thereby gaining a competitive edge over its peers.
Production innovation and holistic developments will continue to be the key area of focus for manufacturers operating in the industrial robot controllers market, which is highly instrumental for their long-term growth. In addition, strategic collaborations such as mergers and acquisitions will also be of high importance for the market players to sustain growth via shared resource pools and combined technical expertise.
For additional insights on the industrial robot controller landscape, write to the analyst at press@futuremarketinsights.com
About Industrial Automation & Equipment division of FMI
The Industrial Automation & Equipment division at FMI adopts a novel approach and innovative perspective in analyzing the global machinery and industrial automation market. A range of FMI's market research reports offer comprehensive coverage of capital, portable, process, construction, industrial, and special purpose machinery used across manufacturing sector. The team also conducts distinctive analysis about installed base, consumables, replacement, and USP-feature application matrix, making us a prominent voice of authority in the industry. We are associates of choice for established as well as budding industry stakeholders and channel partners when it comes to sustain, grow, and identify new revenue prospects.
About Future Market Insights (FMI)
Future Market Insights (FMI) is a leading provider of market intelligence and consulting services, serving clients in over 150 countries. FMI is headquartered in London, the global financial capital, and has delivery centres in the U.S. and India. FMI's latest market research reports and industry analysis help businesses navigate challenges and take critical decisions with confidence and clarity amidst breakneck competition. Our customized and syndicated market research reports deliver actionable insights that drive sustainable growth. A team of expert-led analysts at FMI continuously track emerging trends and events in a broad range of industries to ensure that our clients prepare for the evolving needs of their consumers.