Sodium Chloride Market to Reach US$ 59 Bn by 2030; COVID-19 Pandemic-related Restrictions to Impede Market Growth in Near Term
May 18,2020 | Chemicals & Materials
Sodium chloride (NaCl) is extensively used as a raw material in chemical processing industries. Globally, chemical industries have been the immediate consumers of sodium chloride over the past few years. Moreover, flourishing end users such as food & beverage, oil & gas, water-treatment, and de-icing industries are propelling the growth of the sodium chloride market. In North America and Europe, de-icing and food & beverage industries are the key end users of sodium chloride.
The sodium chloride market is projected to reach a value of US$ 59 Bn by 2030, expanding at a CAGR of nearly 4% over the forecast period of 2020-2030. While the market will grow at a steady rate over the next decade, the coronavirus (COVID-19) pandemic is having a detrimental effect on the market, globally. The pandemic is expected to affect consumer spending across various sectors such as food and FMCG. As such, the annual growth rate of the sodium chloride market is slated to decline during 2020-21, but is poised for sharp recovery over the next financial year.
"Sodium chloride production is anticipated to contract during the COVID-19 pandemic; however, regions such as Europe and APAC have continued some sort of production activities. Moreover, notable development in multiple end-use industries is expected to drive the growth of the market over the coming years."
Key Takeaways of Sodium Chloride Market Study
For More Detailed Insights on Sodium Chloride Market
De-icing industries of North America and Europe are expected to be key consumers of sodium chloride.
Growth in the chemical industry in Asia Pacific (APAC) is among the prominent factors fueling the demand for sodium chloride in the recent past.
Pharmaceutical grade sodium chloride would reflect potential growth opportunities over the following years.
Growing demand for dust suppressants is estimated to aid market growth as far as end use is concerned.
South and East Asia are likely to witness high production and consumption of sodium chloride, owing to the presence of numerous chemical processing industries in these regions.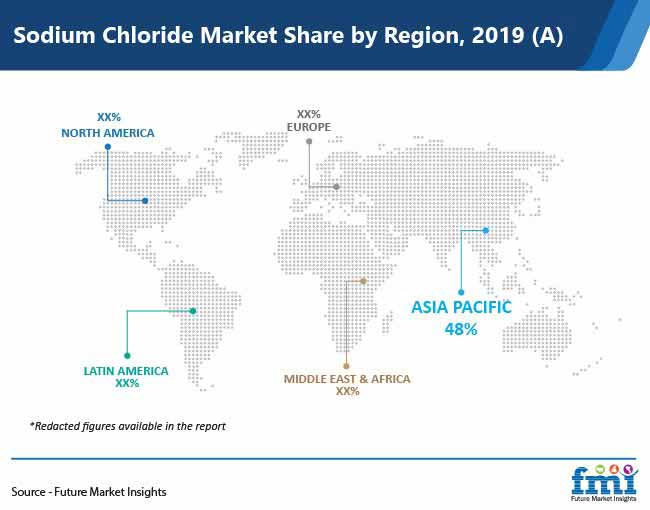 Sodium Chloride Market: Participant Insights
Key manufacturers in the sodium chloride market, such as Cargill, Incorporated, Compass Minerals International., K+S AKTIENGESELLSCHAFT, Wacker Chemie AG, Akzo Nobel N.V., Tata Chemicals Limited, Südwestdeutsche Salzwerke AG, INEOS GROUP HOLDINGS S.A., Dampier Salt Limited, and Maldon Crystal Salt Coare are focusing on strengthening their product portfolio and expanding their market footprint through the acquisition of small-scale enterprises in the landscape.
Know More about Sodium Chloride Market
A new market research report published by Future Market Insights (FMI) on the global sodium chloride market report offers in-depth insights into the market demand trends and assessment of opportunities during the forecast period of 2020 to 2030. The report analysis the sodium chloride market through four different segments - form, grade, end use, and region. The sodium chloride market report also offers detailed pricing analysis by different forms, grade demand across various end-use industries, and patent analysis in the market.
For additional information, write to the analyst at [email protected]
About Chemicals & Materials division of FMI
The Chemicals & Materials division at FMI offers distinct and pin-point analysis about the chemicals & materials industry. Coverage of the chemicals market extends from commodity, bulk, specialty and petrochemicals to advanced materials, composites, and nanotechnology. The team also puts special emphasis on 'green alternatives', recycling and renewable technology developments, and supply-demand trade assessment. Our research studies are widely referred by chemical manufacturers, research institutions, channel partners, and government bodies for developing – 'The Way Forward'.
About Future Market Insights (FMI)
Future Market Insights (FMI) is a leading provider of market intelligence and consulting services, serving clients in over 150 countries. FMI is headquartered in London, the global financial capital, and has delivery centres in the U.S. and India. FMI's latest market research reports and industry analysis help businesses navigate challenges and take critical decisions with confidence and clarity amidst breakneck competition. Our customized and syndicated market research reports deliver actionable insights that drive sustainable growth. A team of expert-led analysts at FMI continuously track emerging trends and events in a broad range of industries to ensure that our clients prepare for the evolving needs of their consumers.