Taste Modulators Market to Surge at 5.1% CAGR, Coronavirus Outbreak May Impact Growth, says FMI
Apr 11,2020 | Food and Beverages
The global taste modulators market size is expected to reach US$ 1.9 Bn by the end of 2030. According to a study by Future Market Insights (FMI), the market will show a steady rise at 5.1% CAGR between 2020 and 2030. According to the report, rising demand for low-calorie foodstuffs from health-conscious customers while maintaining the original taste provides a lucrative opportunity for this industry. Flavor modulation components are commonly used for improving sweetness, reducing salt, blocking bitterness and increasing mouth feeling. The report offers a comprehensive overview of the market, covering key growth drivers, restraints, opportunities, and prevailing trends. It uses unique research methods to offer the most accurate analysis of the market.
It includes in-depth insights into the taste modulators market. Some of these are:
The estimated value of the market was at US$ 1.2 Bn in 2020. Through the course of the report's forecast period, the market is exhibited to show a steady pace of growth.
Geographically, the global taste modulators market is segmented into Asia-Pacific, North America, Europe, South America, and RoW. Among all the regions, North America is the largest region of the taste modulators.
It is estimated to be a rapidly growing market for taste modulators owing to the increase in some people suffering from obesity and diabetes in the region. Growth in awareness about these health conditions has resulted in a shift toward healthier alternatives for sugar. This is likely to drive the market for taste modulators in this region.
The Asia-Pacific offer lucrative opportunities to the taste modulators market in the upcoming years. Due to the increase in meat consumption, population growth, and a rise in awareness about healthy & nutritional food products.
"Rising consumption of low-calorie, low-fat foods and the increasing prevalence of diabetes and obesity have resulted in increased demand for taste modulators. Product innovation carried out by leading companies to cater to the changing consumer preference will enable growth in the market," said a lead analyst at FMI.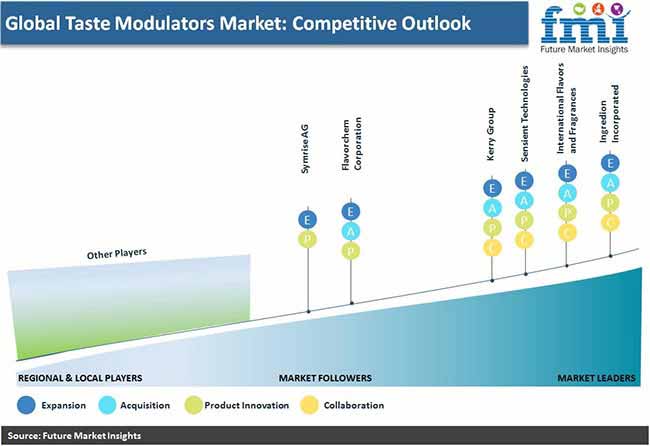 Change in Consumption Pattern Due to COVID-19 Outbreak will Impact Growth
Asia Pacific is expected to hold the largest share in the forecast period due to increased consumer demand for healthier products and increased consumption of low-fat & low-calorie quality foods. In addition, the rise in the number of people with diabetes in the Asia Pacific region would drive the highest growth over the projected period. APAC is experiencing a strong demand for taste modulators due to increased consumption of meat, population growth and increasing awareness of nutritious and balanced foods.
Rising population along with growing economic standards has led to increase in food service spending. Coronavirus outbreak had a considerable impact on consumption pattern of buyers. This will invariably impact growth forecasts for the market. Strong visibility of corona control cases, dropping incremental accidents and rising disease spread. Although government and central bank interventions will serve as palliatives, currently scared stock markets may want to evaluate the potential harm to economic activity and demand, and that will only become apparent until there has been a meaningful improvement in the corona situation.
For More Detailed Insights on Taste Modulators Market
Who is winning?
The major players operating in the global taste modulators market are Kerry Group plc., Koninklijke DSM N.V., Ingredion Incorporated, Symrise AG, Sensient Technologies, Givaudan SA, Firmenich S.A., International Flavors and Fragrances, The Flavor Factory, Carmi Flavor and Fragrance Co. Inc., Flavorchem Corporation, and Senomyx, Inc. among many others.
In addition to this, mergers and acquisition remains a popular strategy among market players. Companies intend to expand their regional footprint through strategic collaborations. Company are investing in research and development to launch unique and innovative products of taste modulators.
In 2015, Kerry Group acquired Red Arrow Products, Island Oasis and Biothera Inc.'s for US$ 735 Mn. The aim behind the acquisition was to expand the product portfolio in taste and nutrition segment.
In 2017, Sensient Technologies launched taste modulation and protein masking solutions. By using this solutions, manufacturers of ports drinks, diet shakes or snack bars can enhance the taste of their products by removing off notes as well as improving the unpleasant taste that few proteins display.
Get Valuable Insights into Taste Modulators Market
Future Market Insights, in its new report, presents an unbiased analysis of the global taste modulators market, covering historical demand data and forecast figures for the period between 2020 and 2030. The study divulges compelling insights into growth witnessed in the market. On the basis of application the taste modulators market is subdivided into beverages and food. The food segment is further subdivided into bakery products, confectionery products, meat products, dairy products, snacks & savoury products and others. In addition the beverages segment is further subdivided into non-alcoholic beverages and alcoholic beverages. On the basis of product type the market is subdivided into fat modulators, sweet modulators and salt modulators. Regionally, the market can be segmented into North America, Latin America, Europe, East Asia, South Asia, Oceania and Middle East & Africa.
About the Food & Beverage Division at Future Market Insights
Expert analysis, actionable insights, and strategic recommendations – the food & beverage team at Future Market Insights helps clients from across the globe with their unique business intelligence needs. With a repertoire of over 1,000 reports and 1 million+ data points, the team has analysed the food & beverage industry lucidly in 50+ countries for over a decade. The team provides end-to-end research and consulting services; reach out to explore how we can help.
About Food & Beverages division of FMI
Expert analysis, actionable insights, and strategic recommendations - the Food & Beverages team at FMI helps clients from all over the globe with their unique business intelligence needs. With a repertoire of over 1,000 reports and 1 million+ data points, the team has analyzed the food & beverage industry lucidly in 100+ countries for over a decade. The team provides end-to-end research of the global food & beverage market and consulting services; know how we can help.
About Future Market Insights (FMI)
Future Market Insights (FMI) is a leading provider of market intelligence and consulting services, serving clients in over 150 countries. FMI is headquartered in London, the global financial capital, and has delivery centres in the U.S. and India. FMI's latest market research reports and industry analysis help businesses navigate challenges and take critical decisions with confidence and clarity amidst breakneck competition. Our customized and syndicated market research reports deliver actionable insights that drive sustainable growth. A team of expert-led analysts at FMI continuously track emerging trends and events in a broad range of industries to ensure that our clients prepare for the evolving needs of their consumers.