Sales of 'Durable' and 'Efficient' Vibrating Screens to Escalate through 2029, Projects FMI
May 14,2018
|
Industrial Automation
Future Market Insights (FMI), in its latest research, evaluates the vibrating screen market which includes global industry analysis 2014–2018 and opportunity assessment 2019–2029. The report investigates the vibrating screen market and provides critical insights for the forecast period of 2019-2029. As per the research, the global vibrating screen market was valued at ~ US$ 1 Bn in 2018, and is estimated to increase at a CAGR of ~7% between the forecast period of 2019 and 2029.
Vibrating Screens Market
A recent market study published by FMI on the vibrating screens market includes global ind...
Upswing in mining processes to suffice the requirement for precious metals and hard rock minerals as well as in construction activities to build infrastructure assets is the messiah of pain points of the global vibrating screen market, suggests FMI. On the contrary, the growth trail will get hindered by tumbling mining operations on grounds of environmental amendments to curb carbon footprint and high attrition rate among miners due to on-site adversaries.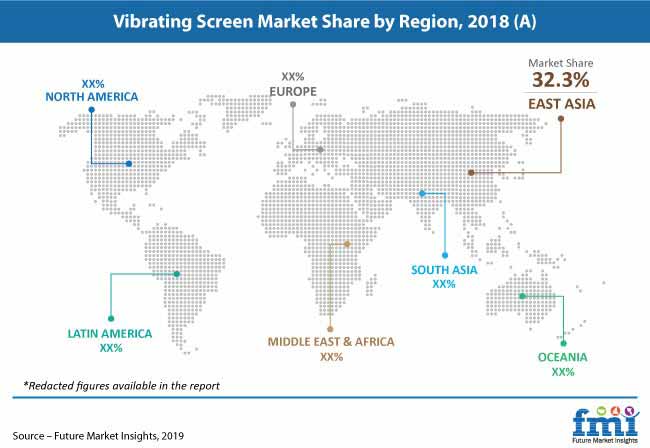 Vibrating screens have been hitting the mark with innovations over the years as sieving equipment in grading and screening of the required material, which would have been otherwise impossible. FMI's study suggests that major market players are including add-ons to the existing and new equipment for better screening efficacy and elongated life-cycle.
Demand for Circular Vibrating Screens in Mining Industry to See an Upturn
Circular vibrating screens are inundating more than half of the market revenues, as per FMI's study. The mining industry, including coal mines, and quarrying sites, is leveraging circular vibrating screens owing to their ability to classify materials with large specific gravity, large particles and great rigidity. The exciter of circular vibrating screens is mounted above the center of gravity of the screen box and the upper tip of elliptical long axis of the feeding end is positioned towards the leakage direction, which results in higher processing capacity per unit time than that of its linear counterpart.
On the flip side, the complexity of shakers and fast-rate rotation of the two shafts in linear vibrating screens imply high fueling demands. Further, the FMI's study finds that linear vibrating screens are chiefly utilized for classification of fine particles, light weight, and low stiffness materials, making them suitable for industries such as, building materials, chemical, and pharmaceutical.
Manufacturers showing Stauncher Inclination toward Direct Drive System
As per the FMI' report, adoption of direct drive system in vibrating screen accounts for more than 50% of the market revenues owing to the absence of gearboxes and belts in the design, which results in lesser wear and tear between the components. The direct drive system is cost-efficient as the moving parts in the operation and framework are less complicated. For noise abatement, the direct drive system comes up with simple arrangement and lesser moving components which may vibrate during mechanism. Furthermore, the reduced number of kinetic parts prevent easy loss of energy due to friction, enabling better efficacy, improved accuracy and increased life-cycle of the vibrating screen components. The indirect drive system, on the other hand, is subjected to friction between constituents including, gears, couplers, and pulleys, implying decreased efficiency and precision.
This study tracks the growth of global Vibrating Screen Market over the course of 2019-2029. For more insights, write to the analyst at [email protected]
About Industrial Automation Division at Future Market Insights
The Industrial Automation & Equipment division at FMI adopts a novel approach and innovative perspective in analyzing the global machinery and industrial automation market. A range of FMI's market research reports offer comprehensive coverage of capital, portable, process, construction, industrial, and special purpose machinery used across manufacturing sector. The team also conducts distinctive analysis about installed base, consumables, replacement, and USP-feature application matrix, making us a prominent voice of authority in the industry. We are associates of choice for established as well as budding industry
About Future Market Insights (FMI)
Future Market Insights (FMI) is a leading provider of market intelligence and consulting services, serving clients in over 150 countries. FMI is headquartered in Dubai, and has delivery centers in the UK, U.S. and India. FMI's latest market research reports and industry analysis help businesses navigate challenges and make critical decisions with confidence and clarity amidst breakneck competition. Our customized and syndicated market research reports deliver actionable insights that drive sustainable growth. A team of expert-led analysts at FMI continuously tracks emerging trends and events in a broad range of industries to ensure that our clients prepare for the evolving needs of their consumers.