Rising Focus on Precision in Woodworking Applications to Spark Demand for Woodworking CNC Tools; Market to Cross US$ 2.6 Bn Valuation by 2029
Mar 02,2020
|
Industrial Automation
For woodworking applications, CNC woodworking machines have become the first choice of carpentry shop operators and hobbyists due to their top-notch precision and blue-chip operational quality. Rising demand for 3D designing or wood carving on products such as doors, cabinets, wooden decorative accessories, etc., is pushing the growth lever of the woodworking CNC tools market.
Woodworking Cnc Tools Market
A recent market study published by Future Market Insights (FMI) on the woodworking CNC too...
As per an FMI study, in terms of volume, the router bits segment is projected to account for more than 40% share throughout the forecast period (2019-2029), and the global woodworking CNC tools market value is expected to cross US$ 2.6 Bn by the end of 2029.
"Globally, woodworking CNC tools are expected to gain healthy traction in the coming decades, boosted by rapid developments in the automation industry and growing focus on safety. CNC machines are highly safe, as these can perform all operations on wood without the requirement of human interaction or labor."
Key Takeaways of Woodworking CNC Tools Market Study
The 1/2" type router bits segment is projected to exhibit a healthy annual growth rate, owing to the high preference for DIY as well as industrial applications. Furthermore, the cutters segment also holds noteworthy share in the global woodworking CNC tools market, on back of vast usage in profiling, cutting, and slotting, among others.
By wood type, MDF (medium-density fiberboard) is projected to hold 1/3 share in the global market, as it is used in furniture, cabinetry, and flooring making. Furthermore, in music equipment, MDF is utilized to make speaker boxes due to its consistency, smooth finish, machinability, and strength.
Milling, drilling, profiling, and cutting are major applications of woodworking CNC tools. Cutting and milling are projected to be the most lucrative segments in the global market.
Asia Pacific is projected to progress at a significant CAGR in the global woodworking CNC tools market, owing to rising demand from various end-use industries.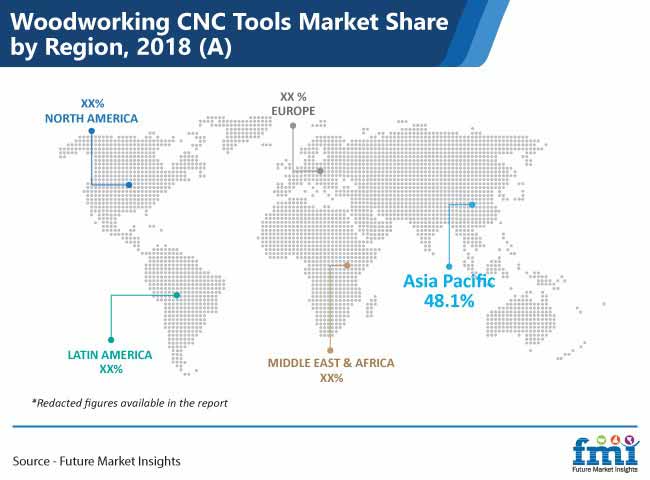 Market Landscape: Highly Fragmented
The global woodworking CNC tools market is highly fragmented, owing to the presence of numerous international and local players. Furthermore, leading players are expected to hold less than 15% share, while the remaining is accounted for by local players. Moreover, China and Mexico are two countries that are anticipated to change the landscape of the global woodworking CNC tools market over the coming years. During the course of research, players such as Robert Bosch GmbH, Rockler Companies, Inc., and Vortex Tool Company Inc., among others, were identified to be the leading players in the woodworking CNC tools market across the value chain.
Want to Know More?
Future Market Insights has published a market research report on the global woodworking CNC tools market that contains global industry analysis of 2014–2018 and opportunity assessment for 2019–2029. The report provides insightful analysis of the woodworking CNC tools market through four different segments - tool type, wood type, operation, and region. The woodworking CNC tools report also includes macroeconomic factors, forecast factors, and key success factors. Furthermore, the team has also incorporated a list of global suppliers and distributors, as well as a list of online product sellers.
For additional information, write to the analyst at press@futuremarketinsights.com
About Industrial Automation Division at Future Market Insights
The Industrial Automation & Equipment division at FMI adopts a novel approach and innovative perspective in analyzing the global machinery and industrial automation market. A range of FMI's market research reports offer comprehensive coverage of capital, portable, process, construction, industrial, and special purpose machinery used across manufacturing sector. The team also conducts distinctive analysis about installed base, consumables, replacement, and USP-feature application matrix, making us a prominent voice of authority in the industry. We are associates of choice for established as well as budding industry
About Future Market Insights (FMI)
Future Market Insights (FMI) is a leading provider of market intelligence and consulting services, serving clients in over 150 countries. FMI is headquartered in Dubai, and has delivery centers in the UK, U.S. and India. FMI's latest market research reports and industry analysis help businesses navigate challenges and make critical decisions with confidence and clarity amidst breakneck competition. Our customized and syndicated market research reports deliver actionable insights that drive sustainable growth. A team of expert-led analysts at FMI continuously tracks emerging trends and events in a broad range of industries to ensure that our clients prepare for the evolving needs of their consumers.