Market Outlook
The versatility of citrate and its products enables it to be a key compound used in several industrial applications. Citrate derived from citric acid is used in the food industry, personal care, household, pharmaceuticals, and other sectors. Citrate includes a whole range of citric acid salts such as zinc citrate, magnesium citrate, calcium citrate, potassium citrate and others. Citrate is mostly used in food as a preservative or taste enhancer. It is used as a flavouring agent in processed products like cheese, soda, ice cream and in ready-to-drink beverages and others.
Citrate also is used to maintain pH level and act as a buffering agent in many pharmaceuticals, household cleaners, and food & beverage applications. Along with this, it is used as a chelating agent and an emulsifier in personal care products.
In its new study, ESOMAR-certified market research and consulting firm Future Market Insights (FMI) offers insights about key factors driving demand for citrate. The report tracks the global sales of citrates in 20+ high-growth markets, along with analyzing the impact COVID-19 has had on the food and beverage industry in general, and citrates in particular.
How Historical and Future Outlook for Citrate Market Compare?
Consumers are preferring a healthy diet and natural food to reduce the risk of diseases and stay fit. Further buyers were looking for food with fewer additives and preservatives. Therefore, an increase in health awareness has brought a huge change in the preferences of consumers.
Citrate is widely used as a food additive as it is a natural preservative. It is a citrus ingredient, present naturally in most citrus fruits. Due to rising awareness about the unsafe and ill effects of non-natural and synthetic food additives and cosmetic products, buyers are shifting towards food which contains citrate as additives.
For instance, regulatory bodies such as the Food & Drug Administration (FDA) in North America and the European Food Safety Authority (EFSA) in Europe are becoming more stringent regarding ingredients used in food and pharmaceutical products and their proper labelling. According to FMI's analysis, citrates sales have grown at 3.0% CAGR between 2016 and 2021.
Consumer preference for processed food products is increasing. However the major concern for manufacturers in the food industry, remains to sustain the product quality and enhance the nutritional value. The rising application of citrate in the food sector is attributable to the increasing demand for processed food due to changing dietary patterns of buyers.
Furthermore, growing self-care trend, premiumization and E-commerce penetration are creating lucrative scope for expansion. FMI has projected the global citrates market to grow at 4.3% CAGR through 2031.
How will Health Benefits of Using Citric Acid in Food Increase Demand?
The food-grade sodium citrate works as a stabilizing agent, buffering agent, flavouring agent, chelating agent, and emulsifying agent in the food and beverage industry,
Food grade sodium citrate is used for enhancing flavors in beverages. Recently, manufacturers are using it to make various lemon, or citrus soft drinks to add and improve the zesty, and tangy flavour.
Food grade sodium citrate also adds a cool saline taste in beverages; in addition to this, food-grade sodium citrate provides uniformity flavour and acidity of fruit juices or cordials.
How is Increasing Consumption of Alcoholic Beverages Driving Growth?
Alcoholic beverages are consumed across the globe on a large scale and their demand is not falling any time soon. Instead of falling, the demand for alcoholic beverages is rising in countries. This is expected to increase the demand for yeast products that are being used in the fermentation of these alcoholic beverages.
There many other technologies and innovations that are being carried out in the alcoholic beverages market that is merging the gap between alcoholic and non-alcoholic beverages. This is expected to further increase the demand for citrates in the alcoholic beverages market.
Country-wise Insights
How big is the Opportunity for citrate in the U.S.?
FMI has projected the U.S. to remain one of the most lucrative markets throughout the forecast period with a market share of 85.8% in terms of the value of the citrate market. In the U.S. the willingness of consumers to pay a premium price for more natural products has changed the dynamics of the citrate market.
Food produced are keen to maintain the trust of their buyers and therefore are retaining transparency in the production processes and ingredients they use. Many producers also mention the source and region of procurement of raw material.
How Big is the opportunity in U.K. for Citrate Market?
FMI has projected the U.K to remain a lucrative market throughout the forecast period. Various producers are focusing on providing citrus flavour at an optimal cost due to the high demand among buyers. In view of the same, several players have executed the integrated production approach in order to deliver cost-effective citrus flavour and ingredients.
Expansion of the food sector also will continue creating growth opportunities in the U.K. Consumers in the U.K. show higher inclination for processed food, which makes it a lucrative market for citrate within Europe.
How is Demand for Magnesium Citrate Affecting Growth in Germany?
Germany accounts for a considerable share in the Europe citrate market and is expected to grow at CAGR of 3.2% over the forecast period. In Germany, manufacturers are using magnesium citrate in producing medicines.
A few minerals are not obtained in a proper amount from our daily diet which fuels the demand for supplements. This trend also is visible in Germany. Magnesium citrate in supplements is useful for bone density, blood pressure management, heart health, blood sugar regulation and others.
Along with this, it is an electrolyte and increases the ability of the heart to pump blood. Rising focus on health and wellness will therefore emerge as a chief growth driver in Germany.
What are the Factors Impacting Citrate Sales in GCC Countries?
The Middle East & Africa (MEA) is estimated to be a rapidly growing market for food-grade sodium citrate during the upcoming years. The food-grade sodium citrate market in the region is in the emerging stage. Hence, key manufacturers are largely focusing on the Middle East & Africa (MEA) to expand their market share and global presence.
The GCC countries hold the maximum share in the citrate market in MEA. Food grade sodium is used as food additives to improve and maintain the safety of processed food, boost nutritional value, enhance the taste, texture, appearance, and consistency of food. These additives are gaining popularity in various end-use applications, for instance, bakery, meat & poultry products, confectionery, beverages, dairy, frozen dessert and others.
Why is Citrate Market Gaining Traction in China?
FMI has projected China to remain the dominant market throughout the forecast period, with a market share of 39.4% in East Asia. Owing to the health benefits of using citric acid, demand in the market has increased. Citrate can chelate with calcium, which is an advantage to people suffering from kidney stone. The stone is caused because calcium accumulates in the kidney. Citrate has the ability to bind with calcium and reduce urine acidity, thereby reducing kidney stone incidence.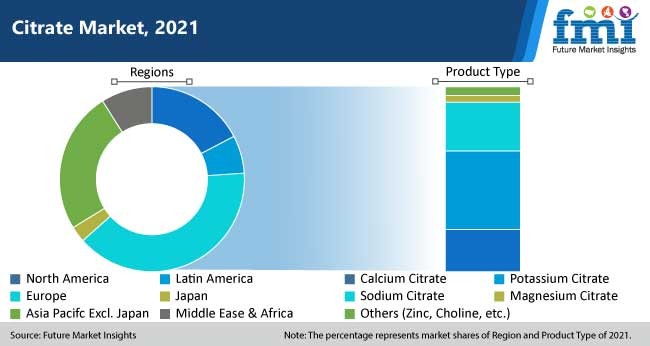 Category-wise Insights
Which is the top-selling type of citrate?
Potassium citrate holds the maximum share in the market in terms of product. As per the report it accounted for an overall share of 42.4% in 2021 and expected to grow at a CAGR of 4.0 %. It is an odorless crystalline powder with saline taste. Potassium citrate is used to treat kidney stones.
Which Form of Citrate is Mostly Used?
Powder form of citrates will hold the maximum share of 92.1% in 2021 and are expected to witness a growth of 4.3% in the forecasted years. Most of the manufacturers are producing powder form. Further powder form of citrate is used in making supplements. For example, Archer Daniels Midland Company offers sodium citrate in dehydrating and anhydrous form, which is available in powder/granular form and is mainly produced for food and beverage applications.
Why Citrates Are Mostly Used In Food And Beverages?
Citrate is used as an ingredient in manufacturing convenience food & beverages. It acts as a preservative & antioxidants and enhances flavor. The low sodium incorporation in food and beverages by using potassium citrate as an additive is gaining traction, as consumers are concerned about the labels. The low sodium content in food products acts as an opportunity for food and beverage manufacturers who can increase sales by marketing this aspect to the consumers.
Competition Assessment
Citrate is widely used in the food & beverage industry as a food additive, flavoring agent, and preservative. Owing to wide usage and growing demand, ascertaining safety of the ingredient is critical. Thus, citrate and its various by-products require approval from regulating authorities in various countries. In February 2016, the Biocidal Products Committee (BPC) approved the usage of citrate in food, medicines and cosmetics. In June 2015, Food Standards Australia New Zealand (FSANZ) permitted the use of citrate as well as lactic acid in beer as a food additive (acidity regulators).
Furthermore, key players are involved in collaborations with other brands to increase their product portfolio and geographical presence. In 2017, Jungbunzlauer Suisse Awent into a collaboration with Green Biologics Inc, the US subsidiary of Green Biologics Ltd., for global introduction of biobased citrate derivatives. The company offers a range of citrate products under its portfolio such as monosodium citrate, trisodium citrate, tricalcium citrate, trimagnesium citrate, tripotassium citrate and zinc citrate.
In 2013, Shandong Juxian Hongde Citric Acid Co., Ltd, set up a new factory in China in order to increase the production capacity of citric acid and cater to growing demand from the food and pharmaceuticals industry. The company manufactures an extensive range of citric acid, potassium citrate and sodium citrate for the food and beverage industry, where it is used to impart flavour and in the pharmaceutical industry for the preservation of medicines. The company also manufactures calcium citrate and zinc citrate.
Some of the leading companies operating in the market are:
Archer Daniels Midland Company
Jungbunzlauer Suisse A
Shandong Juxian Hongde Citric Acid Co., Ltd.
S.A. Citrique Belge N.V.
Weifang Ensign Industry Co., Ltd.
RZBC Group
Gadot Biochemical Industries Ltd.
*The list is not exhaustive, and only for representational purposes. Full competitive intelligence with SWOT analysis available in the report.
Scope of the Report
Attribute

Details

Forecast Period

2021-2031

Historical Data Available for

2016-2020

Market Analysis

USD Million for value and Metric Tons

Key Regions Covered

North America, Latin America, Europe, Japan, APEJ, MEA

Key Countries Covered

US, Canada, Brazil, Mexico, Argentina, Rest of LA, EU-4, U.K., Nordic, Benelux, Eastern Europe, Rest of Europe

Key Segments Covered

Product Type, Form, Application and Region

Key Companies Profiled

Cargill, Inc.
Archer Daniels Midland Company
Tate & Lyle PLC
Jungbunzlauer Suisse A
Shandong Juxian Hongde Citric Acid Co., Ltd.
S.A. Citrique Belge N.V.
Weifang Ensign Industry Co., Ltd.
RZBC Group
Gadot Biochemical Industries Ltd.

Report Coverage

Market Forecast, brand share analysis, competition intelligence, DROT analysis, Market Dynamics and Challenges, Strategic Growth Initiatives

Customization & Pricing
Key Questions Answered in the Report
Which is the most lucrative market for citrate?

Europe will account for the dominant share of 39.5% in the global citrate market in 2021.

Which are the key drivers supporting Citrate sales?

Cost effectiveness, the rising demand for natural and organic food additives, and increasing demand for convenience food & beverage products are some of the key drivers supporting the growth of citrate market.

Which is the Key Application of Citrate?

Food and beverages industry exhibits increasing application of citrate. Besides this, the demand in animal feed sector is expected to rise.

Which are some of the leading citrate manufacturers?

Some of the leading companies providing citrate are Cargill, Inc., Archer Daniels Midland Company, Tate & Lyle PLC, Jungbunzlauer Suisse A, S.A. Citrique Belge N.V., Weifang Ensign Industry Co., Ltd., RZBC Group, Gadot Biochemical Industries Ltd and others.

Which is the top-selling citrate type?

Calcium citrate will emerge as the top-selling type of citrate. Its use in the treatment inflammatory bowel disease, achlorhydria, or absorption disorders will drive sales in the coming years.
Citrate Market by Category
Product Type
Calcium Citrate
Potassium Citrate
Sodium Citrate
Magnesium Citrate
Others (Zinc, Choline, etc.)
Form
Application
Food & Beverages
Pharmaceutical
Animal Feed
Nutraceuticals
Industrial
Others (Personal Care and Cosmetics, Research, etc.)
Region
North America
Latin America
Europe
Japan
APEJ
MEA
Need specific information?
Talk Show:
The Rise of Intelligent Packaging
Personalized, Connected and Sustainable
November 18, 2021
11:00-11:45 AM PST (USA & Canada)
This is a LIVE session