Local Governments Entering into Partnerships with Manufacturers in Anti-microbial/Anti-fungal Tests Market
Government partnerships and tendering between diagnostic kit manufacturers is poised to provide manufacturers with substantial long-term opportunities in the anti-microbial/ anti-fungal tests market.
Governments in Latin American and Asian countries are working overtime to eradicate highly infectious diseases by providing free medication and diagnostic tests to their underprivileged citizens through government-backed programs. In order to achieve these objectives, local authorities need a constant supply of diagnostic kits and manufacture tendering or partnerships are the best solution to this.
Partnership / tendering benefits manufacturers as it provides them with a stable revenue stream for a specific period of time. Emerging economies such as India and Brazil have favourable opportunities for tendering and this is expected to boost the anti-microbial/ anti-fungal tests market over the forecast period.
Companies Strengthening Distribution Channels to Target All End Users in Anti-microbial/Anti-fungal Tests Market
At present, companies in the anti-microbial/ anti-fungal tests market are investing in their distribution networks to increase their sales in untapped markets. An effective way to do so is through strategic partnerships and alliances with local suppliers. These partnerships have proven to be critically important to manufacturers because they provide an edge over the competition and allow companies to introduce their products into niche markets, increasing their user base.
Hospitals are predicted to be the largest end-user in the global anti-microbial/ anti-fungal tests market for the foreseeable future and should push past US$ 1.2 billion by end 2027.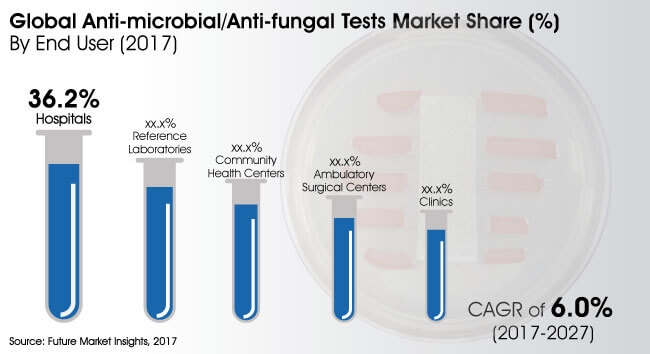 Lack of Innovation Culture a Challenge to Overcome in the Anti-microbial/Anti-Fungal Tests Market
Healthcare providers and medical personnel in general tend to be risk averse and extremely hesitant to change any policies or procedures. There have been several instances in the field of in-vitro diagnostics where physicians have been resistant to change if the impending innovation is likely to reduce the organizational income stream. The management and organization of diagnostic services can further exacerbate this problem.
This constraint is felt even more acutely in emerging economies where innovations performed and maintained by well-funded labs do not work in resource-starved healthcare facilities in far-flung rural areas. Therefore, companies would do well to focus on the hospital segment of the APEJ anti-microbial/ anti-fungal tests market as it is anticipated to push past US$ 250 million in 2027.
Quality Education and Training Need of the Hour in the Anti-microbial/Anti-fungal Tests Market
For a seamless transition of molecular diagnostics from a lab to a clinic, extensive optimization is required to interpret the results accurately. Diagnostic and clinical labs need highly skilled professionals who are experts in the medical and healthcare field. Unfortunately, limited resources in emerging economies mean that they can allocate only a sliver of public funds to clinical labs and an even smaller percentage of this to quality assurance.
Well-trained personnel are absolutely essential and are in short supply in the 21st century. A WHO report states that Sub-Saharan Africa has an acute healthcare crisis with only 168 medical schools in 47 countries. In Sub-Saharan Africa, 11 countries do not have a single medical school while 24 have only one. Although hospitals are the largest end-user in MEA anti-microbial/ anti-fungal tests market, the reference laboratory segment is projected to witness a higher CAGR of 5.6% from 2017 to 2027.
Anti-Microbial/Anti-Fungal Tests Market Taxonomy
Test Types
Molecular Based Tests
Phenotypic Resistance Tests
Complex Test Panels
Mass Spectrometry
Rapid Diagnostic Tests

E-Test Antibiotic/Antifungal Strips
Biosensor Platforms
End User
Hospitals
Ambulatory Surgical Centers
Clinics
Community Health Centers
Reference Laboratories
Type
Antimicrobial Resistance

Methicillin-Resistant Staphylococcus Aureus
Vancomycin-Resistant Enterococcus
Multi-Drug-Resistant Mycobacterium tuberculosis
Carbapenem-Resistant Enterobacteriaceae gut bacteria

Microbial Infection
Antifungal Resistance

Candida infections
Aspergillus infection
Fusariosis
Others

Fungal Infection
Region
North America
Latin America
Western Europe
Eastern Europe
Asia Pacific excluding Japan
Japan
Middle East and Africa
Need specific information?
Talk Show:
The Rise of Intelligent Packaging
Personalized, Connected and Sustainable
November 18, 2021
11:00-11:45 AM PST (USA & Canada)
This is a LIVE session