Key Insights
High Adoption Rate of Therapeutic Antibodies in Cost-Sensitive Markets
High cost of drugs, particularly biologics, is becoming an increasingly important issue in controlling healthcare cost. Economic burden of cancer and other chronic diseases is increasing with increasing healthcare expenditure. Improvements in production technologies of therapeutic antibodies has decreased the manufacturing cost and thus, penetration of antibodies has increased in cost-sensitive markets, such as Japan, Brazil and China.
For instance, Herceptin (trastuzumab), which is otherwise used when all other treatment options are exhausted, is being used as a first line therapy for HER2 positive breast cancer cases, in Japan. Roche reported 23% Y-o-Y increase in Herceptin sales in FY 2015, with high demand reported from Brazil and China.
Innovative Product Launches in Antibodies Market Underpinning Losses Due to Patent Expiry
Over the past two decades, hundreds of monoclonal antibodies including therapeutic antibodies, Fc-fusion proteins, antibody drug conjugates, antibody fragments, etc., have been approved in major markets such as the U.S., Europe and Japan. The rate of product approval in antibodies market has increased significantly -- more than 74 therapeutic antibodies have been approved in U.S. and Europe till now, which represented 10.2% of the global pharmaceuticals market in 2015. With the continuous approval of novel antibodies by regulatory authorities, sales of therapeutic antibodies have increased drastically in the last five years. Even though the antibodies market is experiencing unprecedented patent cliffs, launching of new products would mitigate these losses. The Antibody Society predicts that by 2018, of the 28 investigational antibodies, 12 new therapeutic antibodies would be approved for commercial use in the U.S and Europe.
Availability of Inexpensive Biosimilar Therapeutic Antibodies
Next-generation therapeutic antibodies, such as biosimilar antibodies, represent high growth potential for the antibodies market. For instance, Inflectra, a biosimilar of Remicade was approved by EU in 2013 and is now available all over the world. Inflectra was commercially launched in the U.S. in 2015, when it generated a revenue of US$ 30 Mn. Within the first year of launch, Inflectra registered 540% Y-o-Y growth in the global sales in 2016.
Moreover, numerous biosimilar monoclonal antibodies already launched in the market would fuel the market growth by increasing treatment seeking rate and patient acceptance. Novartis AG, one of the leaders in prescription medicines, has recently received EU approvals for two biosimilar antibodies for rheumatoid arthritis. In April 2016, ERELZI-Novartis biosimilar to Enbrel, was approved by the U.S. FDA. Subsequently, in April 2017, ERELZI was approved by the European Union. With this approval, Novartis unlocked the huge market potential for RA in 28 member states of EU.
Declining Cost of Therapeutic Antibodies Due to Immense Competitive Pressure from Biosimilar Antibodies
Due to high competition to branded antibodies by next-generation biosimilar antibodies, manufacturers of these products are cutting down the prices in order to withstand the increasing competition in the European market. For instance, after the launch of Inflectra (biosimilar to Remicade) in the U.K., Bulgaria, Estonia, Hungary and several other European countries in 2013, Merck & Co. reduced the price of Remicade by up to 45% in the U.K. to sustain competitive pressure. Although the prices have been slashed down, automatic pharmacy substitution of branded antibodies by biosimilar antibodies is not being observed in Europe as EU countries prefer lower cost than increased access, and EMA advice against such substitutions.
Therapeutic Antibodies to Remain on the Crest of Demand Graph as a result of Expanding Approved Indications
Since the launch of the first FDA approved therapeutic antibody in 1986, the applications of antibodies have spread far beyond its first approved indication and the trend continues till now. Key players in the antibodies market are investing substantial efforts in the expansion of indications for already approved drugs. Key players in antibodies market are trying to expand indications to retain their share in antibodies market.
For instance, world's top-selling drug Humira's sale totaled at US$ 18.4 bn in 2017. Humira is about to lose its patent protection in EU in 2018. Since, Humira is AbbVie's capitalizing drug, patent expiry would cause substantial business loss to the company. The company, thus, is investing considerable efforts to expand the indications of Humira in the therapeutic areas of rheumatology, ophthalmology and gastroenterology. This is expected to create opportunities for the company to retain its market share in the global antibodies market.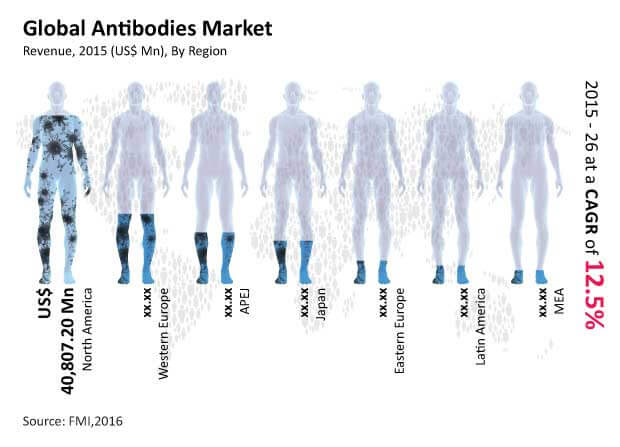 Ever-evolving Regulations Influencing Manufacturers to Comply with Necessary Standards
Since antibody is a relatively new field of therapeutics and diagnosis, regulations for the registration and marketing of antibodies in various countries have evolved overtime. Mature markets, thus, have established regulatory guidelines for therapeutic antibodies. Important recent regulatory developments for antibodies in emerging markets, such as China, India, Brazil, etc., would widen the worldwide reach of antibodies. For instance, in 2014, the Centre for Drug Evaluation China released guidelines for regulatory approval of biosimilar of biologic drug products, which is similar to EMEA and U.S. FDA guidelines.
Market Players Capitalize on Co-marketing to Amplify Sales
Major players in the antibodies market, such as Roche, Novartis, Biogen etc., are employing synergistic approaches of co-promotions and co-marketing of their antibody products with other companies. Synergy between partners is presenting immediate growth impact rather than mergers & acquisitions.
For instance, Roche co-markets Lucentis with Novartis. In 2017, Novartis' Lucentis sale totaled at US$ 1.9 Bn (reports EU sales) and that of Roche totaled at US$ 1.5 Bn (reports U.S. sales). Johnson & Johnson co-markets Remicade with Merck & Co. J&J reported Remicade sale of US$ 6.9 Bn whereas Merck & Co's sale totaled US$ 837 Mn in FY 2017.
Note: For detailed analysis on all the key market factors, request a sample.
Competitive Landscape
The FMI report provides detailed information about growth parameters in the antibodies market with the help of a detailed assessment of the competitive environment in the global market. The market study provides comprehensive data on important stakeholders in the antibodies market, including Novartis AG, F. Hoffmann-La Roche AG, Johnson & Johnson, Takeda Pharmaceutical Company Limited, Amgen Inc., Biogen Inc., Bristol-Myers Squibb Company, AbbVie Inc., Sanofi SA, Eli Lilly and Co., among others.
Considering high growth potential of cancer immunotherapy, Novartis AG, the global leader in antibodies market, is focusing on developing new antibody-based therapeutics in this therapeutic class. The company is studying over 20 investigational antibodies for cancer immunotherapy, nine of which have entered into clinical trials. J&J is focusing on innovative product launches to ensure long-term growth. The company has launched a number of antibody-based products in the last two years, including SYLVANT, STELARA and DARZALEX.
Japanese pharmaceutical and biopharmaceutical companies are taking efforts to develop new technologies to capture growth potential in highly promising antibodies market. For instance, Astellas Pharma Inc. is developing a device to predict the effects of antibody using their 3D structure, which will further be used in antibody based drug discovery processes. Chugai Pharmaceutical Co., Ltd. has been involved in the development of long acting antibody drugs which would reduce the frequency and cost of administration.
Note: For full coverage of the competitive landscape, get in touch with our experts.
Definition
Antibody, also called as immunoglobulin, is a protein produced by plasma cells in response to specific antigens. These antibodies can be used as therapeutic as well as for diagnostic purposes for several indications, including cancers, autoimmune disorders, inflammatory & infectious diseases and others.
About the Report
The market study on antibodies market was recently published by FMI and provides comprehensive information about the most important market dynamics that will prove instrumental in the growth of antibodies market during 2016-2026. Market players can find the most accurate quantitative and qualitative information about growth parameters in the antibodies market in the report, which will help them to develop data-driven business strategies in the coming future.
Segmentation
For the better understanding of readers, the FMI report provides salient information about the antibodies market in the most comprehensive manner. The antibodies market has been segmented according to geographical regions, drug types, applications and end users, to analyze the segment-wise growth of the market. Based on geographical region, the antibodies market has been segmented into seven regions – North America, Latin America, Western Europe, Eastern Europe, Asia-Pacific Excluding Japan (APEJ), Japan and the Middle East & Africa (MEA).
The antibodies market has been segmented into three drug types: monoclonal antibodies, polyclonal antibodies and antibody drug complexes (ADCs). Furthermore, applications of antibodies include CNS disorders, cardiovascular disorders and cancer/oncology and autoimmune disorders. Based on end users, the global antibodies market has been divided into three categories – hospitals, long-term care facilities and research institutes.
Additional Questions Answered
Readers can find detailed information about the important factors that are supporting along with factors hampering the growth of the antibodies market during the forecast period in this report. Additionally, the report also contains valuable information about antibodies market players with answers to critical questions, such as
Which drug types witness highest demand in antibodies market?
How the global antibodies market has evolved over time?
Which regulations in various regional segments are influencing strategies of players in antibodies market?
What is the adoption rate of antibody-based drugs in different therapeutic indications covered within the scope of report?
Research Methodology
The process of market research followed at FMI commenced with extensive secondary research of antibodies market. Analysts obtained industry-validated, historic and current data about the demand and sales of all approved antibody-based therapeutics across the globe. The comprehensive secondary research was then followed by primary research, where detailed information about antibodies market was obtained, in terms of value (US$ million). Based on thorough secondary and primary research of growth parameters in the antibodies market, analysts came up with the most precise forecast on how antibodies market will grow over the forecast period.
Note: Request methodology.
Key Segment
By Disease Indication
Cardiovascular diseases
CNS disorders
Cancer
Autoimmune Disorders
By Product Type
Monoclonal antibodies
Polyclonal antibodies
Antibody-drug complexes (ADCs)
By End User
Hospitals
Long-term Care Facilities
Research institutes
By Region
North America
Latin America
Western Europe
Eastern Europe
Asia Pacific excluding Japan
Japan
Middle East and Africa (MEA)
Need specific information?