Antibodies Market Snapshot
A Future Market Insight (FMI) analysis forecasts that antibodies demand will hike by 3.21x in upcoming decade surpassing the market valuation of US$ 601.614 Billion by the end of 2031.
North America is anticipated to dominate the antibodies market holding around 45.8% of the overall market share in 2021. The growth can be attributed to rising awareness, increasing government funding to find treatment for chronic ailments and presence of leading market players in U.S. and Canada.
FMI also states that, F. Hoffmann-La Roche Ltd., AbbVie Inc., Johnson & Johnson Services, Inc., Amgen Inc., and Bristol-Myers Squibb Company are leading players operating in the antibodies market. Collectively they will account for 3 out of 4 sales of antibodies across the globe.
Key Points Covered in Antibodies Market Study
Market estimates and forecast 2021 – 2031
Key drivers and restrains impacting market growth
Segment-wise, Country-wise, and Region-wise Analysis
Competitive Mapping and Benchmarking
Brand share and Market Share Analysis
Key Product Innovations and Regulatory Climate
COVID-19 Impact On Antibodies Market and How to Navigate
Recommendation on Key Winning Strategies
2018 – 2028 Antibodies Market Outlook In Comparison to 2021 – 2031 Forecast
Antibodies are essential for treating medical conditions like autoimmune diseases, cancer, and various type neurological diseases. Certain type of antibodies called immunoglobulin (IG) is used for the prevention of lower respiratory tract infections and diseases caused by vaccinia virus. Rising cases of viral infection will drive the demand for antibodies.
National Stem Cell Foundation (NSCF) has reported that about 4% of global population is affected by some kind of autoimmune diseases. The most common autoimmune diseases are diabetes, multiple sclerosis, Crohn's disease and rheumatoid arthritis.
Autoimmune diseases also act as a host for multiple chronic ailments. As the prevalence of autoimmune diseases is on the rise, the demand for antibodies is forecast to increase in upcoming years.
In April 2021, Xencor commenced its Phase I clinical trial of its new engineered Interleukin-2 (IL-2) Fc cytokine and XmAb564 antibody therapeutics designed for developing treatment of patients with autoimmune diseases.
The COVID-19 pandemic boosted the demand for antibodies as patients suffering from COVID-19 were highly susceptible to contracting various other ailments and in some cases triggered the autoimmune diseases in the patient.
Zydus Cadila is planning to launch its own antibody cocktail, ZRC-3308, through trials in India. The antibody cocktails are used in COVID-19 patients who are at risk of progressing to severe disease.
Novel biosimilar antibodies manufacturers are slashing their prices to compete with branded antibodies manufacturers especially in European market. With expiration of patents of renowned products, a boost in demand for biosimilar antibodies can be expected in upcoming years.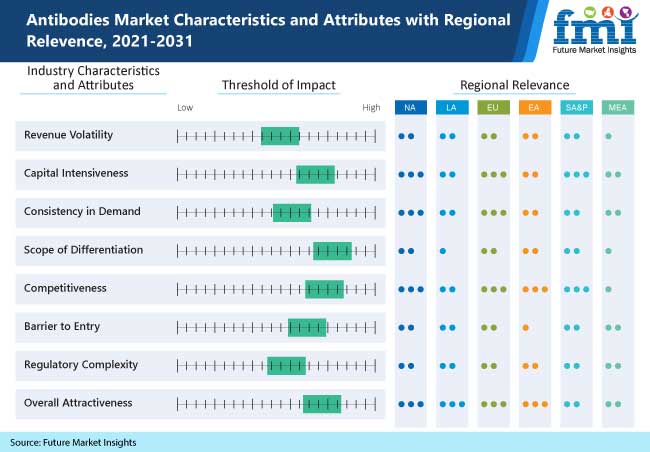 How do Research and Development Activities Impact Antibodies Sales Outlook?
Surge in research and development activities among pharmaceutical market leaders to develop economical and effective antibodies and biosimilar antibodies are driving the market growth.
In February 2021, Abingdon Health collaborated with Abcam to explore opportunities for their service and portfolio expansion which includes Abcam's reagent portfolio and Abingdon Health's rapid test contract development and manufacturing services.
In September 2020, Regeneron collaborated with Roche for efficient clinical trials of their monoclonal antibody treatment (REGN-COV2) for COVID-19.
Rising cases of multiple sclerosis and Parkinson's disease among older population is key factor fueling the demand for antibodies. There is an urgency to develop personalized and cheap medicines, advanced therapeutics, and novel and effective treatments in middle income countries. This is expected to positively influence the sales of antibodies.
In 2021, Berkeley Lights, a digital cell biology company joined hands with Genovac, an antibody discovery company to readily access the right antibodies in the shortest amount of time with the help of modern technology.
Considering this, the rising application of antibodies in chronic diseases treatment will create scope for market expansion in the near future.
How Is Increasing Production of Bio-similar Antibodies driving Demand?
Biosimilar antibodies are experiencing heavy demand as they are inexpensive in comparison with human monoclonal antibodies and they have very few side effects.
In 2020, Johnson and Johnson reported US$ 3.75 Bn achieved through the sales of Remicade. According to Pfizer, Inflectra, the biosimilar competitor of Remicade generated US$ 659 Mn in 2020.
U.S. Food and Drug Administration (FDA) approved a biosimilar of Remicade called "Avsola" in December 2019, and are now eligible for producing biologics product all over the world.
Increasing demand for biosimilar antibodies in treatment of rheumatoid arthritis along with high patient acceptance rate will boost the market growth.
One of the leaders in prescription medicines, Pfizer received the EU approval for biosimilar antibody therapeutics "Amsparity" for Crohn's disease, psoriasis, and psoriatic arthritis in February 2020.
Elevated new drug approval rates and products in the clinical trials in pharmaceutical companies will drive the market in upcoming years.
Country-wise Analysis
Why Is U.S Dominating The Global Antibodies Market?
The U.S. is the leading manufacturer of antibodies owing to modern healthcare infrastructural facilities and presence of leading market players in the country. Increasing purchasing power of consumers along with increasing government funding will drive the market growth.
National Health Accounts by Centers for Medicare & Medicaid Services (CMS) in its report states that healthcare spending in U.S. grew by around 4.6% in 2019. Rising cases of cancer and autoimmune diseases in the country will further increase the demand for antibodies.
National Stem Cell Foundation (NSCF) states that, autoimmune diseases are the third most common reason of chronic ailments in U.S. Increasing cases of diabetes and multiple sclerosis in the country will positively influence the demand for antibodies.
In February 2021, U.S. Food and Drug Administration (FDA) issued the authorization for bamlanivimab and etesevimab monoclonal antibodies administered together for the treatment of mild to moderate COVID-19 in adults and pediatric patients suffering for SARS-CoV-2 and are succeptible to progressing to severe case. This will accelerate the demand for antibodies in the country for years to come.
What Are The Factors Driving Antibodies Demand In Saudi Arabia?
GCC countries led by Saudi Arabia is emphasizing on early diagnosis and screening of cancer to elevate the survival rate and chance of successful treatment. Increasing screening and diagnosis using biosimilar antibodies therapeutics will bode well with market growth in the region.
Around 1291 new cases of childhood cancer were reported in Saudi Arabia in 2020, as per the report from World Health Organization (WHO). Increasing establishment of biotechnology research and development centers to develop cancer monoclonal antibodies will drive the market growth in upcoming years.
Market Players are working towards developing antibodies which are effective in treating COVID-19. Biotech company SaudiVax and U.S. firm Abound Bio jointly announced a licensing agreement for developing COVID-19 treatment.
The companies discovered a human monoclonal antibodies showcasing high potency in neutralizing activity against SARS-CoV-2. This will create growth opportunities in Saudi Arabia.
How Will Antibodies Market Growth Unfold in China?
World Bank evaluated that the healthcare expenditure in China was accounted for 5.35% of its gross domestic product (GDP) in 2018. Rising geriatric population and associated ailments will drive the market growth in upcoming years.
Development and production of antibodies in China is expected to increase significantly owing to increasing government investment towards drugs development coupled with growing awareness about various medical ailments like rheumatoid arthritis, cancer and infections.
Chine developed its first U.S. Food and Drug Administration (FDA) approved antibody in March 2018.The antibody named "Trogarzo" was useful in treating resistant HIV infections. Similarly more than ten other China made biologics are under clinical trials.
The government also started a "Chinese Antibody Society" with the aim to assist in speedy FDA approval as well as ensure effective marketing of China made antibody-based therapeutics.
These initiatives are expected to reflect positively on the China market, presenting conducive environment for the growth of antibodies sales.
What is Influencing Antibodies Market Growth In India?
Indian antibodies market is anticipated to grow at a rapid pace owing to rising cases of cancer and cardiovascular diseases along with development of healthcare system in the country.
As per the data from Global Cancer Observatory, 1.322 million new cancer cases were registered in India in 2020, while 2.72 million people had cancer for 5 years. Surge in cancer patients will drive the demand for monoclonal antibodies for cancer treatment.
Antibodies are finding its use in developing treatment for ongoing COVID-19 pandemic. World Health Organization has reported that around 29.97 million people were infected with COVID-19 in India as of June 2021. These numbers indicate huge potential for monoclonal antibodies market in India.
In 2021, Roche collaborated with Cipla to provide monoclonal antibody drugs called "REGEN-COV2". REGEN-COV2 is a cocktail of monoclonal antibodies casirivimab and imdevimab and has received strict medical emergency approval.
Rapid technological advancements, increasing government funding to make the treatment affordable, and increasing consumer spending on healthcare will create opportunities for growth in India.
Category-wise Insights
Why Are Cancer Antibodies Gaining Popularity?
Rising prevalence of non-Hodgkin lymphoma and other type of cancer has fuelled the demand for cancer antibodies for developing noninvasive and safe treatment options. With focus on cancer research increasing, the antibodies market outlook for the upcoming decade will remain positive.
Which Product Will Register High Demand?
Monoclonal antibodies are predicted to showcase elevated demand throughout the forecast period owing to rising drug approval rates. Besides this, sales in this category will rise in response to the increasing cases of rheumatoid arthritis, psoriasis, and asthma in geriatric population across the globe. The rising demand for effective treatment of aforementioned chronic ailments will remain a chief growth driver in this category.
Who is the Leading End User of Antibodies?
Hospitals are expected to generate highest demand throughout the forecast period. Growing pool of patients and faster accessibility to healthcare will elevate the demand in Hospitals.
Hospitals around the world register a higher footfall of patients as they offer expert care and infrastructure required for administering necessary treatment. Antibodies demand in hospitals multiplied amid COVID-19 outbreak.
Even as governments roll out vaccination drives to contain the pandemic, hospitals will remain dominant end user on account of rising cases of various types of chronic ailments.
Competitive Landscape
Future Market Insights (FMI) has found that market players are working towards developing new antibodies to treat cancer and other diseases. They are also researching to create long acting antibody drugs to reduce healthcare cost.
In order to gain a competitive edge in the antibodies market, key players are developing oral and noninvasive treatments using antibodies to treat chronic ailments. Strategic merger and acquisition for portfolio expansion is in the cards as well.
On June 11, 2021, Novartis published its new Phase II data of an investigational oral treatment "iptacopan", developed for treating paroxysmal nocturnal hemoglobinuria (PNH). The study indicated that, during 12 weeks of iptacopan monotherapy treatment no unexpected safety issues were reported which led to rapid and durable transfusion-free improvement of hemoglobin levels in the majority of patients.
In August 2020, Johnson & Johnson entered into final agreement to acquire Momenta Pharmaceuticals Inc. for around US$ 6.5 Bn. Momenta Pharmaceuticals Inc. is a market leader in developing novel therapies for immune-mediated diseases.
The acquisition will allow the Janssen Pharmaceutical Companies of Johnson & Johnson to expand its product portfolio in immune-mediated diseases while driving growth through expansion into autoantibody-driven disease.
Antibodies Market – Report Scope
Attribute

Details

Forecast Period

2021 – 2031

Historical Data Available for

2016 – 2026

Market Analysis

US$ Mn for Value & Units for Volume

Key Countries Covered

US, Canada, Germany, U.K., France, Italy, Spain, Russia, China, Japan, South Korea, India, Thailand, Malaysia, Indonesia, Australia, New Zealand, GCC Countries, Turkey, Northern Africa, and South Africa

Key Segments Covered

By Disease Indication, End user, Product Type, Region

Key Companies Profiled

Novartis AG
F. Hoffmann-La Roche AG
Johnson & Johnson
Takeda Pharmaceutical Company Limited
Amgen Inc.
Biogen Inc.
Bristol-Myers Squibb Company
AbbVie Inc.
Sanofi SA
Eli Lilly and Co.

Report Coverage

Market Overview, Market Background, Market Forecast, Segmental Analysis, Regional Profiling and Competition Analysis

Customization & Pricing

Available upon Request
Key Questions Answered in the Report
What is antibodies market size?

Driven by increasing research in monoclonal antibodies in treating autoimmune disease, the antibodies market size is forecast to reach US$ 186.865 Billion in 2021.

At what rate did the antibodies market expand in the last five years?

Between 2016 and 2020, the antibodies market grew at 9.50% CAGR owing to increasing cases of cancer and diabetes in last 5 years.

What will be the demand outlook/ sales forecast of antibodies?

The market valuation of antibiotics is forecast to reach US$ 601.607 Billion by the end of 2031.

Which countries are the leading producers of antibodies?

U.S., Switzerland, and France are leading producers of the antibodies owing to presence of leading market players and dedicated research facilities in these countries.

What is the North America antibodies market outlook?

Demand registered in North America will continue rising, backed by presence of leading market players in the U.S. and Canada, the North America market is predicted to account for 49.2% market share by 2031.

Who are the leading five companies in antibodies market?

F. Hoffmann-La Roche Ltd., AbbVie Inc., Johnson & Johnson Services Inc., Amgen Inc., and Bristol-Myers Squibb Company are the top five companies operating in the market.

What is the cumulative share of top five companies in antibodies market?

Top five players account for nearly 75% of the antibodies market in 2021.

At what rate will antibodies sales increase in Europe?

Antibodies sales will increase at 11.3% CAGR in Europe, backed by rising demand in the U.K., Germany and other countries.

Which are the top five countries driving antibodies market demand?

Leading countries driving demand in the antibodies market are U.S., Japan, China, U.K., and Canada.

What are the key statistics for antibodies market in Japan and China?

As of 2021, Japan and China holds around 10.3% and 4.3% share respectively in the global antibodies market.
Key Segments Covered in Antibodies Market Study
By Disease Indication
Cardiovascular diseases
CNS disorders
Cancer
Autoimmune Disorders
By Product Type
Monoclonal antibodies
Polyclonal antibodies
Antibody-drug complexes (ADCs)
By End User
Hospitals
Long-term Care Facilities
Research institutes
By Region
North America
Latin America
Western Europe
Eastern Europe
Asia Pacific excluding Japan
Japan
Middle East and Africa (MEA)
Need specific information?