Pulp & Paper Industry Accounts for Significant Revenue Share
Manufacturers are prioritizing the pulp & paper industry as their target customers, as it accounts for over 40% of the total demand for bamboos in the global market. The construction and wood & furniture (Such as plywood, and mat boards) industries are also contributing significantly to the market revenues,
where sales collectively worth about US$ 2 Bn are grabbing huge attention of market players. While these end-use industries continue to lead the pack in the bamboos market, sales opportunities are being observed via the textile and agricultural industries.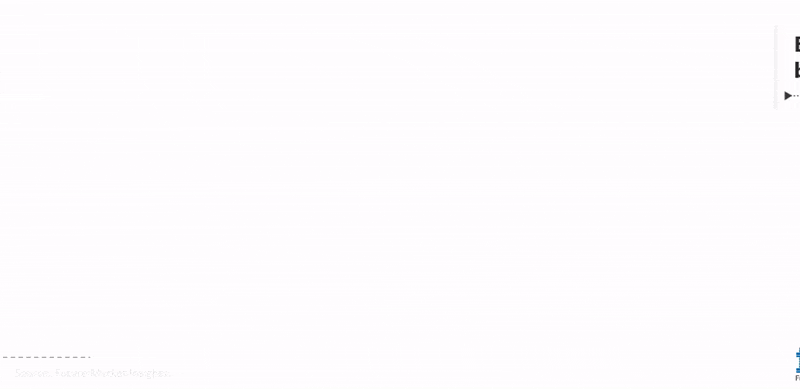 Abundant Bamboo Forest Cover Brings in Opportunities to APAC and Latin America
Asia Pacific (APAC) and Latin America will remain the goldmine of bamboos market growth over the next decade. China and Brazil are spearheading the regional markets respectively, with the former representing the most lucrative opportunities. While the market in India is flourishing on the back of plenty bamboo forest cover, Japan's notable average bamboo yield is also driving significant attention of market players.
Greater Focus on Sustainable Power Generation
As the conventional energy sources are on the verge of depletion, it becomes quintessential for industrial operators to turn to renewable alternatives. Bamboos produce 3x oxygen compared to other trees and its biomass is highly efficient and relatively inexpensive. As such, the power sector is welcoming bamboos as an energy source for power generation. This preferential shift is emerging as a safe bet for bamboo producers in the near future.
How Growth will Unfold
The pulp & paper industry has been the primary consumer of bamboos owing to their optical property, and excellent tear index. Apart from that, the high-strength quotient of bamboos compared to traditional materials such as concrete, and steel is boosting their prominence as green building material. Despite challenges pertaining to changing regulations in the forest sector, rising trend of bamboo-infused alcohol and tea in Latin American countries - Mexico and Brazil – are setting high hopes for bamboos market players.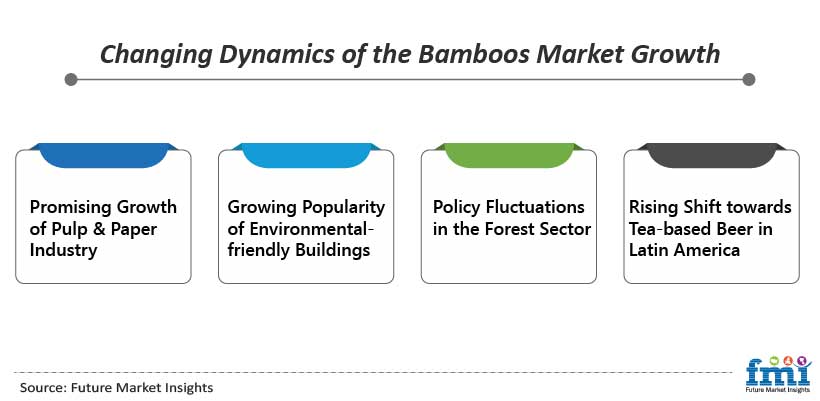 FREQUENTLY ASKED QUESTIONS ABOUT GLOBAL BAMBOOS MARKET
How will the bamboos market be critical in the future?
The global bamboos market is estimated to grow at a significant rate owing to high growth in construction, pulp and paper, and furniture industries. However, governmental laws and regulations, along with the policies on ownership of resources and security, and lack of institutional mechanisms have made it difficult to unlock abundant sources of bamboos.
Will transportation costs affect the future trajectory of the bamboos market?
Yes, a key challenge with regard to the processing of bamboo is the cost of transportation. Transportation costs are relatively high because culms are hollow inside. For economic reasons, it is important to do at least the primary processing as close as possible to the bamboo plantation.
Which application area holds potential growth opportunities for market players?
Pulp and paper industry, in order to reduce dependency on wood, is expected to provide sustainable opportunities for bamboo/bamboo products in the global market. Pulp & paper industry is one of the most established industries in the world and manufacturers of pulp & paper are utilizing bamboos as a raw material for the production of paper & pulp.
What is the degree of competition in the bamboos market?
The bamboos market shows a competitive structure, with the presence of large number of regional and local market players. Small- and medium-scale enterprises such as Moso International B.V., Shanghai Tenbro Bamboo Textile Co. Ltd., and others account for major market share in the global bamboos market.
Which region will lead the global bamboo sales?
Asia Pacific remains in the forefront of the bamboos market, with significant market potential exists in the growing markets of China and India. China, with the maximum number of bamboo species in the world, is a large exporter of processed bamboo products. China has the maximum number of bamboo species in the World, followed by India and other countries.
BAMBOOS MARKET TAXONOMY
End-use Industry
Wood and Furniture

Timber Substitute
Plywood
Mat Boards
Flooring
Furniture
Outdoor Decking

Construction

Scaffolding
Housing
Roads

Food (Bamboo Shoots)
Pulp & Paper
Textile
Agriculture
Others (Charcoal & Handicraft)
Region
North America
Latin America
APAC
EMEA
Need specific information?
Talk Show:
The Rise of Intelligent Packaging
Personalized, Connected and Sustainable
November 18, 2021
11:00-11:45 AM PST (USA & Canada)
This is a LIVE session