Introduction
In terms of value, the global market for barley is expected to increase at a CAGR of 3.3% during the forecast period and is projected to account for US$ 28,000 Mn by 2026 end. Increase in demand for barley can be attributed to increasing applications of barely in the food and beverage industry and increasing awareness among consumers regarding the health benefits derived from the consumption of barely. Barely is also one of the most easily available grains and is a clean label product.
The many benefits of barley and its growing usage in varied end-use industries, such as food industry, beverages, pharmaceuticals, animal feed and cosmetics and personal care products, are expected to drive the growth of the barely market during the forecast period. The Barley market has major end-use potential in beverages, both in alcoholic and non-alcoholic beverages markets.
Barley has been proven to be one of the most beneficial beverage ingredients in alcohol. That apart, barley also finds usage in the nonalcoholic beverage industry. By application, the barley market is segmented into alcoholic beverages, nonalcoholic beverages, food industry, pharmaceuticals, animal feed and personal care products. Among end use segments, the alcoholic beverages segment is expected to grow with a higher growth rate of 3.7% during the forecast period.
The Barley market, at a global level, is also segment by type. By type, the barley market has been segmented into pearl barley, barely flour, barely flakes, barely grits, barely malt and whole grain barely. Of these six types of barley, the malt segment is anticipated to account for the major share in terms of market value. This segment of the barley market, at a global level, is projected to increase with a CAGR of 3.5% from 2016 to 2026.
The global Barley market has also been segmented on the basis of different grades. On the basis of grade, the barley market has been segmented into Malt Grade (standard and speciality), Food Grade, Feed Grade, Pharmaceutical Grade and Cosmetic Grade. Malted barley is one of the most important ingredients in beers. It is also used in different types of extracts and syrups that impart sweetness and flavor to other prepared food products and is also used as an ingredient in bread starters.
Malted barley is also considered to be one of the good sources of protein, manganese, dietary fiber and selenium. Malted barley held a dominant share of 40.5% in 2016. Increasing demand for malt-based beverages, mostly from developing regions, is expected to continue in near future and is anticipated to drive the demand in the global barley market during the forecast period.
The global Barley market is being driven by factors, such as growing awareness about health benefits associated with cereal ingredient-based products. Barley offers versatile and functional properties and is available in various forms. Malt from barley is used as a versatile ingredient and barley grits and meals are used as animal feed. Barley is majorly used for feed products across the globe. Manufacturers are launching products to add value to feeds.
Barley is rich in beta-glucan and offers various health benefits. For instance, it helps in controlling glucose absorption, reducing cholesterol, etc. However, due to increasing malt production, some regions are experiencing barley shortage. Researchers are working on improved seed varieties to increase production yields. Barley is widely used in non-alcoholic drinks and local drink recipes.
Barley drinks offer benefits, such as low GI and low fat and cholesterol content and thus, help in maintaining blood sugar level. Barely is also gaining traction as an ingredient in many food products, especially because of its high fiber and nutrition content and is also used in children's snack items.
The demand for Barley has been witnessing a rise since the past couple of decades. Barley is expected to witness increasing demand from the global alcoholic beverages and animal feed industry. As malt beverages are one of the most common variety of beverages, both alcoholic and nonalcoholic beverages containing barely malt are gaining traction.
Barley is primarily grown in countries, such as Russia, France, Germany, Ukraine, Australia and others. Barley is considered to be one of the most important crops by the farmers in these regions. A major amount of barley is produced in these regions. Barely has resistance property, which allows it to grow even in extremely hot areas, such as North Africa.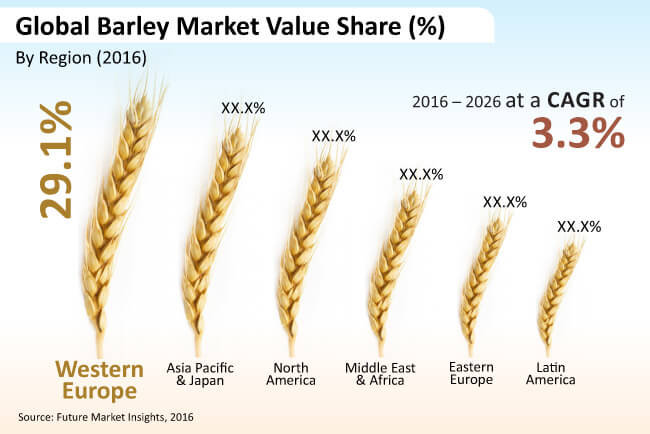 Developing countries account for around 18% of the total global barley production and 25% of the total harvested land around the globe. Barley straws are used as animal feed in western parts of Asia; North of Africa; Yemen; Ethiopia; Eritrea and other eastern parts of Asia. Barely is one of the staple food crop plants consumed by people in regions of Africa; Middle East; some areas of Nepal; Tibet and Ethiopia; some countries in South American and South Asian regions, such as Peru and Chile in South America; and Himalayas and China in Southern Asia.
On the basis of regional segmentation, the Barley market, at a global level, is segmented into North America, Latin America, Western Europe, Eastern Europe, Asia Pacific Excluding Japan, the Middle East & Africa and Japan. Among the above mentioned regions, the market in Western Europe Barley market is expected to register highest CAGR of 3.7%, in terms of value, and accounted for a share of 29.1 % in 2016 and was followed by Asia Pacific and Japan Barley market.
The North America Barley market is also expected to gain normal market share owing to growing demand from the U.S. and China and accounted for 17.8% market share in 2016 and is expected to grow up to 18.0 % market share by 2026.
Some of the key players in the Barley market are Cargill Group, Grain crop Limited, Malteurop Group, Soufflet Group, Crisp Malting Group, Global Malt Gmbh & Co. Kg, Ireks Gmbh, Muntons Plc, Maltexco S.A.,Grain Millers Inc, EverGrain, Malt Products Corporation and Briess Malt & Ingredients Co.
The major players in the Barley market and various research and seed treatment companies are developing varieties of barley that have higher beta-glucan content as it has been claimed that beta-glucan can help to lower cholesterol levels in blood.
New and Innovative Product Developments:
Dieckmann Seeds, a world leader in breeding barley varieties, offers beta barley, which has been approved to have properties that lower cholesterol levels in blood
In May 2016, BASF launched fungicide Sistiva for seed treatment on wheat and barley in Argentina. Sistiva will provide around 45 days of control for post-emergent diseases of crops and will allow farmers more flexibility for the foliar application
In April 2015, Dow Agrosciences introduced a cereal product called Paradigm Arylex, which is an active herbicide. This new product has been developed to be used in wheat, barley, triticale and oats to regulate and control the growth of brassica weeds, deadnettle, Mexican poppy and fumitory and a wide variety of other broadleaf weeds
Barley Is Majorly Used for Feed Products Across the Globe. Manufacturers Are Launching Products to Add Value to Feeds
In May 2015, Canadian Bio-Systems Inc. (CBS Inc.) launched Superzyme feed enzyme series to deliver high nutritional values in a wide range of animal feeds, including corn, soybean meal, wheat, barley, oats, canola meal, etc. Superzyme feed enzyme adds value to feeds and reduces potential waste
In April 2016, Nestle Purina launched Beyond – a premium dry dog food made with natural ingredients. The dog comes in two types: Simple and Superfood blend. Super food blend has three recipes which are lamb with whole barley, chicken with whole barley and superfood salmon, oats and sweet potato
Key Segments Covered
By Type
Pearl Barley
Barley Flour
Barley Flakes
Barley Grits
Barley Malt
Whole Grain Barley
By Grade
Malt Grade
Standard
Speciality
Food Grade
Feed Grade
Pharmaceutical Grade
Cosmetic Grade
By Application
Alcoholic Beverages
Non Alcoholic Beverages
Food Industry
Pharmaceuticals (Supplements)
Animal Feed
Personal Care Products
Key Regions/Countries Covered
Latin America
North America
Western Europe
Eastern Europe
Asia Pacific & Japan
Middle East & Africa
Need specific information?