Biomass Pellets Market – Key Research Findings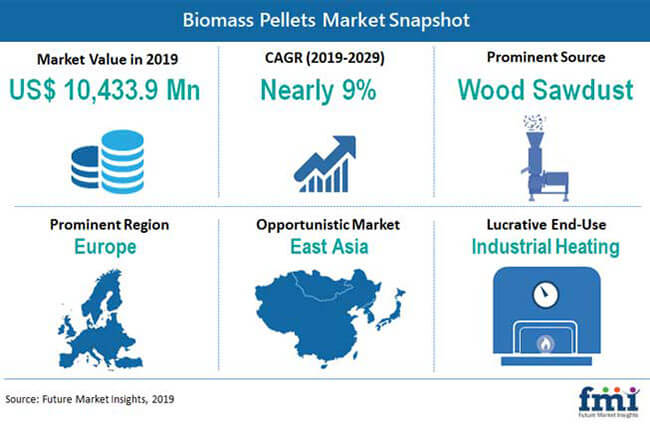 The global biomass pellets market was valued at more than US$ 9 Bn in 2017, and is estimated to grow at a CAGR of above 8% over the forecast period 2019-2029.

In terms of consumption, East Asia is expected to register high value and volume growth in the biomass pellets market throughout the forecast period.

Healthy growth of manufacturing industries such as chemicals, cement, rubber construction, polymers and plastics, and food processing, among others, is one of the key driving factors behind this growth. These industries are the key end users of biomass pellets, and their significant growth projects China as an emerging country in the global biomass pellets market.

Increasing government policies and subsidies promoting and favoring the utilization of renewable fuels such as biomass pellets against fossil-based fuels from biofuels is expected to create noteworthy demand for biomass pellets across geographies.

For instance, the Biomass Thermal Utilization Act (BTU Act) of 2019 in North America aims at recognizing and promoting the environmental and economic benefits of biomass-derived fuels and energy sources. This act provides 15% to 30% credit for clean wood heating systems for domestic and commercial applications.

The wood sawdust segment, by source, is expected to create significant revenue in the global biomass pellets market.

For the fine quality and properties of biomass pellets derived from wood, wood sawdust is expected to one of the prominent sources for biomass pellet production.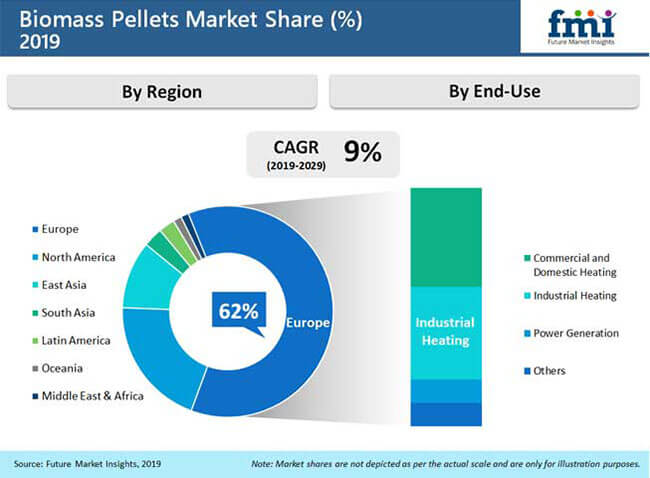 Key Driving Factors of the Biomass Pellets Market
Growing Demand for Biomass Pellets as a Fuel for Co-Firing in Coal-Based Boilers

Biomass pellets are reported to be an efficient energy source that can be used along coal for heating applications, among others. Most industries that have installed coal-based boilers are inclining towards the use of biomass pellets to co-fire with coal for heating in order to reduce their carbon footprint and reduce the cost of expenditure on costlier fossil-based energy fuels.

Surplus Availability of Biomass Feedstock to Drive the Growth of the Market

As result of excessive agricultural and forestry activities, there is a surplus amount of biomass availability in the form of agricultural residue and forest waste, among others. Furthermore, most nations across the globe are agriculture-dependent. This ensures the availability of feedstock for biomass pellet production, and hence, acts as a significant driving factor for the global biomass pellets market.

Increasing Demand for Renewable Sources of Energy to Create the Demand for Biomass Pellets

The International Renewable Energy Agency (IRENA) of the Sustainable Energy for All (SE4All) initiative aims to almost double the share of renewable sources of energy in the global energy industry by the end of 2030. To achieve this, it developed a Global Renewable Energy Roadmap called REmap 2030. Such initiatives are expected to create significant demand for renewable sources of energy, such as biomass pellets, over the forecast period.
Biomass Pellets Market: Structure Analysis
Top companies operating in the global biomass pellets market include Drax Biomass Inc., Enviva Partners, LP, German Pellets GmbH, AS Graanul Invest, Pinnacle Renewable Energy Inc., and Abellon CleanEnergy Limited, among others.
These players are trying to expand and grow in the biomass pellets market through strategic steps of development. This report on the biomass pellets market is designed to provide relevant information regarding these players, and also about the key strategies that they have adopted.
Biomass Pellets: An Efficient Replacement to Fossil-Based Furl Coal
In the past years, biomass pellets have witnessed a significant hike in demand from industries. Biomass pellets can be used efficiently in coal-fired boilers when co-fired with coal. This helps reduce carbon emissions from factories. Hence, biomass pellets are gaining significant popularity among industrialists who are trying to cut down their carbon emissions and attain sustainable development.
Market to Grow 2.6X the Value of 2018 by the end of 2029
The global biomass pellets market is expected to grow at a steady pace over the forecast period 2019-2029. This growth will be majorly driven by the growing adoption of biofuels among industries, which has created noteworthy demand for biomass pellets.
Emerging Economies of East Asia to Project Lucrative Growth in the Biomass Pellets Market
Europe is estimated to be a prominent region in terms of biomass pellet consumption. However, East Asia is expected to project lucrative growth in the global biomass pellets market over the forecast period. This growth is majorly driven by the emergence of economies such as China, Japan, and South Korea as high growth countries for the market.
The Broader Perspective
Participants in the global biomass pellets market are actively participating in the international trading of biomass pellets. This is helping them reach overseas markets where the demand for biomass pellets is comparatively higher. The volumes of import-export is expected to increase further over the forecast period at a high growth rate.
How Growth will Unfold
Europe is one of the prominent consuming regions of biomass pellets. However, other regions such as North America, South Asia, and East Asia, among others, are expected to grow at high rates over the forecast period.
BIOMASS PELLETS MARKET TAXONOMY
The global biomass pellets market is segmented in detail to cover every aspect of the market, and present a complete market intelligence approach in front of the reader.
By Source
Agricultural Residue
Wood Sawdust
Others
By End Use
Power Generation
Industrial Heating
Commercial and Domestic Heating
Others
Region
North America
Latin America
Europe
South Asia
East Asia
Oceania
Middle East &Africa
Need specific information?