Wood Pellets Market Demonstrates Astounding Growth, Invigorated by Heightened Demand in Commercial & Residential Heating
Global wood pellets market is buckling up on the back of grave environmental concerns and rising government incentive towards sustainability. Having surpassed revenues of US$ 15 Bn in 2018, the market is poised for stupendous growth at approximately 11% CAGR through the forecast period (2019 - 2029).
The prodigious demand in commercial & residential heating segment is compelling manufacturers to churn out wood pellets extensively through 2029. Moreover, consumption of wood pellets in co-firing continues to witness prolific growth. Agricultural residue and wood waste remain the prominent sources of wood pellets, in view of easy availability and lower production cost.
Demand for Carbon Neutral and Sustainable Fuel Continues to Bolster Wood Pellets Market Growth
Pellet-based power plant is gaining traction as a preferred alternative to coal-based power plant, thereby accentuating the need for wood pellets in industrial sector. Moreover, the governments worldwide are keen on driving adoption of renewable energy in residential, transportation and industrial sector. Consumers in developed regions such as Europe have greater environmental sentience, which continues to account for their increasing reliance on renewable sources.
Bio-based energy sources are gathering impetus in developing countries, for electricity generation. The reason is attributed to rising energy consumption and favourable government policies. Significant reduction in emission of greenhouse gases is increasing the consumption of wood pellets in industrial sector. Continued innovations in combustion technology is to be accredited for impressive growth of wood pellets market.
Europe to Capture Major Chunk of Revenue Share, Asia Pacific Closing In
Wood pellets have witnessed widespread adoption in power boilers and residential heating segments across Europe. The regional market is fuelled by enhanced product penetration in countries such as France, Austria, Italy and Germany. Moreover, European Union's stringent regulations against carbon emissions are pushing the sales of wood pellets.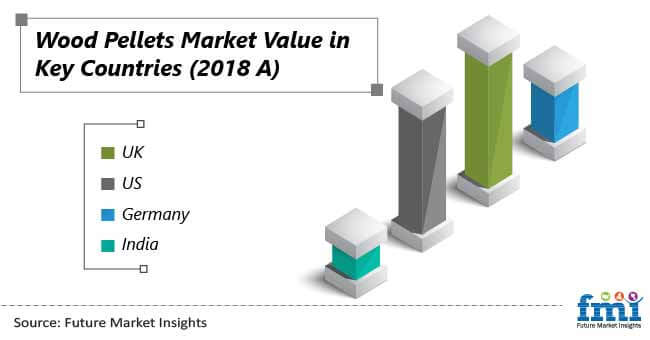 On the other hand, Asia Pacific will register noteworthy growth during the projection period. The profuse regional growth is underpinned by the emerging renewable energy sector in countries such as China, South Korea, India and Japan. Moreover, the rapid construction of power plants is contributing to the growth of wood pellets market in Asia Pacific.
Prominent Manufactures Expedite Capacity Expansion to Maintain Hegemony
The competitive landscape of global wood pellets market is highly fragmented in nature. Detailed profiles of leading players are included in this report covering their recent developments, key offerings, short-term and long-term strategies. Some of the leading manufacturers of wood pellets include, Enviva Partners LP, Pinnacle Renewable Energy Inc., Wood Pellet Energy (UK) LTD, Andritz AG, Energex, and Georgia Biomass, LLC.
Key players are accelerating their capacity expansion efforts in a bid to sustain global leadership. In order to revamp their repository, they are entering strategic agreements with raw material suppliers such as Swedish softwood lumber suppliers. This move is projected to boost the production capacity of leading manufacturers. In view of respiratory problems caused by wood dust, some players are innovating novel manufacturing processes by escalating R&D activities.
Product and cost differentiation remain key strategic focus of leading players in global wood pellets market. Key manufacturers must realign their strategies as per shifting consumer preferences to ensure enhanced product penetration, geographical expansion and increased market share.
Wood Pellets Market: Segmentation
The global wood pellets market is segmented in detail to cover every aspect of the market and present a complete market intelligence approach to readers.
By Feedstock
Forest and Wood Waste Resources
Agricultural Residue and Waste
Food Waste
Virgin Lumber
Energy Crops
By End-use Industry
Residential/Commercial Heating
CHP/District Heating
Co-firing
By Region
North America
Latin America
Europe
MEA
Asia Pacific
Need specific information?