Woodworking Router Bits Market Size to Expand 1.6 X by 2029
Governments all over the world are increasing their expenditure on construction & infrastructure in order to boost the economy and catalyze growth & development. With evolving workforce expectations in tandem with rising need for production efficacy, industry leaders are turning to handheld and portable devices. These activities are auguring well for the woodworking router bits market, which will witness around 1.6 value inflation by 2029. According to our new FMI study, the market is anticipated to expand at a CAGR of 4.7%.
Frequently Asked Questions about Woodworking Router Bits Market
How will the growth outlook be for the woodworking router bits market?
Woodworking router bits are estimated to witness rise in demand as tools for drilling, milling, cutting, profiling, engraving, and carving in woodworking processes. These are one of the most preferred carbide tools for woodworking applications, owing to their effectiveness and accuracy. Router bits are available in two types - handheld and CNC-based; however, the purview of this report only covers handheld router bits.
Which application in woodworking router bits holds potential opportunities for market players?
Grooving holds half of the share of the global woodworking router bits market. As one of the significant applications in woodworking, the segment is projected to witness highest growth during the forecast years. Grooving is applicable to almost all wood types such as plywood, chipboard, MDF, HDF, and hardwood, making these router bits suitable for various operations.
What is the degree of competition in the woodworking router bits market?
The woodworking router bits market is becoming increasingly competitive, with prominent market players holding nearly half of the market share. In the current scenario, key market participants such as Robert Bosch GmbH, Stanley Black and Decker, Kanefusa Corporation, Amana Tool Corporation, CMT Utensili SpA, and a few others are estimated to account for around half of the market share.
Which region will lead the global sales of woodworking router bits?
Asia Pacific remains at the forefront of the global woodworking router bits market, owing to flourishing residential and commercial construction activities in developing countries such as India and China, among others. Asia Pacific, followed by Europe, is anticipated to have a prominent share in the global woodworking router bits market, owing to flourishing architectural heritage and increasing construction activities.
Opportunities Hover around Grooving Operations
Gains in the woodworking router bits market would be realized by grooving operations, which will capture nearly half of overall market stack. Their applicability in almost all wood types such as plywood, chipboard, medium-density fiberboard (MDF), and hardwood is reflecting value-capture prospects for manufacturers. Moreover, the adoption of woodworking machines in grooving operations is likely to surge at a promising pace. Although they hold a relatively lower market share, manufacturers are also unlocking revenue streams from cutting and jointing & rebating operations.
APAC Market Continues its Hegemony
Capturing around 2/5 of total market value, manufacturers in the woodworking router bits market continue to unlock opportunities of growth and profitability in Asia Pacific (APAC). China, and India are spearheading the regional market, primarily attributable to investment upsurge in construction and infrastructure development projects. Similar trends are shaping market growth in Europe and North America, which collectively procure around half of overall demand. This study further emphasizes that, the U.S. represents the most lucrative woodworking router bits market.
Turning to Carbide for Better Operational Efficiency
Manufacturers of woodworking router bits must focus on retooling every facet of their approach in an effort to enhance project value, and, in turn, make capital allocations more effective. This strategic transformation includes usage of carbide-tipped woodworking router bits for several applications. Carbide material offers better performance and extended service life - 15-20X that of regular high-speed steel (HSS) tools - for woodworking operations. Excellent temperature resistance of carbide tools are further broadening their adoption in an extensive range of operations.
High demand for straight router bits
Rabbeting to showcase noteworthy CAGR
Surging adoption in grooving operations
Moderate application in cutting operations
1/2" size holds leading revenue share
1/4" size to gain stable traction
How Growth will Unfold
At present, a significant chunk of the revenue of the woodworking router bits market is realized by straight router bits. However, straight router bits will see stagnancy in their adoption in due course of time to other woodworking tool types. During the latter half of the forecast period, rabbeting tools are likely to outpace straight router bits. Market players are also targeting flush trim and edge making router bits for further value-capture opportunities. These router bits account for a collective share of over 20% of total market revenue.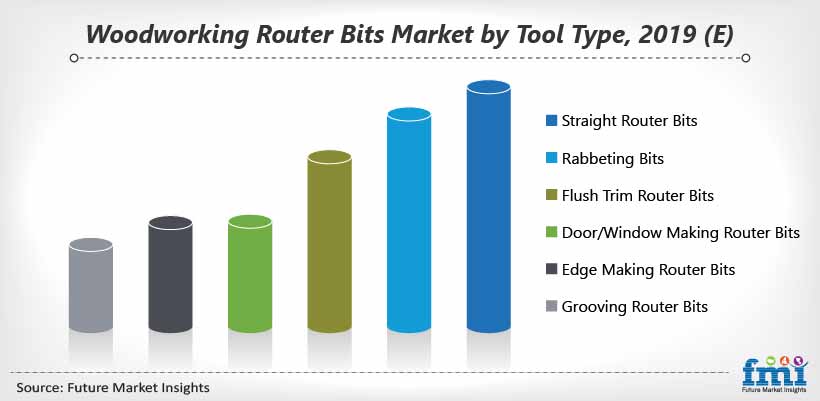 * This data is only a representation. Actual data may vary and will be available in report.
Click Here To Know How The Growth Will Unfold
Custom Market Research Services
FMI offers custom market research services that help clients to get information on their business scenario required where syndicated solutions are not enough.
Overview
Woodworking Router Bits Market Analysis 2019-2029
A recent market study published by Future Market Insights (FMI) on the woodworking router bits market includes global industry analysis of 2014-2018 and opportunity assessment for 2019-2029, and delivers an assessment of the market dynamics. After thorough research on the historical as well as current growth parameters of the woodworking router bits market, the growth prospects of the market are obtained with maximum precision. In the scope of research, we have included only carbide-tipped router bits for woodworking applications.
Woodworking Router Bits Market Taxonomy
Operation
Jointing & Rebating
Cutting
Grooving
Shank Size
1/2"
1/4"
3/8"
3/4"
5/8"
5/16"
Tool Type
Rabbeting Bits
Door/Window Making Router Bits
Flush Trim Router Bits
Edge Making Router Bits
Grooving Router Bits
Slot Making Router Bits
Spiral Router Bits
Straight Router Bits
Others (Chamfer, Bead, Dove Tail, Thumbnail, Molding, Round Over, Flat Rounding, Ogiee, Cove, Stile)
Region
North America
South America
Europe
Asia Pacific
Middle East & Africa
How the research was conducted?
Primary Research
C - Level Executives
Marketing Directors
Product Managers
Business Development Officers
Production Managers
Procurement Heads
Sales Executives
Distributors
Traders
Raw Vehicle Type Suppliers
Industry Experts
Current market dynamics and challenges
Yesteryear trends
Market characteristics
Market performance and growth quadrants
Competition structure and market structure
Strategic growth initiatives
Near-term and long-term market growth prospects
Market segment splits and authenticity
Opinions on market projections and validity of assumptions
Secondary Research
Industry Publications
Industry Associations
Factiva
Company Press Releases
Annual Reports and Investor Presentations
Research Papers
Government Web Applications and Publications
Trade Web Applications
Primary Interview Splits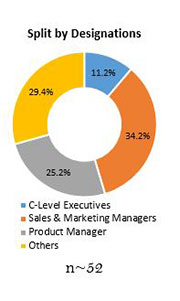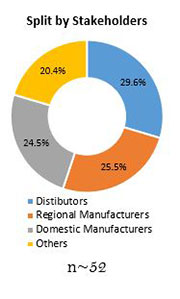 To Learn More About our Comprehensive Perspective on Woodworking Router Bits Market,
Get in touch
COVID -19 : Impact Analysis
Request the coronavirus impact analysis across industries and markets
Request Covid -19 Impact
CASE STUDIES
See how our work makes an impact.
At FMI, we design strategies that are adaptive, impactful, and implementable.