Manufacturers Stay Glued to Wood Processing Industry
Demand upheaval for wood in commercial and residential sectors, as well as in industrial and manufacturing sectors, as an insulator, would underpin the adoption of woodworking circular saw blades in wood processing and timber industries. Together, both these end-use industries constitute a significant portion of overall market revenue.
Market players are also identifying the furniture & carpentry industry for value-capture opportunities, as this end-use industry is likely to witness a higher adoption rate over other industries through 2029.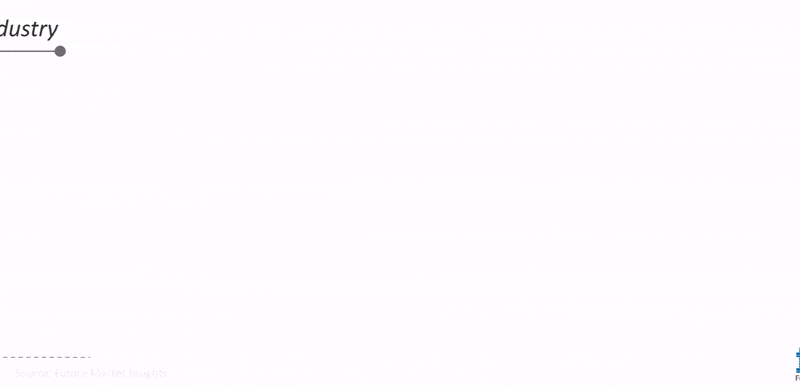 Stakeholders Targeting APAC for Meaningful Business Opportunities
The construction and manufacturing sectors all over the world are finding themselves on the cusp of unprecedented upheaval with a sudden spike in infrastructure development projects in recent years. This theme echoes across every regional segment, especially Asia Pacific (APAC), which holds a leading share in the woodworking circular saw blades market. Manufacturers are also realizing substantial gains from the markets in North America and Europe, despite both these developed regions lagging behind APAC in terms of revenue pool.
Diamond-coated Tools - A Possible Hindrance to Market Growth
Carbide material for tips of woodworking circular saw blades offer advantages - abrasion resistance, significant reduction in kerf, longer service life, and ability to saw thick and strong wood. However, diamond-coated tools are emerging as a possible hindrance to market growth, as they provide greater abrasion resistance than carbide tools. That being said, the low-cost quotient of carbide-coated woodworking circular saw blades is likely to overshadow diamond-coated alternatives.
How Growth will Unfold
The offline sales channel continues to be the prominent distribution network in the woodworking circular saw blades market, with its share equivalent to nearly 3/5 of total market stack. However, with the digitalization trend disrupting every facet of the industrial sector, offline distribution channels will lose ground to online platforms in due course of time. Although both these sales channels offer application-specific woodworking machines, online platforms would observe continued acceleration of investments when considering time as a key factor.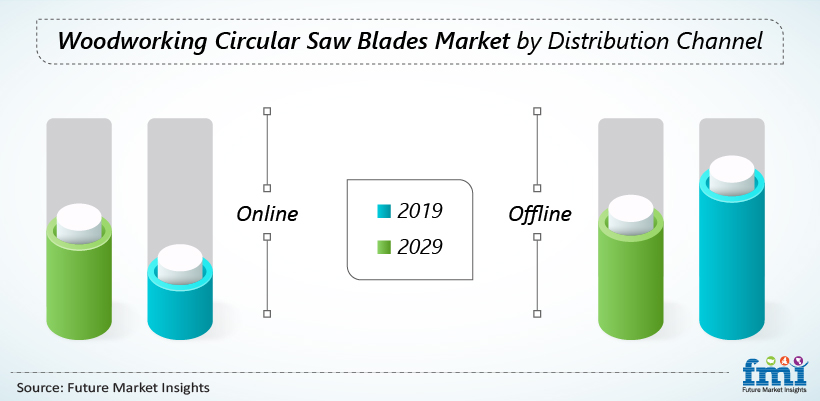 FREQUENTLY ASKED QUESTIONS ABOUT THE WOODWORKING CIRCULAR SAW BLADES MARKET
How is the woodworking circular saw blades market landscape going to shape up in the future?
Woodworking circular saw blades are estimated to witness rise in demand as tools for sawing, chipping, lathing, shaping, etc., operations in woodworking processes. These are the most preferred tools, owing to their effectiveness and working. However, limitations in performing tight and intricate cuts are anticipated to curtail demand to some extent.
Will increasing popularity of diamond-coated tools impact the future growth perspectives of the woodworking circular saw blades market?
Increasing popularity of diamond-coated tools over carbide-coated tools, owing to their higher resistance to abrasion, is anticipated to restrain market growth to a certain extent. However, relatively lower price of carbide tools offered by manufacturers helps sustain market share for carbide tip woodworking circular saw blades sales.
Which blade type holds potential growth opportunities for market players?
24 to 40 teeth and more than 40 teeth are the two blade types that account for a decent share in the global market. In terms of growth opportunities, the demand for 24 to 40 teeth blade types is expected to progress at a swift pace in the future.
What is the degree of competition in the woodworking circular saw blades market?
The woodworking circular saw blades market is perfectly competitive, with prominent market players registering nearly half of the market share. In the current scenario, key market participants such as Robert Bosch GmbH, Stanley Black and Decker, Homag Group, CMT Utensili SpA, and a few others are estimated to account for around 45-50% of the market share.
Which region will lead the global sales of woodworking circular saw blades?
Europe and Asia Pacific are estimated to hold around 60% of the market share. North America and Asia Pacific are expected to witness decent growth on the back of intense use of saw blades for woodworking operations.
WOODWORKING CIRCULAR SAW BLADES MARKET TAXONOMY
Mode of Operation
Stationary Machines
Hand Machines (Power Tools)
Blade Type
Framing Blades
Rip-cut Blades
Crosscut Blades
Plywood Cut Blades
Diameter
Less than 100 mm
100-200 mm
200-300 mm
More than 300 mm
Distribution Channel
End-use Industry
Timber
Wood Processing
Furniture & Carpentry
DIY
Region
North America
Central and South America
Europe
Asia Pacific
MEA
Need specific information?
Talk Show:
The Rise of Intelligent Packaging
Personalized, Connected and Sustainable
November 18, 2021
11:00-11:45 AM PST (USA & Canada)
This is a LIVE session