Snack Pellets Market Outlook & Key Findings
Gelatinized snack pellets remain in-demand; tridimensional pellets to gain traction
Consumption of multigrain snack pellets to soar in the next decade
Market players to innovate processing techniques to ensure sustainable production of snack pellets
North America and Europe to maintain their primacy in global snack pellets market through 2030
Snack Pellets Market Analysis – Ever-evolving Consumer Expectations to Shape Revenue Pool
Snacking habits are transforming across the world, and consumers are increasingly becoming more occupied, leaving less time for conventional meals. This transition has resulted in snack pellets becoming a hybrid meal for myriads of consumers as they demand for functional and nutritional benefits to help sustain them throughout the day.
As consumers prefer consuming on-the-go and working class demographics eat at their workplaces, snack pellets are receiving a favorable response. Consumers are showing interest in experimenting with new flavors and organic ingredients that enable them to experience new cultures.
As such, while providing consumers quality food and ingredients, convenience and value for money continues to be a winning combination for players in snack pellets market.
Furthermore, players cashing on digital and e-commerce strategies are poised to accelerate their sales growth, boost customer reach, and enhance customer retention and loyalty.
Snack Pellets Market Trends – E-commerce Channels to Emerge as Potential Disruptor
Digital maturity is linearly associated with better business outcomes. E-commerce ecosystem has been a transformative force in snack pellets market as convenience becomes a key aspect. In the era of online shopping and digital convenience, consumers are seeking interactive experiences.
Manufacturers of snack pellets are tapping this opportunity by driving innovations that provide ease to consumers such as developing patented mobile apps or collaborating with e-commerce heavyweights for online delivery.
In addition, with lockdown restrictions due to COVID-19 crisis gradually easing out, delivery apps will play an instrumental role in keeping consumers from visiting crowded markets.
Top-line growth e-commerce industry is exposing market layers to the opportunity of SKU expansion and the challenges of ensuring safe delivery of products.
As manufacturers and retailers employ increasingly complicated supply chains with fast-evolving prospects and needs, it is imperative for them to comprehend and arm themselves with appropriate solutions to gain competitive edge.
Innovations in Food Processing Techniques Imperative for Market Players
While some manufacturers have sole focus on food products, various others players are exploring ways to process, package and distribute the emerging wave of sustainable, healthy and innovative food products.
Market players are incorporating innovators in new processing and packaging solutions and novel/functional ingredients that feature enhanced nutritional, formulation, or labeling aspects. In addition, they are leveraging food preservation technology to reduce food waste, while enhancing quality of snack pellets during transportation.
This is a significant lever for innovation, as pre-consumer food wastage makes up for around 40% of overall food wastage in the US. Better food-wastage profiles is beneficial in enabling overall reduction in required arable land.
Furthermore, innovations in food processing techniques are rising rapidly as large-scale manufacturers are under constant consumer pressure to innovate as well as produce snack pellets sustainably.
While modifying the nutritional profiles of snack pellets, adoption of innovative processing techniques can make a gamechanger – from frying and pre-processing technology through precise seasoning techniques.
Further, with alternative ingredients at the horizon including, healthier oil varieties, and sweeteners, ensuring that processing equipment is capable in handling such ingredients is a crucial consideration.
Manufacturers Addressing the Existing Challenges
Product transportation is a paramount aspect in snack pellets market. Majority of snack pellet manufacturers lack distinct processing line and, as such, have to transfer their products manually from one functional unit to another.
In such cases, snack pellets are gathered in huge plastics and brought to another operational unit. Such practices create a risk of microbial contamination if plastic packaging gets punctured.
Moving ahead, quality assurance also have a measurable impact on snack pellets market and is an existing issue among small-scale manufacturers.
This is due to certain small-scale enterprises turning a blind eye to various process parameters such as oil and moisture content. Such negligence of good manufacturing practices (GMP) is creating distrust among consumers, thus, hindering sales.
Snack Pellets Market Regional Analysis – Developed Regions at Forefront, Developing Regions to Offer White Spaces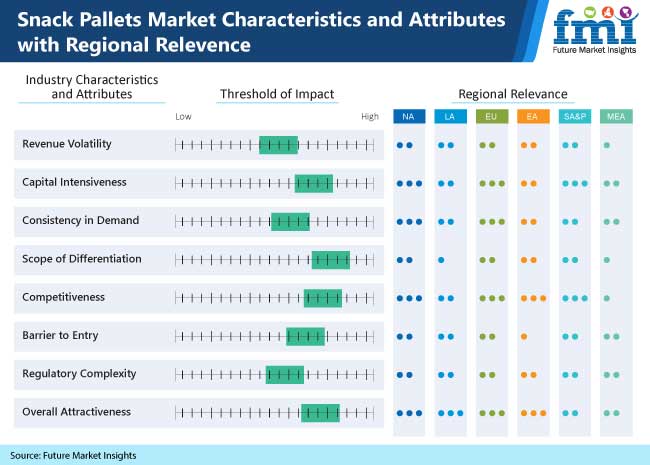 Convenience and snackification are buzzwords in the evolving consumption pattern of consumers in North America and Europe. These developed regions also represent the most lucrative market for snack food and savory snacks. The COVID-19 recession has further emphasized the need to directly serve consumers.
North America and Europe are characterized by well-established food processing industry. FMI finds that potato-based snack pellets are highly preferable among consumers.
Moving ahead, the snack pellets markets in East and South Asia are experiencing tremendous growth owing to at-scale production and export of cost-effective snack pellets to the US and other developed markets in Europe.
In addition, couple of snack pellet manufacturers are focusing on establishing their production units in Asia, given abundance of cheap labor and raw materials. However, the market in Middle East & Africa (MEA) is struggling due to escalating costs of raw materials.
Snack Pellets Market Players – M&As and Product Innovations to Shape Stakeholders' Tactics
The global snack pellets market is highly competitive with various leading and emerging players competing with each other to capture the value at stake. Mergers & acquisitions (M&A) are beneficial for market players in ensuring strong returns over the long run with relatively lesser risk.
For instance, Limagrain Crales Ingrdients has formed an agreement to acquire all the shares of Netherlands–based Unicorn Grain Specialties. This acquisition is expected to step up Limagrain's presence in Northern Europe, in the cereal and pulses market.
In addition, the acquisition is likely to offer specialized ingredients to various industries including, animal nutrition, breakfast cereals, snacking, bakery, and nutrition markets.
Increasing globalization is helping leading manufacturers to focus on R&D activities via joint ventures, which is further expected to help them roll out new ingredients as well as better recipes to fit well with evolving consumer expectations.
Pasta Foods Ltd., case in point, is unfurling the usage of lentils, vegetable powders, and other pulses and cereal ingredients to provide a broad array of distinct flavors. Moreover, the company produces snack pellets that are designed particularly for food manufacturing sector to make sure that they withstand all types of industrial cooking techniques.
Snack Pellets Market Future Outlook – Snacking to Evolve from Convenience to Conscious during COVID-19 Crisis
Snack pellets have been perceived as a convenience food before the COVID-19 pandemic as well as meal replacement for time-pressed individuals. With the onset of the pandemic, consumers increasingly gravitated towards convenience snacks.Having that said, as nationwide lockdowns keep on extending further, consumer preferences toward snack pellets have evolved.
Consumers, at present, are becoming increasingly conscious about their diet and turning to healthy snacking. The COVID-19 crisis has highlighted the importance of nutrition, especially for immune system, as such, consumers are becoming more aware of the kind of food products they are consuming.
The concept of healthy snacking has stepped up from warding off nutrients including, fats, carbohydrates, or sugars, to demand for nutritionally balanced food products. Also, FMI discovers marked rise in home baking and cooking amidst the public-health crisis.
With health currently topping the list, consumers are seeking snack pellets that feature immunity-boosting ingredients, vitamins, or proteins.However, taste continues to define the purchasing journey of consumers; recent data reveal that about 60% of consumers in Asia Pacific (APAC) rank taste at top, followed by price tag and health benefits.
Driven by these trends, snack pellet manufacturers must produce healthier snacks without compromising the taste aspect.
World's Most Profilic Intelligence Engine
Get Access To The World's Largest Market Research Database. Ngage with a revolutionary intelligence engine that scale and pricing that flexes as per your needs
Sign Up Now
SNACK PELLETS MARKET TAXONOMY
The global Snack Pellets Market is segmented in detail to cover every aspect of the market and present complete market intelligence to readers.
Type
Potato
Corn
Rice
Tapioca
Mixed Grains
Others (Cereals, Legumes, Etc.)
Form
Dying Faced
Laminated
Tridimensional & Gelatinized Snack Pellets
Equipment
Single-Screw Extruder
Twin-Screw Extruder
Region
North America
Latin America
Europe
East Asia
South Asia
Oceania
MEA
Need specific information?