Despite Inclination towards Western Lifestyle, Recent Coronavirus Outbreak to Hinder Growth
Due to the increasing adoption of westernization and high disposable income among consumers, a change in their lifestyle is projected during the forecast period. This is expected to increase the demand in the global extruded snacks market. While this phenomenon was supposed to grow gradually, hyper-demand was noted in the market following coronavirus outbreak.
As long periods of lockdown was enforced, consumers queued outside retail shops and supermarkets to pile up on essential commodities. Fear milling around meat consumption further made them seek out snacks and bakeries. Also, the common preferences for food that can be stored over a longer period of time led to the sudden hike in sales of various snacks and bakery food.
While this had a positive impact on extruded snacks market, supply chain disruptions and threat of looming recession are key challenges that market players are gearing to witness. Nonetheless they expect the demand to bounce back once the situation returns to normal since it is likely that consumers will focus on more on food that offer convenience and better health benefits.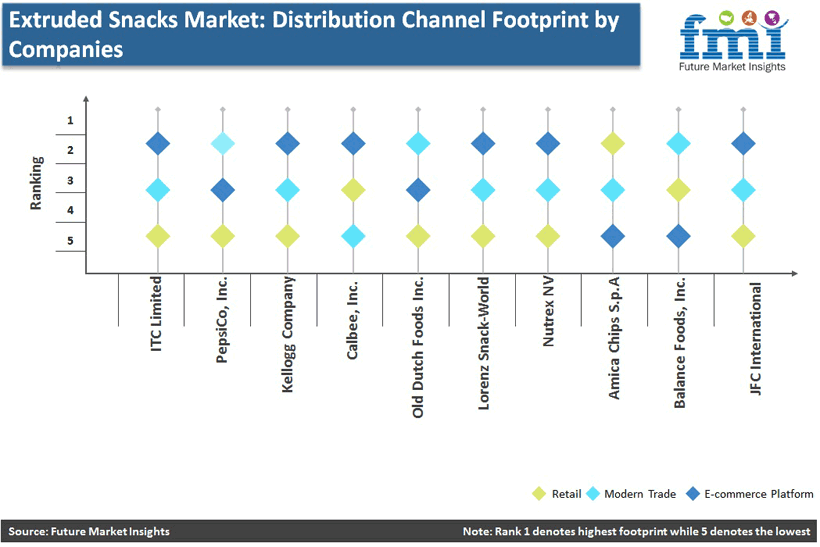 Asia Pacific is Projected to Grow at the Highest CAGR
Asia Pacific market is estimated to have a huge share in overall extruded snacks market and is expected to be the biggest market for this product in the near future. This can be due to the availability of many snacking options made available in countries in that area at low prices. In addition, customers in Asia Pacific are prices that are product-conscious and affordable offered by prime companies that eventually increase the demand for goods in countries in the world. Factors driving the growth of the Asia Pacific market include the increasing adoption of the region's western culture, rising disposable income, and on-going snacking trends among the urban population due to busy lifestyles.
Consumers in the region prefer the consumption of goods that come at an affordable price. This is due to the changing economic conditions across a majority of countries, and so often opt for generic or domestic labels. On account of the rising number of hypermarkets & supermarkets, the availability of these snacks has become much easier, further boosting demand in Asia Pacific.
Rising Awareness for Healthy Snacks will Stoke Demand
Consumers are more vigilant about snacks eaten on a daily basis and are increasingly embracing healthier food items like extruded snacks due to the metabolism-related benefits these items give. Healthy snacks are also eaten in order to lose weight and these snacks also provide the essential nutrients and vitamins needed by the body.
The nutritional elements of extruded snacks can be changed by altering the capacity of starch and protein to metabolise. Increasing demand for weight control and healthy snacks are expected to drive the global market for extruded snacks over the projected era.
How Growth will Unfold
Due to the presence of many small and large vendors that compete on the basis of quality, innovation, price, reputation, service, promotion and distribution, the market is highly disjointed. Aside from demographic trends, market players 'growth prospects are subject to changing consumer spending patterns, local, regional, and national economic conditions. Market players face strong competition, owing to which they concentrate on launching innovative products to meet the changing tastes of consumers. Despite reaching maturity levels in developed markets, demand for extruded snack foods is expected to increase over the forecast period driven by a number of growth-inducing factors in the emerging markets.
An overwhelming majority of the population lives a fast-paced lifestyle as a consequence of the growing urbanization. Since long working hours make it difficult for most people to have proper meals, they have recourse to ready-to-eat foods such as extruded snack food. Growing number of young people and increasing disposable incomes in emerging regions are also expected to drive demand for extruded products for extruded snack foods.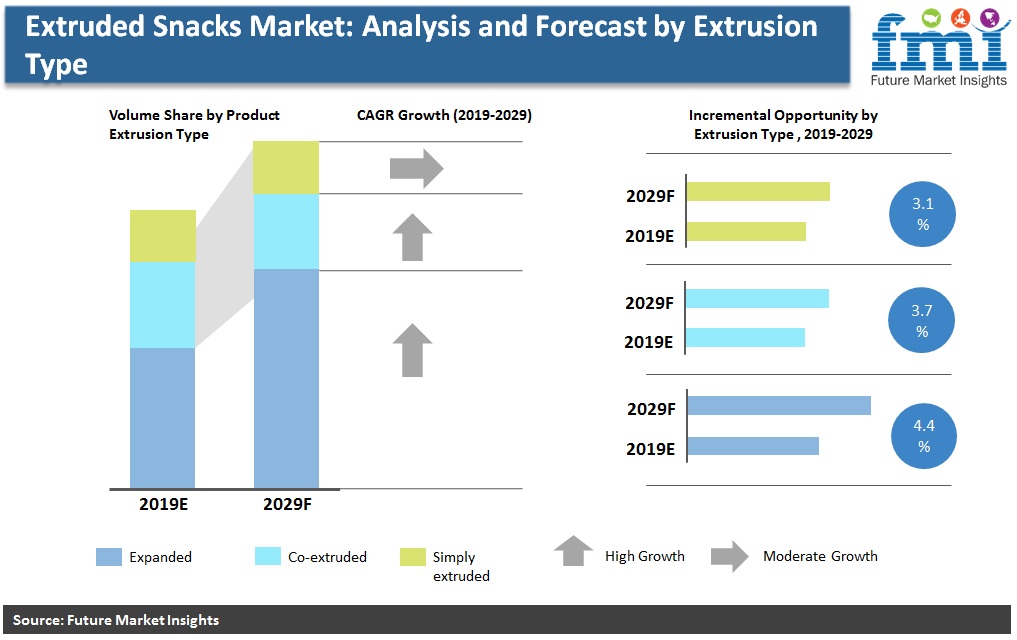 EXTRUDED SNACKS MARKET TAXONOMY
The global Extruded Snacks Market is segmented in detail to cover every aspect of the market and present complete market intelligence to readers.
Product type
Rice
Corn
Potato
Mixed grains
Manufacturing Method
Distribution Channel
Convenience stores
Hypermarkets and Supermarkets
Independent retailers
Others
Region
North America
Latin America
Europe
East Asia
South Asia
Oceania
MEA
Need specific information?