About the Report
The global construction and infrastructure industries are taking a turn for the better, registering highly lucrative gains in the wake of increasing number of projects and construction activities. This has boded well for the global ceiling tiles market, as housing projects to accommodate the ever increasing population acquire prime importance.
While key players are majorly emphasizing on developing mineral fiber or gypsum derived tiles, several manufacturers are also exploring more sustainable alternatives, including recycled metals, in the wake of the rapidly penetrating green building trends across both the developed and developing economies. Preference is especially high for laminated ceiling tiles, owing to their light weight and high aesthetic appeal.
In its new study, ESOMAR-certified market research and consulting firm Future Market Insights (FMI) offers insights about key factors driving demand for ceiling tiles. The report tracks the global sales of ceiling tiles in 20+ high-growth markets, along with analyzing the impact COVID-19 has had on the chemical & material industry in general, and ceiling tiles in particular.
How will Future Projections for Ceiling Tiles Market Outpace Historical Ones?
Between 2016 and 2020, the global ceiling tiles market made substantial gains, majorly underpinned by extensive uptake by key sectors in the global construction industry. As the global population expands, urbanization is accelerating at a breakneck pace, prompting increased infrastructure and housing development projects implementation, generating high demand.
According to FMI's analysis, the market surpassed a revenue share of US$ 26 billion in 2018, thereby reinforcing the aforementioned growth projections. However, the market experienced significant deceleration amid the COVID-19 pandemic crisis, as construction activities around the world came to a grinding halt. Fortunately, in the latter half of 2020, infection curves flattened, permitting key regions to resume operations, thus restoring projections.
As environmental sustainability concerns acquire precedence, the concept of green buildings is capturing key stakeholders' imaginations', prompting manufacturers to introduce eco-friendly solutions in terms of using sustainably sourced raw materials and improving overall manufacturing processes to avoid material wastage. This is expected to create valuable opportunities for major players in the future.
How is the Global Construction Industry Catalyzing Ceiling Tiles Adoption?
The global construction industry is projected to expand at a growth rate of 4.2% annually until 2023, with prolific expansion opportunities across the residential, non-residential and infrastructure projects sectors respectively, according to a World Bank publication. As urbanization expands amid a bolstering global population, urban housing projects are experiencing a significant incline.
As per the Construction Management Association of America, the construction industry is a major contributor to the US economy, employing nearly 700,000 thousand people and generating US$ 1.3 trillion worth of infrastructure each year. Also, according to the European Construction Industry Federation (FIEC), primary construction activities in 2019 included civil engineering (18.8%), non-residential (31.6%), new housebuilding (21.6%) and rehabilitation and maintenance (28%) across Europe.
Majority of all infrastructure projects are expected to remain concentrated across the Asia-Pacific regions, with China, India and South Korea remaining at the frontiers. Hence, demand for ceiling tiles is experiencing a noteworthy upswing across the aforementioned regions, with prominent manufacturers offering a wide range of products produced from different materials.
Will Green Building Construction Pave Way for Future Growth?
As global concern over environmental sustainability mounts, the global housing industry is increasingly tilting towards green buildings, prompting major players to introduce appropriate product lines. Players such as Ceilume are actively participating in introducing solutions for green buildings. To achieve this objective, the company has introduced a new line of tiles made from 98% post-industrial recycled tin, copper, bronze and cherry wood finishes.
Compared to mineral fiber tiles, Celiume tiles require 75% less raw material during the manufacturing process, weigh less, nest better and require roughly 25% of cargo space, making shipping far more efficient and less impactful on the planet. Another important aspect of ceiling tiles in green buildings is their enhanced acoustic absorbing capabilities. Excessive noise is a major deterrent to inefficient building design, as it can affect living conditions in residential settings and reduces productivity in commercial settings.
Ceiling tiles from Armstrong World Industries, for instance, are reportedly among the first commercially-available ones to feature the cradle-to-cradle mark on their Tierra ceiling tiles line. Armstrong World Industries Inc. has collaborated with Masonite International Corp. to develop a range of products specifically for green building projects. Likewise, Rockfon has invested extensively in furthering its sustainability campaign by responsibly sourcing ceiling materials and products and thus reducing emissions and reduce wastage.
Growing Emphasis on Home Décor to Widen Ceiling Tiles Adoption?
As people's standard of living improves, they enjoy higher disposable incomes. Rapid urbanization has led to a massive transformation of the global landscape, with previously designated towns transforming into gargantuan metropolises. Consequently, people are employed across high-paying jobs, enhancing their income levels and rendering them in a position to spend on luxury goods.
This trend has also pervaded the housing sector, with consumers spending a significant chunk of their income on home décor accessories. An important aspect of this trend is the preference for designer false ceilings. These ceilings, besides offering convenience in the form of improved acoustic capabilities and thermal insulation, also enhance the house's aesthetic appeal.
Consumer around the world are therefore increasingly experimenting with numerous designs and color combinations, leading to increased demand for different types of ceiling tiles, including laminated, textured and patterned designs respectively. Besides residential settings, home décor trends are explicitly prevalent across the hospitality industry, which is providing further expansion ground for ceiling tile manufacturers.
Key Challenges Associated with Ceiling Tiles Adoption
A major concern attributed to ceiling tiles usage is their comparatively high costs. As the contemporary consumer tilt is exhibited towards enhancing the aesthetic appeal of their residence, manufacturers tend to price certain categories at a premium level. Consequently, people with moderate incomes cannot afford to purchase them.
Moreover, manufacturing conventional ceiling tiles is often a wasteful affair as it utilizes copious amounts of raw materials which are then discarded into the environment without treatment. Materials such as plastic and metals are often non-biodegradable, which can prove highly detrimental to the environment. Hence, adoption of ceiling tiles is likely to be constrained to a significant extent.
Country-wise Analysis
How is the US likely to Generate Demand for Ceiling Tiles?
The US ceiling tiles market registered an impressive valuation in the historical period, surpassing US$ 1 billion in 2017. Extensive uptake across the commercial and residential grade construction sector proved highly beneficial to market growth. Over the years, the US has experienced unprecedented growth in its housing industry, amid rising demand due to a combination of regional population expansion as well as an influx of migrant population.
According to the National Association of Realtors (NAR), total existing home sales as of March 2021 reached US$ 6 million, reflecting a 12.3% y-o-y increase as compared to 2020. Median sales price amounted to US$ 329,100, representing a staggering y-o-y increase of over 17%. There was a substantial decline in new construction projects during the peak of the COVID-19 pandemic, which led to a significant demand contraction, which was offset in forthcoming months as the lockdown restrictions eased.
The State of the Nation's Housing 2020 report published by the Harvard Kennedy School established that new construction activity resumed by July 2020, registering 1.5 million unit annual rate, and held at a 1.4 million unit rate in August and September. Single family starts led the way, increasing to a 1.1 million unit annual rate, up by 22% from 2019. Such heightening trends are augmenting expenditure on interior decorations, including ceilings, thereby elevating demand for ceiling tiles.
Why is UK Considered an Important Ceiling Tiles Market?
The UK is expected to be an important investment destination for prominent ceiling tiles manufacturers, amid an incline in the number of commercial and residential building construction projects, prompting government authorities to review existing construction guidelines. Construction output in the UK is more than £ 110 billion annually, contributing around 7% of the country's GDP.
A significant chunk of this is generated from the housing sector. As the number of housing projects is increasing, government authorities are increasingly seeking to establish stringent safety requirements to ensure minimal loss of lives in case of a hazard. In 2017, for instance, the Housing Health and Safety Rating System established that older polystyrene ceiling tiles pose a major fire risk, hence requiring their removal.
Hence, alternative materials are being explored, providing key manufacturers with an opportunity to expand their businesses. Ceiling Tiles UK, for instance, offer over 180 different ranges of ceiling tiles for new buildings, replacement tiles for existing structures and metal ceiling tiles respectively. Additionally, it also offers ready to buy ceiling kits which includes key components to build a suspended ceiling.
What is the Growth Outlook for the Chinese Ceiling Tiles Market?
The Chinese market holds immense promises for the ceiling tiles market, given the exponentially high urbanization rate. Estimates suggest that today, more than 50% of China's population now resides in cities, with over 100 of them housing 1 million residents each. Several urban centers, including Shanghai and Shenzhen, have transformed from modest fishing villages to booming megacities.
Furthermore, a series of mega urban infrastructure projects are expected to turn the tide in favor of the ceiling tiles market. Projects such as the Shanghai Urban Rail Transit Expansion (US$ 44.2 billion), the Intercity Railway along the Yangtze River in Jiangsu (US$ 34.3 billion), the Intercity Rail Network in Eastern Guangdong (US$ 14.8 billion) and the Beijing Airport Expansion are all expected to provide immense opportunities.
A plethora of regional level manufacturers dominate the Chinese ceiling tiles market. Some of these include Dalian Superego Hongye Building Materials Co. Ltd., Shijiazhuang Shenghaowei Building Material Co. Ltd., TAISHAN GYPSUM CO. LTD, Zhejiang Xinwei Decorative Material Co. Ltd. and Shanghai Royal Imp&Exp Co. Ltd. among others. These players command majority of the domestic ceiling tiles demand.
Will India be an Important Destination for Ceiling Tiles Manufacturers?
According to the Department of Promotion of Industry and Internal Trade (DPIIT), foreign direct investment in the construction development sector, including townships, housing, built-up infrastructure and construction development projects, and construction including infrastructure activities stood at US$ 25.78 billion and US$ 17.22 billion respectively between April 2000 and September 2020.
Furthermore, the Union Budget of 2021 provided a massive nudge to the infrastructure sector by allocating US$ 32.02 billion to enhance transport infrastructure. The government expanded the National Infrastructure Pipeline (NIP) to 7,400 projects. Approximately 217 projects worth US$ 15.09 billion were completed as of 2020. The government plans to spend additional US$ 1.4 trillion until 2023.
All these trends are expected to widen opportunities for ceiling tiles. Gyproc by Saint Gobain is a highly prominent commercial ceiling tiles manufacturer operating within the Indian market. It offers ceiling tiles for buildings across a wide range of sectors, including office spaces, hospitality, healthcare infrastructure, residential and educational buildings, offering gypsum, mineral fiber and metal ceiling tires respectively. Besides, numerous regional small-scale players also operate in the Indian landscape.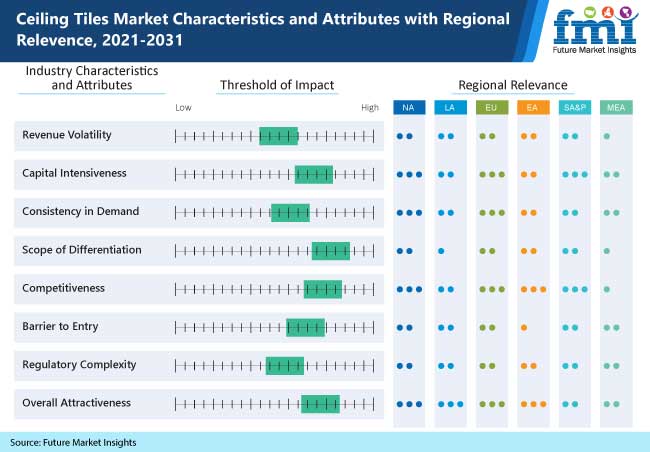 Category-wise Insights
Why is Mineral Fiber/Gypsum Ceiling Tiles Demand Accelerating?
By material, mineral fiber/gypsum ceiling tiles are anticipated to attract major attention, attributed to their less weight, high acoustic insulation properties, better thermal insulation and enhanced recyclability. The segment yielded over two-fifths of the total revenue as of 2020. Moreover, they are inexpensive and easy to install.
Jinzhou DongYa Building Materials Co. Ltd. (DYBM), one of the leading ceiling brands globally, offers its own range of mineral fiber acoustic ceiling material, providing thermal insulation six times greater than gypsum board ceilings. The tiles' high noise reduction coefficient (NRC) enables sound absorption to the tune of 55 to 60%, maintaining a pleasant office environment.
How are Commercial Applications acquiring High Ground?
The ever widening buildings and construction industry around the globe attributed to rapid urbanization is paving way for enhanced adoption of ceiling tiles across the commercial domain. Various emerging economies such as China, India, Brazil and South Korea are likely to undertake major infrastructure development projects, heightening application scope.
Simultaneously, growth across the residential sector is also likely to aggrandize, given the rapid population expansion rate which is increasing housing demand. Moreover, increasing frequencies of constructing residential grade green buildings across developed economies is bolstering growth prospects.
Will Drop/Suspended Ceilings Demand Outpace Surface Mounted Ones?
By installation, suspended ceilings are expected to outshine surface mounted ceilings, especially across commercial spaces. Suspended ceiling are highly popular across commercial settings as they provide a useful space for concealing unsightly wires and installations that otherwise would alter the interior appearance of the building.
Armstrong ceilings is a prominent suspended ceiling tiles player, offering standard 24" x 24" and 24" x 48" Raised Panel and Single Raised Panel tiles respectively. At the same time, surface mounted ceiling tiles will remain wide deployed, especially across residential buildings, attributed to greater stability owing to its fixed layout.
How will Laminated Ceiling Tiles Heighten Expansion Prospects?
By form, laminated ceiling tiles are expected to garner significant momentum, especially PVC laminated ones. Their light weight structure, fast and easy installation, easy repair & maintenance and provision of more space & area are key features expected to boost popularity of these ceiling tiles.
Various regional manufacturers are actively operating in this domain, offering a broad range of laminated ceiling tiles. Gyroc by Saint Gobain is one of the most prominent faces in the laminated ceiling tiles domain, specializing in designer false ceilings, particularly gypsum ones.
Competitive Landscape
According to FMI's analysis, the global ceiling tiles market is extremely competitive, characterized by the presence of several regional and global level manufacturers. Players are majorly emphasizing on application specific merchandize development, prompting a flurry of product launches and offerings. Additionally, other strategies including strategic collaborations, acquisitions and partnerships are also relied upon.
In January 2020, SAS International began actively promoting its Open Grid ceiling systems, uncovering a whole new world of design in response to growing customer demand. The Open Grid system is a kit of standard parts that can be built up to create a wide range of flexible, contemporary and arresting ceilings, and retains a sense of height and visual interest.
In December 2020, Armstrong World Industries Inc. (AWI) acquired Arktura LLC, an award-winning designer and fabricator of ceilings, walls, partitions and facades based in Los Angeles, California. With this acquisition, AWI further strengthens its robust portfolio of architectural specialty solutions, along with its design capabilities across its entire enterprise.
Recently, in April 2021, USG Corporation announced the construction of a new manufacturing facility in Denver, Colorado, which will manufacture joint compounds and other interior finishing products across western US. The plant will also serve as a distribution center, helping it further enhance customer service with shorter lead times. Operations are likely to commence in Q3 2021.
Prominent ceiling tiles manufacturers as profiled by FMI's report include:
Armstrong World Industries
USG Corporation
SAS International
CertainTeed,
Rockfon LLC
Odenwald Faserplattenwerk GmbH
Knauf, Georgia-Pacific LLC
Saint-Gobain Gyproc
Others
*This list is indicative - full details about prominent ceiling tiles manufacturers is available upon request.
Ceiling Tiles Market - Report Scope
Attribute

Details

Forecast Period

2021-2031

Historical Data Available for

2016-2020

Market Analysis

US$ Mn for Value & Tons for Volume

Key Regions Covered

North America, Latin America, Europe, Asia-Pacific and Middle East & Africa

Key Countries Covered

US, Canada, Brazil, Mexico, Germany, UK, Spain, France, Italy, BENELUX, Russia, India, China, Japan, South Korea, ASEAN, Australia & New Zealand, GCC, Turkey, Northern Africa and South Africa

Key Segments Covered

Material, Application and Installation

Key Companies Profiled

Armstrong World Industries
USG Corporation
Hunter Douglas
SAS International
CertainTeed
Rockfon LLC
Odenwald Faserplattenwerk GmbH
Knauf, Georgia-Pacific LLC
Saint-Gobain Gyproc

Report Coverage

Market Overview, Key Market Trends, Key Success Factors, Demand Analysis, Market Background, Segmental Analysis, Regional Profiling, Market Structure Analysis and Competition Analysis

Customization & Pricing
Key questions answered in the report
How will the ceiling tiles market grow in the future?

According to FMI, the global ceiling tiles market is expected to post impressive gains through 2021 and beyond, expanding at a strong growth rate. Growth is majorly underpinned by an increased frequency of construction and infrastructure development projects, especially for housing. A staggering CAGR exceeding 10% is projected through 2031

Which region is likely to account for the maximum growth opportunity?

FMI's report establishes that the Asia-Pacific market is likely to post impressive gains in the future, with significant infrastructure development initiatives being visible across the Chinese and Indian markets. However, North America and Europe are expected to contribute equally attractive revenue shares to the global landscape

Which is the most preferred ceiling tiles material?

Demand for mineral fiber/gypsum ceiling tiles is expected to incline significantly over forthcoming years, expected to account for over 40% of the revenue share in the forecast period.

Which are the prominent ceiling tiles market players?

Armstrong World Industries, USG Corporation, Hunter Douglas, SAS International, CertainTeed, Rockfon LLC, Odenwald Faserplattenwerk GmbH, Knauf, Georgia-Pacific LLC and Saint-Gobain Gyproc are some prominent players operating in the global ceiling tiles market
Key Segments Covered
Material
Aluminum
Fiber Glass
PVC
Mineral Fiber/Gypsum
Wood
Steel
Application
Residential
Commercial
Hospitality
Industrial
Institutional
Installation
Surface Mount
Drop/Suspended
Form
Laminated
Fissured
Patterned
Plain
Textured
Coffered
Region
North America (US and Canada)
Latin America (Brazil, Mexico and Rest of Latin America)
Europe (Germany, UK, France, Spain, Italy, Russia, BENELUX and Rest of Europe)
Asia-Pacific (China, Japan, India, ASEAN, Australia & New Zealand and Rest of APAC)
Middle East & Africa (GCC, Northern Africa, South Africa, Turkey and Rest of MEA)
Need specific information?
Talk Show:
The Rise of Intelligent Packaging
Personalized, Connected and Sustainable
November 18, 2021
11:00-11:45 AM PST (USA & Canada)
This is a LIVE session