Ceiling Tiles Market Set for Promising Growth, Receives Tailwinds from Construction Industry
Ceiling tiles will witness a surge in sales with the market poised for robust growth at approximately 9.7% CAGR over the forecast period (2019-2029). Having surpassed revenues of US$ 26 Bn in 2018, global ceiling tiles market continues to present a surfeit of opportunities for manufacturers worldwide. On that premise, residential and commercial construction industries remain the key application areas of ceiling tiles.
Moreover, sustainability, aesthetic beauty and cost-effective attributes of ceiling tiles are in great demand, particularly in developed economies. Modern ceiling tiles are equipped with features such as acoustic and thermal insulation material, and moisture and fire resistance. Manufacturers are thus innovating their range of ceiling tiles according to shifting consumer preferences.
Green Retrofit Activities to Fuel Market Growth in North America
Consumers in North America have developed greater sentience for eco-friendly building materials, thereby escalating green retrofit activities in North America. Moreover, major players concentrated in this region are developing recycling technologies to enhance the sustainability of ceiling tiles. North America, thus, will continue to hold a leading share in global ceiling tiles market through 2029.
Moreover, consumers' predilection for soundproof interiors is promoting the growth of ceiling tiles market in the United States. Their high net worth income is a key contributing factor as well. Additionally, stringent government policies against particulate emissions is soaring the sales of sustainable ceiling tiles in Europe. Germany and the UK hold a substantial chunk of overall market stack in European ceiling tiles market.
On the other hand, India and China are generating an upswing in demand for ceiling tiles in Asia Pacific. Rising net worth income of consumers, accelerating renovation activities and expeditious industrialization are to be attributed for promising growth in the region.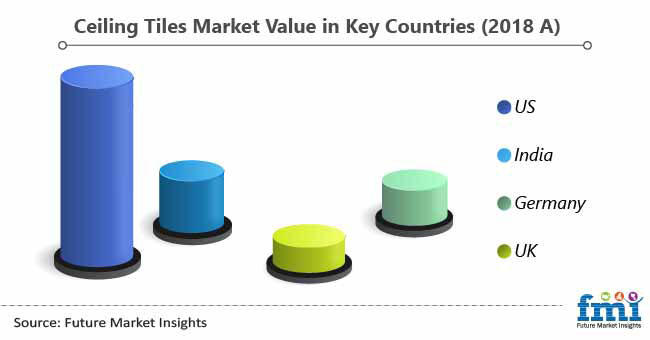 Low Volatile Organic Compounds (VOCs) Emission to Propel Demand of Eco-friendly Ceiling Tiles
On account of rising consumer proclivity for eco-friendly tiles, leading manufacturers are adopting green building standards. Consumers in developed countries increasingly opt for certified ceiling tiles which have low VOCs emission. Hence, key players are accelerating the launch of asbestos-free and low VOC-emitting ceiling tiles.
Demand for ceiling tiles manufactured from naturally-occurring, renewable and copious raw materials is gaining impetus. Durable and innovative ceiling tiles that have low maintenance requirements are favoured by consumers worldwide. Presence of market leaders in developed economies is facilitating the development and sales of eco-friendly ceiling tiles.
Prominent Manufacturers to Remain Focused on Application-specific Product Development
Global ceiling tiles market is highly competitive. Detailed profiles of market leaders are covered in this report including their strategies, key offerings and recent developments. Some of the key players include, Hyderabad Industries Limited (HIL), New Ceiling Tiles, LLC, Decorative Ceiling Tiles, Inc., Armstrong World Industries, Inc., Burgess CEP, and Grenzebach BSH GmbH. Leading manufacturers of ceiling tiles cater to variegated industries.
Leading companies continue to invest in multipronged strategies such as geographical and capacity expansions, agreements and contracts, acquisitions, product development and launches to sustain their market position. Non-residential construction industry continues to be the key strategic focus of market leaders on account of heightened demand.
For instance, Rockfon recently launched 'Cinema Black', a new ceiling tile catering to commercial spaces such as restaurants, theatres and auditoriums-. The new tile is designed specifically for live performances, musical shows and filming.
Ceiling Tiles Market: Segmentation
The global ceiling tiles market is segmented in detail to cover every aspect of the market and present a complete market intelligence approach to readers.
By Material
Aluminum
Fiber Glass
Poly Vinyl Chloride (PVC)
Mineral Fiber/Gypsum
Wood
Steel
By Application
Residential
Commercial
Hospitality
Industrial
Institutional
By Region
North America
Latin America
Europe
MEA
Asia Pacific
By Installation
Surface Mount
Drop/Suspended
By Form
Laminated
Fissured
Patterned
Plain
Textured
Coffered
Need specific information?