An Incisive, In-depth Analysis on the Ceramic Tiles Market
This study offers a comprehensive, 360 degree analysis on the Ceramic Tiles market, bringing to fore insights that can help stakeholders identify the opportunities as well as challenges. It tracks the global Ceramic Tiles market across key regions, and offers in-depth commentary and accurate quantitative insights. The study also includes incisive competitive landscape analysis, and provides key recommendations to market players on winning imperatives and successful strategies.
COVID -19 : Impact Analysis
Request the coronavirus impact analysis across industries and markets
Request Covid -19 Impact
Ceramic tiles are an important aspect of the construction industry. Applications of ceramic tiles include residential replacement, commercial, new residential and others. In terms of revenue, the global ceramic tiles market was valued at US$ 60,735.8 Mn in 2012. The market is expected to reach US$ 112,323.5 Mn by 2019, expanding at a CAGR of 9.3% from 2015 to 2019.
Demand for construction in housing as well as commercial sectors is rising due to growing economies, urbanization, higher per capita income and spending, GDP growth, population expansion and other such factors that are increasingly being witnessed in emerging economies such as India, China and Brazil as well as in developing countries in Africa and Latin America, among others. Additionally, usage of ceramic tiles fulfills the demand for better aesthetics, structural reliability and sustainability without a significant increase in prices. This has led to construction of a higher number of buildings with usage of ceramic tiles in walls and floors. These factors have collectively boosted the overall demand for ceramic tiles.
Residential replacements relate to ceramic tiles replacing paints, marble, stone, granite, and glass used in the residential construction industry. In 2012, residential replacement was the major application of ceramic tiles, accounting for around 40% of the ceramic tiles market. The residential replacement segment was valued at US$ 29 Bn, the segment grew at a Y-o-Y growth rate of 9.5% to reach a value of US$ 31 Bn in 2015. The segment is projected to register a CAGR of 8.7% during the forecast period from 2015 to 2019. The demand for ceramic tiles in the residential replacements category will increase by around 1% through 2019.
Demand for ceramic tiles used for residential replacement has increased as these can be used as substitutes for paints, marble and other similar products. Growth of the segment is likely to be hampered by governmental regulations pertaining to exhaust gases emitted during the production process of ceramic tiles. Production of ceramic tiles requires high temperatures usually in the range of 2000-25000 C. Large quantity of fuels is required to create such high temperatures. This leads significant emission of CO2 in the atmosphere.
Various companies have invested significantly in the development of new environment-friendly production processes due to increasing number of stringent government regulations pertaining to greenhouse gas emissions. In the recent past, industry participants have been focusing on capacity expansions to increase their production capacities. Key market players operating in the ceramic tiles market include RAK Ceramics, China Ceramics, Mohawk Industries, Ceramica Saloni, Kajaria Ceramics and Porcelanosa Grupo. Expansion through various business partnerships and product portfolio globally, focusing on sustainability, aiming at growth by new product development and strategic acquisitions will remain the key strategies of the ceramic tiles manufacturers worldwide during the forecast period.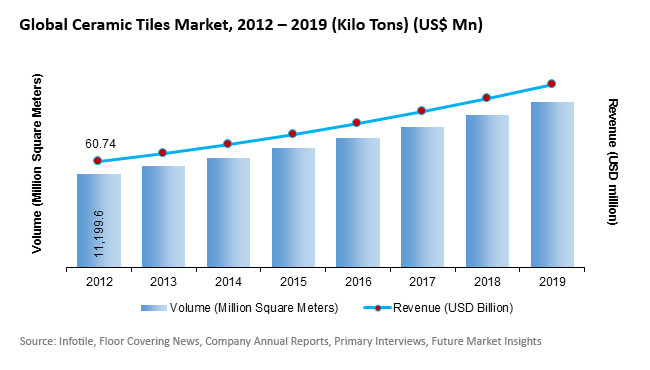 Report Description
Ceramic tiles are inorganic in nature and are made from ceramic by employing various mechanical processes that specifically include heating and instant cooling processes. Ceramic tiles find extensive applications in the construction industry in various forms such as floor tiles, wall tiles, countertops, tabletops, façade, and so on. Demand for ceramic tiles is primarily led by an increase in construction activities globally and rising demand for new residential houses in buildings. Asia Pacific dominates the global market for ceramic tiles. This report by Future Market Insights analyzes, estimates and forecasts demand for ceramic tiles on the global and regional level for a six-year period from 2013 to 2019 in terms of volume and revenue. The study also provides information on restraints, drivers and opportunities along with their impact on the overall market during the forecast period. The report segments the market based on application and region, and offers estimates and forecast of the ceramic tiles market for each segment.
The study analyzes the product value chain, beginning with feed stock material up to end-use. Additionally, it evaluates the market based on Porter's five forces model, which analyzes the degree of competition in the market by considering factors such as bargaining power of buyers and suppliers, threat from substitute products and new entrants. The report includes a detailed competitive landscape of the ceramic tiles market including company market share analysis and profiles of key market participants.
The report provides a decisive view of the ceramic tiles market by segmenting the market based on product types and applications. Product segments analyzed in the report include floor tiles, wall tiles and other tiles. Based on applications, ceramic tiles are segmented into residential replacement, commercial, new residential and others (facades, countertops etc.). All the application segments have been analyzed based on present and future trends, and the market has been estimated from 2015 to 2019. Ceramic tiles are primarily used as floor tiles in residential replacement applications. Floor tiles accounted for approximately half the share of the total ceramic tile products consumed in 2012. In the residential replacement industry, ceramic tiles are used for many purposes such as designing, floor and wall fittings, protection from rain and moisture, and other environmental hazards. Residential replacement, besides having maximum market share, is also expected to be the fastest growing application segment of ceramic tiles during the forecast period from 2013 to 2019. Similarly, the floor tiles product category within the ceramic tiles market boasts the maximum share and is projected to register the fastest growth rate during 2013 to 2019.
The ceramic tiles market has been segmented based on geography into North America, Europe, Asia Pacific, Latin America and Rest of the World. Demand of each type of application of ceramic tiles in terms of revenue and consumption for each of these regions has been forecast in the report for the period of 2015 to 2019.
Leading manufacturers profiled in the report include RAK Ceramics, China Ceramics, Mohawk Industries, Ceramica Saloni, Kajaria Ceramics, and Porcelanosa Grupo. These companies have been profiled in detail with features such as company overview, financial overview, business strategies, SWOT analysis and recent developments.
Ceramic Tiles Market – Product Segment Analysis
Floor Tiles
Wall Tiles
Other Tiles
Ceramic Tiles Market – Application Analysis
Residential Replacement
Commercial
New Residential
Others (facades, countertops etc.)
Ceramic Tiles Market – Regional Analysis
North America
Europe
Asia Pacific
Latin America
Rest of the World (RoW)
Harish Tiwari
Global Head - Business Development
CASE STUDIES
See how our work makes an impact.
At FMI, we design strategies that are adaptive, impactful, and implementable.