Ceramic Tiles Market By Product Segment Analysis (Floor Tiles, Wall Tiles, Other Tiles), By Application Analysis (Residential Replacement, Commercial, New Residential) & Region – Forecast 2021-2031
Ceramic Tiles Market - Analysis, Outlook, Growth, Trends, Forecasts
July 2020

REP-GB-1669

250 pages
Ceramic Tiles Market Overview
[250 Pages Report] Ceramic tiles market reads a recent study of durability, sustainability, and affordability benefitting in attributes of growth by Future Market Insights (FMI).. The report forecasts positive sales outlook with the Ceramic Tiles Market projected to reach a valuation of US$ 84.8 Bn in 2021.
Ceramic tiles demand uptick is on card in response to the expansion in the residential, commercial, and construction sectors. As per FMI analysis, the Ceramic Tiles Market will exhibit 7.20% CAGR between 2021 and 2031.
Despite challenges witnessed amid restrictions imposed due to COVID-19 outbreak, sales of ceramic tiles increased at y-o-y growth of 2.50% in 2021.
Key Points Covered in Ceramic Tiles Market Survey
Ceramic Tiles Market estimates and forecast 2021-2031
Key drivers and restraints impacting Ceramic Tiles Market growth
Segment-wise, Country-wise, and Region-wise Analysis
Competition Mapping and Benchmarking
Brand share and Market Share Analysis
Key Product Innovations and Regulatory Climate
COVID-19 Impact on Ceramic Tiles Market and how to Navigate
Recommendation on Key Winning Strategies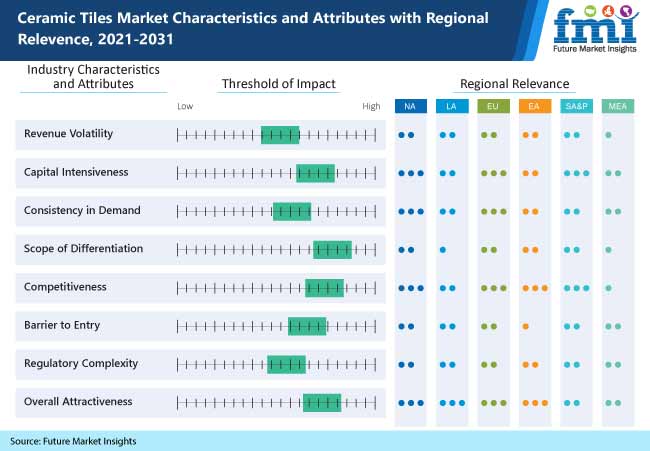 Ceramic Tiles Market Historic Sales Compared to 2021-2031 Forecast Outlook
Ceramic tiles market sales showcased steady growth between 2016 and 2020. However, the unprecedented COVID-19 outbreak impacted growth in 2020 as several construction projects came to a complete halt to contain the spread of the virus.
With stringent restrictions on place, labor-intensive industries such as the construction industry suffered considerably amid the pandemic outbreak. This has significantly affected the sales of ceramic tiles through 2020. Coupled with this, disruptions in supply of non-essential commodities also stunted market sales, restricting demand for ceramic tiles temporarily.
As per FMI's market survey on ceramic tiles, growth is on the cards during the assessment period, owing to increasing investments by governments in various regions to recover construction activities and bring related industries back on track. As per ceramic tiles market analysis, the market volume will reach 32,870 sq. mtr. by 2031.
Will Emphasis on Home Décor Continue Driving Ceramic Tiles Market Sales?
Increasing per capita income across various countries has created room for development in home décor. The visual appeal presented by ceramic tiles, coupled with sustainability and durability, is attracting the attention of homeowners as well as interior designers.
Apart from residential spaces, the demand for aesthetically pleasing ceramic tiles has been witnessed in the construction of hotels, offices, universities, shopping centers, and restaurants across the globe.
The availability of a wide variety of ceramic tiles for home décor such as mosaic, porcelain, glazed, and terracotta tiles fulfils the purpose of aesthetics and provide a unique look and feel to flooring and walls.
Owing to this trend, key producers in the market are launching various intricate and modern patterns in ceramic tiles designs to support the growing consumer demand. The penetration of eCommerce and numerous articles published on home décor online are shaping consumers' decisions, thus generating demand in the Ceramic Tiles Market
How Will Expansion of Residential Sector Affect Ceramic Tiles Market Sales?
Residential replacement focuses on replacing tiles, paints, stone, granite, and glass used in residential construction projects for enhanced durability and to revamp the whole look of the space.
New construction project models such as apartment buildings and homes for nuclear families are driving expansion in residential replacement and renovation, thus augmenting sales of ceramic tiles.
Moreover, demand for remodelling homes, wherein home owners are looking to revamp their existing decor with new and more sustainable materials are gradually on the rise. As ceramic tiles are cost-effective and promise durability, they are becoming a primary choice in remodeling projects.
Ceramic tiles market sales uptick is likely in 2021 in comparison sales growth registered in 2020. Recovery of supply chain as governments gradually easy restrictions imposed amid COVID-19 outbreak will creative a conducive environment for sales growth.
How is Expansion of Organized Retail Sector Affecting Ceramic Tiles Market Sales?
The presence of retail specialty stores is catalyzing sales in the market by increasing the availability of various types of ceramic tiles. A large number of retail stores including supermarkets, hypermarkets, and construction material stores are now offering varieties of ceramic tiles to choose from, along with instruction manuals for easy application.
As consumers are adapting to hectic lifestyles and work schedules, large organized retail stores are trying to compile a wide array of ceramic tiles under one roof for convenient selection and availability. This is spurring sales in the market.
For brand-conscious customers, interior décor retail stores, as well as supermarket chains such as Lowe's and Home Depot, have made it easier for customers to compare the prices, styles, and material of the tiles. This trend is expected to have a positive impact on sales of ceramic tiles in the upcoming decade.
Additionally, penetration of eCommerce is also boosting sales of ceramic tiles across the globe. Leading players including RAK ceramics and Kajaria tiles are retailing ceramic tiles via online channels.
Incorporation of technology has also made it easier for consumers to select from a range of ceramic tiles for floor and wall fittings in the comfort of their homes. Technologies such as augmented reality (AR) have made it possible for retailers to make a concrete buying decision when it comes to such commodities.
For instance, RAK Ceramics offers online services like 'virtual showroom' and 'room visualizer' that allow users to upload pictures of their space and select wall and floor fittings accordingly, to get a visual representation of the room before purchasing the ceramic tiles.
Demand for Eco-Friendly Tiles will Create Lucrative Opportunities
In the wake of growing concerns over global warming, manufacturers are compelled to pay more attention towards sustainable manufacturing processes to abide by stringent regulations on emissions imposed by governments across the world.
Ceramic tiles Market support the idea of environmental conservation by offering sustainability and durability in the long run. Demand for ceramic tiles is largely being experienced in the residential replacement sector, as they can be used as substitutes for stones, glass, and paints.
Although ceramic tiles are eco-friendly, the process of manufacturing these tiles goes against the notion. Production of ceramic tiles requires high temperatures, ranging 2000-25000 C, which uses large quantities of fuels, leading to significant CO2 emissions in the atmosphere. The regulations pertaining to control greenhouse gas emissions may slightly hamper the market growth
Country-wise Insights
How Will Ceramic Tiles Market Expand in the U.S.?
As per FMI's analysis, the demand outlook for ceramic tiles in the U.S. is poised to accelerate over the forecast period, due to constant rise in nuclear family-based construction projects and strengthening residential replacement in the country.
Ceramic tiles efficiently comply with green building standards and are resilient and long-lasting. These features are fuelling the popularity and demand for ceramic tiles market in the construction industry as well as the home décor sector.
Additional factors shaping sales outlook of ceramic tiles market in the U.S. are rapid expansion of infrastructural projects across the country, including hospitals, shopping malls, hotels and resorts, universities to name a few.
Increasing adoption of ceramic tiles in the U.S. can also be attributed to wide availability of kaolin clay, a key ingredient used in the production of ceramic tiles. In addition to this, the presence of key manufacturers in the country, such as Mohawk Industries and Florida Tiles is also acting as a driving force in the market.
Why will China Emerge as a Lucrative Market?
China is one of the largest producers and consumers of ceramic tiles in the world, resulting in cutthroat competition among manufacturers and exports regarding product innovation and improvements in quality to support the growing demand for ceramic tiles.
Factors aiding ceramic tiles market in China include low-production cost and high penetration of technology in the manufacturing process, which in turn is creating lucrative opportunities for global and as well as regional players in the market.
In China, ceramic tiles are mostly used in kitchens, living rooms, bathroom walls, and other spaces in a household, mostly for decoration purposes. External factors such as brand, look and feel of the tiles also act as major trends driving sales in the ceramic tiles market. These trends are aiding innovations in ceramic tiles, thereby garnering revenue and enhancing sales.
Will India Continue Exhibiting Increasing Growth Opportunities?
Growing population and increasing consumer interest towards home décor are shaping the demand outlook for ceramic tiles in India. Rising urbanizations, coupled with significant growth in per capita expenditure in housing-related activities are driving the expansion of ceramic tiles market in the country.
India has been witnessing a rapid expansion in towns and cities, which is also boosting migration across various states in the country. To accommodate the migrating population, residential construction projects are on the rise.
Additionally, the advent of smart cities in India has created significant demand for ceramic tiles. Government-financed projects including road networks, water supply channels, power-related infrastructure, hospitals, and universities are increasingly spurring demand for ceramic tiles in the country.
Apart from new projects, increasing investments in real estate by the population, as well as efforts to refurbish housing spaces and commercial buildings will continue generating demand in the ceramic tiles market during the assessment period.
Home décor trends are also being witnessed in India, where customers are looking at stylish, durable, and aesthetically pleasing ceramic tiles for flooring and walls, which is acting as a prime factor fueling market growth.
Why is Italy Expected to Emerge as a Key Ceramic Tiles Market?
Italy is home to ceramic tile innovations, as it's the country where ceramic tiles first originated. One factor that sets Italian ceramic tiles apart from their global counterparts is their consistently superior quality, which makes Italy one of the leading exporters of ceramic tiles.
Sales outlook for ceramic tiles in Italy appears to be favorable for manufactures operating in the country due to high export volume and rising expansion of hotels, resorts, and residential projects in the country.
According to FMI's analysis, demand for ceramic tiles in Italy will remain high during the forecast period, owing to ongoing technological advancements in the manufacturing process, coupled with adoption of the latest techniques to improve products in the industry. Italian tiles showcase brilliant design and robust martial features, which makes them widely preferred across the globe.
Category-wise insights
Floor Ceramic Tiles Will Account for Major Market Share
Based on product type, floor ceramic tiles will account for around half of all sales in the ceramic tiles market during the assessment period. The increasing dominance of floor tiles is attributable to growing applications in the housing sector, coupled with demand for aesthetically pleasing tiles for home décor.
Availability of a wide variety of floor ceramic tiles including mosaic, terracotta, glazed, and porcelain tiles through various sales channels will further augment market growth in the upcoming years.
Residential Segment Will Remain Dominant Through 2030
FMI projects the dominance of the residential segment during the forecast period, owing to factors including growing expansion of residential replacement projects and increasing per capital expenditure on home décor.
Advance benefits offered by ceramic tiles such as sustainability and durability are making them fit for application in green building schemes. This trend is expected to prevail in the upcoming years, thus driving sales in the market.
Competition Landscape
Leading manufacturers in the ceramic tiles market are expanding their footprint in the industry by focusing on product developments and innovations, in order to cater to growing consumer demand.
Collaborations, mergers, and acquisitions are other key strategies being employed by top distributors to establish a strong foothold in the market. For instance:
In February 2021, Atlas Concorde launched its new product line known as 'prism collection', comprising a spectrum of hand-crafted, unique, and colorful wall tiles for indoor and outdoor applications.
In June 2021, RAK Ceramics collaborated with French designer Patrick Norguet for a new product range called Valet, focusing on basic yet stylish floor and wall tiles fittings.
Scope of Report
Attribute

Details

Forecast Period

2021-2031

Historical Data Available for

2016-2020

Market Analysis

USD Million for Value

Key Regions Covered

North America, Latin America, Europe, East Asia, South Asia, Oceania, and the Middle East & Africa

Key Countries Covered

US, Canada, Germany, U.K., France, Italy, Spain, Russia, China, Japan, South Korea, India, Thailand, Malaysia, Indonesia, Australia, New Zealand, GCC Countries, Turkey, Northern Africa, and South Africa

Key Segments Covered

Product Type, Application Type, and Regions

Key Companies Profiled

Crossville Inc.
Saloni Ceramica
Porcelanosa Grupo
Gruppo Ceramiche Ricchetti
Florida Tile
Mohawk Industries
Kajaria Ceramics
China Ceramics Co., Ltd

Report Coverage

Market Forecast, Company Share Analysis, Competition Intelligence, DROT Analysis, Market Dynamics and Challenges, and Strategic Growth Initiatives

Customization & Pricing

Available upon Request
World's Most Profilic Intelligence Engine
Get Access To The World's Largest Market Research Database.
Sign Up Now
Key Segments Covered
Ceramic Tiles Market – Product Segment Analysis
Floor Tiles
Wall Tiles
Other Tiles
Ceramic Tiles Market – Application Analysis
Residential Replacement
Commercial
New Residential
Others (facades, countertops etc.)
Ceramic Tiles Market – Regional Analysis
North America
Europe
Asia Pacific
Latin America
Rest of the World (RoW)
Key Questions Answered in the Report
What is the current ceramic tiles market value?
The ceramic tiles market is anticipated to surpass a valuation of US$ 84,880 Mn 2021.
At what rate did the ceramic tiles market grow between 2016 and 2020?
The ceramic tiles market experienced healthy growth at around 9.3% CAGR between 2016 and 2020.
What are the key trends driving ceramic tiles sales?
Rapid expansion of residential infrastructure projects, coupled with growing consumer interest towards home décor and aesthetics is driving ceramic tiles sales.
Who are the leading players in the ceramic tiles market?
Leading players operating in the ceramic tiles include RAK Ceramics, Grupo Fragnani, Mohawk Industries, Florin Ceramiche S.P.A, Kajaria Ceramics, and Porcelanosa Grupo.
What will be the demand outlook for North America ceramic tiles market?
North America ceramic tiles market is anticipated to expand at a 6.50% CAGR during the forecast period.
At what rate will ceramic tiles demand rise in Europe?
The ceramic tiles market in Europe will expand at approximately 5.70% CAGR between 2021 and 2031.
What is the market share of leading players in ceramic tiles market?
The top 5 players in the ceramic tiles market collectively account for 7-9% of the total market share in the year 2021.
Which are the top countries driving the ceramic tiles market sales?
Top countries in terms of ceramic tiles sales are China, the U.S., Italy, and India.
What is the current market share of Japan and South Korea in the global ceramic tiles market?
Japan and South Korea, collectively, will account for 13% of the global market share in 2021.
Need specific information?
Our Clients