First Aid Market By Product Type (Bandages, Gauzes, Disinfectants) & Region - Forecast to 2014 - 2020
First Aid Market - Analysis, Outlook, Growth, Trends, Forecasts
July 2015

REP-CN-659

0 pages
Introduction
Basic first aid is emergency aid offered to patients that sustain minor injuries. It comprises of adhesive bandages, gauzes and disinfectants. An adhesive bandage is a small dressing used for small cuts and wounds to protect them from microorganisms, damage and dirt, which in turn enables faster healing. Gauzes are transparent medicated fabrics with a loose open weave, and are used in wound care to protect wounds and cuts.
Disinfectants are chemical agents that usually sold in the form of sprays and wipes, and are applied to protect wounds from harmful microorganisms and are also used to disinfect inanimate objects.
As of 2014, basic first aid products accounted for less than 20% share of overall the wound care market in China.
The China first aid market accounted for US$ 266.5 Mn in 2014 and is projected to exhibit a CAGR of 6.3% during the forecast period
Drivers & Trends
Increasing healthcare reforms coupled with growing geriatric population in China are key driving factors for non-traditional wound care products in the country. Elderly population constituted 14% of overall population in China in 2014 and the number is expected to rise significantly in the near future.
First aid product manufacturers are making significant invests in innovative product packaging to make their products look more appealing to consumers. This is expected to boost overall sales revenue of first aid products in China. Expansion of organized retail and increasing healthcare coverage are the other key drivers of the China first aid market.
Moreover, availability of low cost labour, wide availability of raw materials, emphasis on domestic oriented sales generation and advanced technology infrastructure create a favourable environment for global players to invest in China.
China has over 14,200 hospitals at county level, thereby offering good market prospects for non-traditional first aid products manufacturers to penetrate into Tier 2 and Tier 3 cities through hospitals in the country.
Analysis by Retail Sales Channel
Among retail sales channels, drugstores and pharmacies are key channels for sales of adhesive bandages. Sales of adhesive bandages through drugstores is anticipated to generate 1.3X higher revenue than that of other retail channels by 2020 end. Though modern trade accounts for miniscule share in the China first aid market, sales of adhesive bandages through convenience stores is projected to witness highest CAGR of 7.8% between 2014 and 2020.
Hospitals are key retail sales channel for gauzes, especially through those situated in Tier 3 cities in China. Sales of gauzes through drugstores, hospitals and pharmacies is estimated to generate 20.1X higher revenue than that through modern retail store channels by the end of 2015. Sales of gauzes through convenience stores is projected to register the highest CAGR of 6.9% during the forecast period.
Modern retail are highly preferred channels for sales of disinfectants. Hypermarkets and supermarkets account for over 60% share of sales revenue of disinfectants. Sales of disinfectants through convenience stores is projected to register a CAGR of 8.6% during the forecast period. Hypermarkets are expected to generate 1.6X higher revenue through sales of disinfectants by 2020 end as compared to that in 2014.
Expansion of modern trade at a significant rate is expected to change retails sales dynamics of first aid products in the near future. Also, online channels are expected to witness significant growth of 6.8% over the forecast period to generate 1.5X higher sales revenue by the end of 2020 as compared to that in 2014. Changing lifestyles and rising Internet penetration are key factors surging sales of first aid products through online retail channels in China.
Figure: China Adhesive Bandages Market Overview, By Retail Sales Channel, 2015E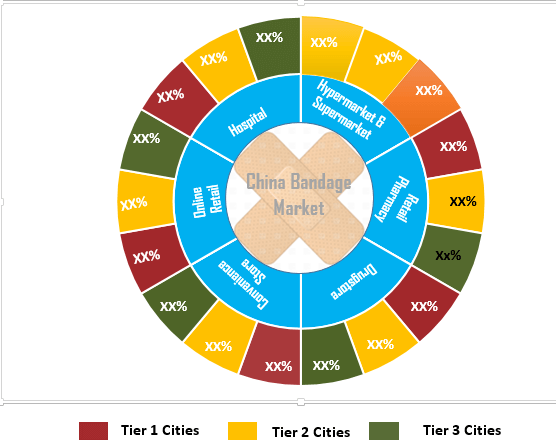 World's Most Profilic Intelligence Engine
Get Access To The World's Largest Market Research Database.
Sign Up Now
Key Segment
By Product Type
Bandages
Gauzes
Disinfectants
Need specific information?
Our Clients