An Incisive, In-depth Analysis on the China First Aid Market
This study offers a comprehensive, 360 degree analysis on the China First Aid market, bringing to fore insights that can help stakeholders identify the opportunities as well as challenges. It tracks the global China First Aid market across key regions, and offers in-depth commentary and accurate quantitative insights. The study also includes incisive competitive landscape analysis, and provides key recommendations to market players on winning imperatives and successful strategies.
Basic first aid is emergency aid offered to patients that sustain minor injuries. It comprises of adhesive bandages, gauzes and disinfectants. An adhesive bandage is a small dressing used for small cuts and wounds to protect them from microorganisms, damage and dirt, which in turn enables faster healing. Gauzes are transparent medicated fabrics with a loose open weave, and are used in wound care to protect wounds and cuts. Disinfectants are chemical agents that usually sold in the form of sprays and wipes, and are applied to protect wounds from harmful microorganisms and are also used to disinfect inanimate objects.
As of 2014, basic first aid products accounted for less than 20% share of overall the wound care market in China.
The China first aid market accounted for US$ 266.5 Mn in 2014 and is projected to exhibit a CAGR of 6.3% during the forecast period.
Drivers & Trends
Increasing healthcare reforms coupled with growing geriatric population in China are key driving factors for non-traditional wound care products in the country. Elderly population constituted 14% of overall population in China in 2014 and the number is expected to rise significantly in the near future. First aid product manufacturers are making significant invests in innovative product packaging to make their products look more appealing to consumers. This is expected to boost overall sales revenue of first aid products in China. Expansion of organized retail and increasing healthcare coverage are the other key drivers of the China first aid market.
Moreover, availability of low cost labour, wide availability of raw materials, emphasis on domestic oriented sales generation and advanced technology infrastructure create a favourable environment for global players to invest in China. China has over 14,200 hospitals at county level, thereby offering good market prospects for non-traditional first aid products manufacturers to penetrate into Tier 2 and Tier 3 cities through hospitals in the country.
Analysis by Retail Sales Channel
Among retail sales channels, drugstores and pharmacies are key channels for sales of adhesive bandages. Sales of adhesive bandages through drugstores is anticipated to generate 1.3X higher revenue than that of other retail channels by 2020 end. Though modern trade accounts for miniscule share in the China first aid market, sales of adhesive bandages through convenience stores is projected to witness highest CAGR of 7.8% between 2014 and 2020. Hospitals are key retail sales channel for gauzes, especially through those situated in Tier 3 cities in China. Sales of gauzes through drugstores, hospitals and pharmacies is estimated to generate 20.1X higher revenue than that through modern retail store channels by the end of 2015. Sales of gauzes through convenience stores is projected to register the highest CAGR of 6.9% during the forecast period. Modern retail are highly preferred channels for sales of disinfectants. Hypermarkets and supermarkets account for over 60% share of sales revenue of disinfectants. Sales of disinfectants through convenience stores is projected to register a CAGR of 8.6% during the forecast period. Hypermarkets are expected to generate 1.6X higher revenue through sales of disinfectants by 2020 end as compared to that in 2014.
Expansion of modern trade at a significant rate is expected to change retails sales dynamics of first aid products in the near future. Also, online channels are expected to witness significant growth of 6.8% over the forecast period to generate 1.5X higher sales revenue by the end of 2020 as compared to that in 2014. Changing lifestyles and rising Internet penetration are key factors surging sales of first aid products through online retail channels in China.
Figure: China Adhesive Bandages Market Overview, By Retail Sales Channel, 2015E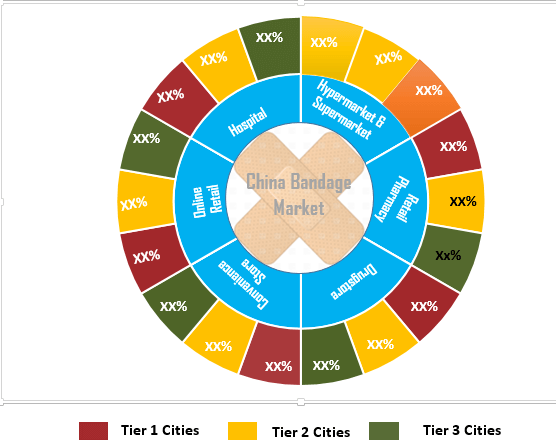 This Future Market Insights report examines the China First Aid Market for the period 2014 - 2020. The China market is not limited to Beijing and Shanghai anymore, with Tier 2 cities in China such as Suzhou emerging as prominent markets for first aid products in the country. This report focuses on the market trends and developments in Tier 1, 2 and 3 cities in China. On the basis of first aid products, the market in the country has been segmented into adhesive bandages, disinfectants and gauzes.
The report provides an overview of China's economy, statistics and in-depth analysis about the healthcare industry in the country, healthcare expenditure, per capita income and wound rate, among others. The healthcare industry in the country is mainly driven by growing aging population and increasing household income.
The report covers China first aid market revenue split by product type, namely, revenue generated by adhesive bandage, disinfectant and gauzes product segment in 2014 and forecast till 2020. A detailed analysis of latest trends followed by major players is also included in the report.
Furthermore, the report offers detailed analysis of the adhesive bandages segment in China by prices (low-end adhesives bandages & high-end adhesive bandages), by material (plastic, cloth, paper and foam) and by purpose of use (special bandage, transdermal bandage and butterfly stiches).
Thereafter, the report provides an insight of the China disinfectant products segment. This section analyses market share held by key players and market share of various types of disinfectants (antiseptic liquid, spays & wipes). This section also covers key online & offline promotional strategies used by market participants to attract customers.
Succeeding section of the FMI report provides in-depth information about the China gauzes segment, by price (low & high end gauzes) and by gauze type (woven & non-woven). Cross segmental analysis (low- and high-end gauzes in woven and non-woven segments) is also covered in this section.
The section that follows offers price point analysis of each product segment (adhesive bandage, disinfectant and gauzes) in 2014 & forecast till 2020.
All the above mentioned product segments are further covered on basis of revenue generated by each product segment in Tier 1 ,2 and 3 cities in China.
This is proceeded by a section that highlights revenue generated by each product segment by sales channel, namely online and offline. The report also considers sub-segments in offline channels (hypermarket and supermarket, convenience stores, drugstores and pharmacies).
This section also covers cross segmental analysis of each retail channel by Tier 1, 2 and 3 cities.
Key feature of this report is analysis of all key China first aid market segments, sub-segments, regional adoption and verticals revenue forecast in terms of absolute dollar. This is usually overlooked while forecasting the market. However, absolute $ opportunity is critical in assessing the level of opportunity that a market player can look to achieve and also helps identify potential resources from a sales and delivery perspective in the China's first aid market.
The final section of the report provides the competitive landscape of the China first aid market which gives audiences a dashboard view based on presence of key players in the market, their product portfolios and key differentiators.
The report covers information regarding key players in the various product segments, namely, disinfectant, adhesive bandage and gauze. This section is primarily designed to provide clients with an objective & detailed comparative assessment of key providers specific to various market segments in the China's first aid market.
Report audiences can gain segment-specific vendor insights to identify and evaluate key competitors based on in-depth assessment of capabilities and success in the China first aid marketplace. Detailed profiles of the major players in the market are also included within the scope of the report to evaluate their long- and short-term strategies, key offerings and recent developments in the China first aid market. Key competitors covered in the report are Johnson & Johnson, Covidien, Winner Medical, Reckitt Benckiser and Yunnan Baiyao.
The report also includes profiles of key retailers in the China first aid market such as Watson, Mannings, 7Eleven, Nepstar and Hualian.
COVID -19 : Impact Analysis
Request the coronavirus impact analysis across industries and markets
Request Covid -19 Impact
CASE STUDIES
See how our work makes an impact.
At FMI, we design strategies that are adaptive, impactful, and implementable.