Crown Closures Market By Material Type (Aluminum, Steel), Diameter (26 mm, 29 mm), End Use (Beer, Carbonated Soft Drinks, Food ) & Region - Forecast to 2019 - 2027
Crown Closures Market - Analysis, Outlook, Growth, Trends, Forecasts
April 2019

REP-GB-9363

150 pages
Global Crown Closures Market - Key Research Findings
Global crown closures market value in 2018 – Nearly US$ 978 Mn
The crown closures market will observe just around 2.4% CAGR over the period 2019-2027.
The growth of the crown closures market in a country or geography is observed to be closely related to the growth of GDP (Gross Domestic Product) per capita and beverage industry in the geography.
Beer is estimated to be the most prominent end-use category of crown closures, accounting for around 70% of the global crown closures consumption, followed by carbonated soft drinks.
Asia Pacific will remain the largest regional market among all geographies for crown closures.

The evolving alcoholic beverages industry in the Asia Pacific and the evolving per capita GDP have resulted in rising demand for protective packaging formats in the region.
The beer industry primarily propels the crown closures market in China & ASEAN countries and India.

Asia Pacific is estimated to be the prominent region for the crown closures market.

Use of glass bottles for packaging of alcoholic beverages and carbonated soft drinks is estimated to boost the demand for crown closures in the Asia Pacific market.
High production of beer and sparkling wine in China and India is acting as the growth driver for the crown closures market.
Changing consumer perceptions among young demographics of urban areas, supported by rapidly growing spending power, will shape fast-paced growth of the Indian and Chinese crown closures market during the forecast period.
Top 3 Factors Shaping the Crown Closures Market
Surge in beverage packaging in developing regions, majorly driven by young urban consumers

The rapidly growing middle class and increased consumer spending on leisure and lifestyle enhancers are anticipated to be responsible factors to enhance packaging quality. The demand for crown closures and glass bottles is estimated to witness impressive growth in packaging applications of beer and other alcoholic beverages.

Developing countries of Asia Pacific and Latin America have seen rapid growth in the production of beer over the last decade. Asia Pacific and Latin America are expected to be highly attractive market places for global key players in terms of expansion.

Adoption of plastic bottles over glass bottles for carbonated soft drinks packaging

PET (polyethylene terephthalate) bottles are estimated to rise in demand for packaging of soft drinks, which is expected to hamper the market of crown closures for soft drinks. PET bottles packaging is estimated to be beneficial in terms of weight and cost as compared to glass bottles. Key players in the non-alcoholic beverage industry are shifting towards PET bottles due to lower raw material and production costs than glass bottles.

High demand for anti-contaminating closures from the alcoholic beverage industry

Crown closures have significant applications in the beverage industry, especially alcoholic beverages. Anti-contamination plays a crucial role in protecting and increasing the shelf life of the packaged product. These are the key reasons for the extensive demand for crown closures from the alcoholic beverage industry.

In addition, crown closures are user-friendly and recyclable which further fuels the growth of crown closures in the market. The concerns about product safety, security, increasing per capita consumption in rising economies, and new caps for shelf visibility are the major factors driving the global crown closures market.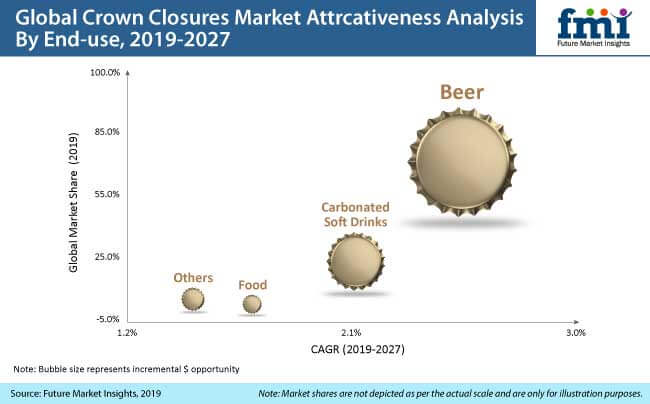 Crown Closures Market Structure Analysis
FMI has divided the global crown closures market into three tiers. Each Tier-1 player holds an individual market share of 3% or more in the global crown closures market, each Tier-2 market player holds a market share between 1% and 3%, and each Tier-3 market player holds market share below 1%.
Tier-1 players include top competitors such as Crown Holdings, Inc., Nippon Closures Co. Ltd, Pelliconi & C. SPA, Finn-Korkki Oy, and others.
The closure market is fragmented in the Asia Pacific region with around 300 market players operating only in China and 200 market players operating just in India.
North American and European markets for crown closures are consolidated owing to the presence of a minimum number of manufacturers with large production volume and customer base.
Crown Closures- The New Branding Tool
Crown closures have become an integral part of the beverage and food packaging. Whether it's turning the lid to open a pickle container or twisting the top off a peanut butter jar, leading brands are leveraging crown closures in the best way possible. Adoption of crown closures is pacing up not just as an ideal gateway to product experience but as a promising branding tool.
Demand for crown closures, especially in beer and carbonated soft drinks is growing significantly for the fact that brands are leveraging versatile packaging tools to expand their reach to a wide pool of customers.
PET Bottles Over Glass Variants, What this Trend Holds for Crown Closures?
Modern brands are showing increased preference for lightweight and flexible PET (polyethylene) based bottles over glass bottles for packaging of carbonated soft drinks. The new vacuum metal crown closures are witnessing significant traction from brands that are considering a change from glass to PET containers but still seek traditional benefits of metal closures.
Sales of Crown Closures to Soar Upwards in Asia Pacific
Sustained sales are poised for crown closures on the back Asia Pacific's growing appetite for beer, wine and other alcoholic drinks. Led by China, Asia Pacific will remain the lucrative market for crown closures manufacturers. The rapidly improving export scenario of beer and soft drinks in China is considerably augmenting the country's, and in turn Asia Pacific's crown closures market.
The Broader Perspective
The proliferating beverages industry remains imperative to the growing sales of crown closures, as alcoholic beverages, specifically beer and wine are witnessing significant consumer traction due to rapidly shifting lifestyles. The adoption of aluminium based crown closures is growing as they deliver eye-catching visual appeal and easy-open convenience while also extending the product shelf life.
Beer Leads with Over-70% Market Share
Growing demand for bespoke crown closures from beer manufacturers has grown significantly in recent years, with brands eying these packaging component as a proficient branding tool. Advanced technology has enabled brands to offer easy open crown closures to help manufacturers deliver a unique opening experience to consumers.
World's Most Profilic Intelligence Engine
Get Access To The World's Largest Market Research Database.
Sign Up Now
Key Segment
The global crown closures market is segmented in detail to cover every aspect of the market and present complete market intelligence to the reader.
By Diameter
By Material Type
By End Use
Beer
Carbonated Soft Drinks
Food
Others
Region
North America
Latin America
Western Europe
Eastern Europe
Asia Pacific
Middle East & Africa
Need specific information?
Our Clients