Bag Closures Market By Material Type (Plastic, Paper & Paperboard, Metal), Product Type (Clip, Pre-cut Twist Ties), Application (Food, Non-food Applications) & Region - Forecast to 2020-2030
Bag Closures Market - Analysis, Outlook, Growth, Trends, Forecasts
July 2020

REP-GB-9488

208 pages
Bag Closure Market: Key Research Findings
The global Bag Closure Market is expected to represent an incremental opportunity of US$ 318 Mn by 2030
Paperboard segment to register a CAGR of 7.2% during the forecast period as manufacturers shift from plastic to deliver sustainable solutions
Bakery and confectionery segment to show an incremental opportunity of US$ 120 Mn between 2020 and 2030, pushing the demand from this sector to close to US$ 300 Mn
East Asia to grow 2x of current market value by 2030, ranking second after North America as café culture proliferates generating demand effective closures for baked items
Packaged Bakery Products such as Bread Continued to Bolster Retail Sales of Bag Closures Market
Sales of bag closures Market is closely associated with the demand for reusable packaged food products, among which bakery and confectionery items top the list. Flexible packaging for bread processing is the prominent user of bread clips, which truly run into millions on daily basis. Thus, Future Market Insights indicates that the demand for these clips is expected to remain steady, as sales of bakery products continue to reflect above average consumption patterns. The trend is anticipated to continue in the second half of 2020.
In addition to bread, the increasing number of cafés and bakery chains across the globe have also spiked the demand for clips and twist ties that are required for effective closure of coffee, tea, and other products.
Introduction of a wide range of bakery products such as gluten-free and sugar-free for diet and health-conscious consumers has also raised the demand for bag closures. The growing consumer base for baked and confectionery goods are expected to make a steady contribution to the sale of bag closures during the forecast period.
Growing Regulatory Concern wit Single Use Plastic Propels Uptake of Twist Ties
Several government and non-government organizations pushing for reduction of plastic usage in packaging, which sensitized not just the packaging but plastic industry as well. However, on a positive note, it has raised a significant demand for twist ties and usage of paperboard for manufacturing reclosures. Additionally, efforts to reduce single-use plastic is also expected to propel twist ties, which are far more environment-friendly as compared to plastic clips.
With respect to the usage, penetration and production of bag closures, a regional variance exist but is being offset by the extent of trade happening with this low complexity product.
North America dominates the global bag closure market, which is attributed to the heightened demand for bag closures from food industry that focusses on right packaging to keep the product safe until consumption.
Along with North America, Europe and Asia Pacific is also matured when we place these regions on PLC curve, resultantly we do not see sizable investment from bigwigs in these regions. Production of bag closures in Latin American countries is also in sync with the demand, yet small and medium packaging companies extend their offerings to include bag closures in their portfolio.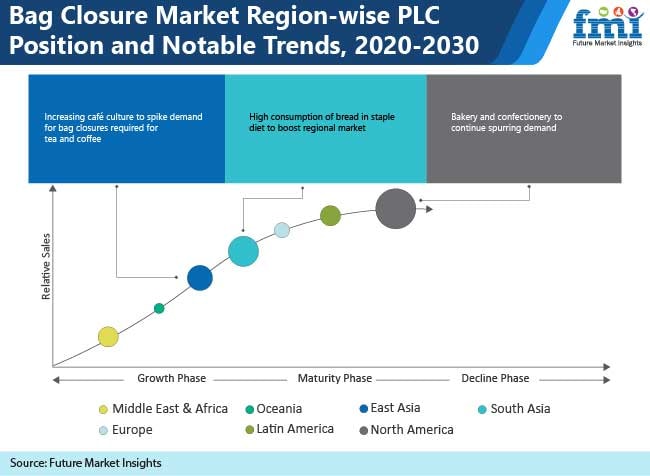 Bag Closure Market: Regional Analysis
The study shows that North America will continue to lead the market for bag closures as frozen meats, bread, and consumption of all other packaged food items is projected to remain high in this region throughout the forecast period. Consumption of cereals for breakfast across the Western regions is also expected to bode well for the clips segment. These are largely used in residential setups and available in mom & pop retail stores for retail customers. Increasing expenditure on coffee and teas has also upped the demand for resealing closures to prevent them from getting spoilt due to moisture in the air.
In the eastern front, Future Market Insights predicts, that China will offer incredible opportunities, putting East Asia on the map as consumption of baked items soars. Changing diets and replacement of traditional meals with bread and other confectionery items are expected to favor this country's growth.
The re-closibility of plastic bags has also won the market a sizable consumer base across Asia Pacific. Today, these clips and twist ties are used across industry for re-closing flexible packaging solutions used in agriculture, food and beverages, and garbage disposal services. Mushrooming bakeries and cafés across India have also supported the burgeoning sales of bag closures that are required for keeping contents safe and fresh.
The key end user of bag closures across the globe will continue to be bakery and confectionery industry that is witness a surge in consumption of its products as bread is becoming a global staple. Consumption of bakery products have witnessed sizable northward drift in non-conventional countries, thus creating a market for associated products, including bag closures.
Online Availability Exposed Bag Closures to a Whole New Customer Category
Demand of a product is subjected to its visibility among target customer group. Product such as bag closure were out retail customer reach, and only with the penetration of organized retail, niche and unique products such as bag closures came to the fore.
This shift has been observed for a large variety of products including bag closures. An underlying factor is that e-Commerce platforms have emerged from purchase points to shopping platforms. Customer continue to explore and experiment with new products, resultantly products like bag closure gets into mainstream customer markets.
FMI in its recently published report on bag closures market revealed that e-Commerce platform account for close to three fourth of all bag closure sales worldwide.
Non-Conventional Applications Aiding to Bag Closure Demand
The role of garbage disposal in bags cannot be ignored while projecting the growth of the bag closure market. Meteoric rise in hospital admissions, increasing number of diagnostic procedures, and amounting household waste are all collected and secured with these ties to avoid spillage and leakage.
This particular application of bag closures was not brandished by bag closure manufacturing companies, yet end users created this application. And since, a large chunk of bag closures are being procured by hospitals and retails customer for popper waste disposal, bag closure manufacturers introduced a new category of products targeting hospitals and healthcare facilities.
Shift from Plastic Clips to Twist Ties Indicates Consumer-consciousness Toward Environment
Growing public outcry against the plastic debris in landfills has seriously pressurized packaging companies to consider their solutions. This has percolated down to basic break loaf clips, to security ties, and twist ties. Against this backdrop, the demand is slowly shifting to twist ties that sandwich a metal wire between paper.
This malleability and the dexterity with which it can shaped or wound around the product has won it a significant momentum. Today, several confectioners are using these environment-friendly twist ties to pack chocolates, breads, cookies, and other items. Increasing investments in developing sustainable packaging solutions is projected to make manufacturers shift their focus from plastic use to a more biodegradable material.
Paperboard Clips to Drastically Reduce Waste Caused by Plastic Clips
Paperboard is expected the revolutionary material, creating a wave of change in the global bag closure market. Its powerful construct and biodegradability is expected to make it a preferred choice in replacing plastic in clip production. Evolution for paper fasteners has played a significant role in reimaging the clips used for adequate closure.
Future Market Insights predicts that the paperboard segment will represent an incremental opportunity of US$ 67 Mn by the end of 2030. While its farfetched to imagine complete replacement of plastic in packaging, use of paperboard clips, one tiny object, is projected to make a sea change in accumulation of plastic waste.
Bag Closure Market Structure Analysis
The competitive landscape across bag closures market is fragmented with Tier 1 companies occupying 25% revenue share. During the forecast period, key players in the bag closure market are expected to changing their manufacturing strategies to include more sustainable materials.
Some of the key players operating in the global bag closures market are
Plas-Ties, Co.,
Kwik Lok Corporation
Schutte Bagclosures B.V.
Bedford Industries, Inc.
Multipack B.V.B.A.
International Plastics Inc.
Inno Bag Closures, Truseal (Pty) Ltd.
Vikela Aluvin Pty Ltd.
ITW Envopak Limited
T & T Industries Inc.
Zhenjiang Hongda Commodity Co., Ltd.
AndFel Corporation
Detmold Group
Rifkin Co.
HSA International Group
*The list is not exhaustive, and only for representational purposes. Full competitive intelligence with SWOT analysis available in the report
Sustainable Solutions Promise to Solve the Plastic Conundrum
Today, manufacturers are emphasizing production of varied kinds of bag closures that will be sustainable as they eventually make their way to the landfills. The conundrum of using plastic for its strength will have to be revisited with biodegradable materials to reduce the impact of carbon footprint.
In addition to this aspect, production of customizable bag closures for promotion purposes, heat-resistant closures for microwave, and incorporation of paperplast will pave the way for the market in the coming decade.
World's Most Profilic Intelligence Engine
Get Access To The World's Largest Market Research Database.
Sign Up Now
Key Segment
Material Type
Plastic

Polyethylene (PE)
Polyproplene (PP)
Polystyrene (PS)
Polyetheylene Terephthalate (PET)
Polyvinnyl Chloride (PVC)

Paper & Paperboard
Metal
Product Type
Clip
Pre-cut Twist Ties

Twistband/Twiststrip
Tin Tie
Application
Food

Bakery & Confectionery
Fruits & Vegetables
Meat, Poultry & Seafood
Ready-to-Eat Food
Others (Tea, Coffee, etc.)

Non-food Applications

Garbage / Trash
Security Packaging
Others (Toys, Stationery, etc.)
Region
North America
Latin America
Europe
Middle East and Africa
East Asia
South Asia
Oceania
Need specific information?
Our Clients