Bagasse Tableware Products Market – Key Research Findings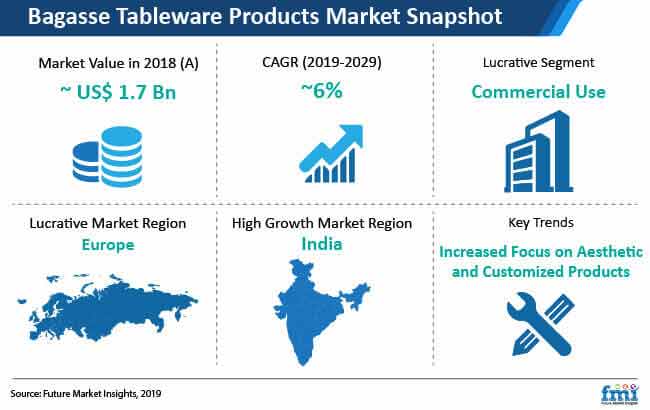 The global bagasse tableware products market in 2018 was valued at ~ US$ 1.7 Bn and projected to grow at a CAGR of ~ 6% during the next ten years. Increasing end users' inclination towards eco-friendly alternatives is expected to propel the growth of the bagasse tableware products market during the forecast period
Bagasse Tableware Products Market Outlook
The global bagasse tableware products market is witnessing healthy growth, which is unlikely to change for the duration of the forecast period. Environment- conservation awareness, and restrictions on governments towards plastics in disposable tableware has generated prominent opportunities of growth for market players.
The growing penetration of the internet to even rural regions and developing countries has been a major contributor to the growth of the food service and takeout sectors, which in turn has bolstered the demand for disposable tableware products, including those manufactured from bagasse. Key emerging economies such as China and India have been major influencers in the market.
Tableware products made from pulp molding technology provides closed loop production chains, allowing superior biodegradability and recyclability characteristics. Also, automation innovations in bagasse tableware production equipment will benefit the market in the long term.
The covid-19 pandemic has adversely affected the short-term demand for bagasse tableware, owing to lockdown restrictions on the food service industry. However, the gradual relaxation of these restrictions on food delivery and takeout in the coming months will create opportunities, that can be capitalized on by market players in the near future.
The bagasse tableware products market is highly competitive, with the presence of several small and medium scale enterprises in the industry. Numerous startups have entered the field consolidating their presence in a fairly nascent industry.
Anny's Plastic Tableware has announced the release of its biodegradable tableware products through online sales for the first time. Dinex has also unveiled disposable food trays made from bagasse into its portfolio. Bagasse International in Bahrain has released its Agriware brand of tableware and cutlery for retail sales in the country. UK-based IG group has introduced a dedicated brand – Green Planet Catering Products to keep up with demand for alternatives to plastic disposable tableware, from sources such as bagasse.
Key Factors Shaping the Global Bagasse Tableware Products Market
Evolution in the Foodservice Industry Owing to Fast-paced Lifestyle and On-the-go Meal Trend
The foodservice industry is expected to witness a lucrative growth buttress by improvement in the economic condition of the developing countries, fast-paced lifestyle, and rapid urbanization. On-the-go meal trend is increasingly growing across lots of countries. Disposable tableware is projected to be the fastest-growing segment, which includes single-use products that are likely to gain traction.
The global bagasse tableware products market growth is fueled by the expansion of quick-service restaurants (QSR) across the globe. Apart from restaurants and cafes, bagasse tableware products are expected to witness lucrative growth opportunities in retail stores, groceries, and convenience stores as they are expanding their offerings by providing ready-to-eat and on-the-go meals.
Other factors that give momentum to the growth of market are increased in the consumption of gourmet coffee & specialty cold drinks. Foodservice operators are offering various facilities such as take-out and drive-through to fulfill the increasing number of on-the-go consumers. All these factors are surging the growth of the bagasse tableware products market across the globe.
Changing Business Model of Food & Beverage Service Providers
The increasing number of quick-service restaurants (QSR) across the globe is foreseen to fuel the demand for bagasse tableware products. Cleaning and maintenance of used containers are not incorporated by such foodservice restaurants. These factors help the chain operators to reduce labour costs and utilize the existing pool of resources to enhance quality and customer support.
Regional and domestic players worldwide are also adopting a similar business concept. For instance, ~ 72% of restaurant owners/operators buy at least some packaging formats that contain recycled materials, which is further strengthening the demand for bagasse tableware products.
Low Demand for Bagasse Tableware Products as Compared to Conventional Foodservice Disposables
Sustainable packaging and demand for customized bagasse tableware products have led the emergence of improved iterations of products in the market. Despite the appealing designs, added functional properties, and consumer inclination towards novel products, overall demand for bagasse tableware products is low as compared to conventional foodservice disposables.
New packaging formats and foodservice disposables are yet to reach into the bracket of economies of scale, which dissuades foodservice product manufacturers from venturing into this domain. The emergence of novel products in the market adversely affect the profitability of the regional players.
Bagasse Tableware Products Market: Regional Analysis
The European region is expected to remain at the forefront regarding the global bagasse tableware products market share in 2019. The increasing adoption of eco-friendly products by various foodservice operators is likely to boost the market growth in this region. Besides, increasing use of bagasse tableware products for institutional and household use is foreseen to propel the growth of bagasse tableware products market in coming years.
Numerous countries in the Europe region are imposing stringent rules & regulations on the use of single-use plastic products to reduce visual pollution. Also, on-the-go consumers are demanding for more convenient products. They are progressively more aware of their choices and opting for sustainable formats such as bagasse tableware products. These factors are probable to offer an optimistic outlook for the bagasse tableware products market in the European region.
The East Asia region is expected to become a highly lucrative region regarding the bagasse tableware products market share by the end of the forecast period. The robust growth of the foodservice industry is translating demand for bagasse tableware products in East Asia region. Consumers' preference for take-out or ready-to-eat food is increasing, owing to changing lifestyles and growing disposable income.
Moreover, corporate work culture leading to out-of-home food habits is also strengthening the demand for bagasse tableware products. In East Asia, China is foreseen to remain dominant by accounting 3/4 of the East Asia bagasse tableware products market share during the forecast period. The notable growth rate of street stalls/kiosks in China is expected to generate significant demand for bagasse tableware products in coming years.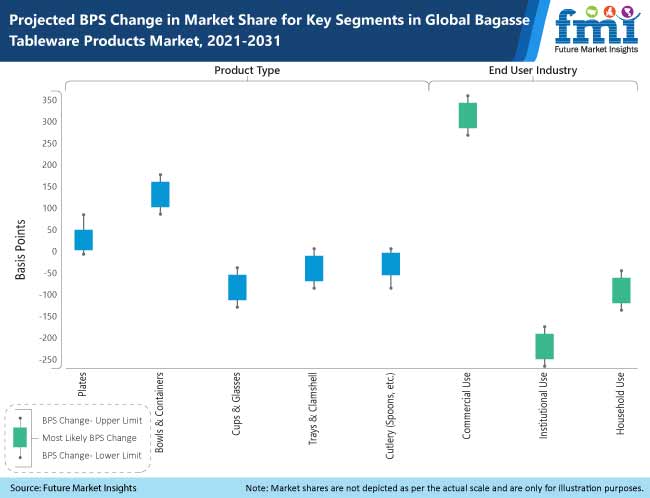 Bagasse Tableware Products Market: Structure Analysis
The global bagasse tableware products market is characterized by the presence of few organized players, which accounts for considerable chunks of the market share. Tier 1 players in the bagasse tableware products market have wide presence and diversified product portfolio. Tier 1 companies contribute significantly to the growth of the bagasse tableware products market.
They are anticipated to focus on capacity expansion, product innovation, and improving operational efficiency to match the growing needs of consumers in the market. Tier 2 players are characterized by the decent presence overseas, and a good portfolio of bagasse tableware products. Tier 3 players include most of the unorganized sectors.
Bagasse Tableware Products - Sustainable and Eco-friendly Alternative to Plastic
Although bagasse tableware is commercially produced for several years, its adoption was relatively slow. In addition, plastic and Styrofoam garnered significant popularity as some of the most accessible packaging materials owing to their low costs. However, in last decade, the demand for sustainable and eco-friendly products grew at a rapid pace owing to 'green consumerism'.
Further, stringent government regulations pertaining to the applications of single-use plastic in several countries worldwide has created a significant demand for bagasse tableware products in recent years. As eco-tourism and the adoption of biodegradable products continue to be on an upward swing, manufacturers are placing their bets on exploring untapped potential of their products.
FFurther, prominent quick-service chains including McDonald's and Starbucks have expressed their inclination towards sustainable packaging by using fiber-based materials, and the trend is likely to grow in the years ahead. The mounting concerns over the environment, emergence of bagasse products as a 'greener' alternative over plastic, and high demand for eco-friendly packaging products from the foodservice industry is likely to fuel the growth of the bagasse tableware market in the foreseeable future.
Shift towards Sustainable Packaging Intensifies Demand
For several decades, it was close to impossible to pair the terms 'sustainable' and 'packaging' together. However, in recent times, the importance and growing demand for sustainable packaging sparked a revolution in the packaging world.
Further, in the current scenario, consumer trends indicate the growing preference towards sustainable, environment friendly, and biodegradable products. The growing 'millennial' population which is highly conscious of the environment, has also significantly encouraged the growth of sustainable packaging solutions.
Over the years, plastic and Styrofoam were the 'go-to' packaging materials across several industrial sectors. However, with the onset of biodegradable and eco-friendly alternatives, the potential of bagasse for packaging applications gained traction. In the current scenario, bagasse is primarily used in the production of a range of bagasse tableware products including plates, bowls, and take-away containers.
Thus, the demand for sustainable packaging in recent years has significantly boosted the growth of the global bagasse tableware market in recent years. The trend is set to continue in the upcoming years owing to strong influence of the 'millennial' population.
Further, apart from emerging as an eco-friendly packaging alternative, the benefits of bagasse tableware products including, suitability for hot & cold foods, water repulsive nature, chlorine-free, and more are likely to remain instrumental to their adoption in households as well as commercial sectors.
Stringent Environmental Regulations in Europe Likely to Drive Market Growth
Europe has emerged as a lucrative region with tremendous prospects for the bagasse tableware products market. The growing adoption of eco-friendly products by foodservice operators in the region has played a critical role towards shaping the market landscape.
Further, the growing demand for bagasse tableware products for institution and household applications has significantly continues to fuel the market growth. In addition, several countries in Europe have imposed stringent regulations on the use of single-use plastic to curb visual pollution. Furthermore, the growing awareness among consumers over the importance of using eco-friendly products is expected to drive the demand for bagasse tableware products.
Improving Product Quality and Performance - Top Priority for Market Players
In the current bagasse tableware products market landscape, stakeholders are likely to focus on introducing new products with improved features to the market. In their efforts to consolidate a strong position in the market, several companies are likely to innovate with aspects such as design and color to enhance the overall appeal of the product.
In addition, sensing the growing demand for sustainable and environment-friendly products especially from the foodservice industry, manufacturers operating in the market are engaged in developing convenient and sturdy bagasse tableware products such as cups, packaging containers, plates, spoons, and more. Apart from devoting resources on product innovation, market players are focusing on their pricing strategies to expand their consumer base.
Anticipating the growing apprehension regarding plastic products and need for sustainable alternatives, several small and medium-sized companies ventured into the bagasse tableware market to fulfil the demand.
For instance, Earthware, an Indian brand owned by Visfortec, entered the market in their quest to offer alternative disposable tableware products made from bagasse to the food industry. Furthermore, in 2018, Hydro Produce was one of the first companies in Australia to explore the potential of bagasse as a packaging material.
How Growth Will Unfold
In the last decade, several countries have joined the race to curb environment degradation and increase the usage of biodegradable and sustainable products. Thus, in the foreseeable future, several companies involved in the packaging space are expected to devote resources towards alternative packaging materials such as bagasse.
In addition, concerns regarding the environment coupled with growing consumer awareness are some of the factors that are likely to contribute towards the growth of the bagasse tableware market. The foodservice industry is anticipated to be the top consumer of bagasse tableware products in the coming years, as consumer demand for sustainable packaging and tableware continues to move in an upward trajectory.
Bagasse Tableware Products Market Report Scope
Attribute

Details

Forecast Period

2019-2029

Historical Data Available for

2014-2018

Market Analysis

US$ Mn for Value, 000' tons for Volume

Key Regions Covered

North America, Latin America, Europe, South Asia, East Asia, Oceania, Middle East and Africa

Key Countries Covered

U.S., Canada, Brazil, Mexico, Argentina, Chile, Peru, Germany, Italy, France, U.K., Spain, BENELUX, Nordic, Russia, Poland, China, India, Thailand, Indonesia, Malaysia, Singapore, Japan, South Korea, Australia, New Zealand, GCC Countries, Turkey, Northern Africa, South Africa

Key Segments Covered

Product Type, Packaging Application, Sales Channel, End Use, Region

Key Companies Profiled

Huhtamaki Oyj
Pactiv LLC
Bio Futura B.V.
D&W Fine Pack LLC
Dart Container Corporation
Ecoriti
Packnwood (First Pack)
Genpak LLC
Duni AB
Vegware Ltd
Gold Plast S.p.A.
Pappco Greenware
Ecoware Solutions Pvt. Ltd.
Natural Tableware
Novolex Holdings Inc.
Be Green Packaging LLC
Yash Papers Ltd.
Dispo International
Detmold Group
WASARA Co. Ltd.

Report Coverage

Market Overview, Key Market Trends, Key Success Factors, Demand Analysis, Market Background, COVID-19 Analysis, Segmental Analysis, Regional Profiling, Market Structure & Competition Analysis

Customization & Pricing
World's Most Profilic Intelligence Engine
Get Access To The World's Largest Market Research Database. Ngage with a revolutionary intelligence engine that scale and pricing that flexes as per your needs
Sign Up Now
Key Segment
Product Type
Plates

Less than 8 inches
8 inches to 12 inches
More than 12 inches

Bowls & Containers

Less than 12 oz.
12 oz. to 16 oz.
More than 16 oz.

Cups & Glasses

Less than 6 oz.
6 oz. to 12 oz.
More than 12 oz.

Trays & Clamshell
Cutlery
Packaging Application
Food

Fruits & Vegetables
Processed Food
Ready-to-Eat meals
Soups
Others

Beverages

Carbonated
Non-carbonated

Tea & Coffee
Milk Products
Juices
Sales Channel
Indirect Sales

Departmental & Discount Stores
Hypermarket/Supermarket
Specialty Stores
Online Sales

Direct Sales
End Use
Commercial Use

Hotels & Cafes
Full Service Restaurants
Quick Service Restaurants
Venues & Catering
Mobile Food Vendors
Bakery & Patisserie

Institutional Use

Schools & Colleges
Offices
Hospitals
Airport & Railways

Household Use
Region
North America
Latin America
Europe
South Asia
East Asia
Oceania
Middle East & Africa (MEA)
Need specific information?