An Incisive, In-depth Analysis on the Cultures Market
This study offers a comprehensive, 360 degree analysis on the Cultures market, bringing to fore insights that can help stakeholders identify the opportunities as well as challenges. It tracks the global Cultures market across key regions, and offers in-depth commentary and accurate quantitative insights. The study also includes incisive competitive landscape analysis, and provides key recommendations to market players on winning imperatives and successful strategies.
Up from around 105,000 tonnes in 2017, the global consumption of microbial cultures is likely to surpass 151,000 tonnes by the end of 2026. Estimated at a moderate CAGR of 4.1% over 2017-2026, the cultures market is expected to witness a major upthrust from the beverages segment, as indicated by a recent study conducted by Future Market Insights on cultures market.
Global Cultures Market Represents a Fragmented Landscape, Top Companies Hold Individual Revenue Shares of up to 25%
According to the study on the global cultures market, the competitive landscape appears to be highly fragmented and top players operating in cultures market represent individual value shares of less than 25%. While companies such as Corbion fall in the 15-25% revenue share cluster, other prominent players including EI duPont De Numours and Company, Kerry Group Plc, Cargill Inc., and Royal DSM occupy the cluster of 5-15% revenue share in cultures market.
Brisk Adoption of Starter Culture for Alcoholic & Non-alcoholic Beverage Production to Contribute Significantly to Cultures Market Growth
Owing to high-demand applications in the beverages sector, starter culture is likely to witness significant traction in cultures market throughout the forecast period. Technological advancements and an expanding application base in the production of alcoholic as well as non-alcoholic beverages are foreseen to remain the key drivers pushing the growth of starter cultures through 2026.
Production of wine, beer, buttermilk, kefir, and other popular beverages demands induction of unique and intense flavors, which is mainly achieved by adding starter cultures. A heap of potential business opportunities are presumed to exist in starter culture segment, observing the current rate of technological advancements involved in fermentation processes.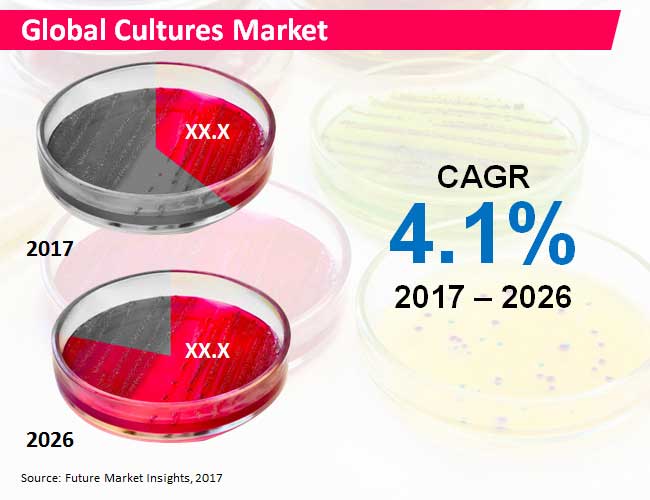 Profitable Prospects Projected for Freeze-dried Cultures through 2026
Of late, freeze-dried cultures are gaining prominence in cultures market, especially in fermented beverages and functional dairy products. While freeze-dried cultures exhibit superior quality and allow long-term storage owing to their enhanced shelf life, they also present an additional advantage of maintaining the original culture structure intact. Growing popularity of free-dried cultures is expected to drive a slew of innovations on the competitive landscape, as a large number of market players are increasingly considering these cultures profitable across the supply chain. Besides food processing companies, freeze-dried cultures are likely to gain grounds among consumers for preparation of products such as sourdough bread and homemade yogurts. Dramatic growth of probiotics will also push the demand for freeze-dried cultures in the near future.
Asia Pacific to Experience a Consistent Spike in Value Share, Supposed to Outrank Europe's Cultures Market through 2026
The exploding growth of food and beverages industry has been undergoing a rapid shift to Asian market, following Europe and North America. While China retains the top position with the presence of a myriad food manufacturing and processing units, Indian F&B sector will continue to be primarily driven by the dairy segment that has been witnessing enormous innovation in recent years.
Despite holding a decent consumption rate in the tea and coffee segment, APEJ's cultures market is expected to witness substantial growth in sauces, dressings, and condiments section as a result of growing fast food culture and the prospering QSR (quick service restaurants) sector. Bakery and confectionary has been identified to become the second largest consumer of cultures in APEJ, followed by dried and chilled/frozen processed foods. Beverages are also slated to contribute a considerable share in the total consumption of cultures across Asia.
Looking at its consistently growing volume share in global cultures market, APEJ may outgrow Europe in next few years. This growth is prominently attributed to the highest growth prospects estimated for starter cultures, i.e. at 6% CAGR in APEJ. Saturated markets in Europe and North America, though cumulatively account for over 160,000 tonnes in terms of volume, will demonstrate poor growth throughout the forecast period - representing high volume-low growth markets for cultures over 2017-2026.
Competition Landscape Assessment: Global Cultures Market
Stringent regulatory norms set by governments have been shaping the developmental strategies of key players in cultures market. While Cargill, BASF, duPont, Ingredion, and others are maintaining their focus on the product quality, strengthening the distribution network is also expected to remain a key strategy for better customer outreach. Promotional strategies are also being reassessed, in addition to repositioning of the brand in global cultures market. Companies in cultures landscape are increasingly keeping a keen eye on capturing real-time consumer perceptions, including changing taste preferences and evolving interests. Specialty ingredients are also expected to gain the spotlight among cultures market players. Recently, a majority of leading companies in cultures landscape have also been indulging in new product launches.
duPont Nutrition & Health launched a new culture portfolio earlier this year that has been specifically formulated for phyto-fermentation products. These cultures are available in the freeze-dried format and are ideal for use in small and large scale production processes. Chr. Hansen also brought in 10 brand new next-gen cultures to the cultures market with an objective to introduce a substitute for synthetic preservatives based on cheese and yogurt. Available in free-dried pellet format, these cultures are expected to gain traction for an added benefit of extended shelf life. Tate & Lyle Plc also introduced a new tapioca-based starch in European and MEA cultures markets. The company also launched over 15 non-GMO, clean labeled starches, adding value to its existing texturants portfolio.
Click to know more on competitive scenario and understand key strategies of the participants in global cultures market.
The report by Future Market Insights (FMI) provides useful insights on the global cultures market. The latest report titled 'Cultures Market: Global Industry Analysis 2012-2016 & Opportunity Assessment 2017-2026', sheds light on the overall market growth along with the growth of the market in various regions. The report also provides in-depth analysis and market segmentation including a forecast on all the segments, regions and global market. The report includes an executive summary followed by the brief introduction of cultures. Providing a 360-degree view of the market, the report offers information on the key regions in the global cultures market. The numbers provided in the report are based on both historical data as well as on the forecast period 2017-2026. The report talks about the regions and market segments that are witnessing the highest growth.
The report also comprises market dynamics such as key driving factors, latest market trends, growth opportunities, and challenges in the global cultures market. The report also sheds light on the macroeconomic and microeconomic factors that will play a major role in the global cultures market throughout the forecast period. The report also includes in-depth analysis of all the leading companies currently active in the global market for cultures. The companies are evaluated on the basis of various key parameters including financial and company overview, product portfolio, key developments, long-term and short-term strategies and technological advancements.
Market Taxonomy
The global cultures market is segmented on the basis of product type, application, and region. These market segments are further segmented into sub-segments. The report provides detail on each and every segment along with the segment expected to be the largest in the market. Region-wise the market is segmented into Japan, Asia Pacific Excluding Japan (APEJ), Latin America, the Middle East and Africa (MEA), North America, and Europe.
| Region | Product Type | Application |
| --- | --- | --- |
| | | |
| | | Sauces, dressings, and condiments |
| | | |
| | | |
| | | |
| | | Frozen and Chilled processed food |
| | | |
Research Methodology
The global cultures market also consists of the market numbers in form of market size, CAGR, revenue, year-on-year growth, absolute dollar opportunity and basis point share. The global cultures market attractiveness index has also been developed to help identify the investment opportunities in the market. The market value for each and every segment and region is given in the report. The market segmentation also includes country-wise forecast. Impact analysis based on the weighted average model has also been included in the report.
The report on the global cultures market is backed by an extensive research methodology including primary and secondary research. The report has also been validated based on the opinions provided by market experts. Majority of validation tools were used to gather data and get important market insights.
Competitive Landscape
The report also offers SWOT analysis of the leading players, providing information on strengths, weaknesses, opportunities, and threats. The report comprises strategies by the leading companies to stay competitive in the global cultures market.
COVID -19 : Impact Analysis
Request the coronavirus impact analysis across industries and markets
Request Covid -19 Impact
CASE STUDIES
See how our work makes an impact.
At FMI, we design strategies that are adaptive, impactful, and implementable.