DEXTROSE MONOHYDRATE MARKET - KEY RESEARCH FINDINGS
The dextrose monohydrate market will expand at a CAGR of 2.10% between 2020 and 2030
The food industry utilizes dextrose monohydrate as a preservative to increase the shelf life of packaged foods
North America would remain at the driver's seat in the dextrose monohydrate market
Europe and Asia Pacific to remain attractive markets for dextrose monohydrate
The market is witnessing a demand upswing in bakery & confectionery segment
In addition, the rapidly expanding beverages industries, soaring overall economic mechanisms and need for quality food products are expected to drive growth
KEY FACTORS SHAPING THE DEXTROSE MONOHYDRATE MARKET
Rising Adoption in the Pharmaceuticals Industry
Dextrose monohydrate is used in powder and tablet form and in isotonic and hypertonic solutions for medical purposes. It is combined with vitamin D and minerals such as calcium are used for the preparation of glucose tablets. It is also used to treat diabetic patients' hypoglycaemia. In combination with ascorbic acid it can be used to treat various disorders, heart problems and concerns pertaining to intoxications.
Confectionery Segment is Projected to Exhibit High Growth
Dextrose monohydrate finds increasing use in confectioneries. It is commonly used in the manufacturing of diverse confectionery items such as chewing gums and chocolates. It also has great preservative properties, which increases the end product's shelf life. This has contributed to increased use of dextrose monohydrate in confectionaries.
Busy Lifestyle Resulting Increase in Demand
Growing demand for packaged and convenience food products is expected to drive growth in the dextrose monohydrate market. The adoption of sedentary lifestyle is leading to the increase in the health issues. This fuels opportunities for the growth in the dextrose monohydrate market.
DEXTROSE MONOHYDRATE MARKET – INDUSTRY STRUCTURE ANALYSIS
Growing research and activities in different industries such as food & beverage, pharmaceuticals, and others in the untapped market is expected to bring new opportunities for market players.
Companies are upgrading their portfolio with product innovation, supported by technological advancements.
Report Scope
Base year considered - 2020
Actual estimates/Historical data - 2015 – 2019
Forecast period - 2020 – 2030
Market Value in 2020 - US$ 4.1 Mn
Segments covered - Form, Application and Region
Regions covered - North America, Latin America, Europe, East Asia, South Asia, Oceania and MEA
Key Players - Cargill Foods, Tate & Lyle PLC, Tereos Syral, Avantor Performance Materials, Bulk Nutrients, Affymetrix, HB Ingredients, AFIS, FOODCHEM, Honest Derivatives and others
Food Industry to Exhibit Considerably High Demand
Companies operating in the food and beverages sector are trying to align their products with consumer preference. The demand for food grade dextrose monohydrate is expected to increase in the coming years owing to changing consumer's food habits. The focus is on launching food products with a perfect blend of taste and nutrition. This would result in the growing demand for food grade dextrose monohydrate over the forecast period.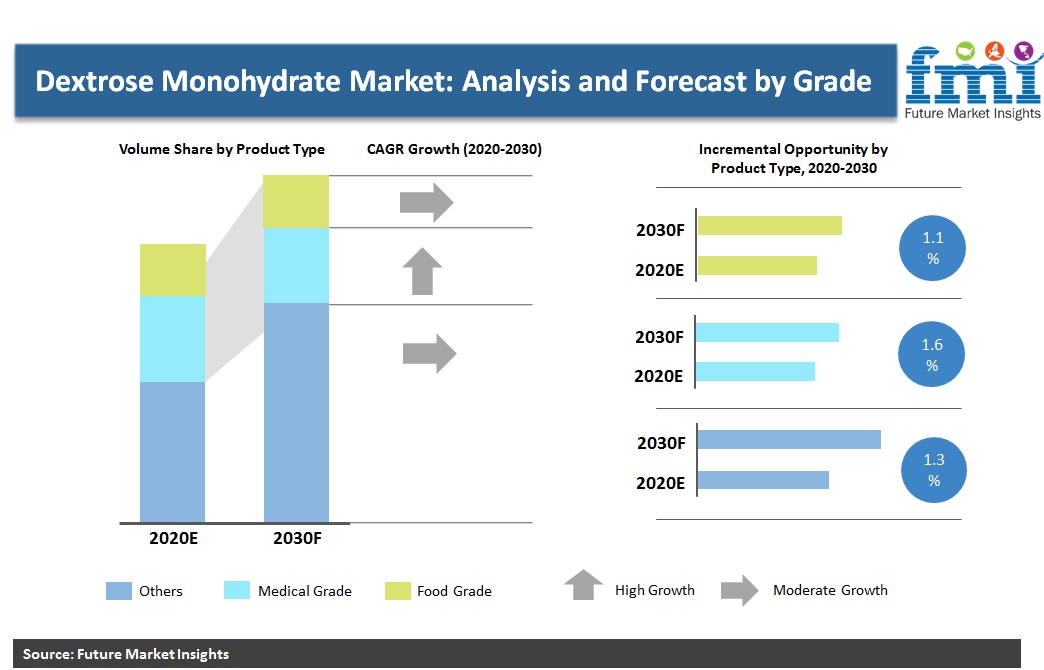 North America is Projected to Account for the Largest Share in the Market
North America is expected to emerge dominant in the global dextrose monohydrate market. The region exhibits high degree of awareness regarding health and wellness among consumers. This is one of the key factors supporting the growth of the market in North America.
Furthermore, consumers in the region have superior purchase power, as a result of which it witnesses high demand for confectioneries and bakeries. Combination of both these factors favour the expansion of the dextrose monohydrate market in North America. Better standard of living, willingness to spend on premium products and demand for healthier ingredients in food and beverages will boost the market in Europe as well.
Awareness Regarding Nutritional Benefits of Dextrose Monohydrate is Driving Growth
Being a monosaccharide, a simple carbohydrate, dextrose is quickly absorbed by cellular membranes during training and recovery to stimulate muscle cells. Since dextrose is absorbed easily, athletes use it to gain muscle. It is often consumed by athletes undergoing weight training. Carbohydrates present in dextrose monohydrate provide almost instant power for muscle fibres. Dextrose replaces the glycogen reserves in muscles when exercise energy is exhausted and decreases muscle recovery time.
How Growth will Unfold
The demand for dextrose monohydrate is projected to rise considerably in the near future. The leading food & beverage firms are expected to increase its application due to its health benefits. Furthermore, its use as sweeteners, binders, emulsifiers and thickeners will boost its application across diverse sectors within the food and beverages industry.
The increasing intake of nutritious foods and rising demand for ready meals are boosting the market demand. Continuously rising demand for low-calorie food products, rising production of antacid suspension in the pharmaceutical industry and increasing demand from the personal care industries are expected to give significant impetus to the global market for dextrose monohydrate.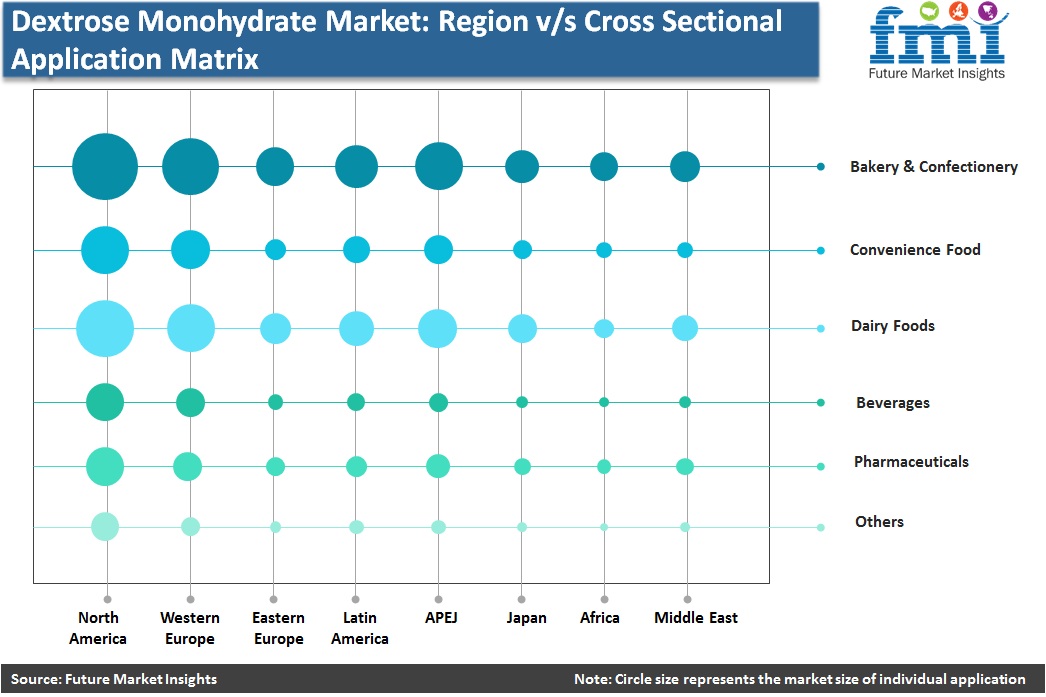 DEXTROSE MONOHYDRATE MARKET TAXONOMY
The global Dextrose Monohydrate Market is segmented in detail to cover every aspect of the market and present complete market intelligence to readers.
Form
Application
Food & Beverages
Cereals & Snacks
Bakery and confectionary
Dairy products
Pharmaceuticals
Feed additives
Region
North America
Latin America
Europe
East Asia
South Asia
Oceania
MEA
Need specific information?