Direct-to-Shape Inkjet Printers Market By Ink Type (Solvent-based, Water-based, UV Curable Inks), Substrate Type (Plastic, Glass, Metal), Application Type (Bottles, Cans, Drums), End Use (Food & Beverages, Pharmaceuticals, Personal Care & Cosmetics) & Region - Forecast to 2020-2030
Direct-to-Shape Inkjet Printers Market - Analysis, Outlook, Growth, Trends, Forecasts
July 2020

REP-GB-5918

317 pages
Direct-to-Shape Inkjet Printers Outlook & Key Findings
Direct-to-shape (DTS) inkjet printers market is projected to reach over US$ 5 Bn by 2030 as demand for high quality printing solutions soars
UV curable inks segment anticipated to create an incremental opportunity of nearly US$ 900 Mn by the end of forecast period with attributes such as excellent color visibility on multiple substrates
Bottles application segment is projected to witness an expansion of 1.8x its current value by 2030 in terms of application
North America represent a quarter of the global direct-to-shape inkjet printers market share by end 2020 as packaging industry paces ahead
Growth of Digital Printing Reflects on Direct-to-Shape Inkjet Printers Market
Direct-to shape inkjet printers use a modern process that enables printing of different images and colored texts directly onto objects such as, cans, bottles, folding cartons and even industrial products like drums and tubes.
Fine printing has allowed brands to stand out amongst wide array of products available to consumers by enhancing brand recognition.
In many ways, digital printing has opened up a whole new world of potentials for the brands expand their target audience in the past few years. Inkjet technology supports diverse range of substrates. Its advanced features allows faster presses, giving manufacturers an apt option to replace conventional printing with hybrid printing.
Eco-Friendly Nature of UV Curable Inks Leads to Higher Interest
To curb harmful effects of traditional inks such as water and soil pollution, end users are opting for inks made from vegetable oils. These can be easily reproduced unlike petroleum-based inks.
UV curable inks are produced from naturally-obtained materials right from lemon juice to vinegar. This makes them environment safe and also makes them low in toxicity. These factors are expected to drive the demand for UV curable inks in the global direct-to-shape inkjet printers market.
UV curable inks printed onto glass or blow molded plastic bottles offers excellent physical and chemical resistance without affecting the product design. Furthermore, advantages such as instant curing upon exposure to light, faster processing, and no solvent and no water formulation makes it comply with environmental norms.
Such versatile nature of direct-to-shape inkjet printers is likely to fuel the growth of the segment at a phenomenal pace in the coming years.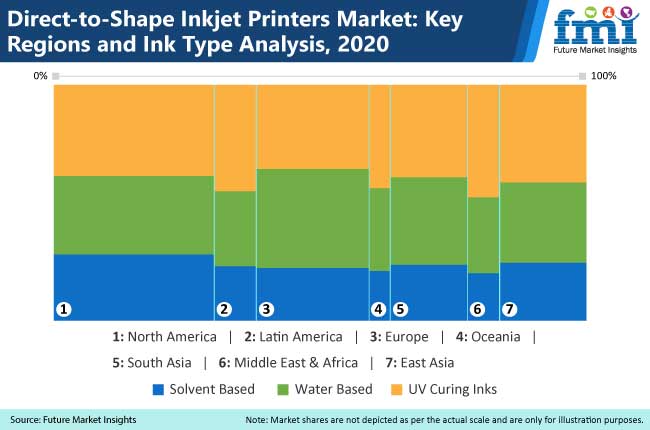 North America direct-to-shape inkjet printers market is anticipated to have a significant share of over 27%. The high penetration of advanced printing technology coupled with large number of players in the North America is the primary factor fueling the adoption of DTS inkjet printers in the region.
Meanwhile South Asia is projected to witness an expansion of 2.4x of its current value by the end of forecast period. Improved quality coupled with less maintenance cost compared to laser printers is expected to be key reason behind the growth of market in South Asia region.
UV curable inks is witnessing high adoption particularly in regions such as Latin America, East Asia, MEA and Oceania, owing to easily adopt performance properties that resemble the broadest range of substrates.
These inks adhere to the media or substrate by UV radiation and therefore do not degrade the print quality. Moreover, the print is already dried when it comes out of printer which allows manufacturers to meet short delivery projects. This is the key reason for small scale manufacturers to adopt UV curable inks in emerging economies.
Enhanced Product Appeal & Brand Visibility to Bolster the Market Growth
High compatibility of direct-to-shape inkjet printers with a variety of ink types including water-based, solvent-based, UV curable inks can easily adopt performance properties that resemble the broadest range of substrates.
Hence, it can minimize the requirement for primers or protective varnishes and labels that saves additional costs. Thus, direct-to-shape inkjet printers completely eliminates the need for costly label for branding & promotion.
The short run capability of direct-to-shape inkjet printers enables packaging converters to print the exact quantity required. This reduces the need for long print runs and hence minimizes the idle time, which sequentially increases the productivity of printers and enhances cost efficiency.
Big cost savings and time efficiency have been the two critical factors in high adoption of direct-to-shape inkjet printers in recent years.
COVID-19 Impact on Direct-to-Shape Inkjet Printers Market
COVID-19 has disrupted the supply chain of several businesses all across the world, impacting the packaging industry as well. Discontinuation of industrial production in multiple regions such as the United States, which accounts for significant value share of direct-to-shape inkjet printers, has affected the market severely.
Decline in sales of advertisement and printing industry has resulted in weakening of sales of direct-to-shape inkjet printers significantly. Furthermore, small scale printing companies are shut or operating with limited staff, which has further plummeted the revenue streams.
However, the direct-to-shape inkjet printers market is likely to recover steadily as nations lift lockdowns and the demand for food and beverages, pharmaceuticals, chemicals, and other essential industrial supplies gain normalcy.
High Printer and Ink Cost Restricts Demand for Direct-to-Shape Inkjet Printers
The low adoption of direct-to-shape inkjet printers in emerging economies is primarily due to its high cost. Also, the consumption of ink in direct-to-shape inkjet printers is very high as compared to laser printers.
The print head of the direct-to-shape inkjet printers can suffer cogging if it is not used for a long time. Besides, the cartridges which are used in inkjet printers are expensive. The average price of print per object is very high, which poses as huge challenge for the growth direct-to-shape inkjet printers market in price-sensitive regions.
Direct-to-Shape Inkjet Printers Market: Regional Analysis
North America and Europe represent almost half of the total market share in the DTS Inkjet printers market. This is attributed to the penetration of large number of big players such as Xerox Corp and Mimaki Europe in the region.
South Asia is likely to have a high growth rate as the market has lucrative opportunities due to the fact that various big players are expanding their presence in developing countries.
For instance, In October 2019 Koenig & Bauer AG, a European company has expanded partnership with Rieckermann, an experienced industrial solutions provider. Through this partnership, both companies can now offer the combined solution to existing and new customers in Southeast Asian countries like Thailand, Indonesia, and the Philippines.
Strategic Partnership for Implementation of New Products
Direct-to-shape inkjet printer manufacturers are entering into strategic partnerships with other printing product manufacturer & service providers for the development of new technologies and products. This capability simplifies both the hardware and software design implementation tasks.
In July, 2018 HP Inc. announced a partnership with R.R. Donnelley & Sons Company. R.R. Donnelley & Sons Company. This partnership will enhance RRD's ability to deliver high-quality print products for its customers, and significantly bolsters its capacity to more responsively meet their communications needs.
In addition, key manufacturers operating in global direct-to-shape inkjet printers market are focusing on the development of cost-effective direct-to-shape inkjet printers along with improvement in its standard capabilities, rated speed, and resolution.
Global direct-to-shape inkjet printers market is fragmented market with key players operating under 10% of the total share. Key players such as Heidelberg USA, Inc., Xerox Corporation, Mimaki Europe B.V. and Xaar plc. are the largest and most experienced in the industry and have a significant regional coverage across the global.
Some of the key players in the Direct-to-Shape Inkjet Printers are as follows:
Xerox Corporation
Heidelberg USA, Inc.
Mimaki Europe B.V.
Xaar plc.
Koenig & Bauer AG
Roland DG Corporation
Velox Ltd.
HP Inc.
Epson America, Inc.
INX International Ink Co.
LogoJET
Direct-to-Shape Inkjet Printers Market: The Way Forward
The growth trend of the DTS inkjet printers market is likely to be upward. Though Y-o-Y growth is steady, the market is projected to record 7.2% growth from 2025. This growth reflected due to the various advantages such high speed prints offered by DTS inkjets, which outpace traditional printing techniques.
This expected create window of opportunities for verticals, spanning from product design and development, customization service, to restructuring of supply chain for higher efficiency.
The continuous innovation and up gradation of product portfolio and by offering solutions for manufacturing individual, personalized and use case specific products can help them in building base of customers ranging from different verticals.
The most prominent opportunity for the DTS inkjet printers remains in reducing the electricity consumption by such printers and making the printers energy efficient. In the coming years as business get conscious about energy expenditure, there will be a high demand for investments in equipment that conserve energy and result in big savings.
Renewed perspective towards branding and promotion and restoring supply chains for several food and beverages labels will open up several opportunities for the global DTS inkjet printers market as the pandemic gets contained.
World's Most Profilic Intelligence Engine
Get Access To The World's Largest Market Research Database.
Sign Up Now
Key Segments Covered in the Global Direct-to-Shape Inkjet Printers Market
By Ink Type
Solvent-based
Water-based
UV Curable Inks
By Substrate Type
Plastic
Glass
Metal
Paper
Wood
Fabric
By Application Type
Bottles
Cans
Drums
Tubes
Folding Cartons
Others (Bags, Trays etc.)
By End Use
Food & Beverages
Pharmaceuticals
Personal Care & Cosmetics
Chemicals
Industrial
Other Consumer Goods
By Region
North America
Latin America
Europe
South Asia
East Asia
Oceania
Middle East & Africa
Need specific information?
Our Clients