Continuous Inkjet Ink Market By Substrate (Paper, Plastic Sheets, Glass, Metal), Ink Type (Aqueous / Water-based Inks, Solvent-based Inks, UV curable Inks, Phase Change ink/ Hot Melt Inks), End-use (Food, Beverage, Pharmaceuticals, Electronical & Electronics) & Region - Forecast 2020 - 2030
Continuous Inkjet Inks Market - Analysis, Outlook, Growth, Trends, Forecasts
June 2020

REP-GB-11682

133 pages
Continuous Inkjet Inks Outlook & Key Findings
Continuous inkjet inks market is projected to reach over US$ 488.6 Mn by 2030, with water-based inks at the growth forefront.
Food and pharmaceutical industries to witness threefold growth in demand as consumers seek informative labelling
Continuous inkjet inks market is projected to expand at CAGR of 4.7% during the forecast period (2020-2030)
East Asia and Europe together are to dominate with market value share of 47.1% in the global continuous inkjet inks market.
Print quality, consistency, and wide applicability win continuous inkjet inks vendors score of opportunities
Continuous Inkjet Inks Fits in Organizational Objective to Achieve Economies of Scale
Comparatively lower cost of continuous inkjet inks has made it a preferred choice across industries for packaging and labelling. The cost-saving advantage of these inks have made it popular for large prints and bulk printing. In recent years, high demand for attractive packaging has especially won the market a steady business.
Food and beverages and pharmaceutical industry has been at the fueling the demand for continuous inkjet inks as they are specifically manufactured for this purpose. Collectively, these segments will generate 80% of the business for continuous inkjet inks during the forecast period.
The inkjet printers have higher reliability as each of the nozzles are electronically controlled. A maximum of up to 2,000 ft per minute line speed is achievable, which makes the product line move much faster.
The continuous inkjet system uses a less ink and wide range of inks for just about every type of material, which makes it an apt choice.
Environment-friendly Labels Anticipated to Augment the Growth of Continuous Inkjet Inks
Labels have established their importance in expansion and growth of the brand. This has promoted continuous inkjet ink manufactures to market their inks to suit the needs of their end users. In 2018, Needham Ink announced new halal marking inks, which suggested that now the company is ready to strengthen its market in Islamic countries like GCC countries and other Asian Islamic countries.
Moreover, in March 2020, Squid Inks introduced range of mineral oil-free inks that emit less odour and provide assurance of no damage to inkjet printers. The no mineral label may help the company to meet standards of some new markets, opening avenues for entry into new markets.
UV Curable Inks Preferred by Manufacturers to Enhance Print Quality
Ink manufacturers have focused on production UV curable inks for inkjet printers to prevent any damage to print quality due to exposure to UV rays. The lack of solvent fumes or volatile organic compounds (VOC) has especially worked in favour of this segment, pushing the segment to sustain a CAGR of 4% between 2020 and 2030.
UV curable inks also offer adhesion to a very wide range of non-absorbent and absorbent substrates. They are preferred across verticals owing to the quick drying feature, long print life, and is environment-friendly nature. Shift of industries and consumers towards eco-friendly materials has garnered UV curable inks an interested clientele, booting its sales.
In July 2018, Inkjet Inc., launched a new category of UV invisible continuous inkjet printer that has a specific invisible ink, which can be cured much quicker. Such innovations are perfect for OEM graphics that can be inked without hampering products to avoid counterfeiting.
COVID-19 Pushes Continuous Inkjet Inks Manufacturers to Improve Print Quality for Better Traceability
COVID-19 has disrupted in the supply chain of all business all across the world, impacting the packaging industry as well. Discontinuation of production in multiple regions such as the United States, which accounts for a significant consumption of continuous inkjet inks, has affected the market severely.
Problems such as shortage of raw materials and hurdles in sourcing substrates for packaging such as paper, paperboard, plastic sheets, metal and glass are further crippling the business for continuous inkjet inks. Amidst the pandemic, concerns regarding the availability of constituents of inks and solvents have been growing.
For instance, printing companies in Europe indirectly rely on China for supply of input materials for printing and chemicals used in inks. This s likely to slow down the growth of continuous inkjet inks market.
However, the market is likely to recover steadily as nations lift lockdowns as the demand for food and pharmaceuticals will continue to spike. This in turn will demand improved packaging and labelling to ensure traceability of products in supply and logistics.
Prioritizing the need to secure business continuity for businesses associated with consumer goods that are important than ever, which is expected to improve the print quality in coming months.
Makeup Fluids to Increase Maintenance Costs Tugging Market in Opposite Direction
The consumption of ink in continuous inkjet printers is very high as compared to the laser printers. The print head of the continuous inkjet printers can suffer clogging if it is not used for a long time. Thus, make up fluid is used to enable smooth functioning of continuous inkjet printers and avoid clogging. This results in additional cost for the manufacturers leading to margin shrinkage.
The continuous inkjet inks can dry in the continuous printers if not used for long duration. Once the ink dries it cannot be repaired manually, and maintenance of the printer is required. The high maintenance cost associated with the continuous inkjet printer and frequent use of additives to make the solvent thin can result in high cost of operation for the continuous inkjet printers.
This might lead to manufacturers shifting their focus to other options available such as laser printers. Thus, reducing the demand for continuous inkjet inks.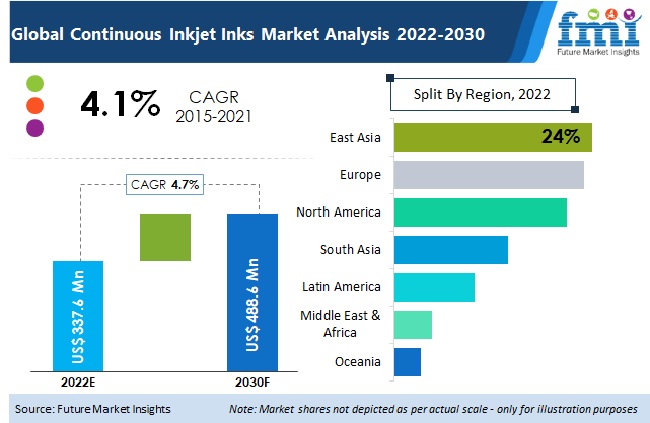 North America is anticipated to have significant market share 21.4% due to its matured markets and is likely to be in the maturity phase of the PLC cycle. On the other hand, Latin America, which holds a market share of 9.9% will move from growth to maturity phase.
Future Market Insights analysts indicate that Europe has the largest market share 23.8 and thus has a matured market with stagnant demand. South Asia is likely to have a high growth rate as the market has lucrative opportunity to grow with growing e-commerce businesses.
East Asia is one of the growing markets due to availability of raw materials, growing production and packaging industries. Oceania has less market share 3.2% owing to limited presence of the manufacturers in the region. Middle East & Africa has a low market share 4.5% but is likely to grow in the forecasted period owing to the growth in industries in the years to come.
Continuous Injket Inks Brands in US and Europe Eyeing Local Partnership Amidst Disrupted Raw Material Sourcing Channels
North America is severely affected with COVID 19, which has drastically hampering the consumption of continuous inkjet ink. Dependency for chemicals and solvents from countries in the East Asia such as China is anticipated to slow down the growth rate for continuous inkjet inks in the region.
East Asia and South Asia are expected to return to supply chain normalcy due to availability and production of raw materials in the region. On the other hand, Europe is the second-most affected region by coronavirus outbreak and the second-largest consumer of continuous inkjet ink. Italy, Spain, France, Germany and United Kingdom being the most effected countries are set to experience sluggish growth till situation gets in control.
Despite setback, Europe will show resilience as innovation and new designs in print packaging are anticipated to result in fast recovery of the continuous inkjet inks market.
A Fragmented Market by Characteristic
The continuous inkjet inks market is a fragmented in nature with the top three players accounting for 20-25% of the global production. The key players operating in the market are focusing on expanding their reach globally, diversifying their product portfolio, innovation and extension in distribution channels.
Some of the key players in the Continuous Inkjet Inks market are-
Sun Chemicals
Eastman Kodak Company
Needham Inks Ltd
Squid Inks
Kao Collins Corporation
Aztec Fluids And Machinery Private Limited
Tritron GmbH.
Linx Printing Technologies
Videojet Technologies, Inc.
International Imaging Materials, Inc.
International Imaging Materials, Inc.
Coding And Marketing Service
INKJET, INC.
PrintJet USA.
Palco Industrial Marking & Labeling, Inc.
Jet Inks Private Limited
*The list is not exhaustive, and only for representational purposes. Full competitive intelligence with SWOT analysis available in the report
Continuous Inkjet Inks: The Future Ahead
The growth trend of the continuous inkjet inks market is likely to be upward. Though Y-o-Y growth is steady, market is projected to record 4.4% growth from 2022. Industries such as food and beverages, pharmaceuticals, electronics and others rely on continuous inkjet printers to create required codes with high durability for reliable packaging.
Globalization has led the organizations to operate and function in complex supply chains where misleading or wrong information can have adverse effects. Thus, the need to print accurate information at a high speed to prevent downtime is likely to augment the market.
However, printing and code requirements are changing. Traceability and brand protection for anti-counterfeit purposes are anticipated to be in focus, brining great emphasis on the quality and durability of the print on the packages. Furthermore, QR codes are likely to drive marketing campaigns specific web pages, which makes precision printing important. Flexible packaging, plastic mouldings, and plastic bottles and containers will offer incredible opportunity for growth to the market in the coming decade.
World's Most Profilic Intelligence Engine
Get Access To The World's Largest Market Research Database.
Sign Up Now
Market Taxonomy
The global Continuous Inkjet Inks Market is segmented in detail to cover every aspect of the market and present complete market intelligence to readers.
By Substrate
Paper

Paper & Paperboard
Cardboard

Plastic Sheets
Glass
Metal
Others (Fabrics, etc.)
By Ink Type
Aqueous / Water-based Inks
Solvent-based Inks
UV curable Inks
Phase Change ink/ Hot Melt Inks
By End-use
Food
Beverage
Pharmaceuticals
Electronical & Electronics
Others
By Region
North America
Latin America
Europe
South Asia
East Asia
Oceania
MEA
Need specific information?
Our Clients