Implementation of Patient-Caregiver Connectivity Technology
At present, the dialysis technology in development shares a common theme: simplicity for users and connectivity for staff. The Schwartz Center for Compassionate Healthcare is a national non-profit organisation dedicated to strengthening the relationship between patients and caregivers, and preserving the human connection in healthcare. Its programs to advance compassionate, patient-centred care have been adopted by more than 400 hospitals and other healthcare institutions in the U.S. and UK.
In 2015, a new regulation 188/15 was introduced under the Excellent Care for All Act that requires hospitals to "engage patients and their caregivers in designing, reviewing and maintaining ... processes for receiving, reviewing and attempting to resolve expeditiously complaints from patients and caregivers." Baxter Health Care was taking orders on its new Amia PD cycler.
Like other machines manufacturers, Baxter wanted the Amia to be simpler to use, lightweight, and offer technology that connected patients and caregivers. Its Shared Source is a GPS of sorts that helps staff monitor patients while on the cycler.
Healthcare Services Industry Consolidation
Growth in the number mergers and consolidations between hospitals is expected to have a high impact on the revenue generation of medical device manufacturers. A large number of hospital networks are operating under one organization. These networks can leverage the price of the medical devices with the manufacturers and thereby reduce profit margins. In February 2017, Fresenius Medical Care announced the acquisition of a majority stake in Cura Group ("Cura"), a leading operator of high-quality day hospitals in Australia.
Cura provides a variety of specialised ambulant services, such as ophthalmology and orthopaedic surgeries, in an outpatient setting. Cura was established in 2008 and generated a revenue of AU$127 million (€87 million) in the financial year 2015/2016. This acquisition allows Fresenius Medical Care to further leverage its core competence in operating outpatient facilities, extend its dialysis network and thereby lay the foundation for future growth in the Australian market.
Reformed Healthcare Regulations Challenging Market Growth
Companies are subject to a number of existing laws & regulations and non-compliance, which is likely to adversely affect their business, financial condition and results of operations, and companies are susceptible to a changing regulatory environment. As participants in the healthcare industry, the operations & products of companies as well as customers are regulated by numerous government agencies globally.
The impact of this on the company is direct to the extent that companies are subject to these laws and regulations, as well as indirect in a number of situations. In many instances, the companies may not be directly regulated by specific healthcare laws and regulations, however, their products must be capable of being used by customers in a manner that complies with those laws and regulations.
Shifting Production Base to Emerging Economies
Government and regulatory bodies of various countries are adopting cost-containment measures to reduce the healthcare burden. This shift from volume- to value-based systems is driven by various measures taken by governments, healthcare providers, insurance payers and life sciences companies, which include outcome-based pricing, profit & risk sharing, price control and competitive tendering.
The value-based healthcare system will help achieve the maximum value for money spent on healthcare, and thus improve outcomes through integrated care pathways. At the same time, it will levy pricing pressure on biopharmaceutical and medical device companies and is likely to impact investment in the R&D of innovative medical treatment technologies.
Competitive Landscape
The competition section of the Continuous Renal Replacement Therapy (CRRT) market report features profiles of key players operating in the market based on their market shares, product offerings, differential channel strategies, marketing initiative, product reach and company dashboard.
Some of the key players featured in the report include Fresenius Medical Care AG & Co. KGaA; Baxter International Inc.; B. Braun Melsungen AG; Medica SpA; Nikkiso Co., Ltd.; Nipro corp.; Toray Medical Co., Ltd.; NxStage Medical, Inc.; Asahi Kasei Corp. and Medtronic plc.
Key Players operating in the CRRT market are focused launching novel product lines due to the growing demand from AKI patients. These companies are taking continuous efforts to provide cost-effective CRRT systems in the Asian market. According to WHO, the general availability of kidney dialysis is 60% in countries worldwide.
Its availability is significant in high-income countries and is found to be 93%, whereas its availability in developing and under-developed countries is 46% and 27% respectively. Fresenius Medical Care AG & Co. KGaA, one of the leading providers of dialysis products and services, has launched multi-FiltratePRO, a therapy system for Continuous Renal Replacement Therapy (CRRT), for the treatment of acute kidney failure in critically ill patients at intensive care units.
Some of the key manufacturers of continuous renal replacement therapy are focusing on novel marketing strategies to increase their product reach in the Asian market. Price reduction strategy in consumables will be the critical success factor for leading providers. These companies are receiving fierce competition from local suppliers of consumables. These supplies have a strong hold on conventional distribution channels such as wholesalers and retailers.
Definition
Renal replacement therapy includes dialysis (haemodialysis or peritoneal dialysis, hemofiltration and hemodiafiltration), which is the filtration of blood with or without a machine. CRRT is widely used for acute kidney injury. CRRT is a dialysis modality used to treat critically ill and hospitalised patients in intensive care units who develop Acute Kidney Injury (AKI). Unlike chronic kidney disease, which occurs slowly over time, AKI often occurs in hospitalised patients treated in an intensive care environment, and it typically occurs over a few hours to a few days.
About the Report
FMI has conducted a research study on the continuous renal replacement therapy market for the forecast period of 2017 to 2027. The report offers a comprehensive evaluation of the business opportunities prevailing in the continuous renal replacement therapy market along with insights on the consumption trend, market dynamics, disease incidence, reimbursement, patient awareness level, pricing, company penetration and market competition. The report elaborates on the macro-economic factors influencing the dynamics of the continuous renal replacement therapy market and its futuristic potential.
Additional Questions Answered
Some of the additional questions addressed in the report of the continuous renal replacement therapy market are as follows:
What is role of regulatory authorities and insurance service providers in the market?
What is the revenue potential of generic continuous renal replacement therapy in the regions of North America and Asia?
Who are the key competitors and what are their portfolios in the continuous renal replacement therapy market?
What is the price point for continuous renal replacement therapy manufacturers in developed countries?
For answers to all the possible questions required for gauging the performance of the continuous renal replacement therapy market, get in touch with our expert analysts.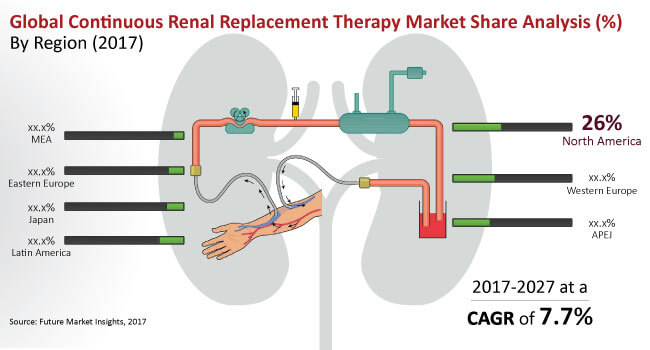 Research Methodology
FMI has analysed the size of the continuous renal replacement therapy market by using the triangulation methodology in which we have tracked the revenue of key players operating in this segment. Key players are segmented at a tier-level with respect to their revenues, product portfolio and geographical presence. This process involves the analysis of various company investor presentations, SEC filings, annual reports, earning call transcripts, 10k reports and press releases.
This task is done to fetch substantial information about the key players, their respective revenues and estimate their respective market share. The forecasting of the continuous renal replacement therapy was conducted based on several macro factors such as the per-capita healthcare spending, per-capita pharmaceutical spending, the availability of reimbursements, patient awareness and other macro factors associated with the healthcare industry.
World's Most Profilic Intelligence Engine
Get Access To The World's Largest Market Research Database. Ngage with a revolutionary intelligence engine that scale and pricing that flexes as per your needs
Sign Up Now
Segmentation
The report offers a comprehensive taxonomy of the continuous renal replacement therapy market based on product type, end user and region. Continuous renal replacement therapy is sold in two types: systems and consumables. The consumables segment covers various types of hemofilter sets, solutions and other accessories.
Increased healthcare spending across emerging economies is expected to encourage the establishment of new multi-specialties in dialysis centres and hospitals, which is, in turn, expected to promote the demand for CRRT. The continuous renal replacement therapy market has been analysed across various regions, which include North America, Latin America, Western Europe, Eastern Europe, Asia Pacific Excluding Japan, Japan and MEA.
Need specific information?